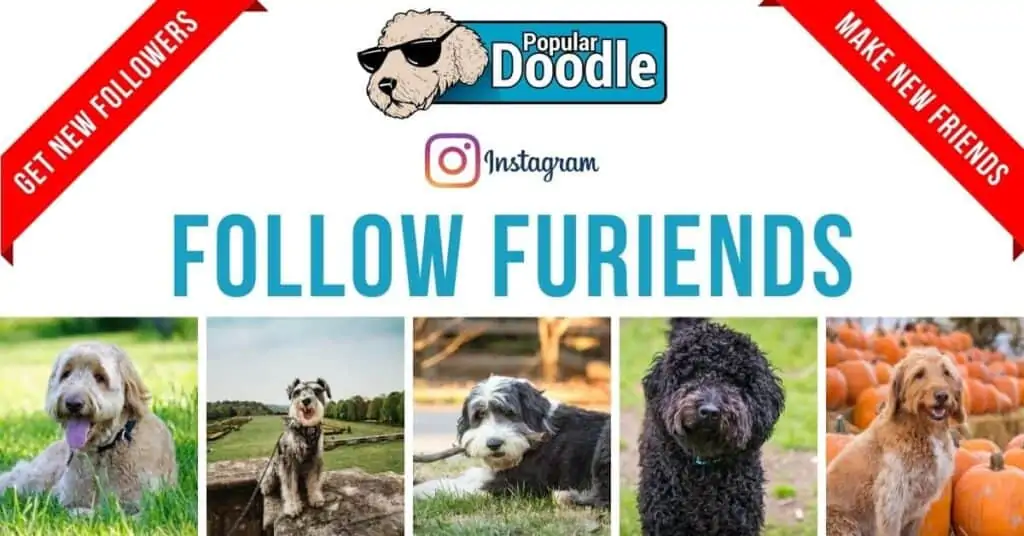 What is Follow FURiends?
Follow FURiends is an easy and fun way for for doodle owners to connect with each other via Instagram!
Many of us create Instagram accounts for our pups so we can share their adorable adventures with the world! We're not looking to become "Instagram Famous," we simply want to build a community of like-minded doodle moms and dads who appreciate and share our doodle obsession!
In that spirit, our Follow FURiends agree to follow back other doodle accounts who follow them. This is a great way to help each other grow our fur babies' accounts while making amazing friends and connections along the way!
How To Use Follow FURiends
Browse all our FURiends using the table below!
If you're on a mobile device, you may have to scroll horizontally to see all the information.
You can sort by any column by tapping on the header row.
Use the search box to filter based on any term.
Click anyone's username to view their profile and follow. We recommend only following 20-30 new accounts each day to avoid looking unnatural to Instagram.
Wait for them to follow you back!
Meet Our FURiends!
Image
Username
Dog Name
Breed
Location
@jackstevietomdoodles
Black Jack, Stevie Nicks & Tom Petty
Bernedoodle, Goldendoodle, Labradoodle
California
@poseythedoodle
Posey
Goldendoodle
Missouri
@henry_thegoldendood
Henry
Goldendoodle
New York
@gunner_thedoodlebear
Gunner
Goldendoodle
California
@olive_the_irishdoodle
Olive
Irish Doodle
North Carolina
@maverick_glenn
Maverick
Goldendoodle
Florida
@calliegirl.minidoodle
Callie
Goldendoodle
New Jersey
@henry.the.minidoodle
Henry
Goldendoodle
Texas
@CorneliusTheDoodle
Cornelius
Goldendoodle
Florida
@adventures_of_two_hooligans
Cami & Pepper
Springerdoodle
New Jersey
@charley_hound
Charley
Australian Labradoodle
Virginia
@eevee.the.daly.doodle
Eevee
Labradoodle
Pennsylvania
@enzo_flatstanleyhasnothingonme
Enzo
Goldendoodle
California
@winstonthedood1e
Winston
Australian Labradoodle
Massachusetts
@princess_lola._
Lola
Goldendoodle
Ohio
@bellethedelawaredoodle
Belle
Goldendoodle
Delaware
@scoutsmallsgoldendoodle
Scout
Goldendoodle
Pennsylvania
@TheCoffeeDoodles
Sandi & Colby
Goldendoodle, Labradoodle
Pennsylvania
@louiethedoodlebug
Louie
Goldendoodle
New Jersey
@partidoodmaverick
Maverick
Bernedoodle
California
@minidoodmiley
Miley Jo
Bernedoodle
Minnesota
@bufordbestboy
Buford
Goldendoodle
Ohio
@miss.darcey.goldendoodle
Darcey
Goldendoodle
England
@henryandskylar
Henry & Skylar
Australian Labradoodle
New York
@charleyfinn_doodle
Charley Finn
Labradoodle
Washington
@harvey_thehunterdood
Harvey & Rafferty
Australian Labradoodle
Australia
@remus_james
Remus
Goldendoodle
Kentucky
@dashingdoodleflynn
Flynn, Dakota & Arthur
Australian Labradoodle
Georgia
@napa_doodle
Napa
Bernedoodle
Massachusetts
@ralphthedoodledoo
Ralph
Labradoodle
England
@lilly__thedoodle
Lilly
Australian Labradoodle
Poland
@meet_henson
Henson
Goldendoodle
California
@tally.the.minidoodle
Tally
Goldendoodle
Maryland
@archies.doodle.life
Archie
Goldendoodle
Pennsylvania
@king.kodak.black
Koda
Aussiedoodle
Texas
@mochi_maltipooo
Mochi
Maltipoo
California
@mydood.milo
Milo
Goldendoodle
Utah
@boba.tea.the.havapoo
Boba
Havapoo
California
@doodwheresmymurph
Murphy
Goldendoodle
Georgia
@stellastrudelthehavadoodle
Stella Strudel
Havapoo
Florida
@groovygoldendoodles
Harley & Jaxson
Goldendoodle
South Carolina
@winni.thepoobear
Winston
Goldendoodle
Pennsylvania
@hotgirlbiscuit
Biscuit
Labradoodle
Pennsylvania
@BlakeTheBowlingDoodle
Blake (Shelton)
Goldendoodle
Idaho
@AdamTheBowlingDoodle
Adam (Levine)
Goldendoodle
Idaho
@sup.yee.siu_doodle
Sup Yee Siu
Goldendoodle
Hong Kong
@chesterkerwin
Chester
Goldendoodle
Canada
@cookiedadoodette
Cookie
Goldendoodle
California
@izziethesheepadoodle
Izzie
Sheepadoodle
Texas
@piper.sheepadoodle
Piper
Sheepadoodle
Canada
@HoneyBearTheCavapoo
Honey Bear
Cavapoo
Wisconsin
@graciethe__sheepadoodle
Gracie
Sheepadoodle
West Virginia
@ozzietheminiwhoodle
Ozzie
Whoodle
California
@apollo.max.2020
Apollo & Max
Cockapoo, Aussiedoodle
Missouri
@doodle_paris
Paris
Labradoodle
Alabama
@spaceymacydoodle
Macy
Goldendoodle
Oklahoma
@pipermae.goldendood
Piper Mae
Goldendoodle
Alabama
@golden_dood_ollie
Ollie
Goldendoodle
Massachusetts
@thatdood_axel
Axel
Goldendoodle
New York
@sweetannie_thedoodle
Annie
Goldendoodle
Louisiana
@BernedoodleLuna_
Luna
Bernedoodle
Pennsylvania
@Moe_OnTheGo_
Moe
Bernedoodle
Illinois
@RosieMay_the_sheepadoodle
Rosie May
Sheepadoodle
Tennessee
@berneboy_murphy
Murphy
Bernedoodle
Utah
@loki.the.dog.lord
Loki
Bernedoodle
New Jersey
@potatothebernedoodle
Potato
Bernedoodle
New York
@emmaposie_golden
Emma
Goldendoodle
New Jersey
@stormi62420
Stormi
Goldendoodle
Florida
@weldon_the_mini_dood
Weldon
Goldendoodle
South Carolina
@thatdoodteddyblu
Theodore Blu (Teddy)
Goldendoodle
Minnesota
@ril.ey320
Riley
Irish Doodle
North Carolina
@mrbowtieboutique
Seely
Poochon
Texas
@lillybernedoodle
Lilly
Bernedoodle
Ohio
@mako_mini_
Mako
Goldendoodle
Rhode Island
@maggiexdoodle
Maggie
Labradoodle
Pennsylvania
@margo.b_thedoodle
Margo
Goldendoodle
Michigan
@mikey_thelabradoodle
Mikey
Labradoodle
Indiana
@lexi.doodle1
Lexi
Goldendoodle
Alabama
@barkimedes_thedoodle
Archie
Bernedoodle
Massachusetts
@mybernedoodleremy
Remy
Bernedoodle
New Jersey
@konarosemorgan
Kona Rose
Bernedoodle
Maryland
@scoutbosdood
Scout
Australian Labradoodle
Illinois
@stylingirl1234
Remi & Billie Blue
Bernedoodle, Sheepadoodle
Wisconsin
@mysillytuckerdoodle
Tucker
Australian Labradoodle
New Jersey
@doodnamedblake
Blake
Goldendoodle
Canada
@MartyMcfluffy
Marty
Goldendoodle
New Hampshire
@everestconquersthenw
Everest
Sheepadoodle
Washington
@Stella.mae.xo
Stella Mae
Goldendoodle
California
@rumithegoldendood
Rumi Roo
Goldendoodle
Washington
@SimonTheBKDood
Simon
Bernedoodle
New York
@harveydoodleboy
Harvey
Goldendoodle
Massachusetts
@Rooby_Roo_the_sheepadoodle
Rooby-Roo
Sheepadoodle
Texas
@2berndoodz
Koda & Oris
Bernedoodle
Virginia
@milo_the_cavapoo23
Milo
Cavapoo
New Jersey
@turbothetxdoodle
Turbo
Goldendoodle
Texas
@abbeythedood
Abbey
Goldendoodle
Florida
@buddy_big_time
Buddy
Maltipoo
Ohio
@lileddybear
Eddy
Goldendoodle
Pennsylvania
@harper_junieb
Harper June
Aussiedoodle
West Virginia
@lulujosephine_and_lexijane
Lulu & Lexi
Goldendoodle
Illinois
@cashy.doodledoo
Cash
Goldendoodle
Louisiana
@dino_digs_minisheepadoodle
Dino
Sheepadoodle
Ohio
@winnythecavoodle
Winston
Cavapoo
Australia
@timberitto
Timber
Goldendoodle
Canada
@its.oliverdoodle
Oliver
Australian Labradoodle
Washington
@reese.the.cavapoo
Reese
Cavapoo
Massachusetts
@charliecockapoopoo
Charlie
Cockapoo
England
@noah_the_doodle
Noah
Goldendoodle
Illinois
@itspaisleydoodle
Paisley
Goldendoodle
Iowa
@ozzys__tale
Oslo
Sheepadoodle
Canada
@sullythedood2319
Sully
Australian Labradoodle
California
@stella_the_doodle._
Stella Blue
Australian Labradoodle
Washington
@Frankie_Ohle_Doodle
Frankie
Bernedoodle
Canada
@lifeasfinny
Finneas
Sheepadoodle
Canada
@aura_the_cockapoo
Aura
Cockapoo
England
@stanny_australian_labradoodle
Stanny
Australian Labradoodle
Belgium
@doodharley
Harley
Goldendoodle
Arizona
@dixiedoodledandy_
Dixie Leigh
Springerdoodle
Pennsylvania
@doodlesncats
Sofi & Willow
Bernedoodle, Pyredoodle
Canada
@teddygrams1821
Teddy
Goldendoodle
Kentucky
@zoethenewfypoo
Zoe
Newfypoo
Washington
@_archieoninsta
Archie
Cockapoo
Pennsylvania
@bugsy_noodles
Bugsy
Bernedoodle
Illinois
@pops_inthecity
Poppy
Bernedoodle
Washington
@poppins_the_pooch_
Poppins
Australian Labradoodle
North Carolina
@thegoldenmauii
Maui
Goldendoodle
California
@FureverWeasley
Weasley
Goldendoodle
Missouri
@pudge_and_branson
Pudge & Branson
Goldendoodle, Other
Georgia
@josie.miniaussiedoodle
Josie
Aussiedoodle
New York
@thefinleybean
Finley
Irish Doodle
Massachusetts
@wally_thebernedoodle
Wally
Bernedoodle
Minnesota
@efesdadood
Efes
Goldendoodle
Virginia
@Missy_The_Irish_Dood
Missy
Irish Doodle
England
@simba.the.super.floof
Simba
Goldendoodle
Texas
@mistermurphydoodle
Murphy
Goldendoodle
Ohio
@daisey_doodlegirl
Daisey
Goldendoodle
California
@miss.coco.the.doodle
Coco
Labradoodle
Virginia
@mydoodsireltonjohn
Elton John
Bernedoodle
Colorado
@dooditsindy
Indy
Goldendoodle
Indiana
@cockapoo.beau
Beau
Cockapoo
Canada
@puparrazi_for_sebastian_legacy
Sebastian Legacy
Goldendoodle
Virginia
@bennytheminibernedoodle
Benny
Bernedoodle
New York
@boomer.thecavapoo
Boomer
Cavapoo
New York
@theteddydoodle_
Teddy
Goldendoodle
Illinois
@huxley.theheartbreaker
Huxley
Aussiedoodle
Australia
@dolly_thedood
Dolly
Goldendoodle
Iowa
@dogcalledrory
Rory
Australian Labradoodle
Australia
@theminimaggie
Maggie
Goldendoodle
New Jersey
@boogie_the_chillen_dood
Boogie
Sheepadoodle
Indiana
@jessie.max.cockapoo
Jessie & Max
Cockapoo
England
@tucothecavapoo
Tuco
Cavapoo
Pennsylvania
@darlathedoubledoodle
Darla
Double Doodle
Georgia
@everybodylovesboomer
Boomer
Goldendoodle
Texas
@rubydoobythedoodle
Ruby Rose
Goldendoodle
Illinois
@that_cavadood_remington
Remington Vonwoofhausen
Cavapoo
South Carolina
@olliethedoglet
Ollie
Shihpoo, Yorkipoo
Minnesota
@wonderdoodledaisy
Daisy
Goldendoodle
Florida
@henry_cockapoo_pup
Henry
Cockapoo
England
@loopylunabear
Luna
Cockapoo
England
@nolabearthecavapoo
Nola
Cavapoo
Florida
@poppythecavapoo_1
Poppy
Cavapoo
Oklahoma
@minidoodle.dior
Dior
Goldendoodle
Utah
@cooperthetinydoodle
Cooper
Goldendoodle
Texas
@august.the.aussiedoodle
August
Aussiedoodle
Tennessee
@thelifeofrosiep
Rosie
Goldendoodle
Georgia
@callmecaptainthedog
Captain
Labradoodle
Ohio
@malibuthecavapoo
Malibu
Cavapoo
New York
@loki_doodleofmischief_19
Loki
Goldendoodle
Ohio
@simba_jestem_
Simba
Maltipoo
Poland
@knox.thegoldendoodle
Knox
Goldendoodle
Alabama
@dood.its.sophie
Sophie
Goldendoodle
Wisconsin
@rubyredtx
Ruby
Cockapoo
Texas
@the.grey.boys
Bellion
Cockapoo
Massachusetts
@luna.buna.doodle
Luna
Goldendoodle
Indiana
@tucker_boy_doodle
Tucker
Goldendoodle
Pennsylvania
@roninmasterlesswanderer
Ronin
Goldendoodle
Colorado
@mollylou.thegoldendoodle
Molly Lou
Goldendoodle
Delaware
@remi.doodlebear
Remi
Goldendoodle
Canada
@michael_scott_the_dog
Michael Scott
Goldendoodle
New York
@moose.the.newfypoo
Moose
Newfypoo
Canada
@doodimtate
Tate
Labradoodle
Georgia
@rileymaethepup
Riley Mae
Goldendoodle
Georgia
@_rileythegoldendoodle
Riley
Goldendoodle
New York
@beezusthenewfypoo
Beezus
Newfypoo
Oregon
@Gabe_the_Dood
Gabe
Goldendoodle
Virginia
@thisismajorbowie
Bowie
Aussiedoodle
Florida
@Cooper_the_Dooder
Cooper
Aussiedoodle
Ohio
@charliethecockapoo.0618
Charlie
Cockapoo
Arkansas
@mini.cooper.dood
Cooper
Goldendoodle
Ohio
@hazeldoodlef1b
Hazel
Goldendoodle
Oregon
@khloe.thedoodle
Khloe
Goldendoodle
Indiana
@maplerosedoodletales
Maple
Goldendoodle
California
@murphy.gdoodle
Murphy
Goldendoodle
Ohio
@marty_king_dood
Marty
Double Doodle
Nevada
@poppy.mgd
Poppy
Goldendoodle
Massachusetts
@Wallies_Tales
Wallie
Maltipoo
New York
@we_love_eevee
Eevee
Labradoodle
Arizona
@marnie_the_minischnoo
Marnie
Schnoodle
Scotland
@buddyandbaileythedoodles
Buddy & Bailey
Goldendoodle
Wisconsin
@duncanthelittledood
Duncan
Goldendoodle
Texas
@thelorenzochronicles
Lorenzo
Bernedoodle
New Jersey
@brysonthedoodlebear
Bryson
Goldendoodle
Florida
@sheepadoodle_summer
Summer
Sheepadoodle
Idaho
@sir_strollo_thepup
Strollo
Maltipoo
New Jersey
@teganandtucker
Tegan & Tucker
Shihpoo
Ohio
@mini.dood.barkley
Barkley
Goldendoodle
Iowa
@sparkythesundevildood
Sparky
Goldendoodle
California
@remy_the_dood2020
Remington
Goldendoodle
Florida
@mapleaussiedoodle
Maple
Aussiedoodle
California
@buster.the.rescue.maltipoo
Buster
Maltipoo
Texas
@this_dood_mav
Maverick
Goldendoodle
Oklahoma
@leo.the.goldendoo
Leo
Goldendoodle
Canada
@lailadoodledaily
Laila
Goldendoodle
Tennessee
@doodleonthehill
Sully
Labradoodle
Washington, D.C.
@rocky.theaussiedood
Rocky
Aussiedoodle
North Carolina
@lokaiandgoose
Lokai & Goose
Sheepadoodle
Illinois
@lina_theminidoodle
Lina
Goldendoodle
Massachusetts
@phoebe_thesheepadoodle
Phoebe Pouffet
Sheepadoodle
Canada
@Lil_Boogie_Bean
Boogie Bean
Goldendoodle
California
@teslas.tales
Tesla
Aussiedoodle
Pennsylvania
@addey.the.cockapoo
Addey Blaire
Cockapoo
Canada
@labradoodle.koda
Koda
Australian Labradoodle
Texas
@waltertheminigoldendoodle_
Walter
Goldendoodle
Minnesota
@kit_kat_and_charlie_brown
Kit Kat & Charlie Brown
Labradoodle
Australia
@finleythelittledood
Finley
Goldendoodle
Texas
@ralph_my_adventures
Ralph
Cavapoo
Australia
@penny_doodle_nc
Penny
Goldendoodle
North Carolina
@naladoodett
Nala
Goldendoodle
New York
@my2dudes1dudette
Buckeye, Buddy & Lillie
Double Doodle, Goldendoodle
Nevada
@Indiesdoodlelife
Indie
Goldendoodle
Michigan
@MaggieMae_minidood
Maggie
Goldendoodle
Illinois
@theroodledoodle
Roo
Aussiedoodle
Wisconsin
@bexleythegoldendoodle_
Bexley
Goldendoodle
West Virginia
@cockapoo.cash
Cash
Cockapoo
California
@schnoodlepenny
Penny
Schnoodle
Canada
@KikiDeeDoodle
Kiki
Goldendoodle
Maryland
@Itswinnietheblackdoodle
Winnie
Goldendoodle
Ohio
@leos__adventures
Leo
Cockapoo
England
@myrtle_the_doodle
Myrtle
Australian Labradoodle
Australia
@ZippityDoodle
Zippy
Aussiedoodle
Ohio
@mindyourowndoodles
Fozi & Pansy
Australian Labradoodle, Sheepadoodle
Virginia
@shaggyboys_forlife
Oakley & Georgie
Aussiedoodle
Texas
@ruetheaussiepoo
Rue
Aussiedoodle
Colorado
@miss_charlotte_rose
Charlotte Rose
Goldendoodle
Oklahoma
@dood_named_tuck
Tuck
Goldendoodle
Louisiana
@valentinothegoldendoodle
Valentino
Goldendoodle
Florida
@delilah.thedoodle
Delilah
Goldendoodle
South Carolina
@OzzieDoodleofOviedo
Ozzie
Aussiedoodle
Florida
@orbitthedood1
Orbit
Goldendoodle
Texas
@the_life_of_bradley_and_bernie
Bernie
Aussiedoodle
North Carolina
@that_doodhenry
Henry
Sheepadoodle
Pennsylvania
@c00per_maximus
Cooper
Goldendoodle
Texas
@ted_e_white_socks
Ted-E
Cavapoo
Australia
@harper_n_clancys_tails
Harper & Clancy
Cavapoo
Australia
@adventuresofkosmoandellie
Ellie & Boomer
Goldendoodle
Australia
@bayleetheaussiedoodle
Baylee
Aussiedoodle
Canada
@itshamiltondooood
Hamilton
Goldendoodle
Florida
@polo_thegoldendoodle
Polo
Goldendoodle
Texas
@life.of.jax.mini.aussiedoodle
Jax
Aussiedoodle
New York
@bruno.luca.doodles
Bruno & Luca
Australian Labradoodle
North Carolina
@oreo_cavapoo_
Oreo
Cavapoo
New York
@harperdoodle01
Harper
Goldendoodle
West Virginia
@The_TaterTot_Tails
Tater Tot
Maltipoo
Florida
@therealhankydoodle
Hank
Bernedoodle
New York
@bambichoy
Bambi
Labradoodle
Canada
@Hokulani_The_Poo
Hokulani
Cockapoo
California
@sheepadoodle.brax
Brax
Sheepadoodle
New York
@navy_thesheepadoodle
Navy
Sheepadoodle
California
@tilley_goldendoodle
Tilley
Goldendoodle
Canada
@labradoodlemystique
Mango & Savanna
Australian Labradoodle
California
@_fozziebear01_
Fozzie
Labradoodle
England
@alifewithluna_
Luna
Bernedoodle
New Jersey
@benjii.theshihpoo
Benji
Shihpoo
Canada
@lucytheminiberne
Lucy
Bernedoodle
Georgia
@bridgetbarko
Bridget
Bernedoodle
California
@maplecious_doodle
Maple
Goldendoodle
New York
@Miss_Macy_Doodle
Macy
Goldendoodle
Texas
@sunnytheredcocka
Sunny
Cockapoo
England
@rawleigh.the.mini.dood
Rawleigh
Goldendoodle
Arkansas
@callmeeyebrows
Rossi & Fergus
Cockapoo
England
@chesterthebernedoodle
Chester & Tucker
Bernedoodle
New York
@mynameiskikko
Kikko
Aussiedoodle
Washington
@stella_theaussiedoodle_
Stella
Aussiedoodle
Texas
@archiethegoodestboydoodle
Archie
Goldendoodle
Ohio
@vincenzo_thedood
Vincenzo
Goldendoodle
West Virginia
@dood_itsfig
Fig
Goldendoodle
West Virginia
@doodlesharrypotter
Albus & Minerva
Aussiedoodle, Goldendoodle
Georgia
@thatdoodbear_
Bear
Goldendoodle
Texas
@talk_to_me_doodle_goose
Goose
Aussiedoodle
Alabama
@brodiethesheepadoodle
Brodie
Sheepadoodle
Alabama
@keeping_up_with_kobe
Kobe
Australian Labradoodle
Canada
@finding_nino_adventures
Nino
Sheepadoodle
Ohio
@beaubeauworld
Beau
Sheepadoodle
Maryland
@itsbutlerthedoodle
Butler
Goldendoodle
Arkansas
@thatsagoodgirlpearl
Pearl
Goldendoodle
Ohio
@benningtonthebernedoodle
Bennington
Bernedoodle
Washington, D.C.
@Napoleon_the_Dood
Napoleon
Bernedoodle
Indiana
@labradoodle_millie_
Millie
Labradoodle
England
@mr.murphy_moo
Murphy
Goldendoodle
Illinois
@itsbentleedood
Bentlee
Goldendoodle
California
@MurphyTheMGD
Murphy
Goldendoodle
Maryland
@sir.buzzthedood
Buzz
Goldendoodle
Florida
@its.gordon.ramsey
Ramsey
Cockapoo
New Jersey
@finn_minigoldendoodle
Finn & Cooper
Goldendoodle
New Jersey
@Mr._Mozely
Mr. Linus Mozely
Goldendoodle
Tennessee
@kovu_the_cockapoo
Kovu
Cockapoo
North Carolina
@lottiehutchings_cockapoo1
Lottie
Cockapoo
England
@oakley_rayne_doodle
Oakley
Goldendoodle
Missouri
@teddycrawfordcockapoo
Teddy
Cockapoo
Scotland
@mini_winniethebish
Winnie
Aussiedoodle
South Dakota
@TheLadyBernedoodle
Lady
Bernedoodle
Virginia
@apupnamedonyx
Onyx
Cockapoo
New Jersey
@blazinramendoodle
Blaze
Bernedoodle
Delaware
@otto_the.cockapoo
Otto
Cockapoo
Pennsylvania
@bambathedoodle
Bamba
Goldendoodle
California
@lifeofthepartibelle
Belle
Cockapoo
Massachusetts
@_doodlejaxx
Jax
Goldendoodle
Texas
@jaxxypoo_
Jaxx & Milo
Aussiedoodle
New York
@thepupnamedpj
Pj
Shihpoo
Ohio
@dexterthegoldendoodle___
Dexter
Goldendoodle
Canada
@jett_the_bernedoodle
Jett
Bernedoodle
Oregon
@thebostonblintz
Blintz
Australian Labradoodle
Massachusetts
@doodle_lovers_75
Ozzy
Australian Labradoodle
Oregon
@WallyTBernedoodle
Walter Theodore, "Wally"
Bernedoodle
Iowa
@katsu_the_dood
Katsu
Goldendoodle
California
@stella_ann_bailey_mae
Stella & Bailey
Sheepadoodle
Colorado
@The_Cuban_Doodles
Havana & Pirolo
Goldendoodle
Florida
@murphythedapperdoodle
Murphy
Goldendoodle
Kentucky
@the_three_muskepuppers
Barney, Jazzmine & Chester
Cockapoo, Goldendoodle, Springerdoodle
England
@bailey_dehavapoo
Bailey
Havapoo
The Netherlands
@BlueEyeSkye
Skye
Aussiedoodle
Canada
@thatdoodlemillie
Millie
Goldendoodle
South Carolina
@azileethedoodle
Azilee
Labradoodle
South Carolina
@izzieran
Izzie
Goldendoodle
Florida
@molly_minidoodles
Molly
Goldendoodle
New York
@raffathecockapoo
Raffa
Cockapoo
England
@baylorsbestlife
Baylor
Bernedoodle
Washington
@rigsbyvanpelt
Rigsby VanPelt
Aussiedoodle
South Carolina
@oslo.the.dood
Oslo
Aussiedoodle
California
@Its.charliedoodle
Charlie
Labradoodle
Canada
@blondeboybenny
Benji
Goldendoodle
New York
@bearkennygroodle
Bear
Goldendoodle
Australia
@mac_the_shihpoo
Mac
Shihpoo
Ohio
@bennieboy__thegoldendoodle
Bentley
Goldendoodle
Kentucky
@rileyremidoodle
Riley Mae & Remi Lynn
Bernedoodle, Labradoodle
Ohio
@lifeasaminidoodle
Bogotá (Bo)
Goldendoodle
California
@bhairav_the_minigoldendood
Bhairav
Goldendoodle
Florida
@ryder.labdoodle
Ryder
Labradoodle
Michigan
@saigethegoldendoodle
Saige
Goldendoodle
California
@freddy_the_poochon
Freddy
Poochon
Australia
@alaskan_doodle
Carson
Labradoodle
Alaska
@cocotheberne
Coco
Bernedoodle
Canada
@aye_yo_milo
Milo
Cavapoo
Texas
@best_doodle
Hank
Goldendoodle
Florida
@hersheygoodboy
Hershey
Aussiedoodle
California
@doodles_layandmags
Layla & Maggie
Goldendoodle
Ohio
@the_goldendoodle_harper
Harper Avery
Goldendoodle
Massachusetts
@lu.na.do
Luna
Goldendoodle
Tennessee
@stellabear_goldendoodle
Stella
Goldendoodle
Arizona
@kaneskandids
Kane
Shihpoo
Wisconsin
@lifeof_appa
Appa
Goldendoodle
Washington
@henry.theham
Henry
Goldendoodle
Tennessee
@louiethecockapoo.x
Louie
Cockapoo
England
@sirbensonthedood
Benson
Goldendoodle
Maryland
@RosieRaeTheDoodle
Rosie
Goldendoodle
Ohio
@dooditspiperjane
Piper
Goldendoodle
Iowa
@MacAdoodle_1213
Mac
Goldendoodle
North Carolina
@lincthedoodle
Lincoln (Linc)
Goldendoodle
North Carolina
@tedstagram.shihpoo
Ted
Shihpoo
England
@pawfect.joey
Joey
Maltipoo
Illinois
@SirHenryDud
Henry
Goldendoodle
New Jersey
@_tucker_dood_
Tucker
Aussiedoodle
New Jersey
@dillon_the_doodle
Dillon
Goldendoodle
Georgia
@remo.cruzo
Remo & Cruzo
Goldendoodle, Maltipoo
Australia
@madisonvogelhuber
Madison
Cockapoo
Alabama
@paisley_bean_
Paisley Bean
Sheepadoodle
Florida
@layla_thesassydoodle
Layla
Goldendoodle
California
@Doodle_Union_Jack
Jack
Goldendoodle
Canada
@finn_thedooodle
Finn
Goldendoodle
Texas
@finleythefriendlydoodle
Finley Knox
Goldendoodle
South Carolina
@abby.roses.world
Abby Rose
Cavapoo
California
@cockapookona
Kona
Cockapoo
California
@bonniethecockapoo_1
Bonnie
Cockapoo
England
@dango_the_naughty_dog
Dango
Shihpoo
Malaysia
@dooditsgrizzly
Grizzly
Goldendoodle
Michigan
@sammiedafloof
Sammie
Goldendoodle
Florida
@cosmo.amande.fluffnugget
Cosmo Amande
Australian Labradoodle
Texas
@ozziethegoldendood
Ozzie White
Goldendoodle
West Virginia
@bearthegoldendoodle20
Bear
Goldendoodle
Alabama & Texas
@tashthedood_leothebully
Tash
Sheepadoodle
Texas
@ellies.fanclub
Ellie
Havapoo
Washington
@clarence.cecil.gdoodles
Clarence & Cecil
Goldendoodle
Missouri
@Stache_and_Teddy_the_Doods
Stache & Teddy
Goldendoodle, Pyredoodle
Texas
@clancy_aussiedoodle
Clancy
Aussiedoodle
Michigan
@FreyjaBayFluffbrok
Freyja Bay
Aussiedoodle
Pennsylvania
@Stella_Kerr_The_Labradoodle
Stella
Australian Labradoodle
Idaho
@noodle.da.doodle
Noodle
Goldendoodle
Canada
@sheepy_kaya
Kaya
Sheepadoodle
Canada
@that.dood.angus
Angus
Sheepadoodle
New Jersey
@poppy_and_milo_
Poppy & Milo
Australian Labradoodle, Labradoodle
England
@nala20_cockapoo
Nala
Cockapoo
England
@_sadie_cockapoo_
Sadie
Cockapoo
England
@dood_its_divot
Divot
Goldendoodle
Tennessee
@ralphminiaturecockapoo
Ralph
Cockapoo
Wales
@archikgram
Archie
Cockapoo
Massachusetts
@saleena_2020
Saleena
Goldendoodle
Canada
@rosie.doodlittle
Rosie
Goldendoodle
Arizona
@hazel.doodle_
Hazel
Goldendoodle
California
@dood_itsremington
Remi
Aussiedoodle
Kentucky
@bellabisouxthecavapoo
Bella
Cavapoo
England
@EspressoBean1109
Espresso
Cockapoo
Arkansas
@littlelottiethecockapoo
Lottie
Cockapoo
England
@lucky_doodledoo
Lucky
Goldendoodle
New Jersey
@dartdoodledog
Dart
Australian Labradoodle
Maine
@darryl.doodledandy
Darryl
Goldendoodle
Michigan
@benjiandkiki
Benji & Kiki
Australian Labradoodle
Australia
@mozzie.cockapoo
Mozzie
Cockapoo
Canada
@jerseythecockerdoodlepoo
Jersey
Aussiedoodle, Cockapoo, Labradoodle
England
@bambi_thecockapoo
Bambi
Cockapoo
England
@finleythefldood
Finley
Goldendoodle
Florida
@colin.the.cockapoo
Colin
Cockapoo
England
@daisy.mai_25
Daisy Mai
Cockapoo
Illinois
@brontedoodledog
Bronte
Australian Labradoodle
England
@ruby.doodle.dandee
Ruby
Australian Labradoodle
Washington
@mydoodlehoney
Honey
Goldendoodle
California
@molly_moo_cockapoo
Molly
Cockapoo
Scotland
@aloha.cerberus
Cerberus
Goldendoodle
California
@rocket022020trashpanda
Rocket
Aussiedoodle
Mississippi
@woody_and_olive_doodles
Olive & Woody
Australian Labradoodle, Cockapoo
England
@banjo_the_oodle
Banjo
Cockapoo
Australia
@bella_and_joan
Bella & Joan
Labradoodle
Australia
@ginger_thedoodle_
Ginger
Goldendoodle
Florida
@brodiebrodood
Brodie
Goldendoodle
Ohio
@mrcrumpet_the_cockapoo
Crumpet
Cockapoo
England
@bodhi_bear_cockapoo
Bodhi
Cockapoo
England
@myles_thecavapoo
Myles
Cavapoo
New Jersey
@yourfriendmarley
Marley
Saint Berdoodle
California
@doodleanddad
Sophie
Goldendoodle
Texas
@loretta_the_bernedoodle
Loretta
Bernedoodle
Tennessee
@life.with.pancake
Pancake
Goldendoodle
Virginia
@konabeanthecockapoo
Kona
Cockapoo
New Jersey
@hersheythechocolatebordoodle
Hershey
Bordoodle
Australia
@alfieblue.thebordoodle
Alfie Blue
Bordoodle
Australia
@blu_fluff
Blu
Maltipoo
South Carolina
@realcharliedoodle
Charlie
Goldendoodle
Texas
@kinghenleythecockapoo
Henley
Cockapoo
England
@runforit_marty
Marty McFly
Saint Berdoodle
Louisiana
@oskithepanda
Oski
Sheepadoodle
California
@roxy_cockerpoo
Roxy
Cockapoo
England
@charles_baricchi
Charles
Cavapoo
California
@molly.the.pooh
Molly
Cockapoo
Canada
@kinglouie_the_goldendoodle
Louie
Goldendoodle
Illinois
@Summit_Doodle
Summit
Goldendoodle
New York
@sheepadoodle.olive
Olive
Sheepadoodle
Massachusetts
@minigirlmaple
Maple
Cavapoo
Florida
@bonniedoubledoodle
Bonnie
Double Doodle
England
@lovinglavidalokai
Lokai
Newfypoo
Maryland
@_prince.winston
Winston Berkeley
Labradoodle
South Carolina
@_tailsofollie_
Ollie
Cavapoo
Alabama
@_bruno_the_goldendoodle_
Bruno
Goldendoodle
Ohio
@henley.the.aussiedoodle
Henley
Aussiedoodle
Arkansas
@indy.the_dood
Indy
Goldendoodle
California
@kira_the_aussiedoodle
Kira
Aussiedoodle
Canada
@rio_theaussiedood
Rio
Aussiedoodle
Texas
@geri_the_cockapoo
Geri
Cockapoo
England
@ronnie.labradoodle
Ronnie
Labradoodle
England
@Meet_Moose_
Moose
Shihpoo
Illinois
@lunalabella.cockapoo
Luna
Cockapoo
Connecticut
@strudel.the.doubledoodle
Strudel
Double Doodle
England
@deweythenewdle
Dewey
Newfypoo
Mississippi
@blue_bernedoodle_
Blue
Bernedoodle
Ohio
@ocean.the.bernedoodle
Ocean
Bernedoodle
Canada
@zazu_thedoodle
Zazu
Goldendoodle
Nevada
@luckiepuppie33
Luckie
Bernedoodle
Ohio
@daily_nadav
Nadav
Goldendoodle
Florida
@wilson.the.sheepadoodle
Wilson
Sheepadoodle
Canada
@champthesailingdoodle
Champ
Goldendoodle
Maine
@lilythesheepadoodle
Lily
Sheepadoodle
Connecticut
@theaussiedoodlife
Tobi
Aussiedoodle
Canada
@doodle_paisleymay
Paisley
Goldendoodle
Canada
@tippi_lou
Tippi
Aussiedoodle
Michigan
@bernedoods_nico_gus_bailey
Nico, Gus & Bailey
Bernedoodle
Oregon
@wafel_n_lola_official
Wafel & Lola
Cavapoo, Maltipoo
The Netherlands
@mydoodledoggies
Dino, Kali & Duke
Goldendoodle, Labradoodle, Saint Berdoodle
Georgia
@dood.wheresollie
Ollie
Labradoodle
New Jersey
@cooper.saintberdoodle
Cooper
Saint Berdoodle
Canada
@ginger_gram_diaries
Ginger
Goldendoodle
North Carolina
@adventuresofthedoodletrio
Tater, Truffle & Toffee
Labradoodle
Ohio
@nybodacockerpoo
Wilma, Myrra & Betty
Cockapoo
Sweden
@thelifeofriley13
Riley
Goldendoodle
Massachusetts
@bethberry37
Finn
Labradoodle
Florida
@doodle.ghost
Ghost
Goldendoodle, Sheepadoodle
Canada
@two__southern_fluffs
Odie
Goldendoodle
South Carolina
@archie.the.shoodle
Archie
Shihpoo
Australia
@harleyquinn_bernedoodle
Harley Quinn
Bernedoodle
Michigan
@idreamofsheepie
Daydream
Sheepadoodle
Michigan
@sweetlulupup
Lulu
Goldendoodle
Michigan
@parkerpaws20
Parker
Goldendoodle
North Carolina
@miley.cockapoo
Miley
Cockapoo
England
@lilcavachew
Chewy
Cavapoo
Illinois
@brown_boy_bruno
Bruno
Goldendoodle
Michigan
@mysunnydoodle
Sunny
Goldendoodle
Canada
@thatdoggieoscar
Oscar
Cockapoo
Ohio
@thespoodleted
Ted
Cockapoo
Australia
@marcotheminidoodle
Marco
Goldendoodle
Illinois
@zeusthegoldendoodle
Zeus
Goldendoodle
Canada
@Lil_dood_Leo
Leo
Australian Labradoodle
California
@mr.winston_thedoodofalldudes
Winston
Goldendoodle
Missouri
@AugietheAussiedoodle
Augustus
Aussiedoodle
Georgia
@_winniethegoldenpupper_
Winnie
Goldendoodle
Canada
@opiedoodle22
Opie
Goldendoodle
Missouri
@wesleigh_thedood
Wesleigh
Goldendoodle
Pennsylvania
@Daisy.and.Duke_
Daisy & Duke
Bernedoodle, Goldendoodle
California
@howard_youdoing_
Howard
Aussiedoodle
Ohio
@mia_andcooper
Mia & Cooper
Goldendoodle
Australia
@riley__theminidoodle
Riley
Goldendoodle
South Carolina
@cheeriothemini
Cheerio
Goldendoodle
California
@eden.the.bernedoodle
Eden
Bernedoodle
Canada
@murph_the_spoo
Murphy
Cockapoo
Australia
@ivan_the_terripoo
Ivan, Simon & Marcus
Cockapoo, Goldendoodle, Other/Unknown
Illinois
@arlo_da_gdood
Arlo
Goldendoodle
California
@archie.belladoodle
Archie & Bella
Goldendoodle
Missouri
@sweetcocochaneldoodle
Coco
Australian Labradoodle
California
@rosie.reese28
Rosie
Cavapoo
Pennsylvania
@2little_lam
Archie & Chopper
Cockapoo
Canada
@peppatheminigrood
Peppa
Goldendoodle
Australia
@rocky_cavapoochon
Rocky
Cavapoo
England
@remyventures
Remy
Labradoodle
Canada
@pupsofbowerscrest
Oliver & Daisy
Goldendoodle
California
@golden_gemma717
Gemma
Goldendoodle
New Jersey
@doodsx2
Koa & Keanu
Goldendoodle
New York
@doodnameace
Ace
Goldendoodle
New Jersey
@maci_rose_minidoodle
Maci Rose
Goldendoodle
Colorado
@josie_goldood
Josie
Goldendoodle
North Carolina
@jasper.and.ghost
Jasper
Shihpoo
Canada
@benjii_maltipoo
Benji
Maltipoo
Texas
@paxtontheaussiedoodle
Paxton
Aussiedoodle
Canada
@elvis_the_sheepie
Elvis
Sheepadoodle
Ohio
@marleegirl18
Marlee
Goldendoodle
Australia
@durkthedood
Durk
Aussiedoodle
Illinois
@maggie_doodle_ny
Maggie
Goldendoodle
New York
@that_dood.oakley
Oakley
Goldendoodle
Ohio
@pawprint.adventures.with.rufus
Rufus
Goldendoodle
England
@duffydisneydog.cavoodle
Duffy
Cavapoo
Australia
@ragnarsstories
Ragnar
Pomapoo
Sweden
@lucy_big_bro_max
Lucy & Max
Goldendoodle
Pennsylvania
@loveatfirstsia
Sia
Sheepadoodle
California
@gibbytheaussiedoodle
Gibby
Aussiedoodle
Texas
@doodlecordoroy
Corduroy
Goldendoodle
Texas
@misspippa_thegoldendoodle
Pippa
Goldendoodle
Utah
@thatdoodlemack
Mack
Sheepadoodle
Texas
@thegirlnamedgus
Gus
Bernedoodle
Montana
@percy_our_doodle
Percy
Goldendoodle
Canada
@dud_ley_the_sheepadoodle
Dudley
Sheepadoodle
Oklahoma
@benny_the_jet_242020
Benny the Jet
Other/Unknown
California
@dunkinthedood_
Dunkin'
Goldendoodle
North Carolina
@Iamgrootdoodle
Groot
Sheepadoodle
Wisconsin
@sophie_the_bernedooodle
Sophie
Bernedoodle
Texas
@theo.aussiedood
Theo
Aussiedoodle
Massachusetts
@mia_thedoodle20
Mia
Goldendoodle
North Carolina
@journey.thedood
Journey
Goldendoodle
Tennessee
@tillymeithecockapoo
Tilly-Mei
Cockapoo
Massachusetts
@rosie_themalty
Rosie
Maltipoo
Mississippi
@BoBonnieBernedoodle
Bo
Bernedoodle
Canada
@bentley.theedoodle
Bentley
Goldendodle
Florida
@pippin.the.squeak
Pippin the Squeak
Pomapoo
Australia
@lexibearloo
Lex
Aussiedoodle, Cavapoo
Canada
@my_dood_ryder
Ryder
Goldendoodle
Louisiana
@sir.louis.j.spoodle
Louis
Cockapoo
Australia
@patchandwally
Tatum
Goldendoodle
Massachusetts
@mynameisollie_
Ollie
Cockapoo
Australia
@the.w.doods
Wynter & Posie
Goldendoodle
Tennessee
@mrjax_shihpoo
Jax
Shihpoo
Florida
@lolagdlden
Lola
Goldendoodle
Massachusetts
@iamcottyb
Cotter Beeks
Goldendoodle
Wisconsin
@carmel._.biscotti
Carmel Biscotti
Goldendoodle
Wisconsin
@bella_the_white_goldendoodle
Bella
Goldendoodle
South Carolina
@milo.thetrio
Milo
Cavapoo
Canada
@archibald_roberts
Archie
Other/Unknown
North Carolina
@mr.ollie.and.company
Oliver & Dodger
Aussiedoodle, Goldendoodle
Texas
@tippdogs
Toby & Molly
Sheepadoodle
Utah
@mgd_miller
Miller
Goldendoodle
North Carolina
@apollo.the.goldie
Apollo
Goldendoodle
Georgia
@mydoodcyrus
Cyrus
Goldendoodle
Massachusetts
@max_stberdoodle
Max
Saint Berdoodle
Michigan
@nelliemae_thegoldendoodle
Nellie Mae
Goldendoodle
Tennessee
@bernedudesulley
Sulley
Bernedoodle
Tennessee
@missmolly_thecavapoo
Molly
Cavapoo
Canada
@marleydood.stud
Marley
Goldendoodle
North Carolina
@thatdoodlekai
Kai
Goldendoodle
Texas
@dooditskinglouie
King Louie
Goldendoodle
California
@waffles0714
Waffles
Goldendoodle
Florida
@milodood2020
Milo
Goldendoodle
Ohio
@sophiethefloofy
Sophie
Maltipoo
Wisconsin
@tizzy.frizzle.thedoodette
Tizzy Frizzle
Goldendoodle
Tennessee
@leo_the.cavoodle
Leo
Cavapoo
Australia
@the_cheesy_schnoodle
Brie
Schnoodle
Maryland
@mr.archie_doodle
Archie
Goldendoodle
Arizona
@theodore.khasat
Teddy
Australian Labradoodle
Pennsylvania
@yogi_australianlabradoodle
Yogi
Australian Labradoodle
Texas
@fabulous_life_of_finnegan
Finnegan
Saint Berdoodle
Kansas
@dood.itsrocky
Rocky
Goldendoodle
Navada
@willowandgwen
Willow
Cavapoo
Pennsylvania
@kona_lady_love
Kona
Australian Labradoodle
Tennessee
@lucy_tails
Lucy
Cavapoo
Ohio
@otis_my_brotis
Otis
Goldendoodle
Ohio
@werethemackdoodles2021
Cotton Mack'Doodle & Furgie Mack'Doodle
Goldendoodle
Texas
@dawsonthesheepadoodle
Dawson
Sheepadoodle
Texas
@anniewarbarks
Annie
Cavapoo
Australia
@jip_oodles_of_love
Jip
Labradoodle
Australia
@lucythecutest_bordoodle
Lucy
Bordoodle
Australia
@olive_thecavapoo
Olive
Cavapoo
Ohio
@imrockytheboss
Rocky The Boss
Labradoodle
England
@the.doodle.bella
Bella
Goldendoodle
Kentucky
@aquinnahnewfypoo
Aquinnah
Newfypoo
Massachusetts
@doodle_partyof4
Brodie, Maddie, Bowie & Lexie
Goldendoodle
Texas
@missharleythedoodle
Harley
Australian Labradoodle
Texas
@maud.cast
Maud
Aussiedoodle
New York
@christmas2020doodle
TBD
Goldendoodle
Kentucky
@RIOGrandeDoodle
Rio
Aussiedoodle
Missouri
@adventuresofgabsandmarley
Marley
Bernedoodle
Canada
@sirwinstoncooper_doodlegram
Sir Winston Cooper
Bernedoodle
California
@adventuresofwallysworld
Wally, Lulu & BooBoo
Maltipoo, Poochon, Sheepadoodle
Nevada
@myfurrydoodle
Kalik
Bernedoodle
Florida
@sheepadoodle_dood
Sammy
Sheepadoodle
Oklahoma
@mortythedoodle7302020
Morty
Goldendoodle
California
@oliverthesproodle
Oliver
Springerdoodle
Nevada
@ollythedoodlegirl
Olly
Labradoodle
Puerto Rico
@mikabernedoodle
Mika
Bernedoodle
Virginia
@_milliethepoo
Millie
Cavapoo
Oklahoma
@miss.doodlebob
Bobbie
Goldendoodle
Nebraska
@zoeythepawranger
Zoey
Goldendoodle
Canada
@august.thedoodle
August
Goldendoodle
Canada
@sheepadudetux
Tux
Sheepadoodle
California
@365dayz.of_autumn
Autumn
Cavapoo
New York
@AlongCameMilo
Milo
Aussiedoodle
New York
@pippa_mischa_s_doodles
Pippa
Australian Labradoodle
The Netherlands
@marley_and_milo_thecockapoos
Marley & Milo
Cockapoo
Ireland
@shesourdream
Dream
Shihpoo
California
@wreckitraff
Raff
Australian Labradoodle
Canada
@jolenethecavapoo
Jolene
Cavapoo
New York
@rosiethegoldendoooodle
Rosie
Goldendoodle
Louisiana
@augiethedoggy2020
Augie
Cavapoo
Texas
@Noelle.Doodle
Noelle
Goldendoodle
Illinois
@itsstrudelthedoodle
Strudel
Goldendoodle
Florida
@apairofdoodles
Lilly & Finley
Labradoodle
North Carolina
@remmi_remminski
Remmi
Goldendoodle
Florida
@murphys.escapades
Murphy
Bernedoodle
Maryland
@eastcoastpuppy
Chai
Cockapoo
New Jersey
@ur_dood_rocco
Rocco
Bernedoodle
Illinois
@wesleytheberne
Wesley
Bernedoodle
California
@Captain_StBerdoodle
Captain
Saint Berdoodle
Florida
@luna_n_blu_thedoods
Luna & Blu
Aussiedoodle, Bernedoodle
Pennsylvania
@mac_and_finn
Finn
Goldendoodle
Pennsylvania
@louie_the_doodle20
Louie
Goldendoodle
Iowa
@kolbithegoldie
Kolbi
Goldendoodle
Virginia
@minicavapooteddy
Teddy
Cavapoo
Maryland
@bellamyrenesmeeandmajesty_
Bellamy & Majesty
Goldendoodle, Poodle
California
@foxymila_
Mila
Yorkipoo
Massachusetts
@frankincense_thesaintberdoodle
Frankincense
Saint Berdoodle
Wisconsin
@thatdoodmaximus
Maximus
Saint Berdoodle
Florida
@therealjacksonjones1
Jackson
Australian Labradoodle
Connecticut
@irmatheminigoldendoodle
Irma
Goldendoodle
Nebraska
@thegoldendoodle_moose
Moose
Goldendoodle
New Mexico
@daphnedoodlelove
Daphne
Sheepadoodle
Oregon
@maltipoomuffy
Muffin
Maltipoo
Italy
@thatdooddonzi
Donzi
Goldendoodle
New York
@griffintheirishdoodle
Griffin
Irish Doodle
Ohio
@mr.monty_dog
Monty
Sheepadoodle
Canada
@spenceandthecity
Spence
Bernedoodle
New York
@atlasardon
Atlas
Goldendoodle
New Jersey
@jasper_cockapoo_2020
Jasper
Cockapoo
Canada
@Lola._Palooza
Lola Dubin
Sheepadoodle
Illinois
@ramsey_doodle_joseph
Ramsey
Bernedoodle
Connecticut
@ollie.likes
Ollie
Sheepadoodle
Canada
@cosmo_pupadoodle
Cosmo
Bernedoodle
New York
@bordoodle_zander
Zander
Bordoodle
Australia
@hudson_thecockapoo_
Hudson
Cockapoo
New York
@benny_boo_the_cockapoo
Benny
Cockapoo
Ohio
@littlemissmaggieflanagan
Maggie
Goldendoodle
Florida
@thebernedoodletheodore
Theodore
Bernedoodle
Nevada
@officialphmoof
Stella Blue
Schnoodle
Canada
@sonnytheminigoldendoodle
Sonny
Goldendoodle
Pennsylvania
@osofetching
Oso
Cavapoo
Illinois
@sparky_parki
Parker
Goldendoodle
Arkansas
@ziggythedoodledude
Ziggy
Aussiedoodle
California
@mileethedood
Milee
Goldendoodle
Missouri
@ollie.bears.adventures
Ollie
Cavapoo
Australia
@ATaleof2Cavapoos
Moose & Gigi
Cavapoo
Pennsylvania
@arlo_the_stberdoodle
Arlo
Saint Berdoodle
Ohio
@DaisyMae.LucyLou.DoodleBugs
Daisy Mae & Lucy Lou
Goldendoodle, Sheepadoodle
California
@tobias_thegoldendoodle
Tobias
Goldendoodle
Kentucky
@goodboynimbus
Nimbus
Bordoodle
Canada
@kodathebeardoodle
Koda
Goldendoodle
Florida
@xena.the.bernedoodle
Xena
Bernedoodle
Arizona
@GiGithaDoodle
GiGi Cutts
Goldendoodle
Alaska
@nalathetoycockapoo
Nala
Cockapoo
England
@bennysdood
Benny
Goldendoodle
Washington
@ziggytheminisheepadoodle
Ziggy
Sheepadoodle
Texas
@ollie_gram20
Ollie
Sheepadoodle
Florida
@thedoodleginger
Ginger
Goldendoodle
South Carolina
@jojo.cavapoo
JoJo
Cavapoo
North Carolina
@harley_doodledo0
Harley
Sheepadoodle
New Jersey
@stanleythemanlydood
Stanley
Goldendoodle
Michigan
@franklin_thecavapoo
Franklin
Cavapoo
Missouri
@doodlecookiecrew
Cookie
Australian Labradoodle
The Netherlands
@erniethesheepadoodle
Ernie
Sheepadoodle
Illinois
@Cami_the_Cutest_Doodle
Cami
Goldendoodle
Alabama
@buddy_the_goldendood
Buddy
Goldendoodle
Ohio
@bali.doodle
Bali
Aussiedoodle
New Jersey
@ArchieDuketheAussieDood
Archie Duke
Aussiedoodle
Florida
@the_life_of_charliedoodle_
Charlie
Goldendoodle
Georgia
@jerseygirlsheepadoodle
Jersey
Sheepadoodle
South Carolina
@bowie.from.noe
Bowie
Cavapoo
California
@doodlefreyja
Freyja
Goldendoodle
Mississippi
@mila_the_cockapoo_
Mila
Cockapoo
England
@milothebarkingpup
Milo
Cockapoo
North Carolina
@bella2020.aussiedoodle
Bella
Aussiedoodle
Alabama
@princess.ruby.cavapoo
Ruby
Cavapoo
Illinois
@milo_cooper_the_labradoodle
Milo
Labradoodle
California
@gemcitywillow
Willow
Goldendoodle
Kentucky
@the_doodle_buddies
Lily, Nala & Poppy
Australian Labradoodle, Cavapoo
Australia & New Zealand
@crumpet_themoodle
Crumpet
Maltipoo
Australia
@opheliathedood
Ophelia
Goldendoodle
Canada
@walterjuniorfb1
Walter
Labradoodle
Australia
@this.dood.teddi
Teddi
Goldendoodle
New York
@macy.moodle
Macy
Maltipoo
Australia
@lincoln_and_benny_the_doods
Lincoln & Benny
Newfypoo
Pennsylvania
@delta_zi_doodle
Delta Zi
Aussiedoodle
Nevada
@mazikeen_the_doodle
Mazikeen
Australian Labradoodle
Connecticut
@misslunaathedoodle
Luna
Goldendoodle
Texas
@buddy._.doodle
Buddy
Goldendoodle
Indiana
@dorothy.the.doodle
Dorothy
Labradoodle
England
@GroguTheCavapoo
Grogu
Cavapoo
Florida
@GroguTheCavapoo
Bear
Pomapoo
Norway
@lunainthechicity
Luna
Cavapoo
Illinois
@gusthechewy
Gus
Cockapoo
Missouri
@deku.the.cockapoo
Deku
Cockapoo
New Jersey
@explorinwithecho
Echo
Bernedoodle
Texas
@olliethesheepa
Ollie
Sheepadoodle
California
@bentleyanddudleydoodle
Bentley & Dudley
Goldendoodle, Labradoodle
Canada
@lunadoodleig
Luna
Goldendoodle
Virginia
@canelo_goldendoodle
Canelo
Goldendoodle
California
@theminidoodgatsby
Gatsby
Goldendoodle
Illinois
@dood_its_hattie
Hattie
Aussiedoodle
North Carolina
@cavapoocharliebrown
Charlie
Cavapoo
Georgia
@bandit_thesheepadoddle
Bandit
Sheepadoodle
Wisconsin
@dunkidood
Dunkin'
Goldendoodle
North Carolina
@oreo_dood
Oreo
Aussiedoodle
Texas
@doodbeasley
Beasley
Goldendoodle
New York
@zeke_that_dood
Zeke
Australian Labradoodle
New Jersey
@honey.and.ginger.toycavoodles
Honey & Ginger
Cavapoo
Australia
@heidi_gdoodle
Heidi
Goldendoodle
Tennessee
@ThatDoodleBennett
Bennett
Goldendoodle
Georgia
@MarleyMae_Millie
MarleyMae & Millie
Aussiedoodle
Virginia
@ohbehaveobie
Obie
Cockapoo
Denmark
@lunabeartaylor
Luna
Aussiedoodle
Kentucky
@gus.thephilosofur
Gus
Aussiedoodle
Massachusetts
@baileybopdoodle
Bailey
Goldendoodle
Florida
@daily.doseofdunkin
Dunkin
Goldendoodle
Pennsylvania
@sweetladylola
Lola
Sheepadoodle
Minnesota
@Hava_Pretzel
Pretzel
Havapoo
New Jersey
@rufus_sheepadoodle
Rufus
Sheepadoodle
Canada
@one_and_only_chewie
Chewie
Cavapoo
Australia
@Zoey_F1_Bernedoodle
Zoey
Bernedoodle
North Carolina
@daisy_cockapoo10
Daisy
Cockapoo
England
@arthurcockapoo
Arthur
Cockapoo
England
@italian_pastry_pup
Cannoli
Aussiedoodle
Virginia
@charlottesden
Charlotte
Aussiedoodle
Florida
@Iamcocotheaussiedoodle
Coco
Aussiedoodle
Florida
@peanut_and_family
Baxter, Katie & Peanut
Goldendoodle
Michigan
@zenna.fur
Zenna
Bordoodle
Canada
@gemma_and_emme
Gemma
Goldendoodle
Illinois
@isladoodledoo
Isla
Labradoodle
Wisconsin
@puppa.thedood
Pacino
Goldendoodle
New Jersey
@cavoodleali
Ali & Coco
Cavapoo
Australia
@lola.bear.doodle
Lola
Goldendoodle
England
@doodlehankr
Hank R Doodle
Goldendoodle
Massachusetts
@audi_thedood
Audi
Goldendoodle
Illinois
@apupnamedmolly
Molly
Cavapoo
Kentucky
@brandy.and.bennett
Brandy & Bennett
Maltipoo, Yorkipoo
Texas
@tuckinthehouse
Tucker
Goldendoodle
Indiana
@sophiesgoldenworld
Sophia
Goldendoodle
Canada
@brian.bernedoodle
Brian
Bernedoodle
Nevada
@bellalunapups
Bella & Luna
Schnoodle, Terripoo
California
@teddy.the.groodle
Teddy
Goldendoodle
Illinois
@charlieraedoodle
Charlie
Australian Labradoodle
Texas
@i_love_lucy_the_dood
Lucy
Goldendoodle
Canada
@archie_theminidoodle
Archie
Goldendoodle
Mississippi
@the.dood.and.the.shepherd
Harlow & Indie
Goldendoodle
North Carolina
@estellethemaltipoo
Estelle
Maltipoo
New York
@itsRubyChewsday
Ruby
Bernedoodle
California
@doodle.boy.oliver
Oliver
Goldendoodle
Wisconsin
@fldogpack
Eloise
Schnoodle
Florida
@chasetimberlange
Chase Timber Lange
Goldendoodle
Michigan
@charleswinstonthesheepadoodle
Charlie
Sheepadoodle
North Carolina
@cody_thebernedoodle
Cody
Bernedoodle
Virginia
@bowie_the_sovereign
Bowie
Aussiedoodle
Michigan
@lifeof_tedandwoody
Teddy & Woody
Other/Unknown
England
@lunawills2020
Luna
Cockapoo
Wales
@the2doodles
Bella & Khloe
Goldendoodle, Poochon
New Jersey
@chesney_the_aussiedoodle
Chesney
Aussiedoodle
Massachusetts
@3doodlesrcompany
Hudson, Lily & Ivy
Goldendoodle, Labradoodle
Michigan
@memphis.the.goldendoodle
Memphis
Goldendoodle
New Jersey
@poplardoodle
Poplar
Aussiedoodle
Canada
@thisishowwerollie
Rollie
Goldendoodle
New York
@winnie.may.the.cavapoo
Winnie
Cavapoo
England
@itsthatdoodremy
Remy
Goldendoodle
Tennessee
@_eltonthedood_
Elton
Goldendoodle
Canada
@sweetmolliegrace_and_sophie
Mollie Grace & Sophie
Goldendoodle
Louisiana
@miniharperdoodle
Harper
Labradoodle
England
@pri.ncessroxy
Roxy
Newfypoo
Massachusetts
@otis.newfypoo
Otis
Newfypoo
England
@joy_piper_minigoldendoodle
Joy Piper
Goldendoodle
Indiana
@astoldbyscooby
Scooby
Goldendoodle
Florida
@adventures_arlo
Arlo
Goldendoodle
Indiana
@dutton_the_doodle
Dutton
Aussiedoodle
Missouri
@zekethebernedood
Zeke
Bernedoodle
Missouri
@pestotheaussiedood
Pesto
Aussiedoodle
Virginia
@mightymilo_03
Milo
Goldendoodle
Massachusetts
@wookie_doodle
Wookie
Goldendoodle
Florida
@that.dood.leroy
Leroy
Goldendoodle
New Jersey
@ambrose.the.sheepadoodle
Ambrose
Sheepadoodle
West Virginia
@cheddar.cavapoo
Cheddar
Cavapoo
North Carolina
@misselliwelli
Elli
Labradoodle
Texas
@Iggy__doodle
Iggy
Aussiedoodle
Minnesota
@princesspeachy_cavapoo
Peachy
Cavapoo
Arizona
@biggieandbuddysmalls
Biggie & Buddy
Shihpoo
England
@thedoodalfie
Alfie
Labradoodle
Massachusetts
@the.dood.named.ollie
Ollie
Goldendoodle
Illinois
@annierose.doodle
Annie Rose
Aussiedoodle
Kentucky
@spudsandoliver
Oliver
Goldendoodle
Wisconsin
@littermatesforlife
Callie & Cooper
Havapoo
Ohio
@thatdivadogsadie
Sadie
Cavapoo
Massachusetts
@peaches_n_curly
Peaches, Curly & Peppa
Goldendoodle
Florida
@macidoodledandy
Maci
Goldendoodle
Florida
@juno_doodle_adventures
Juno
Goldendoodle
Canada
@penny_the_doodle_doo
Penny
Labradoodle
England
@seattledoodleduo
Knarley & Kloud
Labradoodle
Washington
@goodluckcharlimay
Charli
Labradoodle
Ohio
@theladyofthehaus
Lady
Cavapoo
New Jersey
@mackeypuppy
Mack
Cockapoo
Mississippi
@SashaNoelle23
Sasha
Cavapoo
Illinois
@qthecurlydood
Quincy
Goldendoodle
Georgia
@its.mason.yall
Mason
Goldendoodle
New York
@_ashiedoodle_
Ash
Aussiedoodle
California
@kodadoodle1717
Koda
Goldendoodle
Texas
@doodle_baby_beau_
Beau
Australian Labradoodle
New York
@MochiTheBub
Mochi
Cockapoo
Canada
@adventuresofellieandattie
Ellie Grace
Goldendoodle
Washington
@auggie_doodle_doggie
August
Goldendoodle
Pennsylvania
@barneydoodledog
Barney
Australian Labradoodle
England
@that.dog.benji
Benji
Yorkipoo
California
@KonaJoy.and.BlueBoi
Kona Joy
Bernedoodle
Michigan
@wagsofwinniethecavapoo
Winnie
Cavapoo
Pennsylvania
@rosen_thedoodle
Rosen
Goldendoodle
Canada
@thegroodleroo
Roo
Goldendoodle
North Carolina
@charliebearbarkington
Charlie Bear
Cockapoo
Ohio
@_archie_thedood
Archie
Goldendoodle
Texas
@tessa.d00dle
Tessa
Goldendoodle
Illinois
@malasii_jaye_marbles
Malasii
Goldendoodle
Tennessee
@elwhiskey.thelabradoodle
Whiskey
Labradoodle
Illinois
@ginobonino_bichon_poodle
Gino
Poochon
California
@julyfloof
July
Maltipoo
California
@sheepadoodlenora
Nora
Sheepadoodle
Canada
@duke_the_bernedoodle1
Duke
Bernedoodle
Idaho
@bennie_the_mini_goldendoodle
Bennie
Goldendoodle
New Hampshire
@the_giddy_doodle
Gideon
Aussiedoodle
Massachusetts
@brunounitedgoldendoodle
Bruno
Goldendoodle
Washington
@pretty_goldendoodle_poppy
Poppy
Goldendoodle
California
@lily_l_doodle
Lily
Labradoodle
England
@baffin.the.labradoodle
Baffin
Labradoodle
Texas
@bailee.the.ausshole
Bailee
Aussiedoodle
Texas
@milliejoybutz
Millie
Goldendoodle
Iowa
@whodatdoodmax
Max
Goldendoodle
Louisiana
@sozoey_minidoodle
Zoey
Goldendoodle
South Carolina
@nellie_noodle_cockapoo
Nellie
Cockapoo
England
@aria.is.goldendood
Aria Reign
Goldendoodle
Georgia
@emmyludoodle
Emmy Lu
Goldendoodle
Louisiana
@teddy_the_cockapoo_2021
Teddy
Cockapoo
England
@foxyroxy_and_daisinator
Foxy Roxy & Daisinator the Destroyer
Goldendoodle
Michigan
@nancy.thecockapoo
Nancy
Cockapoo
England
@chappie_my_cavapoo
Chappie
Cavapoo
Georgia
@willowcoopgdoodle
Willow & Cooper
Goldendoodle
Virginia
@yogi_flauschi_baer
Mr. Yogi Flauschi-Bär
Bernedoodle
Germany
@theonlyfranz
Admiral Franz von Woofington
Newfypoo
England
@lifeofwallyandrosie
Wally & Rosie
Goldendoodle
Canada
@reesiethenewfiepoo
Reese
Newfypoo
Michigan
@finnthewonderdoodle
Finnegan James
Australian Labradoodle
Qatar
@Lincoln_the_Newfypoo
Lincoln
Newfypoo
Pennsylvania
@rubysummercavoodle
Ruby Summer
Cavapoo
Australia
@thataussiedoodkoda
Koda
Aussiedoodle
Texas
@theoleballandJane
Jane
Goldendoodle
Maryland
@hiimchitothecavapoo
Chito
Cavapoo
Wisconsin
@mufasatyrone
Mufasa
Shepadoodle
Tennessee
@playfulbentley
Bentley
Cavapoo
Florida
@toffeepoo
Toffee
Cockapoo
England
@bernedoodlesin
Shadow & Autumn
Bernedoodle
Florida
@miloandtwodoods
Milo, Banks & Wells
Goldendoodle
North Carolina
@lucky_the_poo
Lucky
Maltipoo
California
@river_tully
Tully
Goldendoodle
Ohio
@pippa_roni_roo
Pippa
Cockapoo
England
@thepoocashew
Cashew
Shihpoo
Massachusetts
@leeandpep
Pepper
Cockapoo
Michigan
@therealoliverose
Olive
Labradoodle
Michigan
@lifewithprince.to
Prince
Yorkipoo
Canada
@kona.bmore
Kona
Australian Labradoodle
Florida
@adventuresofmaxandluna
Max
Goldendoodle
Indiana
@nellie_thedoodette
Nellie
Goldendoodle
New York
@thatgoldendoodleautumn
Autumn
Goldendoodle
Louisiana
@daisy_doodles_adventures
Daisy Doodle
Goldendoodle
New York
@ah_shucks_its_hux
Hux
Cavapoo
Wisconsin
@maggiejanethedoodle
Maggie Jane
Goldendoodle
Alabama
@lacey_thedoodle01
Lacey
Goldendoodle
Tennessee
@allaboutadawallen
Ada
Goldendoodle
Tennessee
@oscar_ourgoldendoodlef2b
Oscar
Goldendoodle
Michigan
@cockapoofamily
Tilly & Lottie
Cockapoo
England
@dood_itsweasley
Weasley
Goldendoodle
Ohio
@cliothecockapoo
Clio
Cockapoo
New York
@gemradoodle
Jade
Australian Labradoodle
Michigan
@little.dood.finn
Finnley
Goldendoodle
New York
@bentley_cockapoo_adventures
Bentley
Cockapoo
England
@molly.moodoodle
Molly
Goldendoodle
Colorado
@finnstagram.doodle
Finn
Goldendoodle
Louisiana
@ziggy_golden_doodle
Ziggy
Goldendoodle
Ohio
@goldenbentley323
Bentley
Goldendoodle
Canada
@baileygoldendoodledandy
Bailey
Goldendoodle
Ohio
@teddysheepdood
Teddy
Sheepadoodle
Arizona
@a_cockapoo_named_teddy
Teddy
Cockapoo
Illinois
@murphy_the_cockapooo
Murphy
Cockapoo
New York
@uniunipoo
Uni
Cockapoo
Massachusetts
@heyninathedoodle
Nina
Goldendoodle
California
@spot__willow
Willow Smyk-Pike
Sheepadoodle
Washington
@hrh_princess_winnie
Winnie
Cockapoo
Minnesota
@arlothegdoodle22
Arlo
Goldendoodle
Canada
@honey_doodette
Honey
Goldendoodle
Georgia
@buddy.g_and_me
Buddy
Cockapoo
England
@officialrosiedoodle
Rosie
Goldendoodle
Louisiana
@cocoplusollie
Coco & Ollie
Shihpoo
West Virginia
@sheepamolly
Molly
Sheepadoodle
Ohio
@osothadoodle
Oso
Goldendoodle
Georgia
@chiefbaxterdood
Baxter
Goldendoodle
Tennessee
@obi_blue_eyes
Obi
Shihpoo
Virginia
@rosieward_cockapoo
Rosie
Cockapoo
England
@clifford.themini.dood
Clifford
Goldendoodle
Canada
@pipertheminisheepadoodle
Piper
Sheepadoodle
Maryland
@bodethedoodle2020
Bode
Goldendoodle
Illinois
@xsharkFINNsoupx
Finn
Poochon
Arizona
@kodamojica
Koda Mojica
Goldendoodle
Illinois
@prince_theredaussiedood
Prince
Aussiedoodle
North Carolina
@yorianabebu
Yori
Shihpoo
Philippines
@donnietheeprince
Adonis
Shihpoo
Connecticut