Fi Dog Collar Review & Experiment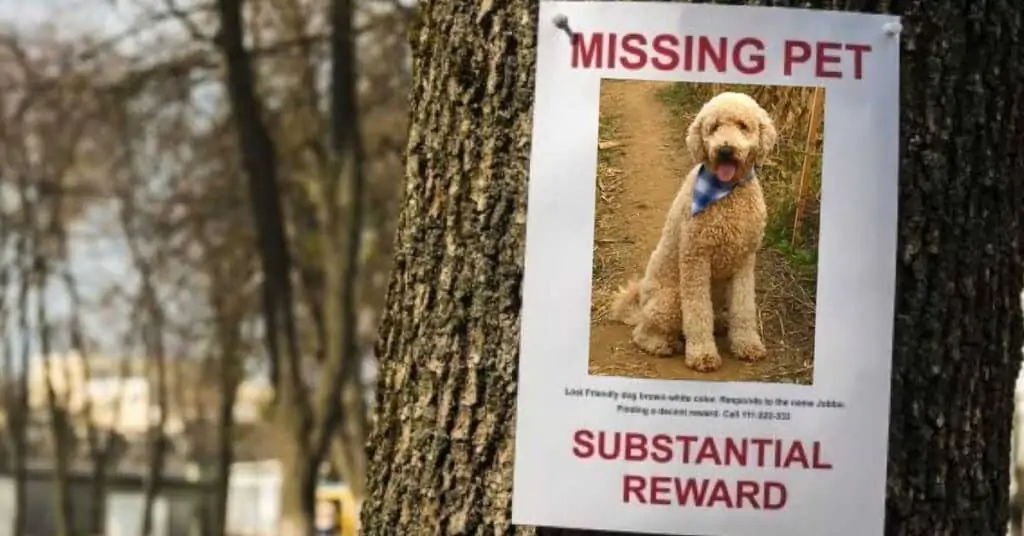 1 in 3 pets go missing at some point in their lifetime. Of those that do, less than 23% are ever reunited with their owners. (Source: American Humane Association)
While those statistics are scary, we never think something like that would happen to us. Until it does. The fact is, even the most responsible of dog owners can lose their furry family members.
I didn't believe this myself until one of my friends lost her dog. As one of the most caring and responsible dog owners I know, she was devastated. After an hour of searching, a good samaritan found her missing pup over a mile away at the side of an extremely busy street and returned her safely home.
My friend got lucky that day, but I knew that moving forward I wasn't ready to roll the dice on my dog's safety. Seeing her go through that horrifying experience prompted me to research potential solutions and come across the Fi Smart Collar. (Keep reading for an exclusive discount for Popular Doodle readers!)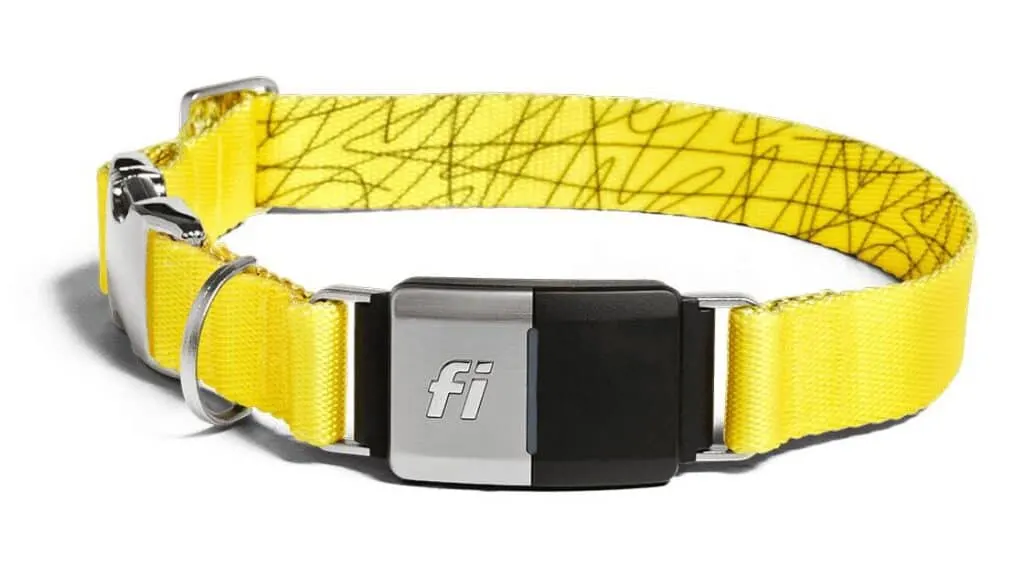 The Fi dog collar has two main functionalities: activity monitoring and GPS location tracking. This powerful GPS tracking immediately alerts you if your dog leaves your property without an owner and then gives you location alerts every 60 seconds until your dog is safely home.
Is it truly a game-changer when it comes to your dog's safety? Or is simply having your dog micro-chipped and wearing an ID tag enough?
I decided it was time to not just write another Fi dog collar review, but to actually create a real-world experiment and put this GPS smart collar to the test. I was going to lose my dog…on purpose!
Experiment Rules:
Starting from my house, my dog Chewie and girlfriend Erica will have 20 minutes to walk and get as "lost" as they can before I start my search.
To the best degree possible, the walk should be led by Chewie's directional preferences. Erica should not be attempting to make their location or path any easier or more challenging. No trespassing on private property is allowed (i.e. in backyards, etc.)
After 20 minutes, I will begin searching via car and on-foot to find them as quickly as possible.
We will repeat this experiment twice. The first round will be without any help whatsoever—how most people search for their lost dogs. The second round I will be using the GPS tracking capabilities on Chewie's Fi Collar.
Watch the Experiment & Fi Dog Collar Review:
Experiment Results:
Round 1 (No Tracking):
Result: Failure (Not Found)
Round 2 (Fi Dog Collar GPS Tracking):
What I Learned from My Fi Dog Collar Review:
Finding a lost dog is harder than you think.
I had so many advantages that most people who lose their dogs don't have the luxury of. First of all he had Erica with him, making them easier to spot as a pair. They only had a 20 minute "head start" whereas many dogs get lost long before their owners realize, especially if it happens during the workday. It also took place during the light of daytime with no inclement weather.
I honestly came into this experiment thinking I'd find Chewie within 30-40 minutes of starting my search. I would've been very surprised had it taken over an hour. You can imagine how astonished I was that I spent 3 hours searching and STILL wasn't even able to find him!
In a dangerous world, every minute counts.
It's not fun to think about, but when your dog gets lost it's not just a matter of whether you eventually find them. It's a matter of whether you can find them before they get injured, or worse, killed.
Even though this was just an experiment, when searching for Chewie, my mind went through all the possibilities of things that could happen to him. It's a dangerous world for a lost dog. Speeding cars and busy streets are just the start. Cold or hot weather can be a danger by itself. Even simply eating out of a neighbor's garbage can can result in illness or death. Every minute your dog is out there own their own is a minute they're in danger. It's not a scare tactic, it's the scary reality.
Just another reason I'm glad I have pet insurance.
It's beyond frustrating.
You don't realize how many different options there are for a dog to go until you try to find yours. Going down every side street and alley takes a lot of time. You have to drive slow, but even in doing so it's extremely hard to search accurately and drive safely at the same time. Not only that, but in this experiment Chewie wasn't allowed to go on private property. Lost dogs don't have that rule. There's a good shot that your may not even be visible from the street.
Ready to Try Fi for Yourself?
I'd highly encourage all responsible dog owners to learn more about the Fi Smart Collar and consider ordering one for your dog. Fi has been nice enough to provide Popular Doodle readers with a discounted price for a limited time. Simply use the promo code POPULARDOODLE25 to get $25 off your new Fi collar!
For this Fi dog collar review, I got the advantage of being able to admit defeat after 3 hours of searching, call Erica, and see my good boy again within a few minutes. If your dog runs away for real, you won't get that luxury. In fact, you may not get the luxury of seeing your dog alive again.
I don't say these things to scare you—that's not my goal. I simply want to help you prepare now, so that if and when the day comes where you find yourself in this devastating situation, it won't end in the heartbreaking result that it does for so many dog owners.
I'll be honest. I originally thought the Fi Smart Collar could be an unnecessary "toy" for tech-savvy pet parents. I was wrong. This is something every dog owner should have.
Click here to protect your dog by ordering the Fi Smart Collar!
LIMITED TIME: Use the promo code POPULARDOODLE25 to get $25 off your new Fi collar!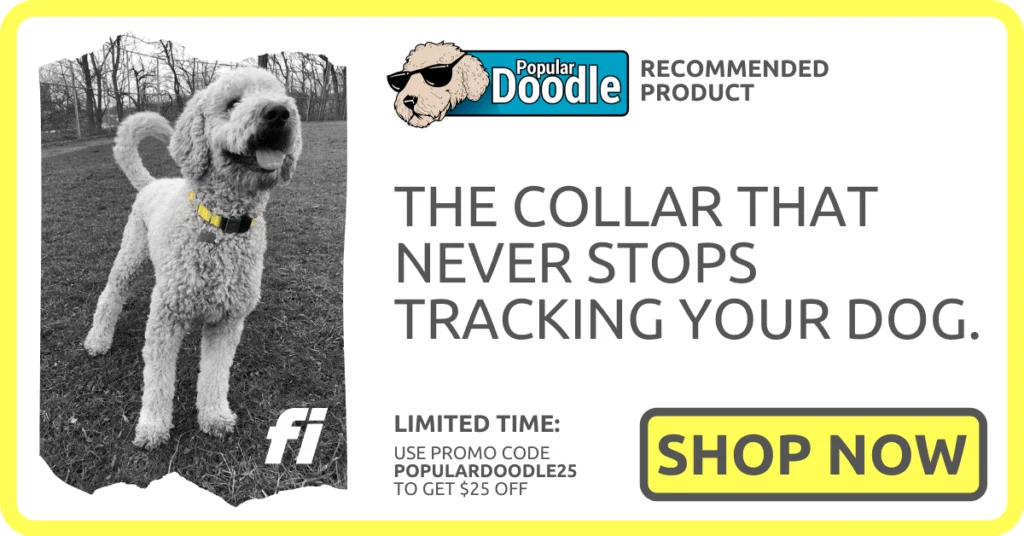 Fi Dog Collar Review Disclaimer: All opinion are my own and represent my personal experiences with the product. In exchange for an honest and thoughtful Fi dog collar review, I was provided a free Fi dog collar as well as a GPS tracking subscription. While I was not directly compensated for this article, I do receive a small affiliate commission for products purchased using the links throughout this post. I only ever promote products I believe in, and this affiliate commission doesn't affect the price you pay. For more information, please see our Compensation Disclaimer page.