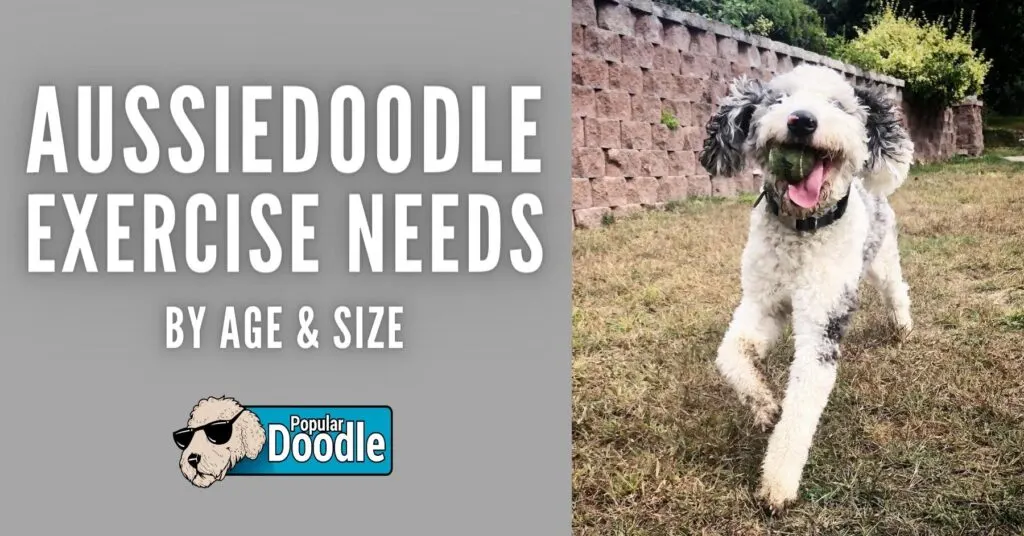 Perhaps the single most important thing you can do to improve your Aussiedoodle's health, happiness, and obedience is to ensure they get the proper amount of exercise.
Unfortunately, many current and prospective owners of this breed have no clue what their Aussiedoodle's exercise needs are. While there are several variables, it's pretty simple to determine a ballpark figure of how much exercise is appropriate for your dog.
How Much Exercise Do Aussiedoodles Need?
While many Poodle-mix breeds are high-energy, Aussiedoodles are one of the most active types of these dogs.
Aussiedoodles are one of the most high-energy varieties of Poodle-mix breeds. An adult Aussiedoodle may need up to two hours of daily exercise! As a general rule of thumb, adult Aussiedoodles need more exercise than seniors and puppies. Additionally, standard Aussiedoodles need more exercise than miniature and toy sizes.
For a more detailed breakdown, see our table below. Keep in mind that these are ballpark guidelines based on breed norms. You should consult your veterinarian to determine the specific exercise needs of your Aussiedoodle.
Your Aussiedoodle's
Age
Toy Aussiedoodle
Exercise Requirements
Mini Aussiedoodle
Exercise Requirements
Standard Aussiedoodle
Exercise Requirements
2 Months
(8 Weeks)
10 Minutes
1-3x/day
10 Minutes
1-3x/day
10 Minutes
1-3x/day
3 Months
(12 Weeks)
15 Minutes
1-3x/day
10 Minutes
1-3x/day
10 Minutes
1-3x/day
4 Months
(16 Weeks)
20 Minutes
1-3x/day
15 Minutes
1-3x/day
15 Minutes
1-3x/day
5 Months
(20 Weeks)
25 Minutes
1-3x/day
20 Minutes
1-3x/day
15 Minutes
1-3x/day
6-12 Months
30 Minutes
1-3x/day
25 Minutes
1-3x/day
20 Minutes
1-3x/day
12 - 18 Months
30-60 Minutes
1-2x/day
30-60 Minutes
1-2x/day
25 Minutes
1-3x/day
18 - 24 Months
30-60 Minutes
1-2x/day
45-90 Minutes
1-2x/day
30-60 Minutes
1-2x/day
Adult
(2+ Years)
30-60 Minutes
1-2x/day
45-90 Minutes
1-2x/day
60-120 Minutes
1-2x/day
Senior
(8-12+ Years)
20-30 Minutes
1-2x/day
30-45 Minutes
1-2x/day
30-60 Minutes
1-2x/day
Factors That Influence an Aussiedoodle's Exercise Requirements
Size
Much like Poodles, Aussiedoodles are typically categorized into three size groups—toy, miniature, and standard. Don't be fooled—Aussiedoodles of ALL sizes are likely to be high-energy dogs. However, the exercise requirements of standard Aussiedoodles tend to be higher than their smaller counterparts.
That said, larger Aussiedoodles take longer for their joints, muscles, and bones to develop fully. For this reason, their exercise recommendations tend to increase more gradually and over a more extended period than mini or toy Aussiedoodles.
Age
Although Aussiedoodle puppies are known for being hyper, it's important not to over-exercise them. Aussiedoodles can take anywhere from 1-2 years to mature physically. During this formative time, their bones and joints are quite susceptible to permanent damage.
Exercising a young Aussiedoodle too much or too vigorously can cause health issues that may hinder them for the rest of their lives. This means Aussiedoodle puppies shouldn't go for runs or jogs, jump to and from elevated surfaces, or go on extended walks or hikes.
Personality
Just like no two humans have the same personality, no two Aussiedoodles do either. Therefore, even from the same litter, some dogs will be naturally more hyperactive than others.
That said, you'll be hard-pressed to find too many couch-potato Aussiedoodles. If you're considering this breed, you need to be ready to live a very active lifestyle and have appropriate living accommodations.
How Far Can an Aussiedoodle Walk?
An Aussiedoodle puppy shouldn't walk more than 1-2 miles at a time until they've reached two years of age. Once their body has fully developed, an adult Aussiedoodle should be able to comfortably walk or hike 5-10 miles.
Just like our Aussiedoodle exercise requirements above, these figures need to be adjusted for your Aussiedoodle's size. For example, walking 1 mile takes more effort for a toy Aussiedoodle than for a standard Aussiedoodle.
You wouldn't ask a sedentary human to run a marathon without training, so don't do the equivalent with your Aussiedoodle. Before going on a long hike or walk, building up your dog's stamina over the weeks and even months prior is essential.
Fun Aussiedoodle Exercise Ideas BESIDES Walking
Daily walks are super important for your dog's physical and mental well-being. However, sometimes it takes more than just walking to meet your Aussiedoodle's exercise needs and tire them out.
Yard Games
Aussiedoodles are typically not ideal apartment dogs. They need room to run and play. So a big, fenced yard to run around in is the best gift you could give to an Aussiedoodle. In fact, this is one of the doodle breeds where I'd say a fenced yard should almost be a requirement.
No matter how in shape you are, walking or even running with you is like going at a snail's pace for an Aussiedoodle. From time to time, they need to be able to go full speed to get their energy out. Fetch, frisbee, and other yard games allow them to do this.
Play Dates with Other Dogs
Running around with other canine friends will not only tire your Aussiedoodle out, but it will keep them happy and well-socialized.
Related: The Puppy Socialization Checklist: How to Socialize a Puppy Successfully
If you have friends or family members nearby with friendly dogs, this is a great opportunity. There are also dog owner groups in various cities that you can find on Meetup.com or Facebook. There are even some specifically for doodle owners!
I prefer these pre-selected one-on-one doggy play dates over taking your Aussiedoodle to a local dog park. Unfortunately, dog parks are often havens for lazy dog owners who let their under-socialized, ill-trained, or aggressive dogs roam about.
You might also consider adding a second dog to your family, but that's quite the commitment with its own pros and cons!
Puzzles & Mental Stimulation
To physically tire out your Aussiedoodle, you have to mentally tire them out as well. There are a variety of fun puzzles and enrichment toys designed to make your dog think to solve.
One of my favorite of these types of puzzles are snuffle mats and balls. Instead of constantly feeding your dog out of a bowl, you can hide their kibble within fabric flaps and crevices. This forces your dog to use their sense of smell to search for each bit of food and then work to remove it from its hiding spot.
We have instructions on how to build your own snuffle ball, or if you're not the DIY type, Amazon has a few great options for you to choose from!
Brain Games & Obedience Training
Exercise and obedience training go hand in hand. The more tired your dog is, the easier they are to train. On the other side of the coin, obedience training is a great way to give your dog some mental stimulation and wear them out.
Luckily, training doesn't have to be a chore! There are brain games for dogs that will not only be fun for your dog but will teach them important obedience skills in the process!
Swimming
Poodles are natural swimmers, so it's a fair bet that your Aussiedoodle may also love the water! Especially if you start getting them comfortable in the water at an early age, this can be an excellent way for them to burn off some energy quickly!
Just make sure to only let your dog swim in safe areas with proper supervision!
Chores, Responsibilities, or Advanced Training
Australian Shepherds are herding dogs who love to be active and have responsibilities. Aussiedoodles may also take after this mentality and benefit from having chores, responsibilities, or advanced training.
Even if you don't have sheep that need herding, participating in agility competitions, getting therapy dog certified, or learning scent training are all examples of productive ways to use your Aussiedoodle's energy.
How Much Exercise Do Aussiedoodle Puppies Need?
As puppies, Aussiedoodle exercise needs can be met with small doses of playtime, as little as 10 minutes at a time. These small play sessions can happen a few times throughout the day, but they shouldn't be too vigorous.
As they grow older, these play sessions can gradually become longer and become more "formal" exercises like walking and fetching. How quickly this build-up should occur depends on the size of your Aussiedoodle…
Toy Aussiedoodles puppies should start with 10-minute increments 1-3x per day. Then, slowly and gradually build up this amount until they reach 1 year old. At this point, they're likely fully developed and can exercise 30-60 minutes at a time.
Mini Aussiedoodle puppies should be limited in their exercise at first to 10 minutes at a time, 1-3x daily. Their exercise buildup occurs from 2-18 months when they reach physical maturity. At this point, they can exercise 45-90 minutes, 1-2x per day.
Although they'll eventually need the most exercise, standard Aussiedoodles also require the most gradual buildup to these levels to protect their growing bones and joints. Start them off with 10-15 minute increments for the first 6 months. After that, keep building them up until they hit 60-120 minutes of exercise daily at 2 years old.
How to Wear Out an Aussiedoodle Puppy (Safely!)
We've talked a lot about limiting the quantity of exercise your Aussiedoodle puppy partakes in until they're fully grown. However, it's just as important to pick and choose what type of exercise you do with them.
Some SAFE ideas for Aussiedoodle puppies…
Small, controlled games of fetch or tug-of-war.
Slow walks on a leash around the neighborhood.
Short playdates with other puppies.
Obedience training and brain games.
Stay away from these activities, which often can be too vigorous for developing bones and joints in Aussiedoodle puppies…
Jumping to catch balls or frisbees in the air.
Extended walks or hikes of more than 1-2 miles.
Jumping from elevated surfaces like couches, cars, stairs, etc.
Running or jogging with you.