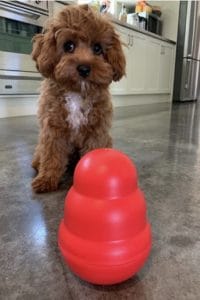 It's no secret—there are plenty of great reasons a Kong toy is almost an essential purchase for dog owners. Despite being so simple, a Kong can keep your pup not only occupied but thoroughly entertained and content for hours on end (especially with these Kong stuffing recipes!) This gives us busy pet owners a chance to catch up on chores or relax without another toy being dropped in our lap to be thrown or tugged.
It isn't simply a matter of convenience, however. Stuffed Kongs are great for providing your dog with mental stimulation and a fun, constructive outlet for chewing. They can even be used as a tool for soothing anxious dogs and crate training puppies!
Maybe you're giving your dog a Kong for the first time or maybe you're looking for new and fun Kong stuffing recipes to keep things fresh for your best friend. Let's start with the basics and work our way up from there!
[Read more…]