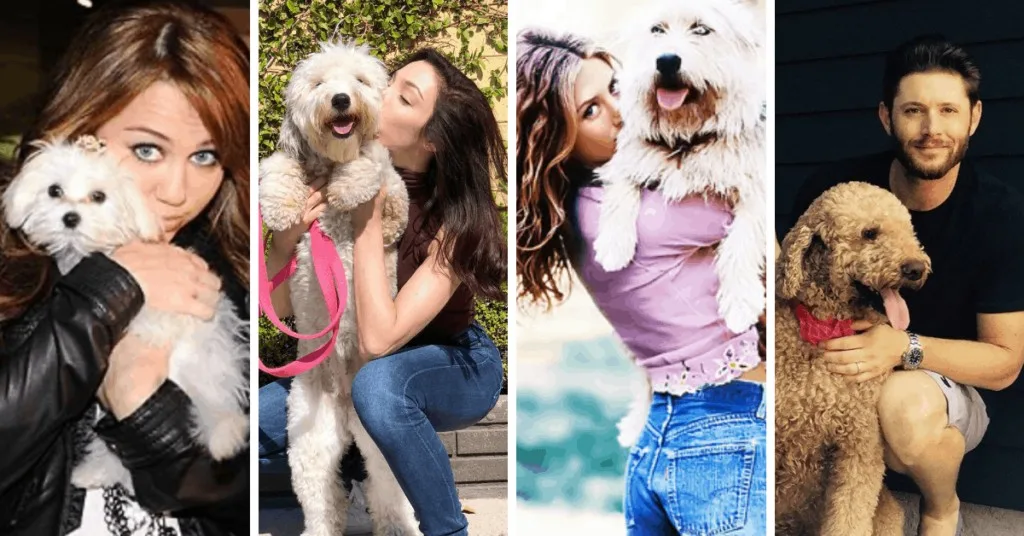 I don't know about you, but I love meeting other doodle owners! Whether I'm shopping at a dog friendly store or out on a walk, I try to make it a point to stop and say hello. Our love for doodles is something we all have in common and something that connects us.
You know who else share our love for doodles? As it turns out, quite a few celebrities! Let's meet 24 well-known celebrity doodle owners and the furry family members they love.
Joe Biden Dog
It doesn't get much more high-profile than the current President and former Vice President of the United States. Regardless of your political beliefs, you have to admit that his Labradoodle named "Brother" is extremely cute! Since Brother's passing, Joe has opted for adding German Shepherds to the Biden family. Has he not heard of the adorable Shepadoodle?!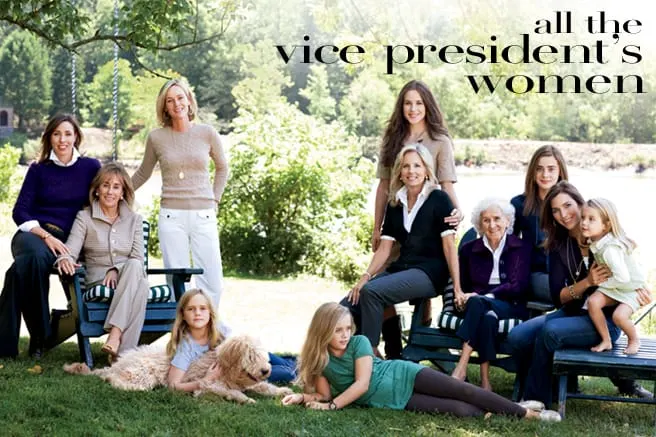 Jennifer Aniston Dog
Turns out that the "Marley & Me" actress wasn't just playing a role—she really does love dogs! Check out this photo of her and her Goldendoodle, Norman! Apparently, Norman wasn't a big fan of her ex-boyfriend John Mayer. Seeing as it didn't work out between them, maybe next time she'll listen to Norman's judgement!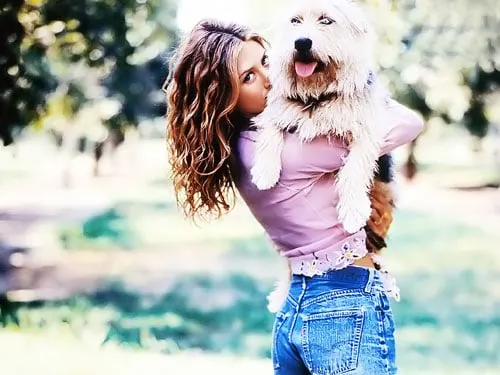 Tiger Woods Dog
Not only is Tiger one of the greatest golfers in the world, but he also has pretty great taste in dogs! Here you can see him posing with his children and three dogs. The all-white floofball on the left is Yogi the Labradoodle.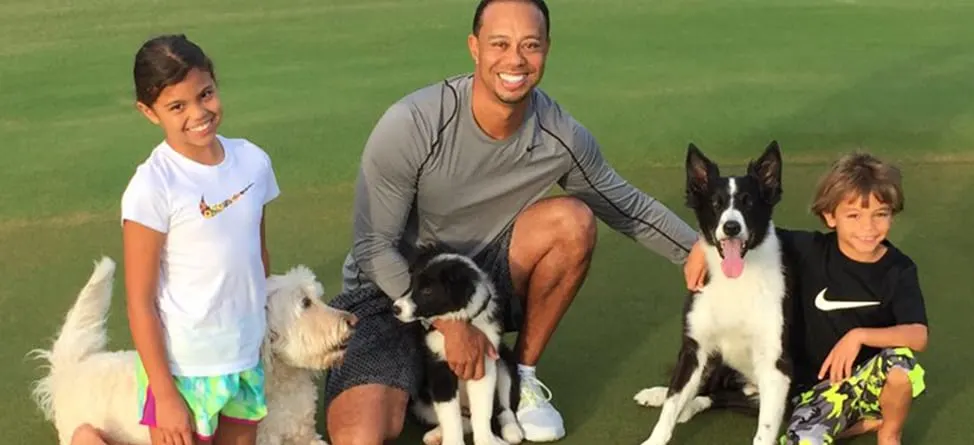 Harry Styles Dog
Some men shy away from miniature doodle breeds for fear of them being too small, cute, and fluffy to be considered "cool." Harry Styles has no shame in showing off his best friend, Colin the Cockapoo. Check out the photo below that he posted on Instagram featuring Colin and his coffee mug. Now that's a message we can get behind!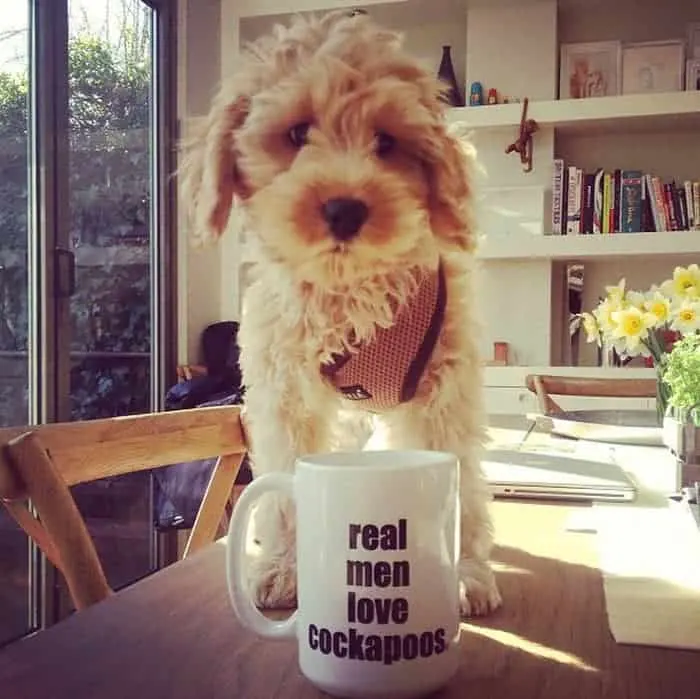 Miley Cyrus Dog
Back in the prime of her "Hannah Montana" days, Miley could be seen walking around set with her beloved Maltipoo, Sophie! Sophie was a present from her parents on her 16th birthday. Talk about a sweet, Sweet 16 gift!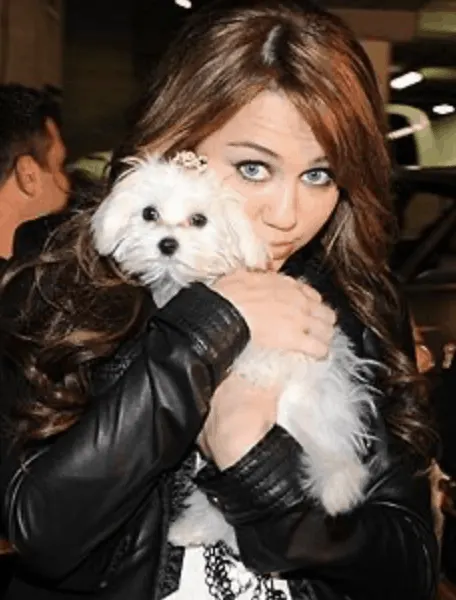 Christie Brinkley Dog
This mid-60s supermodel claims that her dogs are the secret to keeping her youthful looks! "My dogs keep me active and young feeling. They'll come to me and take me for a walk or a jog," Brinkley told People Magazine. "They are my personal trainers." She has a Labradoodle named "Maple Sugar" and a mixed-breed rescue pup named Chester.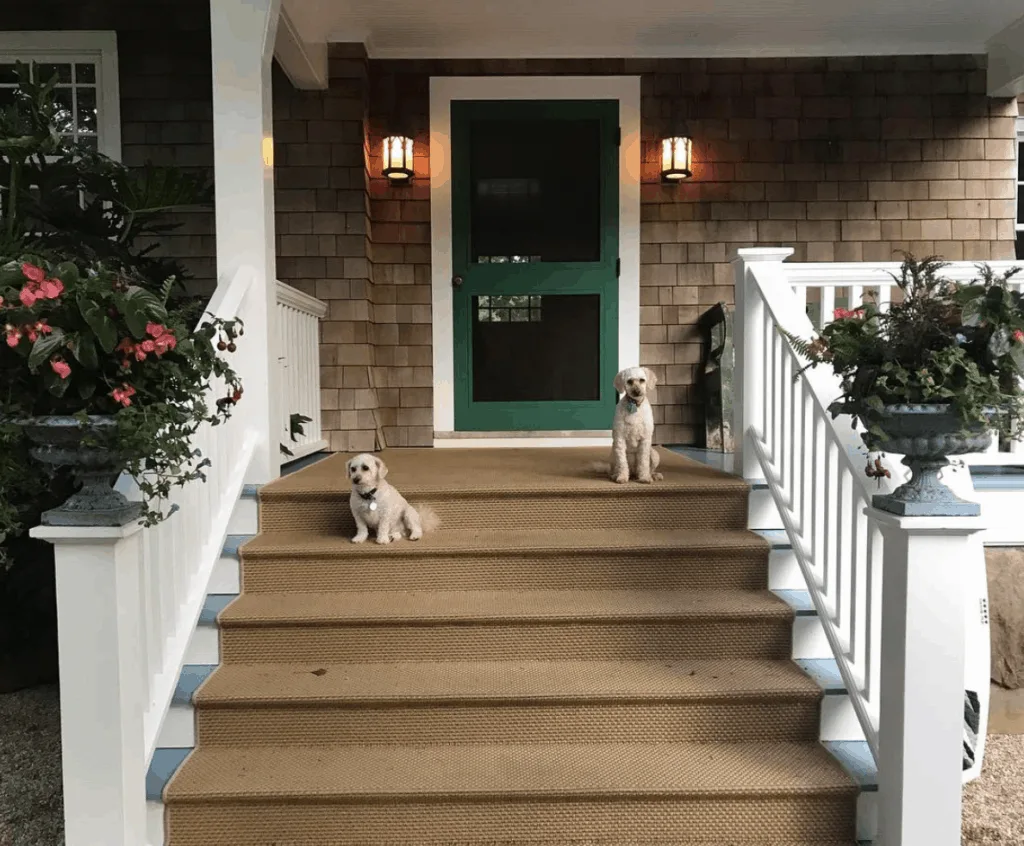 Barbara Eden Dog
Know for her starring role in the sitcom "I Dream of Jeannie," Barbara Eden even gave her dog a name based off her role. "Jin-Jin" was the name of the invisible pooch her character had on the show and is now the name of her real-life Labradoodle. Reportedly her husband wanted a Lab and she wanted a Poodle—so a Lab Poodle mix was the compromise!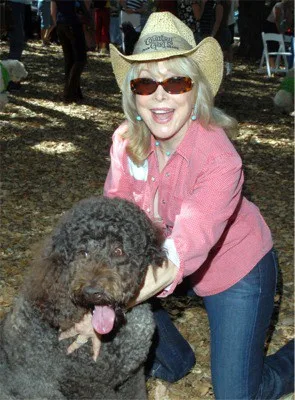 Ashley Tisdale Dog
The Disney Channel star credits her Maltipoo, Maui, for helping her get through her 20s and all the emotional drama that happens during those years. Watch her chat with the Today Show about her furry companion below! Sadly, Maui recently passed away. To honor her beloved pet, Ashley got her dog's name tattooed on her forearm. "Now Maui is always with us," she posted on Instagram.
Henry Winkler Dog
Henry Winkler is best known for his role as "The Fonz" on the 70s and 80s sitcom, "Happy Days." While he's still acting, he also spends plenty of time at home playing with his two dogs. He has a Labradoodle named Sadie and another new pup named Maisie. We don't know what breed Maisie is, but she also looks suspiciously like a Labradoodle! Not only is Henry a doodle lover, but so is his daughter. She has a Goldendoodle you can often find Henry dog-sitting!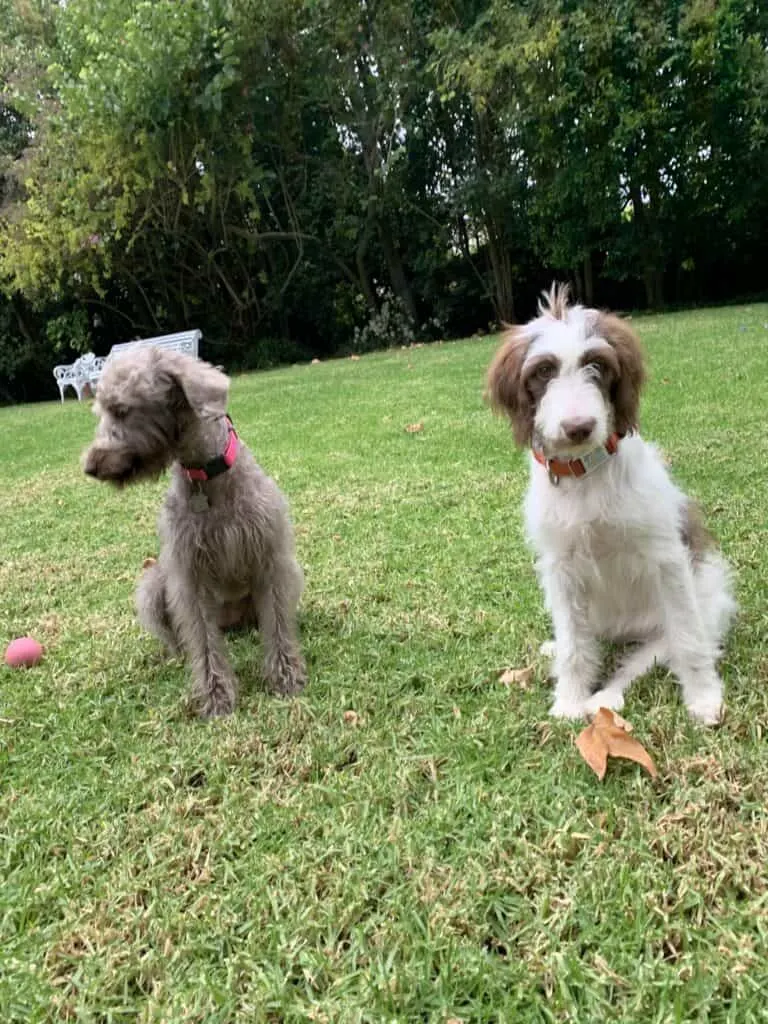 Neil Young Dog
The notorious singer/songwriter was extremely fond of his Labradoodle named Carl. Sadly, Carl has since passed at the ripe old age of 14. In the words of Neil's song "Old King," "that ol' hound dog sure meant a lot to me."
Melora Hardin Dog
You know her as "Jan" from "The Office." But did you know she's also a proud Goldendoodle owner?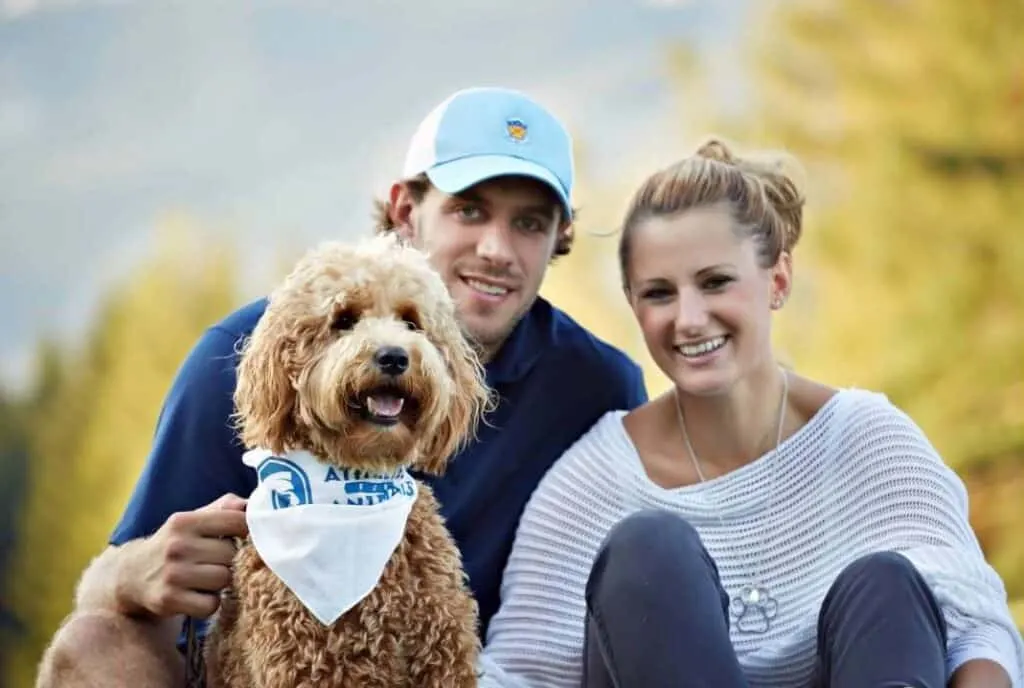 Perez Hilton Dog
This polarizing celebrity gossip blogger has a huge soft spot for his miniature Goldendoodle, who he has named "Teddy Hilton." Check out their video together where you can see the love between these two!
Blake Lively Dog
Here's Blake with her adorable, tiny Maltipoo pup. Cute enough where you'd want one just like it? Be prepared to pay up. Some breeders who know a celebrity has bought one of their dogs can sell puppies who are related to the celebrity dog for as much as $65,000. And here I thought my "average Joe" doodle was expensive!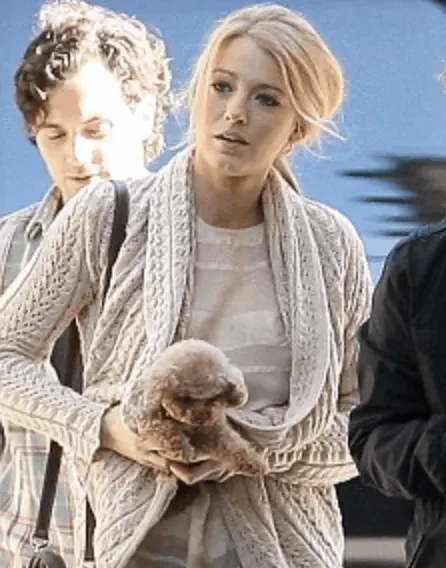 Rihanna Dog
Rihanna's beloved Maltipoo, Oliver, had a rough start prior to living the life of luxury with his superstar mom! Rihanna found this adorable little pup abandoned in the bathroom of a club. Fate had brought them together and you can see in this video how much they love each other!
John Travolta Dog
The Travolta family loves their Goldendoodle puppies, but they don't love puppy training nearly as much! These two pups, Audi and Charlie, were sent to 4 weeks of puppy "boot camp" to learn basic commands before John and his family brought them home. Let's hope the $2,200 spent on training saved them from a few accidents in the house!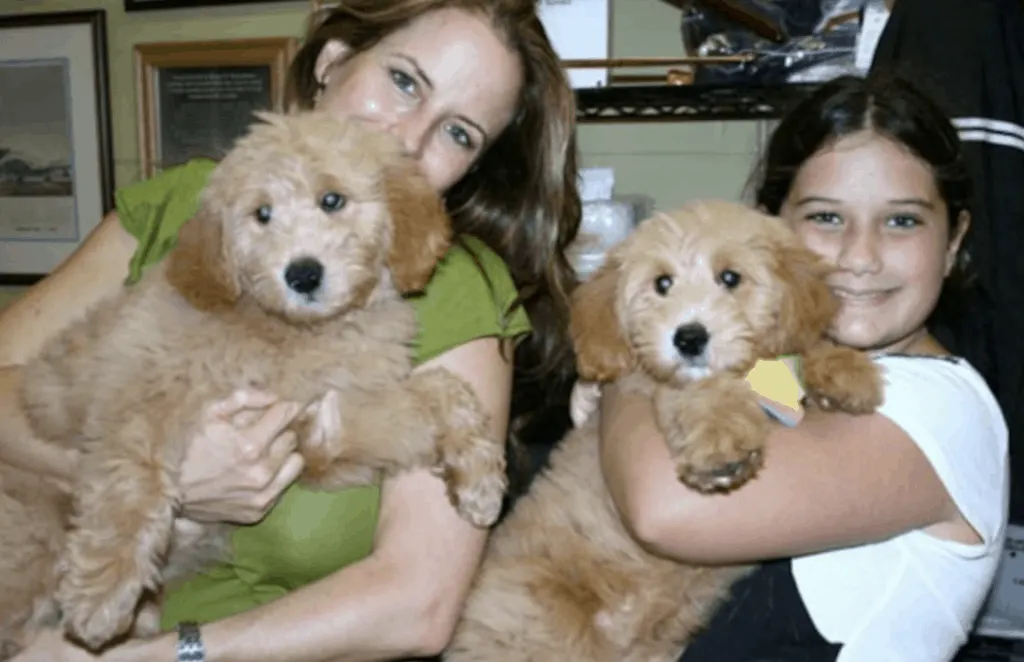 Usher Dog
Usher bought his Goldendoodle, Scarlett not from a rescue shelter or a doodle breeder—but from a charity auction! He and his family absolutely adore her and he takes her on the road with him. "She's my road dog, man," he told People Magazine. "Some of my hardest times, she is always there with me." Look how cute they are together!
Kenny Chesney Dog
The love of doodles extends to all genres of musicians. Country superstar Kenny Chesney is open about the special bond he has with his Goldendoodle, Pancho. Pancho joins Kenny on his tours and even stars in some of his music videos!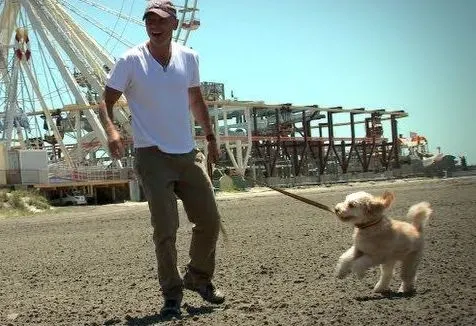 Jensen Ackles Dog
This "Supernatural" star is so fond of doodles, he has two! There's Icarus the Cockapoo and Oscar the Goldendoodle. Jensen has revealed that he didn't know what a Cockapoo was when his wife brought one home. He was hoping for a "big, giant, huge, manly dog" but eventually grew to adore the 15 pound ball of fluff. I wonder if his larger, standard Goldendoodle was the "manly" dog he desired all along!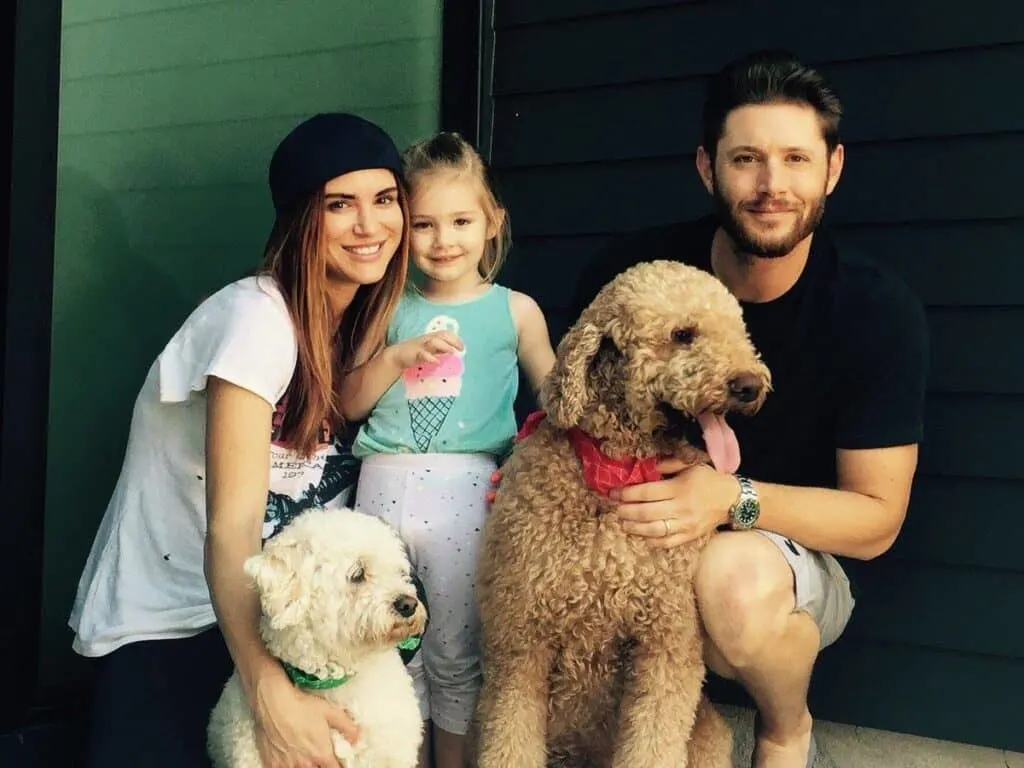 Chris Hemsworth Dog
Apparently, even the mighty Thor is a sucker for Goldendoodles! Hemsworth posts photos and videos of his adorable doodle, Sunny, on his Instagram. Check out the hilarious clip below of Chris imitating the classic doodle sleeping pose!
Ellen DeGeneres Dog
Animals are one of Ellen's biggest passions—and it shows! She has 4 dogs and a 3 cats in her pack. She wanted to be a veterinarian growing up and now she's a huge advocate of rescuing animals. She even has her own line of pet supplies!
Vanessa Hudgens Dog
Turns out Ashley Tisdale isn't the only High School Musical graduate to be obsessed with doodles! Vanessa Hudgens has pup named Darla who is likely a Maltese poodle mix. She and Darla came to meet after her boyfriend's mom saw her neglected on a neighbor's apartment. She knocked on the door and suggested that if they couldn't take proper care of the dog that they should give it to her.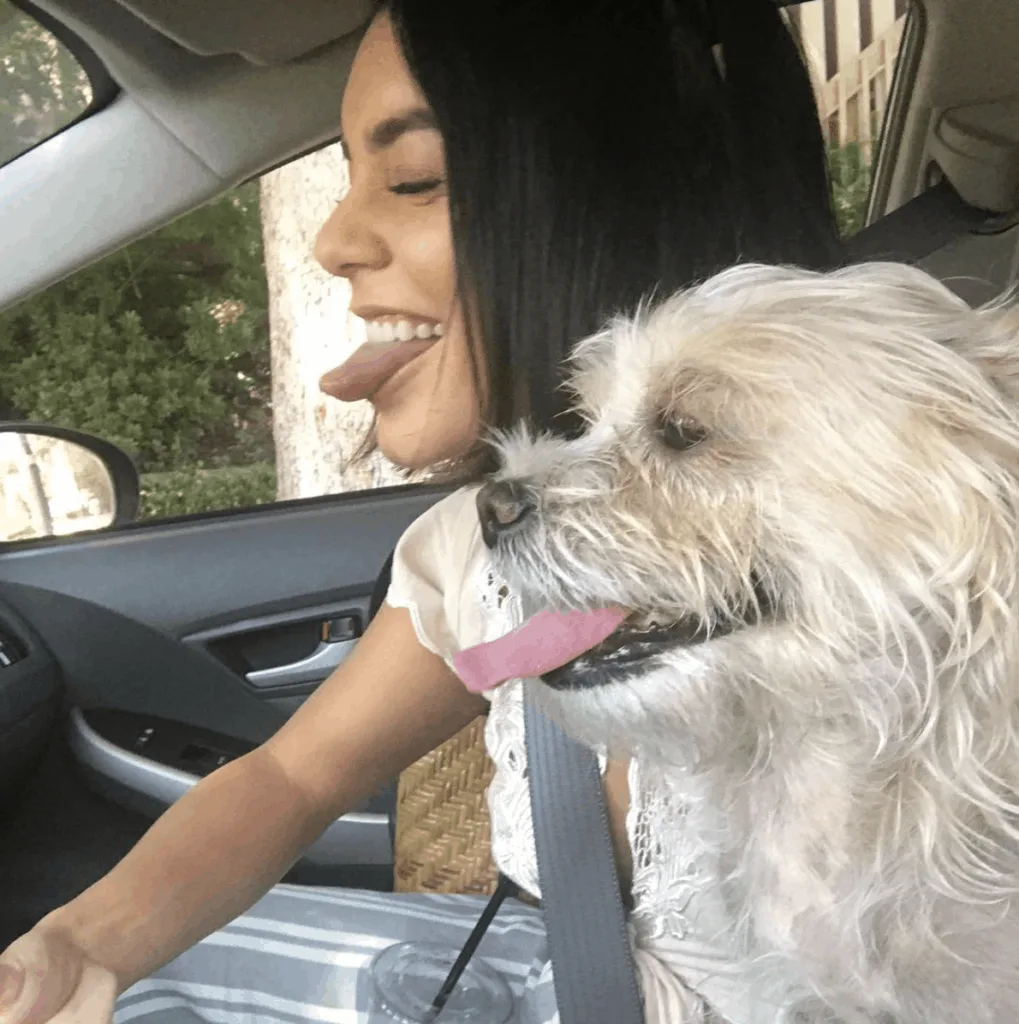 Claire Danes Dog
This accomplished actress is the mom to an adorable miniature Schnoodle named Weegee! She can commonly be seen walking her pup around town and she's spoken in interviews about how Weegee often gets scared of thunderstorms in their Charlotte, NC home. It's ok, Weegee, thunderstorms aren't very fun!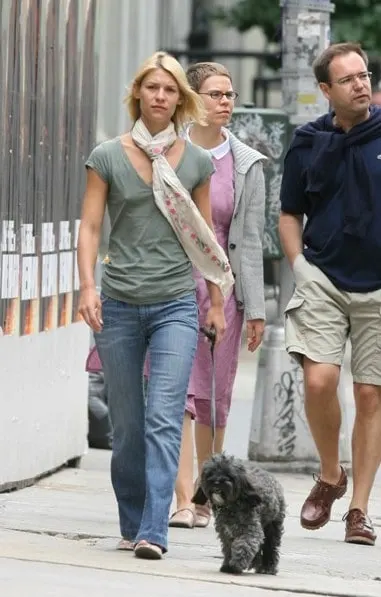 Billie Joe Armstrong Dog
Naturally, the front man of Green Day's pet Cockapoo is also full of talent. Billie Joe even posted the video below of him playing piano while Rocky sings along to the hit Green Day song, "Viva la Gloria." As one YouTube commenter put it—"better than Bieber!"
Meryl Davis Dog
This 2014 Olympic gold-medalist for Team USA is the proud owner of a mini Sheepadoodle. Her fur baby's name? Bilbo Baggins.