Regular exercise and activity is a vital part of your Bernedoodle's development. Not only does daily exercise keep your dog healthy, but it keeps them happy and fulfilled as well!
You probably know that there are minimum Bernedoodle exercise needs that should be met on a daily basis to keep them happy and healthy. However, many new owners don't realize that exercising their Bernedoodle puppy too much can be just as detrimental to their health and development.
How Much Exercise Do Bernedoodles Need?
As a moderately active breed, an adult Bernedoodle needs 30-60 minutes of exercise, 1-3 times per day. This number can fluctuate significantly depending on your Bernedoodle's age, size, and personality. Bernedoodle puppies should have significantly less exercise. A basic rule of thumb is 5 minutes of exercise per month of age, 1-3 times per day.
Use this table to figure out the appropriate amount of daily exercise your Bernedoodle should be getting, based on their age and size.
Your Bernedoodle's
Age
Toy / Tiny Bernedoodle
Exercise Requirements
Mini Bernedoodle
Exercise Requirements
Standard Bernedoodle
Exercise Requirements
2 Months
(8 Weeks)
10 Minutes
1-3x/day
10 Minutes
1-3x/day
10 Minutes
1-3x/day
3 Months
(12 Weeks)
15 Minutes
1-3x/day
10 Minutes
1-3x/day
10 Minutes
1-3x/day
4 Months
(16 Weeks)
20 Minutes
1-3x/day
15 Minutes
1-3x/day
15 Minutes
1-3x/day
5 Months
(20 Weeks)
25 Minutes
1-3x/day
20 Minutes
1-3x/day
15 Minutes
1-3x/day
6-12 Months
30 Minutes
1-3x/day
25 Minutes
1-3x/day
20 Minutes
1-3x/day
12 - 18 Months
30-60 Minutes
1-3x/day
30-45 Minutes
1-3x/day
25 Minutes
1-3x/day
18 - 24 Months
30-60 Minutes
1-3x/day
30-60 Minutes
1-3x/day
30-45 Minutes
1-3x/day
Adult
(2+ Years)
30-60 Minutes
1-3x/day
30-60 Minutes
1-3x/day
30-60 Minutes
1-3x/day
Senior
(8-12+ Years)
20-45 Minutes
1-3x/day
20-45 Minutes
1-3x/day
20-45 Minutes
1-3x/day
This table is meant to provide you with a ballpark estimate, not a definite or exact amount. Your Bernedoodle's exact exercise requirements may need to be adjusted higher or lower depending on a variety of factor's we'll discuss below! Use this information to have an informed conversation with your veterinarian about what's best for your dog.
The Dangers of Too Much or Too Little Exercise
Too little exercise can result in the development of many behavioral and health issues in your Bernedoodle.
Physically, obesity in dogs is a major problem and is linked to serious and potentially deadly threats like kidney disease, heart disease, cancer, and arthritis. This can severely shorten your Bernedoodle's lifespan.
Behaviorally, a lack of sufficient activity can also be the underlying cause of many problems like excessive barking, counter-surfing, destructiveness, and so much more. As one breeder puts it, "if your dog is misbehaving, it usually means you're not exercising them enough!"
On the other hand, it's also possible to exercise your Bernedoodle too much, especially as a puppy!
The bones and joints of your Bernedoodle puppy are still growing and developing until they reach their full height and weight. Putting too much stress on them during these formative months can result in life-long joint and bone issues.
While exercising your Bernedoodle the appropriate amount will help give them a better shot at remaining healthy throughout their lives, it's never a guarantee. That's why I always recommend responsible dog owners invest in a quality pet insurance policy—I personally use Healthy Paws. This policy can literally be a life-saver as they'll cover up to 90% of your dog's veterinary bills!
What Do the Bernedoodle Exercise Requirements Depend On?
Age
The age of your dog is the single biggest factor that determines their Bernedoodle exercise requirements.
While puppies are full of energy, their bones and joints aren't fully developed and can easily experience long-term damage from vigorous or extended periods of exercise. Senior dogs, on the other hand, may not have the same energy or stamina they did when they were younger. Both older and younger dogs require plenty of rest throughout the day.
It can be extremely easy and often tempting to push your Bernedoodle's exercise limits, particularly when they're a puppy. In all the excitement a new puppy brings, we're eager to do fun activities with them like jogging, hiking, or sports.
It's important to show restraint and opt for short periods of lower-impact exercise until your Bernedoodle is fully developed into their adult size. We'll discuss below lots of safe ideas to use up all that puppy energy!
Size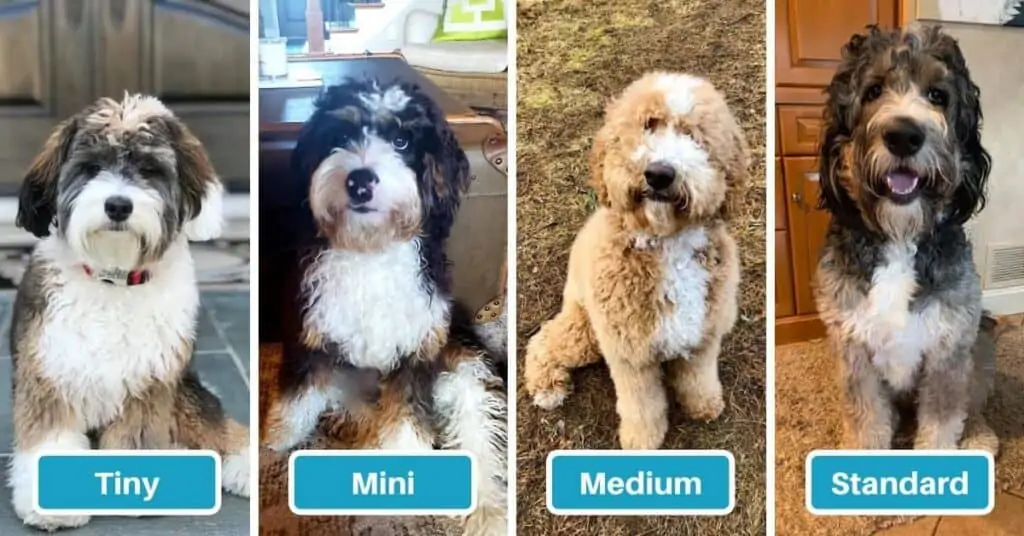 Large dogs, like the Standard Bernedoodle, develop slowly and, as a result, can take a long time to reach their adult height and weight. It can take a Standard Bernedoodle between 18 months and 3 years to stop growing, but it usually averages around 2 years.
Smaller dogs like the Mini Bernedoodle or Toy Bernedoodle will finish growing faster and be able to handle longer periods of exercise sooner. The Miniature Bernedoodle will usually hit its full grown size at around 18 months. The Toy Bernedoodle (a.k.a. the Tiny Bernedoodle) will be full-grown in as little as 12 months.
Once your Bernedoodle reaches their full size and is deemed healthy by your veterinarian, you can then "take the training wheels off" and not limit their exercise as excessively. Of course, you'll always want to keep a close eye on your dog for signs of fatigue, injury, or heat exhaustion regardless of age.
Personality
On average, Bernedoodles are a moderately active breed. However, like humans, every dog has its own unique personality and temperament. Some Bernedoodles are more relaxed while others are higher-energy. Oftentimes, genetics play a role and you can get an idea of how high-energy your puppy will be based on the temperament of their parents.
Related: Bernedoodle Generations Explained (F1, F1B, F1BB, F2, F2B, F2BB, F3, Multigen)
While this article provides general guidelines, it's important to factor in your dog's personality when deciding how much exercise is appropriate for them. Being active should be fun for your furry friend and as long as they're healthy, there's no reason to force exercise on them.
Keep on the lookout for signs your dog is getting too much or too little exercise…
If your dog is getting too much exercise, they may be hesitant to go outside or may choose to lie down instead of walking. They may also show physical symptoms like limping or sickness. Always watch closely for excessive panting as that may be a sign that they need to rest.
If your Bernedoodle is being destructive, barking excessively, or having other behavioral issues, it may be a sign that they're not getting enough exercise. As they say, a tired dog is an obedient dog. If you're struggling with obedience training, you'll be amazed at how much of a difference additional exercise can make!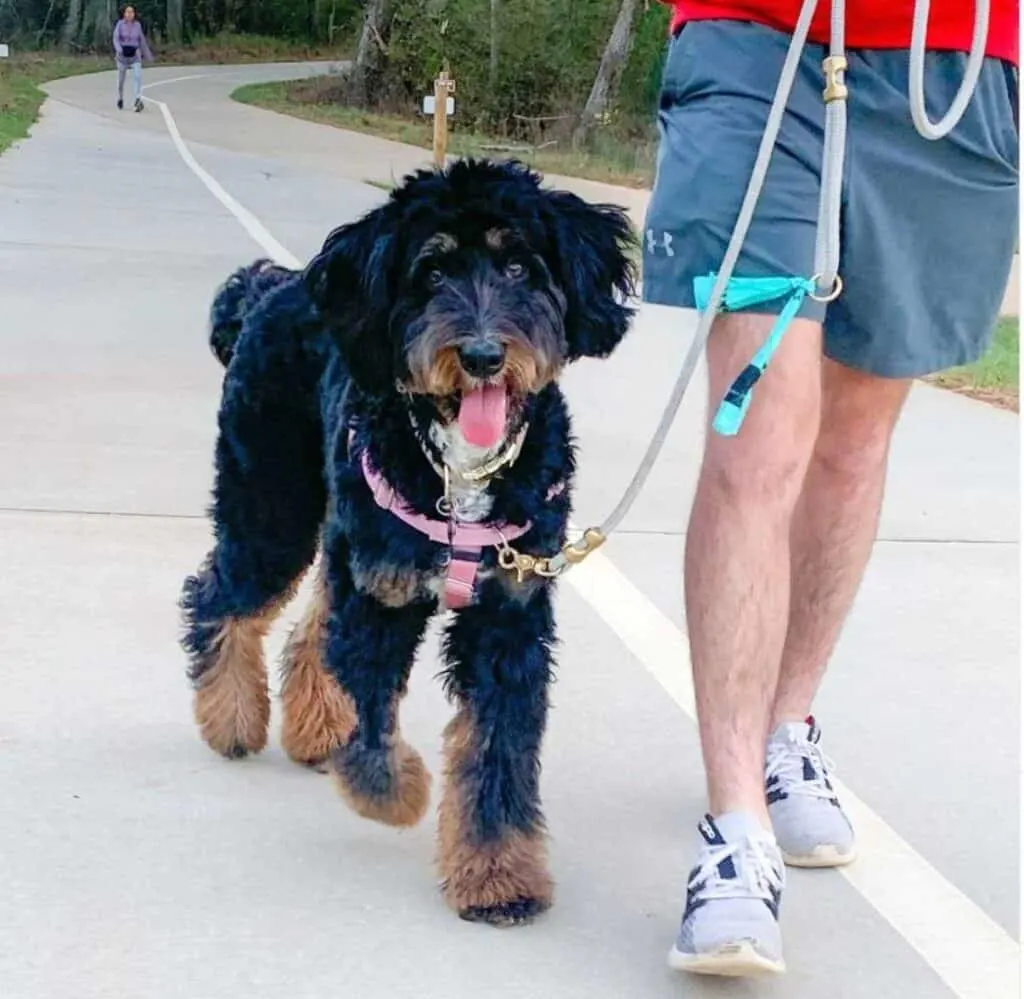 How Much Exercise Do Bernedoodle Puppies Need?
Still confused as to how much exercise your Bernedoodle puppy should be getting? Don't worry, let's break it down for you!
Toy / Tiny Bernedoodle Puppy Exercise Requirements
When you first bring your Toy Bernedoodle puppy home at 8 weeks, they should have no more than 10 minutes of exercise at a time. If they need more activity, you can repeat these 10 minute sessions 1-3 times per day.
Every month after that you can add another 5 minutes to that length until you hit 30 minutes, 1-3 times per day at month 6. Starting at month 6, they can have 30 minutes of sustained exercise at a time until they're 1 year old. At that point they'll likely be finished growing and can hit their adult Bernedoodle exercise recommendations of 30-60 minutes at a time, 1-3 times per day.
Once they're a senior, keep their exercise to around 20-45 minutes at once, 1-3 times per day.
Mini Bernedoodle Puppy Exercise Requirements
During your first month with your Miniature Bernedoodle at 8 weeks old, limit their exercise to 10 minutes at a time, 1-3 times per day. You can slowly increase this time to 15 minutes at 4 months old, 20 minutes at 5 months old, and 25 minutes at 6 months old.
Keep these 25 minute sessions, 1-3 times per day until your Mini Bernedoodle has their first birthday. For the next 6 months keep their walks or activity in 30-45 minute increments, 1-3 times per day. Once they're fully grown at around 18 months you can increase the high end of that range to 30-60 minutes, 1-3 times per day.
When they're old enough to be considered a senior, ease back just a bit on the exercise to around 20-45 minutes, 1-3 times per day.
Standard Bernedoodle Puppy Exercise Requirements
Standard Bernedoodles will grow to be very large dogs. As such, you need to take ramping up their exercise very slowly so as not to hurt their joints and bones. When they're 2-3 months of age limit their sessions to 10 minutes in length, 1-3 times per day. For months 4 and 5, you can increase their exercise sessions to 15 minute intervals.
When they hit 6 months old, you can start exercising 20 minutes a day, 1-3 times per day until their first birthday. From 12 months to 18 months you can increase their sustained exercise to 25 minute periods. From 18 months until 2 years the safe range is 30-45 minutes, 1-3 times per day.
Finally, at 2 years old they are considered an adult and can go the full recommendation of 30-60 minutes, 1-3 times per day. Bring that down just a tad when they become a senior to 20-45 minute intervals.
How to Tire Out a Bernedoodle Puppy (Safely!)
Exercising is more than just walks! Just as important as how long your puppy exercises for is what type of exercise they do. Vigorous, high-impact exercise, even for short periods of time, can result in bone and joint problems.
Here are some common, puppy-safe exercise options as well as some common ideas that are dangerous.
Safe Exercise Ideas for Bernedoodle Puppies
Slow Walks on a Leash – This is a great time to start teaching your Bernedoodle leash manners!
Playtime with Other Puppies – Other puppies will have similar staminas and this is a great activity for socialization as well. If your puppy plays with older dogs, they may be tempted to go too hard trying to keep up, so make sure you are supervising carefully.
Short Games of Fetch or Tug – As long as they aren't going too wild, these games are fun ways to bond with your dog and get some energy out.
Obedience Training – Practicing your puppy's recall and other training exercises will help wear them out mentally and physically!
Dangerous Exercise Ideas for Bernedoodle Puppies
Jogging or Running – Save these high-impact activities for when your Bernedoodle is fully grown. Always walk at a slow or moderate pace and remember that stopping to sniff is good mental stimulation!
Jumping or Climbing – Whether this is climbing staircases or jumping off couches, these activities can take a huge, negative toll on their joints.
Long Hikes – While it's great to explore nature, uneven trails and long treks aren't suitable for a young puppy.
Catching Frisbees or Balls in the Air – Constantly running and jumping to catch these toys will be rough on their developing body.
Alternative Exercise Ideas for Bernedoodles
Some days it can be a challenge to meet the Bernedoodle exercise requirements, like when it's super cold or rainy outside. Luckily, there are plenty of creative ways to sneak in some fun physical and mental exercise for your dog!
Here are a few of my favorites…
Snuffle Ball or Mat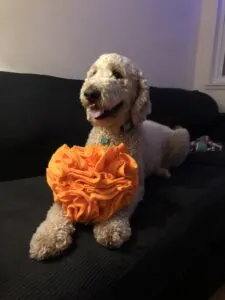 Turn your Bernedoodle's dinner into a fun mental exercise! Snuffle balls and snuffle mats allow your dog to search for their food using their sense of smell. While it's not physically demanding, it gives your Bernedoodle a great opportunity to use their nose and their mind to problem solve! This is a great way to relax and calm your dog.
There are plenty of snuffle toy options available on Amazon or Etsy. If you prefer to DIY, here are our step-by-step instructions for making your own snuffle ball!
Hide and Seek
A simple game of hide and seek allows your Bernedoodle both physical and mental exercise as they search around the house to find you! Start easy and eventually find more challenging locations as your pup gets to be an expert at this game!
Tug of War
This classic game that can be played indoors or outdoors will help your meet the Bernedoodle exercise requirements.
Brain Games
These fun "brain games" for dogs will not only will provide your Bernedoodle a mental workout, but they'll help in obedience training too!
How Far Can a Bernedoodle Walk?
Dying to go on a long walk or hike with your fluffy best friend, but curious if they're old enough yet for it to be safe?
In general, Bernedoodle puppies under 2 years old should avoid walks longer than 1 or 2 miles in length. Once your Bernedoodle reaches their adult size, you can start progressively taking them on longer walks, being careful not to push them harder than they're comfortable with.
Once their stamina is built up, adult Bernedoodles can walk 5-10 miles or even longer. Just don't expect them to do this regularly without specific training.
Remember, a mile is more strenuous for Toy and Mini Bernedoodles than it is for Standard Bernedoodles since their strides are smaller and it will take more steps. Other factors to consider include the temperature, incline, and how fast you'll be going.
Final Thoughts
It's not always easy figuring out how much exercise your Bernedoodle needs. The balancing act of getting your dog enough activity without putting stress on their growing body is a constant struggle. Hopefully, with the Bernedoodle exercise requirements discussed above along with the safe activity ideas provided, you'll be well on your way to raising a happy, healthy dog!
More About Bernedoodles…