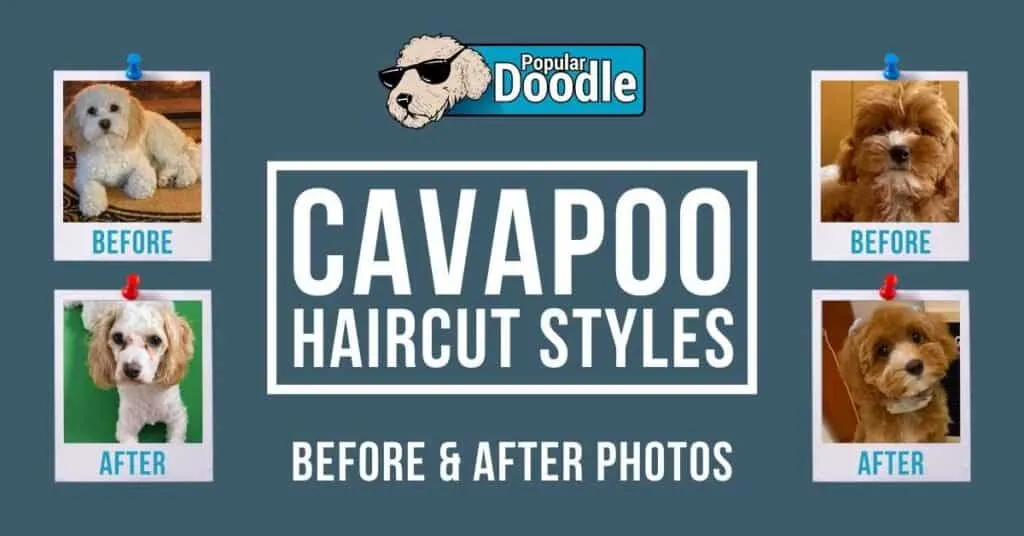 As a Cavapoo owner, you will know that there are a huge variety of Cavapoo haircuts out there. While your Cavapoo will look adorable no matter what, choosing the right hairdo for them can mean the difference between a cute dog and one that gets stopped for compliments everywhere they go.
Finding a good groomer who works with Cavapoos is important. Your groomer should be familiar with all of the most common Cavapoo haircuts.
Many will post their work on their social media channels, so you can check ahead of time that you're happy with their style of grooming.
It's important to communicate openly with your groomer, letting them know exactly what you want from your Cavapoo's haircut. Whether opting for a Cavapoo teddy bear cut, summer cut, or any other Cavapoo hairstyle, be sure to explain in detail what you're looking for.
It can help to show your groomer a few photos of the exact style you're after. If your dog has had a cut in the past that you've loved, be sure to bring a few photos of this too.
Popular Cavapoo Haircuts & Grooming Styles
It's no surprise that there are so many hairstyles out there for the ever-popular Cavapoo. These charming cross-breed dogs suit a range of different looks, regardless of their fur type and color.
As the Cavapoo is a hybrid between the Cavalier King Charles Spaniel and the Poodle, their pups can inherit the fur type of either breed. The variation in their fur type makes them a versatile model when it comes to doggy hairstyles.
A good groomer will recognize the type of fur your Cavapoo has and know what will look best on them.
That being said, at the end of the day, it's your opinion that matters most. Here are a few of the most popular options to give you some inspiration!
Cavapoo Teddy Bear Cut
The Cavapoo teddy bear cut is possibly the most popular of all the Cavapoo haircuts out there. If you've seen a Cavapoo, you've likely seen a teddy bear cut.
For most groomers, this style is their bread and butter and they won't need any coaching on how to perform the cut.
The key features of this Cavapoo hair style are that the head should be trimmed so it appears 'rounded' and the paws should be round and neat, just like a teddy bear's.
The fur on the body should be an even length, usually between 0.5-2 inches. The body hair will be blended into the head and face area, which will be kept slightly longer.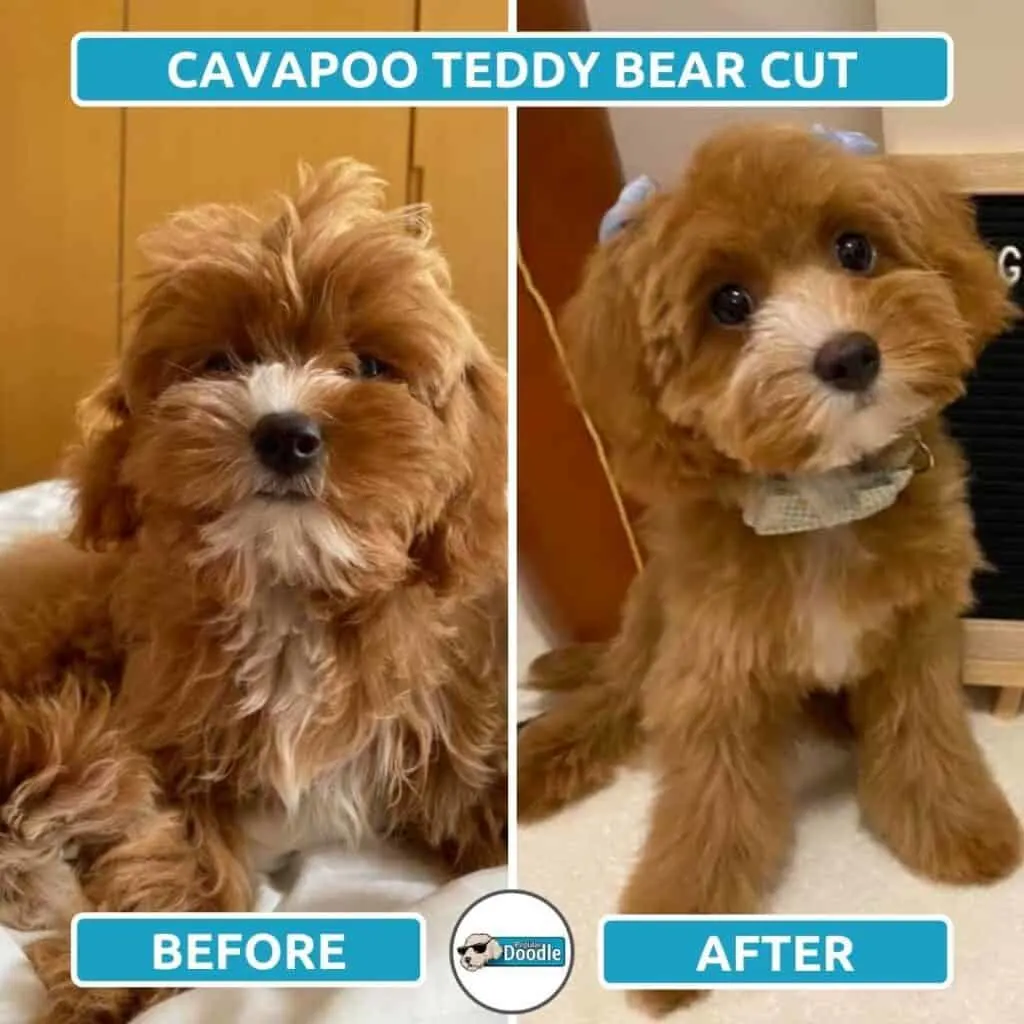 Cavapoo Puppy Cut
While you may assume the Cavapoo puppy cut is a term reserved for those under the age of one, many adult and senior dogs look great with this Cavapoo hairstyle.
This cut is similar to the teddy bear cut but the fur is kept at a more uniform length from head to tail. Many owners opt for about an inch in length.
As with most styles, your groomer's interpretation of the Cavapoo puppy cut may be somewhat different than yours. Be sure to let them know exactly what you want, using specific lengths and example photos if possible.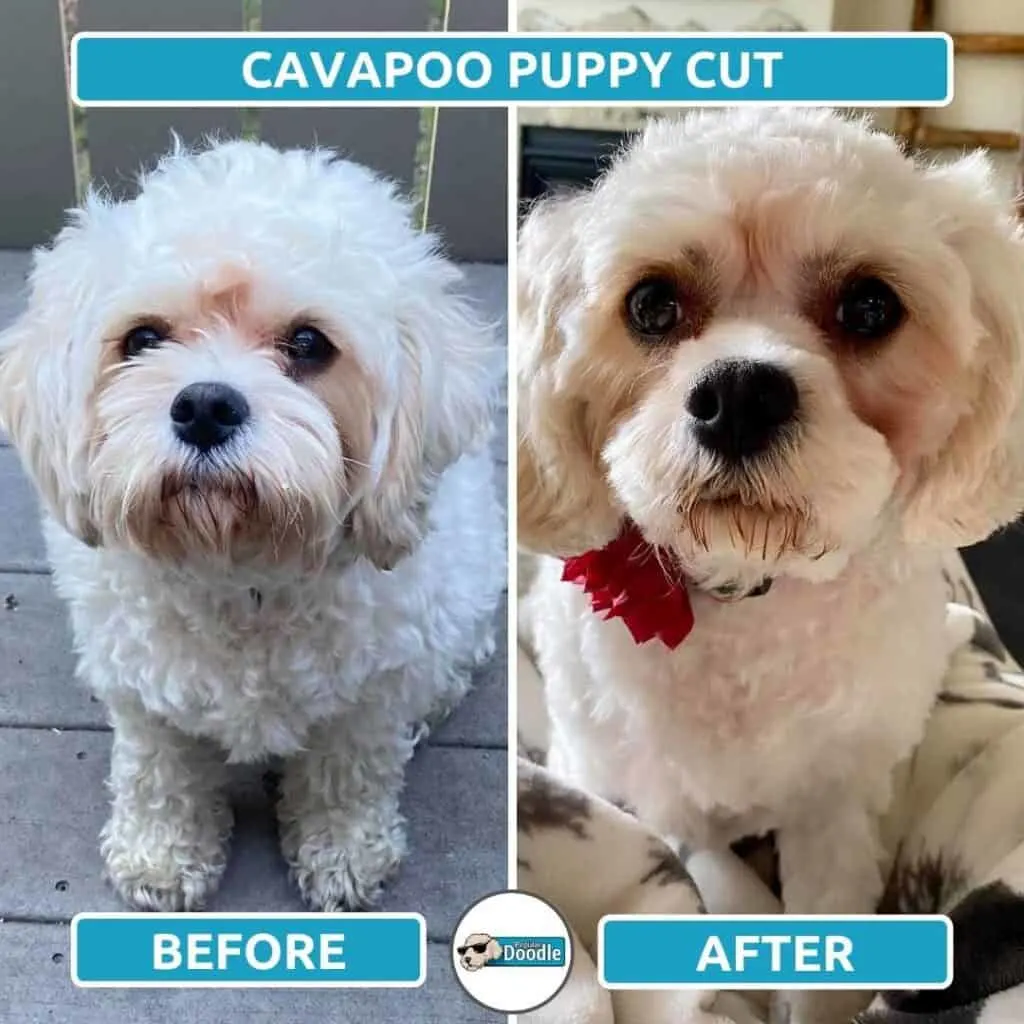 Cavapoo 'Tidy' or 'Neaten' Trim
This Cavapoo trim is typically done in between bigger cuts and helps keep your pup looking fresh. The face, paws, and rear end are trimmed, keeping your dog looking neat and tidy. If long, any feathering on the legs will also be clipped short.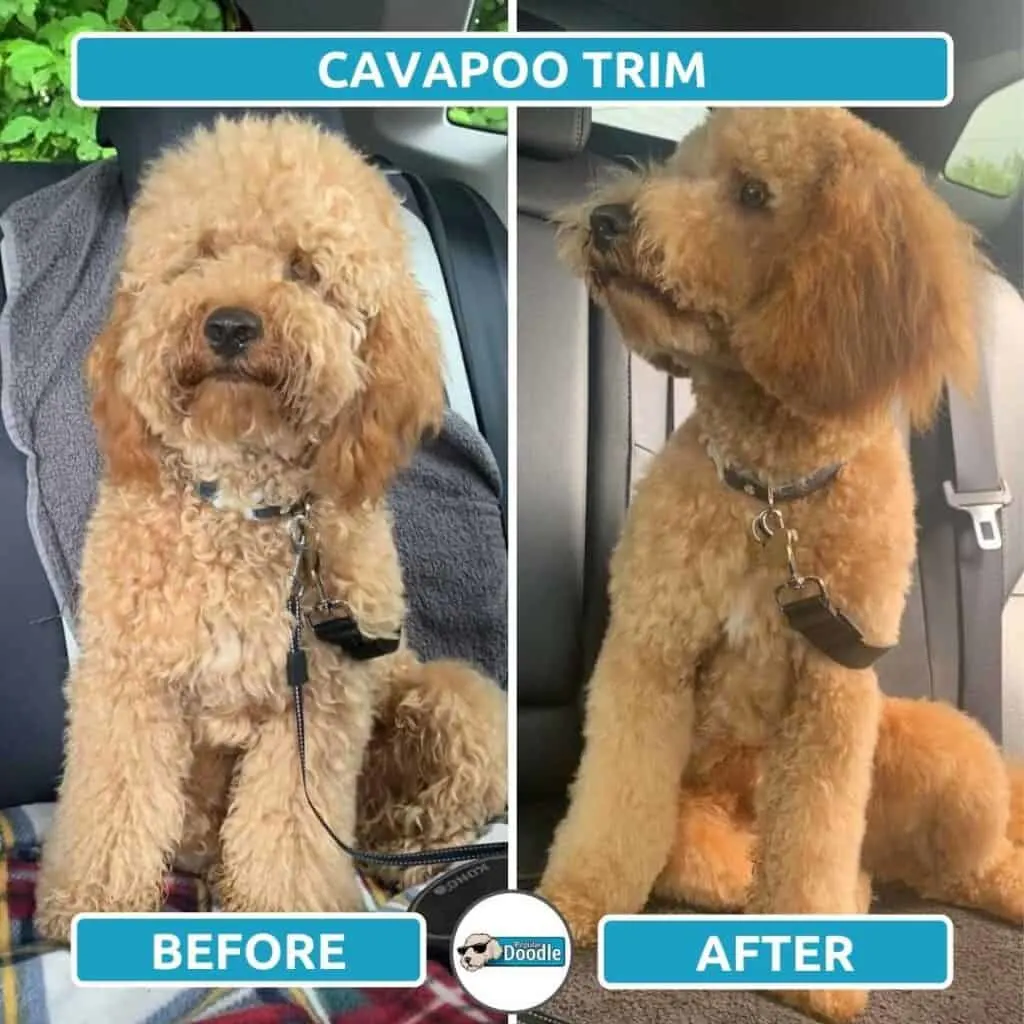 Cavapoo Summer Cut
The Cavapoo summer cut doesn't have to be restricted to the summer months only! However, getting a short Cavapoo haircut can make your pooch uncomfortable if the weather is too cold.
A short Cavapoo haircut keeps the fur longer than shaving a Cavapoo to the skin. For a summer cut, the fur will be trimmed to about half an inch all over.
This type of cut is excellent if your dog dislikes the groomer or if you have a hard time keeping up with brushing frequently.
Keep in mind that summer cuts can vary from groomer to groomer. Some opt to keep the hair a uniform length while others will still keep some longer fur in places such as your Cavapoo's head and tail.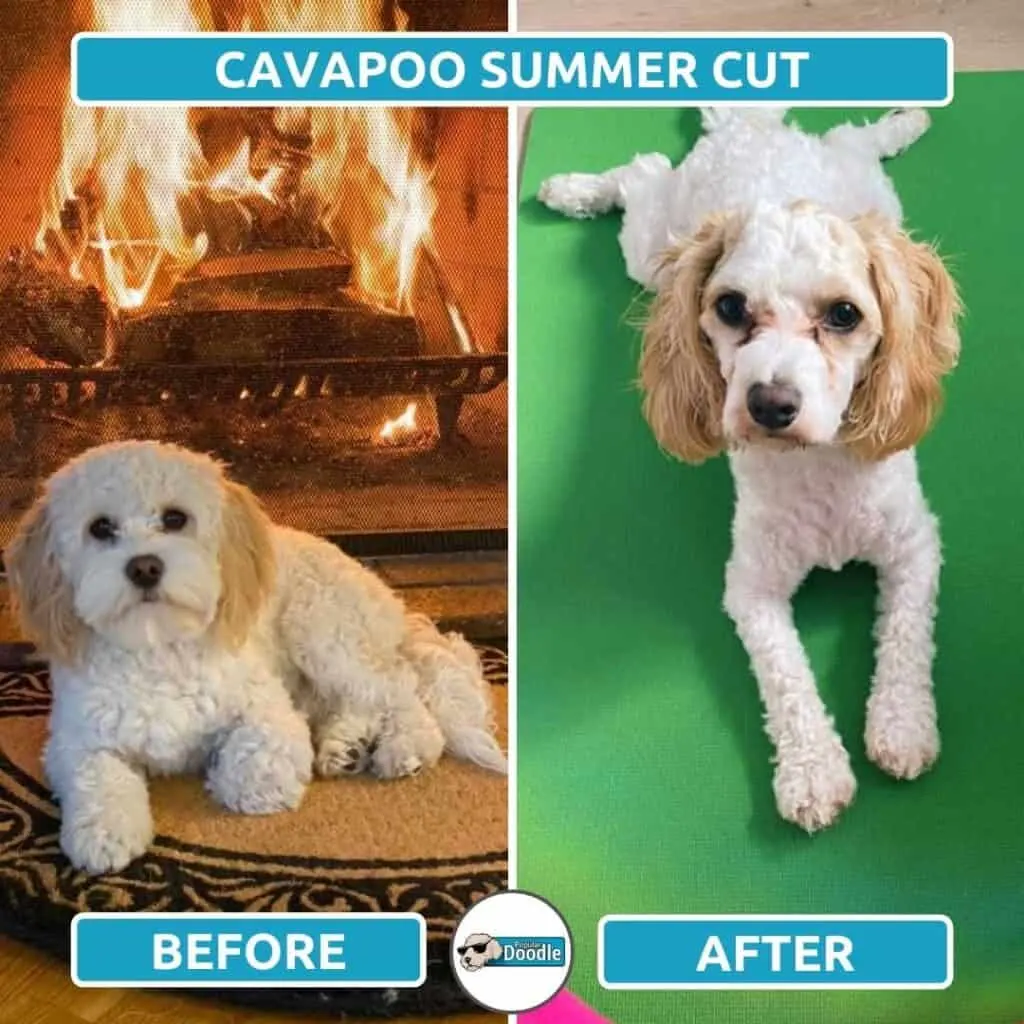 Shaved Cavapoo
Your Cavapoo's coat serves a purpose. It keeps them warm, protects them from the sun and rain, and even acts as a barrier to allergens and germs. So, it is not advised that your Cavapoo is shaved unless this is absolutely necessary.
That being said, if you have a matted Cavapoo, shaving down to the skin may be necessary. While it may not be your preferred style, this is important to relieve your Cavapoo of the pain, bruising, and skin irritation that can be caused by matted fur.
If you find yourself with a shaved Cavapoo after the groomer, it may take a little time to get used to this drastic change. Remember, their fur will grow quickly and they'll be back to normal in no time.
It'll take 2-4 months for your shaved Cavapoo's hair to completely grow back. However, they'll start to have a more normal appearance, similar to a summer cut, at around 2-3 weeks.
Cavapoo Lamb Cut
The lamb cut is popular amongst Poodles as well as Cavapoos who have inherited more of the Poodle genes.
As the name suggests, groomers attempt to make your dog resemble a little lamb. The fur will be longer on the ears and legs but trimmed short on the face.
This is more of a unique, 'designer' Cavapoo haircut and is one that may or may not be to your taste.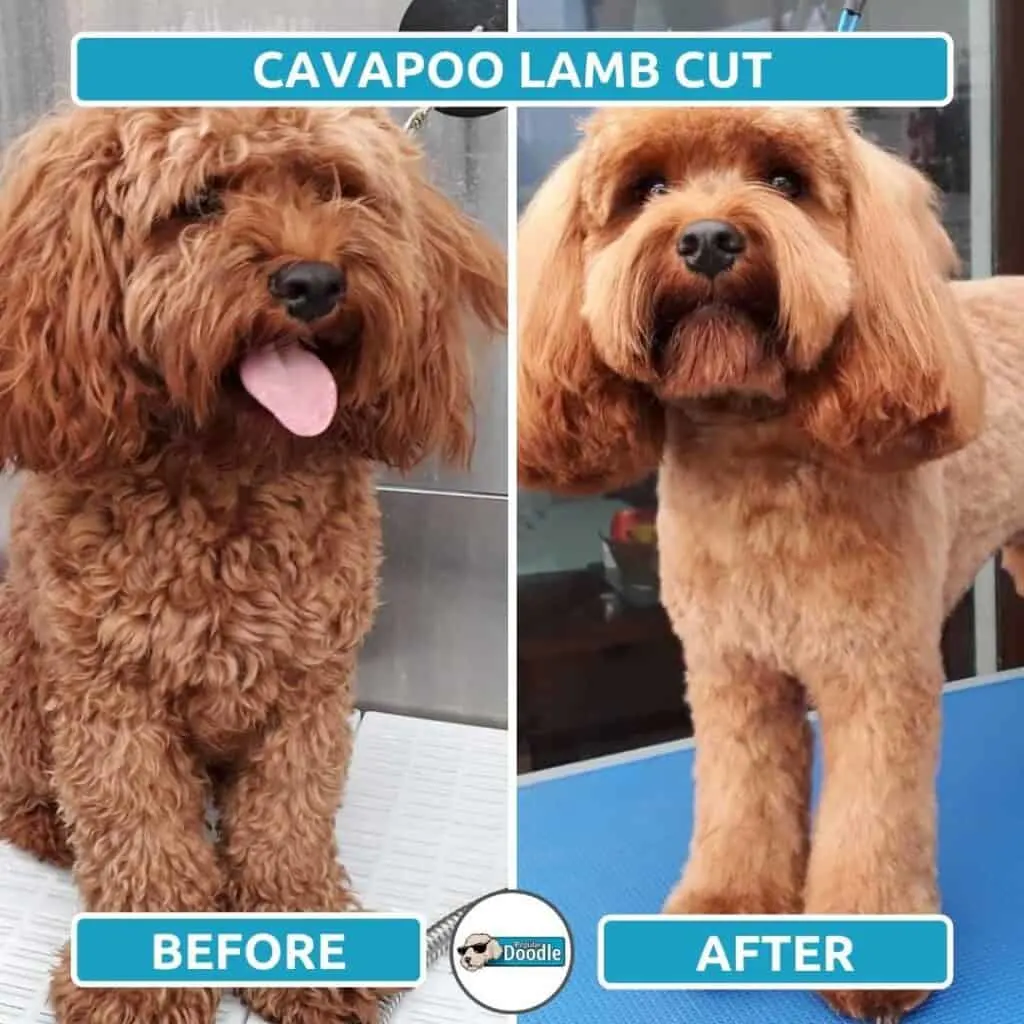 Cavapoo Poodle Cut
The Cavapoo Poodle cut is an over-the-top hairstyle that will be sure to get some looks on the street. It celebrates your Cavapoo's Poodle roots by resembling the classic look of show Poodles.
This hairstyle is a polarizing choice that Cavapoo owners either love or hate with a passion. Many prefer it is a female Cavapoo haircut style rather than one for males.
To achieve the Poodle cut, dogs are shaved on their face and limbs but have long 'pom poms' left on their wrists and ankles.They should also have plenty of that gorgeous 'afro' and curly ear hair.
As this Cavapoo hairstyle can take some time to get right, your groomer might charge more for it than the other simpler styles available.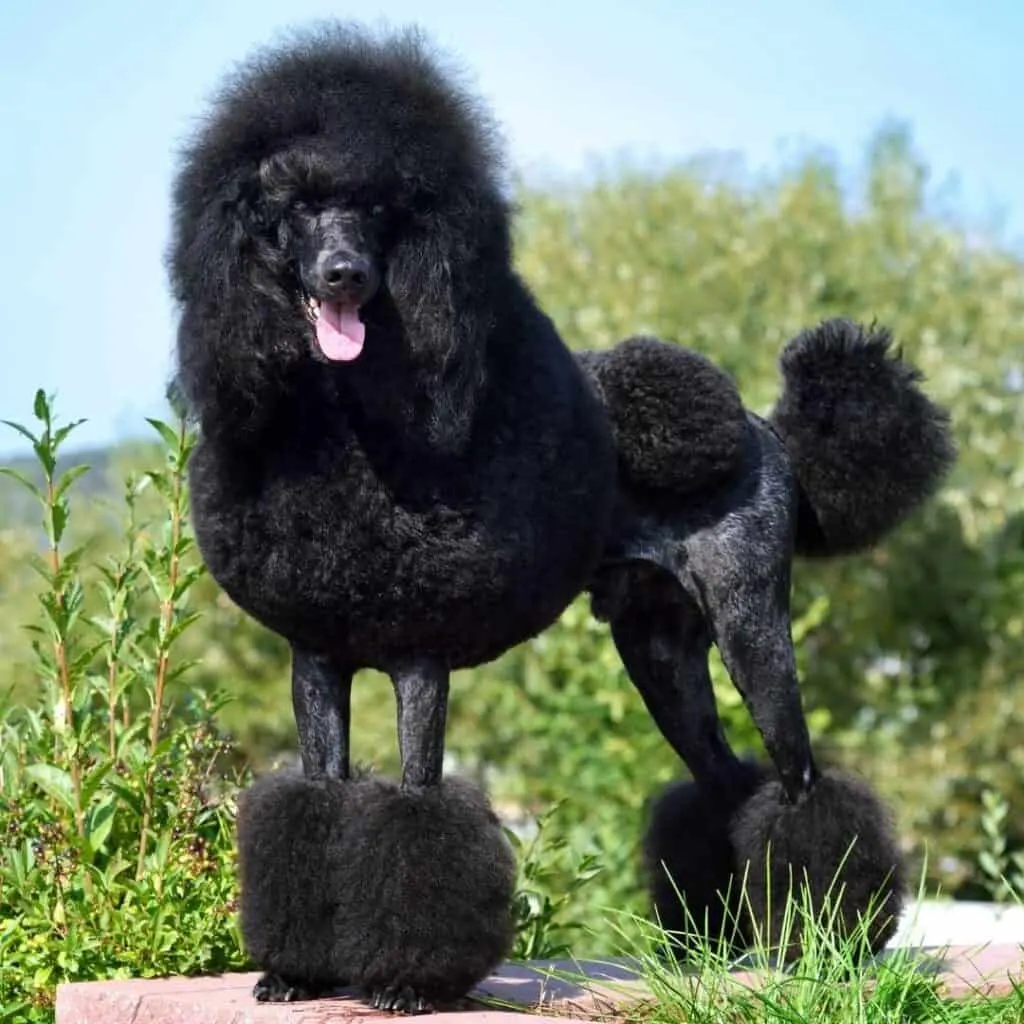 When Cavapoo Haircuts Go Wrong
It's not unheard of for owners to come away from the groomer feeling deflated. If your dog doesn't look like how you envisioned, it can be disappointing.
Remember that a Cavapoo's coat grows back quickly and their new look won't last forever.
Let your groomer know if you're not 100% happy. When possible, they should be happy to correct the style free of charge. However, if the fur is too short, this might not always be an option.
The best way to protect against miscommunications that result in an unwanted hairstyle is by bringing in a photo to show your groomer. Use a photo of your Cavapoo's previous haircut, search through Pinterest, or take one of the example photos from this article!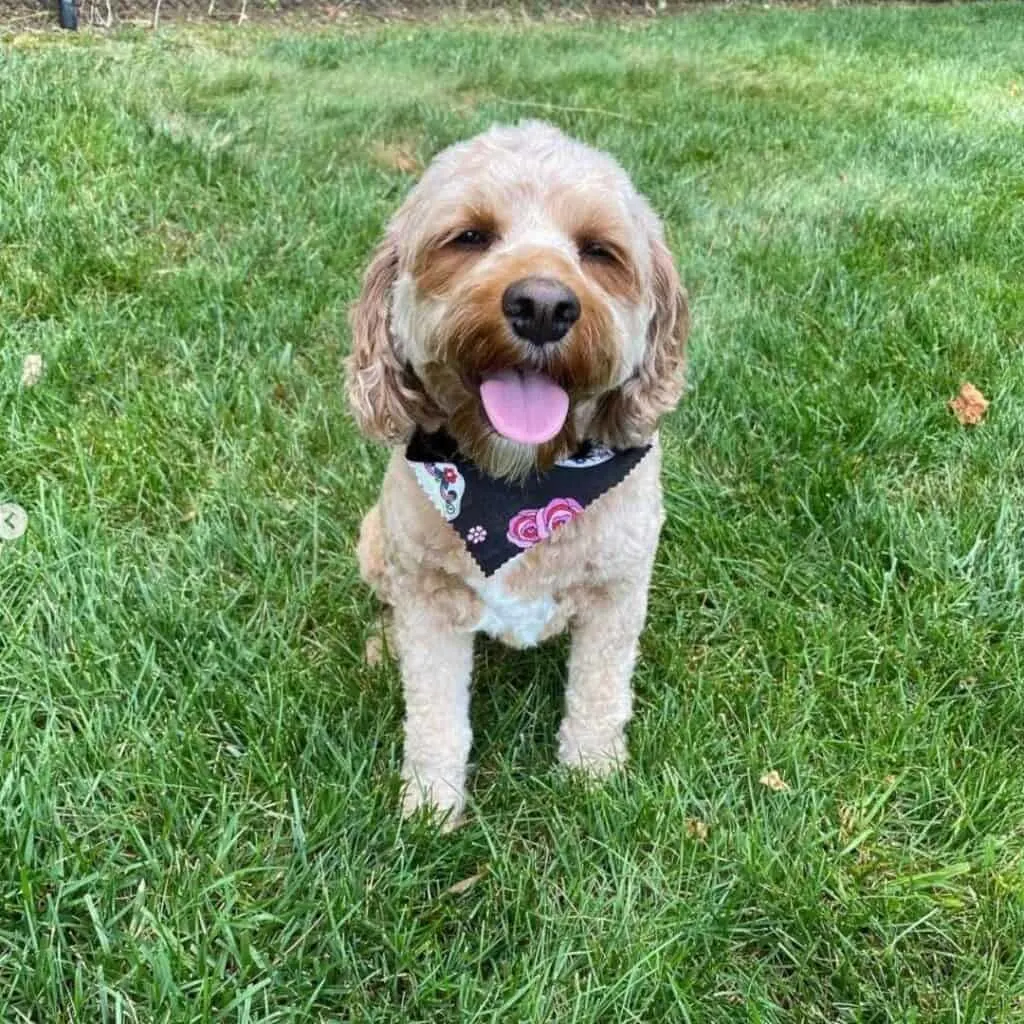 Cavapoo Grooming Basics
Cavapoos are a high-maintenance breed when it comes to their grooming. They require daily brushing and regular 'mini trims.'
Owners should start getting their pups used to brushing as well as handling the body and paws from the day they are taken home.
Grooming the Head
A Cavapoo's head and face require the most upkeep. Cavapoos need the fur around their eyes trimmed frequently so it does not block their view.
Many pups suffer from tear staining and the fur under their eyes must be cleaned regularly.
Clumped fur will also need to be trimmed away before the skin underneath becomes irritated.
Grooming the Muzzle
The fur around their muzzle is prone to matting and can attract dirt and wet food.
Owners need to regularly clean this fur and comb it through. As the skin around the mouth can be sensitive, it is important to go slow.
Cavapoo Matting
Cavapoos are prone to mats under their ears, armpits, belly and tail. Due to this, owners should focus on these locations when brushing them each day.
If a small mat is found, tease through it with your fingers first. Brushing a mat directly can be very uncomfortable for the dog. Bad mats may need to be shaved off.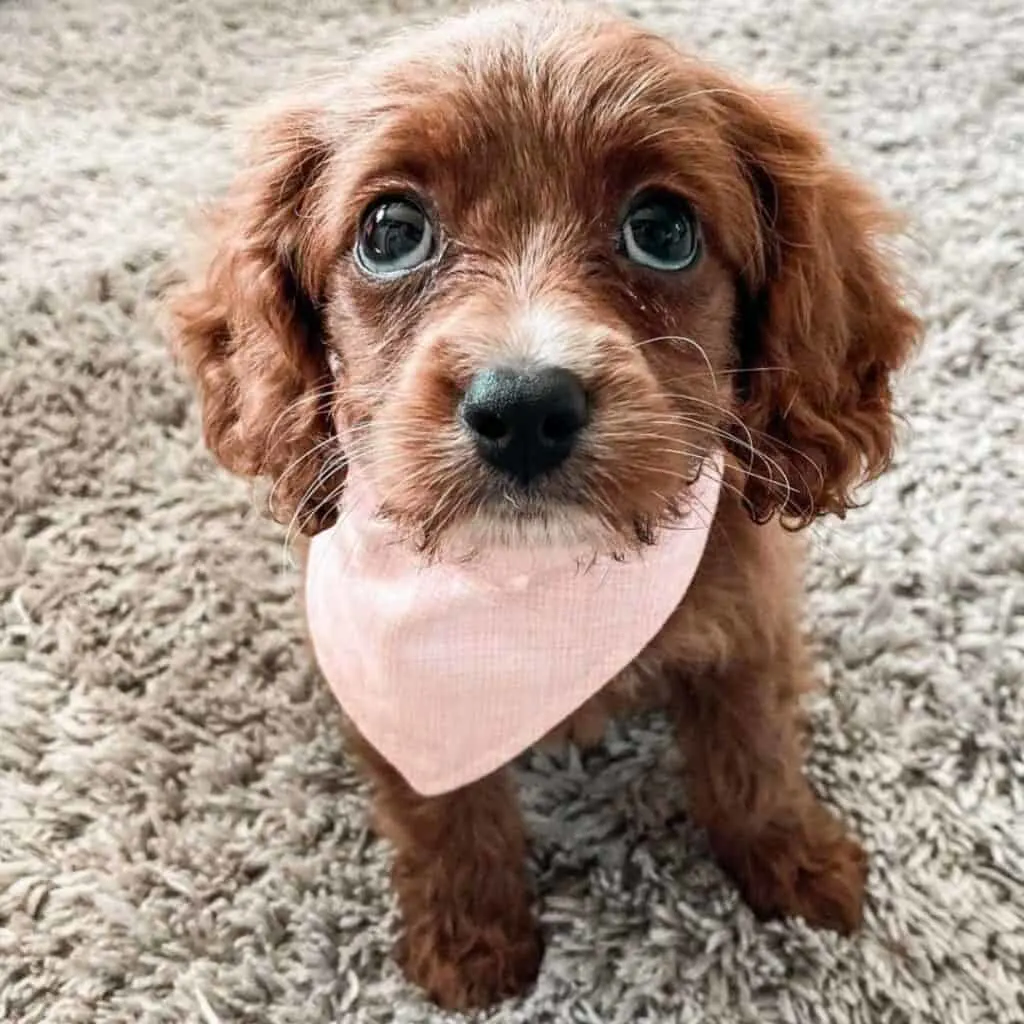 Tips for DIY Cavapoo Grooming at Home
While most owners will see a professional groomer several times a year, some choose to perform their own 'top up trims' at home. To ensure all goes smoothly, follow these tips:
Carry out the grooming session at a time your Cavapoo is calm. This is often after a long walk, in the evening time when your doggo is settling down for the night.
Ensure your Cavapoo is restrained comfortably. It is easiest if you have a second pair of hands helping and, ideally, your Cavapoo would be familiar with this person.
Have your Cavapoo stand on a table to ensure they stay still and so you are not straining your back. An alternative is to have them in a bath tub, especially if they can be flighty!
Act calm and confident. If you're anxious, your dog will be quick to pick up on this. Let them know there is nothing to be worried about.
Keep sessions short and give your dog breaks if needed. This is especially true in the first year, when your puppy needs time to acclimate to their mini pampering sessions.
Always end every session with lots of vocal praise and a tasty treat or two. Your Cavapoo has deserved it!
Must-Have Grooming Tools for Cavapoo Owners
For many, being able to carry out some basic grooming techniques on their Cavapoo is important. Not only will this save money, but some Cavapoos feel more comfortable being groomed by a person they know and trust.
The Chris Christensen Baby G Slicker Brush works well on their fur type and won't break the bank. This brush packs a large number of individual pins into a small size, allowing it to easily tackle curly, Cavapoo hair.
Additionally, you'll want to invest in a strong and reliable pair of claw clippers like the Safari Professional Nail Trimmer for Dogs.
If unsure how to clip your Cavapoo's claws safely, you can ask your vet or groomer for a demonstration. The key is to always cut above the quick and to take a little bit away at a time if concerned you may accidentally cut the claw too short.
Cavapoo Grooming FAQs
How much does a Cavapoo haircut cost?
A typical Cavapoo grooming appointment will cost between $60-100. Any extras like nail trimming, teeth brushing, and conditioning treatments will cost you more.
Keep in mind, this figure depends on several factors including your location and the Cavapoo hairstyle you're striving for.
Grooming prices can also dependent on the age and size of your Cavapoo.
What is the most common Cavapoo hairstyle?
The three most popular Cavapoo hairstyles are the teddy bear cut, the puppy cut, and the summer cut. Most Cavapoo hair cuts are some variation of these three basic styles.
Does my Cavapoo require professional grooming?
Most Cavapoo owners opt for professional grooming, as this breed tends to have curly hair that is prone to matting. While some owners have tried DIY grooming at home, this can take some practice and patience to get right while doing it safely.
How often do Cavapoos need to be groomed?
If you opt for a longer style like the teddy bear cut or puppy cut, expect to bring your Cavapoo to the groomer every 3-6 weeks. If you choose a short, summer cut, your Cavapoo may only need a grooming appointment every 2-3 months.
Keep in mind, each dog has a different rate of fur growth that will depend on their genetics, health, age and diet.
Read More About Cavapoos…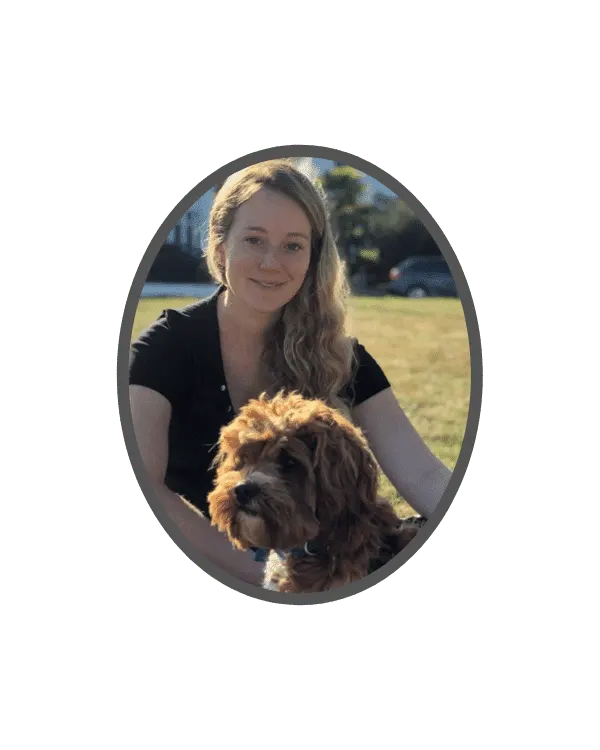 Dr. Linda Simon
Contributing Professional
Dr. Linda Simon is a small animal veterinary surgeon who works as a locum vet in the UK. She qualified in 2013 from UCD, Ireland and was top of her year in small animal medicine. Linda writes for a range of animal-related publications and is the resident vet for Pooch & Mutt dog food. She is a proud doodle owner who shares her life with a 3 year old Cavapoo named Raffie!