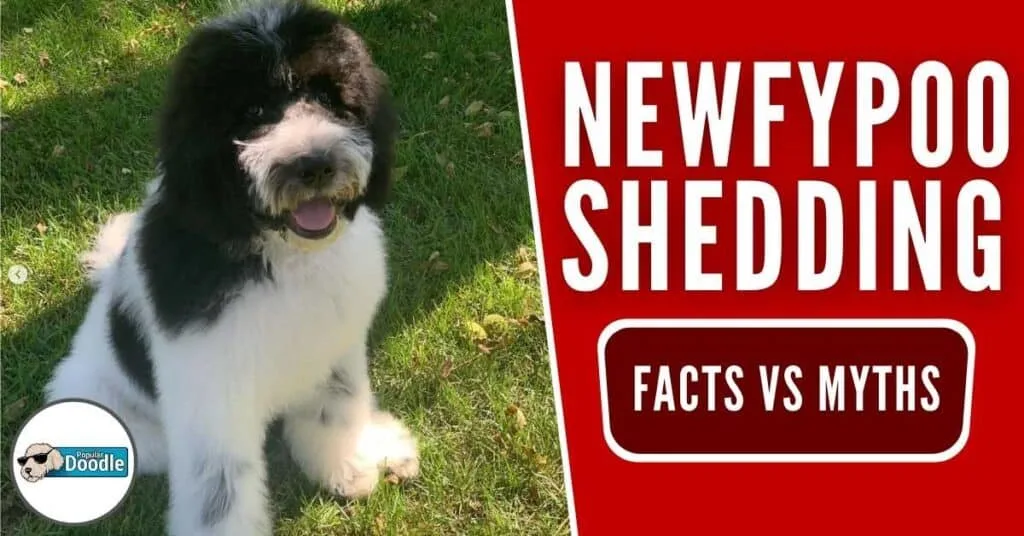 As a prospective Newfypoo owner, there are many factors to consider to determine if this breed is right for your family. One of those is whether Newfypoos shed or not.
While it seems like a simple question, the answer isn't so straightforward. This article will teach you everything you need to know about Newfypoo shedding and make it easy for you to understand the pros and cons of this adorable breed!
Do Newfypoos Shed?
Some Newfypoos shed while others do not. This varying amount of shedding is due to being the cross of one shedding breed and one non-shedding breed.
While genetics may seem like a crapshoot, the generation of your potential Newfypoo puppy can be a decent indicator as to their potential for shedding.
Keep reading as we'll break down exactly what Newfypoo generations are, how they impact a dog's propensity for shedding, and what you can do if you adopt a Newfypoo that does shed!
Why Do Newfypoos Shed?
There are many reasons why Newfypoos might shed, but we can break them into four basic categories…
Year Round Newfypoo Shedding
Year-round shedding is natural and happens to almost all mammals. As hair particles die, they fall out and are replaced by new ones.
As long as you don't notice any sudden, drastic hair loss, there is no need to be concerned with year-round Newfypoo shedding.
You may be wondering what prevents dogs, like Poodles, from shedding? These non-shedding breeds have hair shafts that are longer, which means they shed less.
Some Newfypoos inherit a more Poodle-like coat, ensuring their shedding is much less than other breeds. In some cases, Newfypoos may not shed at all!
Seasonal Newfypoo Shedding
Seasonal shedding is another very common and very normal type of hair loss.
In the Spring and Fall, a dog's coat reacts to changing weather conditions by becoming lighter or heavier. This is done to keep their body temperature stable.
Health Issues
If your adult Newfypoo suddenly starts shedding more than usual, or at odd times during the year, this could be cause for concern. Excessive shedding can be a sign of multiple health issues, so it's best to get it checked out right away.
Symptoms like scratching, feet licking, and skin irritations should all be checked out by a vet as soon as possible.
Have a question for a vet? Click here to live chat instantly with a verified veterinarian!
Unexpected health problems can be costly and stressful. That is why I suggest Newfypoo owners get a good pet insurance plan.
I personally use Healthy Paws and have a 90% reimbursement rate. It's incredibly reassuring to know that if expensive health issues come up, I'll only be on the hook for 10% of the bill.
When Do Newfypoos Shed Their Puppy Coat?
All puppies, regardless of breed, have what's called a puppy coat. This is the fur they are born with, which is typically much flatter and softer than the fur of adults in their breed.
All puppy coats eventually shed as the puppy grows, which means you will probably notice this change if you adopt your Newfypoo young.
A Newfypoo typically sheds their puppy coat between 5 and 12 months of age.
Just because your Newfypoo is shedding their puppy coat doesn't necessarily mean that they will continue to shed in the future.
You won't know for sure if your adult Newfypoo sheds until they're about 1-2 years old and have fully grown in their adult coat.
How Much Do Newfypoos Shed?
How much a Newfypoo sheds can depend a lot on their generation. A "generation" simply describes the lineage of your puppy. In other words, how close in DNA are they to a Poodle vs a Newfoundland?
While generations an help us predict how likely a Newfypoo is to shed, it is never a guarantee. If a breeder is advertising fully hypo-allergenic, non-shedding Newfypoo puppies, it's a red flag that they may not be a reputable breeder.
This isn't to say that Newfypoos can't be non-shedding. However, there's no way of knowing for sure until your puppy is grown.
Here are some of the common Newfypoo generations along with their potential for shedding…
F1 Newfypoos
First generation Newfypoos (F1) have one Newfoundland parent and one Poodle parent. As such, their theoretical DNA is split 50/50 between these two parent breeds.
This varied DNA makes it hard to predict any traits with certainty. The coat of an F1 Newfypoo can range in not just texture and color, but also propensity for shedding.
You could have two F1 Newfypoos and find that one sheds a lot while the other barely sheds at all. Your dog will most likely fall somewhere in the middle of the spectrum.
If you choose an F1, get ready to tackle at least a little fur around the house.
F1B Newfypoos
F1B Newfypoos are more similar to a Poodle genetically than a Newfoundland. They are created by breeding an F1 Newfypoo with a purebred Poodle, making their DNA mix a 75/25 split.
So how does this affect shedding? Generally, an F1B Newfypoo will shed less than an F1, but you shouldn't necessarily assume they won't shed at all.
As long as you don't struggle with severe allergies, you'll most likely find that an F1B Newfypoo's shedding is very manageable, and much less than other breeds.
However, if shedding is a real dealbreaker, an F1BB Newfypoo might be better for you.
F1BB Newfypoos
F1BB Newfypoos are typically as close as it gets to adopting a purebred Poodle. It's estimated that their DNA is around 87.5% Poodle, which means genetically they are much less predisposed to shedding.
Their fur will generally be curlier, like that of their Poodle parent, but they will still retain a few qualities of the Newfoundland here and there.
If you're dead set on getting a Newfypoo but can't compromise on shedding, an F1BB is a great choice.
F2 Newfypoos
The F2 generation is typically the worst choice for future Newfypoo owners looking for a non-shedding dog.
F2 Newfypoos are the result of a number of different breeding combinations, so the likelihood of shedding from litter to litter is not always the same.
Additionally, the most common way to breed this generation is by crossing two F1 Newfypoos. This method, however, is notorious for producing puppies with inconsistent traits.
On a positive note, this means that you can possibly find a more unique looking dog by adopting an F2. The downside is that they may end up having a flat coat or other traits often considered less desirable.
While it's not impossible to find a non-shedding F2 Newfypoo puppy, it's less likely than other generations.
F2B Newfypoos
F2B Newfypoos, like the F1B generation, have a disproportionate amount of Poodle DNA on average . This generation is extremely similar to the F1B generation in terms of the capability of shedding.
How to Manage Newfypoo Shedding Effectively
In the end, if you know for sure that you want to adopt a Newfypoo, the best thing you can do is understand how to manage any potential shedding that could occur.
Taking some simple steps can mean less shedding and a cleaner home!
Related: 6 Things Dog Owners Should Be Cleaning Regularly (But Few Actually Do!)
Feed a Balanced, Healthy Diet
All dogs need a healthy, well-balanced diet, but it's especially helpful if your dog is a shedder. Deficiencies in certain minerals can cause excess hair loss, and correcting them can be a big help.
Some studies have shown that supplementing your dog's diet with omega-3 fatty acids can help promote coat health. That being said, it is very important to consult with your veterinarian before adding any supplements to your pet's food.
Have a question for a vet? Click here to live chat instantly with a verified veterinarian!
To avoid excess shedding, your Newfypoo will also need to stay well-hydrated. Water keeps your dog's skin hydrated and healthy, resulting in less shedding.
Dogs should drink around one ounce of water daily for every pound they weigh. If they are working dogs or spend time in the heat, this amount should be increased.
Bathe & Brush Often
Regular grooming is an incredibly effective way to help reduce shedding.
Brushing your Newfypoo allows hair to shed in a controlled environment instead of being scattered all over the house. Additionally, it reduces matting and disperses healthy oils across their skin.
Newfypoos should be brushed at least twice a week, if not more frequently. The more you brush them, the less hair around the house you'll have to deal with.
Baths are another helpful way to reduce Newfypoo shedding. A bath about once a month will help loosen excess hair.
You don't want to bathe much more frequently than that, however, or your risk drying out your Newfypoo's skin and making the problem worse.
One common misunderstanding about Newfypoos is that shaving them down is an easy method to prevent shedding. This is a complete myth!
A short haircut of about half an inch can help keep your Newfypoo's coat from becoming untidy. However, shaving your dog to the skin can do more harm than good.
Invest in Quality Grooming Tools
When grooming your Newfypoo, the tools you use can make or break the whole experience.
If you want to really cut down on shedding, you should always have a slicker brush, a de-shedding tool, and a de-shedding shampoo available.
Specific de-shedding tools aren't always necessary for every Newfypoo owner, but if you do end up with a dog that sheds, they can really come in handy.
The Furminator De-shedding tool is a fantastic option that is both easy to use and long-lasting. You should choose the long hair option in either the large or small size depending on the size of your Newfypoo.
Let's move on to a slicker brush. These are essential for Newfypoos, regardless of how much they shed.
Many owners opt for the cheapest brush they can find, but investing a little extra in a high-quality brush, like the Chris Christensen Big G, can save you a lot of time and trouble in the long run.
Finally, a de-shedding shampoo can make the process of drying and brushing much easier, as it will help to loosen fur. Make sure that the shampoo you choose is soothing and puppy-safe, like the Burt's Bees brand.
Buy a Vacuum Cleaner Made Specifically for Dog Hair
Did you know that there are vacuums that are specifically designed for pet hair? You may think this is simply clever marketing, but try one out and you may turn into a believer!
Here are a few fantastic options dog owners love…
Buy an Air Purifier
If you have pet allergies, an air purifier is a simple yet effective way to help manage your symptoms. Air purifiers can eliminate excess hair and dander from the air, which causes itching and sneezing.
Here are a few fantastic options dog owners love…
Final Thoughts: Do Newfypoos Shed?
So, there you have it, the long answer to the important question of "Do Newfypoos Shed?"
Newfypoos make great dogs, but the risk of shedding is inherent to the breed. If you are interested in one of these pups, it is best to have the expectation that you'll be managing at least some shedding.
If you do end up with a shedding Newfypoo, try using the tips in this article to help control and lessen it. Assuming you don't have severe allergies, a little shedding isn't a terrible price to pay for an amazing, adorable dog!
More About Newfypoos…