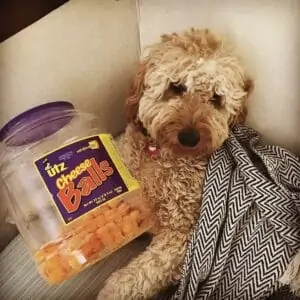 Do you love food almost as much as you love your new puppy? Choosing one of these food names for dogs might be the perfect fit!
This list has everything from dessert names for dogs to fruits, vegetables, drinks, and even some brand and restaurant names as well! I absolutely adore food names for dogs so my personal favorites are bolded. Enjoy!
Curious which of these food names for dogs are actually safe to feed to your pup? Click the links to learn more!
Acai
Alfalfa
Alfredo
Almond
Almond Joy
Amandine
Anchovy
Angus
Arby
Artichoke
Arugula
Asiago
Asti
Babka
Bacardi
Bagel
Baguette
Bailey
Balsamic
Bananas
Bao
Barley
Baskin
Beck
Bellini
Benedict
Big Mac
Biscotti
Biscuit
Bistro
BJ
Blackberry
Bleu
Blintz
Blondie
Blueberry
Bok Choy
Bon Bon
Bonefish
Bostock
Boysenberry
Boysenberry
Brandy
Breadstick
Brie
Brownie
Bud
Bundt
Burger
Burrito
Buttercream
Butternut
Butterscotch
Cabbage
Cadbury
Caesar
Cake Pop
Candy
Cannoli
Cantaloupe
Cappuccino
Caramel
Carrot
Cashew
Cauliflower
Caviar
Cayenne
Chai
Challah
Chang
Cheddar
Cheerio
Cheese Puff
Cheesecake
Cherry
Chex
Chickpea
Chili
Chip
Chipotle
Chive
Chop Suey
Chow Mein
Churro
Chutney
CiCi
Cinnamon
Cinnamon Roll
Clementine
Cloudberry
Clove
Cobbler
Cocoa
Coffee
Colby
Concha
Cookie
Cranberry
Cream Puff
Crepe
Croissant
Crumble
Crumbs
Crumpet
Cucumber
Cupcake
Curry
Custard
Daikon
Dandelion
Date
Denny
Dewberry
Dijon
Dill
Domino
Donut / Doughnut
Dorito
Dove
Dumpling
Eclair
Eggplant
Eggroll
Empanada
Endive
Espresso
Falafel
Fanta
Feta
Flan
Flapjack
Focaccia
Fondue
Frappe
French Fry
Frito
Frittata
Fritter
Fudge
Garlic
Gelato
Giblet
Ginger
Gnocchi
Godiva
Goji
Gooseberry
Gouda
Goulash
Grapefruit
Gravy
Green Bean
Guacamole
Guava
Guinness
Gulab Jamun
Gumball
Gumbo
Gyro
Ham
Ham Bone
Hazelnut
Hershey
Hoagie
Holly
Honey
Honeydew
Hops
Huckleberry
Jack
Jack Daniels
Jameson
Jasmine
Jelly
Jellybean
Jim Beam
Johnnie Walker
Jumbalaya
Kabob
Kaffir
Kale
Kimchi
Kobe
Kohlrabi
Kombucha
Kumquat
Lamb Chop
Latke
Latte
Leek
Lentil
Linguini
Lychee
Mac
Macaron
Macaroni
Macaroon
Mango
Margarita
Marinara
Marionberry
Martini
Meatball
Meatloaf
Melon
Meringue
Milkshake
Milky Way
Mocha
Mochi
Moon Pie
Mooncake
Mousse
Moxie
Muenster
Muffin
Mulberry
Mushroom
Naan
Nacho
Napa
Napoleon
Nashi
Nectarine
Nestle
Nilla
Noodles
Nugget
Nutella
Nutmeg
Oats
Okra
Omelet
Onion
Oolong
Oregano
Oreo
Oscar
Oscar
Pancake
Panda
Papa
Parmesan
Parsnip
Pastry
Peaches
Peanut
Peapod
Pecan
Penne
Peppermint Patty
Pesto
Pez
Pie
Pierogi
Pineapple
Pinot
Pita
Pixie
Plantain
Plum
Pokeberry
Popcorn
Popeye
Poppy
Poppyseed
Porky
Portabello
Porter
Praline
Prawn
Pringle
Pudding
Pumpernickel
Pumpkin
Queso
Quiche
Quizno
Radicchio
Raisin
Ramen
Raspberry
Ratatouille
Red
Reeses
Reisling
Relish
Reuben
Rhubarb
Riblet
Rose
Rosemary
Rotini
Roux
Ruby
Ruffles
Rugelach
Rye
S'mores
Saffron
Sage
Sake
Salmonberry
Samuel Adams
Sausage
Scampi
Schnitzel
Scone
Scotch
Shallot
Shortbread
Skittles
Skyy
Snickerdoodle
Snickers
Soda
Sorbet
Sourdough
Soybean
Spaghetti
Spice
Sponge
Sprite
Squash
Sriracha
Strawberry
Strudel
Sugar
Sushi
Swiss Roll
T-Bone
Taco
Taffy
Tangerine
Tapas
Tater Tot
Tayberry
Tenderloin
Thyme
Tic-Tac
Tiramisu
Toast
Toffee
Tomatillo
Tomato
Tootsie
Torte
Truffle
Turnip
Twinkie
Twix
Twizzlers
Vanilla
Waffles
Walnut
Wasabi
Watercress
Watermelon
Wendy
Wintergreen
Wonton
Zima
Zin
Ziti