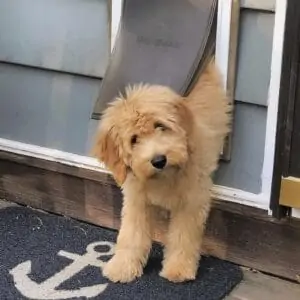 Installing a dog door has increased the quality of life for both me and my doodle. I've had one installed in the last two homes I've lived in and couldn't be happier.
Before you simply take my word for it and buy a doggie door, you should take some time to debate the doggie door pros and cons. Everyone's dogs and living situations are different and you may find that a pet door may not be the right decision after all.
Below are the doggie door pros and cons I've not only experienced personally, but have also gathered from fellow dog parents. Use your dog's personality, home layout, and location to help you apply these to your own situation!
Doggie Door Pros
Convenience
First and foremost in our doggie door pros and cons, dog doors are about convenience for both you and your pet. They'll have the freedom to come and go as they please whether use the bathroom, explore, or play. You'll have the freedom to relax without having to stop what you're doing to let them out only to get up again to let them back in minutes later. Believe me, TV shows are so much more enjoyable without periodic potty breaks!
Ideal for Busy Schedules
Before I had a dog door installed, my entire life revolved around my doodle's bladder. I had to always make sure I could run home periodically or badger a friend or family member to do it for me. I had to schedule out who would be home and at what times to make sure my dog would never have to go too long without a bathroom break.
I felt guilty when I took a full-time job. Working 8 hours a day was tough enough, let alone the 10 or 12 hour days that would often occur. Juggling schedules between spouses or hiring a mid-day walker are options, but neither of them offer the same low-cost, simplicity, and peace-of-mind that comes with having a dog door.
Emergency Evacuation
With a dog door, you can take comfort knowing that if an emergency were to occur at your house, your dog has a safe way to escape until help arrives. Having a pet door can save your dog's life in situations like these.
Outlet for Energy
Doggie doors expand your dog's freedom and gives them a much larger space to play and explore. They'll feel less cooped up and have a safe, constructive outlet for their energy—especially if you have multiple dogs who love to wrestle and romp! Keep in mind though that dog doors are not a replacement for regularly walking and exercising your dog!
Doggie Door Cons
Outdoor Dangers
Even inside a fenced yard, the outdoors can be a dangerous place for unsupervised dogs. Do a thorough inspection often to make sure your yard is a good fit for a doggie door. Keep alert for potentially dangerous plants, insect nests, sharp objects, etc.
If you live in an area with coyotes or other predatory wildlife that can access your yard, a pet door may not be a good option. Even large birds of prey could be a threat to small doodles left unattended. Yards with an uncovered pool can also be very dangerous for unatttended dogs.
Finally, make sure there are no areas that your pet could escape. Dogs are experts at digging, jumping, and squeezing through tight spaces. If your pet has a history of getting nervous and running away, a dog door likely isn't right for you. It's not worth the risk, even with a fairly secure yard.
Critter Control
If your dog can come and go freely, so can pests. Dog owners with pet doors have been known to share stories of their home being visited by raccoons, rats, possums, stray cats, and even snakes. Almost all doggie doors have an insert that you can use to securely shut the door at night, but during the day you still run the risk of uninvited creatures entering your home.
Another step in the right direction are electronic dog doors that only open for your pet. However, there are pros and cons to that variety of doggie door as well. Having a fenced yard also helps keep some creatures at bay, this but won't prevent them entirely.
Safety Concerns
Dogs, particularly puppies and more desired and expensive breeds such as doodles, are at risk to be stolen. Pet theft is sadly a real concern and having a doggie door that allows your pet to be unattended in your yard increases their risk.
Additionally, if you have a large dog and therefore a large dog door, your risk for burglary increases as well. Don't believe me? Wait until you lock yourself out of your house and have to "break in" using the doggie door yourself. It's not as hard as you may think!
You can help mitigate this risk by always have your dog door lead to your backyard and doing your best to make your yard (and the dog door) less visible to outsiders and people on the street. As tempting as it might be, it's also best to avoid telling people about your pet door, including posting on social media.
For my part, I have a tall fence, keep it securely locked, and have security cameras inside my house to help protect my both my dog and my possessions.
Energy Efficiency
Naturally, you're going to lose a bit of energy efficiency with a plastic flap secured by a tiny magnet. Every so often, the magnet won't completely latch and the problem becomes slightly worse. Overall, however, I haven't seen a very noticeable change in my heating and cooling bills since installing my dog door. Even so, it's something to keep in mind when budgeting in case you experience more significant increases.
Installation Headaches
Doggie doors can involve some serious handy-work to install. Cutting holes in your wall or door is not an easy task and, for many less-handy people like myself, can involve calling a contractor. Renters also are at a disadvantage in that this will likely require your landlord's approval. Luckily, you may be able to pitch it as a free upgrade to them!
Both of these problems can sometimes be avoided if you have a sliding glass door that leads to your back yard. Dog doors made for sliding glass doors are much more temporary and usually just involve drilling a couple holes for screws. They're also much easier to install—I was able to do it myself in just a couple of hours.
Doggie Door Pros and Cons Conclusion
Dog doors can be an incredibly convenient and helpful addition to your home. However, if you jump right in without acknowledging the risks involved you can put yourself and your pet in a bad situation for everyone! Discuss these doggie door pros and cons with your family and decide what is right for you.
If you decide to go ahead and give your house a "pupgrade", Petco.com has a great selection of pet doors including sliding glass dog doors, electronic dog doors, and more!