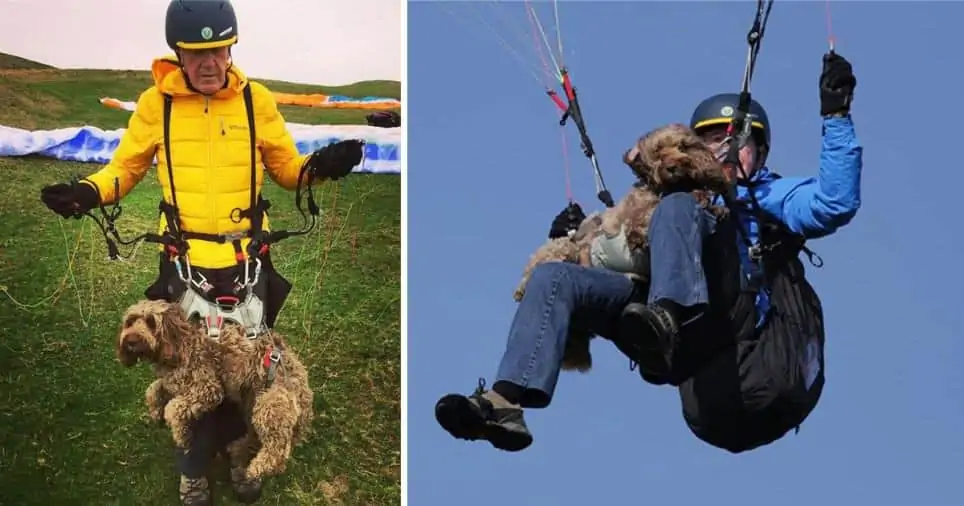 Your dog probably enjoys the cool breeze and adrenaline rush that comes from sticking their head out the window of your car. One courageous doodle from Gwynedd, Wales is taking that to a whole new level.
Henry, a four year old Cockapoo, loves paragliding. Owners Amy Jones and Joe McCarthy have been involved in the extreme sport their entire lives so they decided to let Henry take part in the fun when he was eight months old!
They had a professional harness created that is specifically designed to cradle the pressure points of dogs. "People think we are bonkers but it's so funny." explained Jones. Bonkers or not, Henry has built up quite the paragliding resume, taking an annual trip to the French Alps where they paraglide around highest peak in Europe.
Paragliding isn't the only outdoorsy past-time for this active dog. Henry also takes part in paddle-boarding and mountain biking with his humans. Still, paragliding remains Henry's favorite. "As soon as the harness comes out, he jumps up at you and gets really excited. He absolutely loves it – it's hilarious" says Jones.
His talents haven't gone unnoticed. This year, Henry was a finalist in the 2019 Amplifon Awards for Brave Britons.
Check out this video of Henry in action!