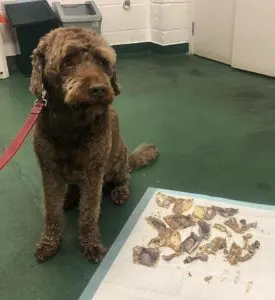 Doodles are notorious troublemakers when it comes to chewing and eating things they shouldn't. You're not alone if you cringe thinking about how much money you've spent replacing destroyed toys, shoes, clothes, or wires. It feels like they're eating your money little by little.
One good boy from the United Kingdom took this a bit too literally.
Ozzie, a 9-year-old labradoodle, consumed over $200 worth of cash recently after his neighbors dropped an envelope full of the bills through the house letterbox to repay money they owed.
Luckily, our little bandit was busted in time to rush him to the local veterinary hospital where they were able to safely induce vomiting. They found out that not only did Ozzie manage to eat the cash and envelope but he helped himself to the plastic money bag and clip as well!
While cute, Ozzie's story could've easily ended up much worse or even fatal. The vet trip cost hundreds of dollars and could've cost many thousands had surgery been necessary.
Accidents happen to even the best pet parents and fixing them can be extremely costly. Let Ozzie's story be a reminder to make sure you're financially prepared to care for your doodle if an accident or illness were to occur.
I strongly recommend investing in Healthy Paws Pet Insurance to help ensure you'll never have to choose between financial stability and your doodle's health.
Read More: