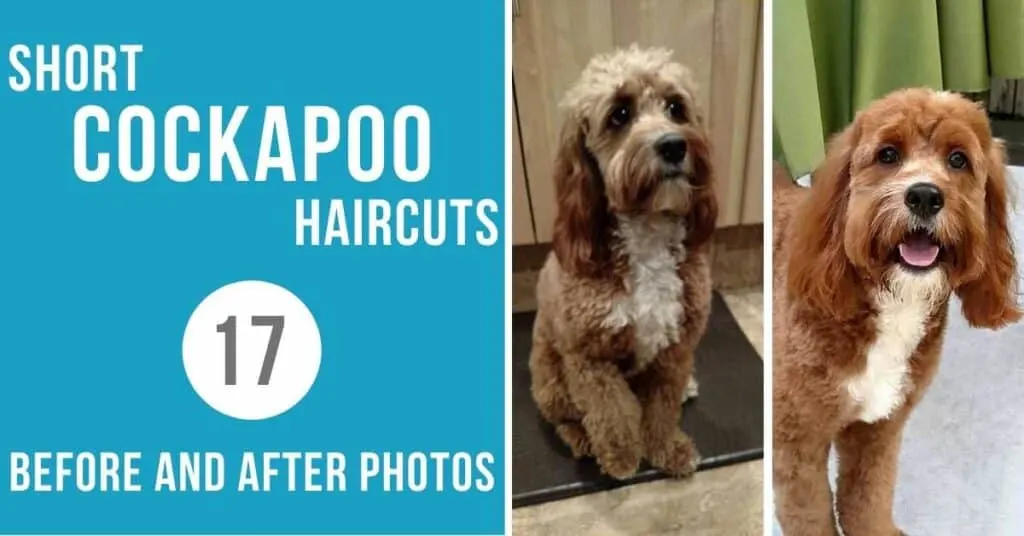 Cockapoo summer cuts are quickly increasing in popularity. While we all love the classic teddybear look, a short Cockapoo haircut is both practical and adorable.
Unfortunately, many owners report having at least one negative experience getting their Cockapoo groomed where the haircut turned out to be nowhere close to what they were expecting.
To help you avoid this issue, we put together this article to use as a guide. We'll discuss the various types of short Cockapoo haircuts and the differences between them. At the end, we'll show you 17 examples of Cockapoos before and after their summer cuts that you can use as inspiration!
Short Cockapoo Haircut Benefits
Keeps Your Dog Cool & Comfortable During Warm Weather
The primary reason many owners choose to have their Cockapoo groomed short is due to the weather.
If you live in a part of the world where it's hot year-round, your Cockapoo may be comfortable with a shorter haircut all the time. In areas where the temperatures are seasonal, consider getting a short Cockapoo haircut at least once or twice during the warmest parts of the year.
Cockapoos aren't as efficient as humans at regulating their body temperature. Since they don't sweat like humans do, they can keep themselves cool primarily by drinking water and panting. Keeping their hair short makes your Cockapoo a bit less susceptible to overheating.
Overheating in dogs is a far-too-common occurrence and can be extremely dangerous. While preventitive measures are important, it's always a good idea to be prepared for unexpected vet trips by investing in a pet insurance policy through a company like Healthy Paws or Embrace.
In addition to giving your dog a short Cockapoo haircut, check out this innovative harness on Amazon that is designed to keep your pup cool in the summer heat!
Simple Maintenance & Cleaning
Keeping a Cockapoo's coat free of tangles and matting isn't an easy task! Especially with the curly Poodle-like hair of backcrossed generations such as F1B and F1BB Cockapoos, it's a constant struggle to keep up with brushing.
One way to make you and your dog's lives easier is with a short Cockapoo haircut! Short hair is so much easier to deal with than long hair when it comes to both brushing and bathing! Even wiping down muddy paws after a rainy day can be accomplished in half the time…especially if you use this MudBuster paw cleaner!
Oh, and don't even get me started on how disgusting it is when poop gets stuck in the long hair around your Cockapoo's rear end!
At the end of the day, a Cockapoo summer cut allows you to spend more time having fun with them and less time on dog-related chores!
Save Time & Money at the Groomer
Taking your Cockapoo to the grooming salon isn't cheap! While prices will differ depending on your area, I spend about $80 each visit before tip. That adds up quickly!
If you keep your Cockapoo's hair longer, you'll be visiting the groomer every few weeks for trims. That's an expensive decision! If you opt for a short Cockapoo haircut instead, you can go as long as a 2-3 months in between trips to the groomer.
The key to lasting longer between appointments at the groomer is brushing your Cockapoo frequently. Upgrading to a high-quality slicker brush can make a world of difference as well in preventing matting and tangles.
When I switched from a generic pet store brush to the Chris Christensen Baby G Brush I was amazed at the difference it made. It's a bit expensive, but I can't recommend it highly enough!
Admit It, They're Cute!
This might be controversial to say, but I think a nice Cockapoo summer cut is just as cute as a teddy bear cut, puppy cut, or any other style!
It looks great on any size of Cockapoo and any color as well! But if we're being honest, our Cockapoos would be cute no matter how their hair is cut!
What Is a Cockapoo Summer Cut?
A Cockapoo summer cut is another term to describe a short haircut. Sometimes this is interpreted to be an overall short length from head to tail. Other groomers will leave your Cockapoo's head and tail a bit longer than the body.
These different interpretations is why it's important to use a photo to help your groomer understand what look you're going for!
Find your favorite photo below and use it as a visual aid to make sure you and your groomer are on the same page as to how you'd like your Cockapoo to look!
What is a Cockapoo Kennel Cut?
A Cockapoo kennel cut typically means a short haircut from head to tail—usually about 1/2 inch or less in length. Sometimes groomers will leave a dog's ears, tail, or head a bit longer than their body.
How to Ask For a Short Cockapoo Haircut
As the saying goes, a picture is worth a thousand words!
While it may be easy to simply ask your groomer for a "summer cut" or a "kennel cut," their interpretation of these styles may be different than what you had in mind. There are lots of terms to describe short Cockapoo haircuts, but none of them are foolproof in making sure you get the appearance you want.
I've always found that it's easier to show your groomer a photo of how you'd like your Cockapoo to look rather than trying to describe it with a vague term. If you have an older photo of your dog after they had a haircut you really liked, use that! If not, take your favorite before and after photo below to use as an example.
Remember to always treat your groomer with respect and take their recommendations into consideration. If they say your Cockapoo needs to be shaved, they're doing it for the comfort and wellbeing of your dog. What matters most is that your pet is comfortable, even if that comes at the cost of them looking a bit silly for a few weeks.
At the end of the day, haircuts are temporary. Even the worst haircut will grow back before you know it.
Want to Try It Yourself?
To save money and have more control over your Cockapoo's appearance and comfort, many owners are choosing to try grooming their pups at home.
It might sound complicated, but there are books and video courses like this one from Udemy that will help you get started!
You'll have to spend some money to get the proper training and equipment, but you'll easily make that up in savings after only one or two uses.
Since short Cockapoo hairstyles are one of the easier cuts to do at home, it might be a great opportunity to try DIY grooming!
Short Cockapoo Haircut Before and After Photos
Below are 17 adorable examples of Cockapoo summer cuts for you to use as inspiration!
Some of these Cockapoos are shaved while others are sporting a shorter trim. Of course, everyone has different style preferences so you make like some more than others. That's completely okay!
Take your favorite photo and show it to your groomer to ensure you're both on the same page. This will drastically reduce the risk that you'll be unhappy with your Cockapoo's haircut.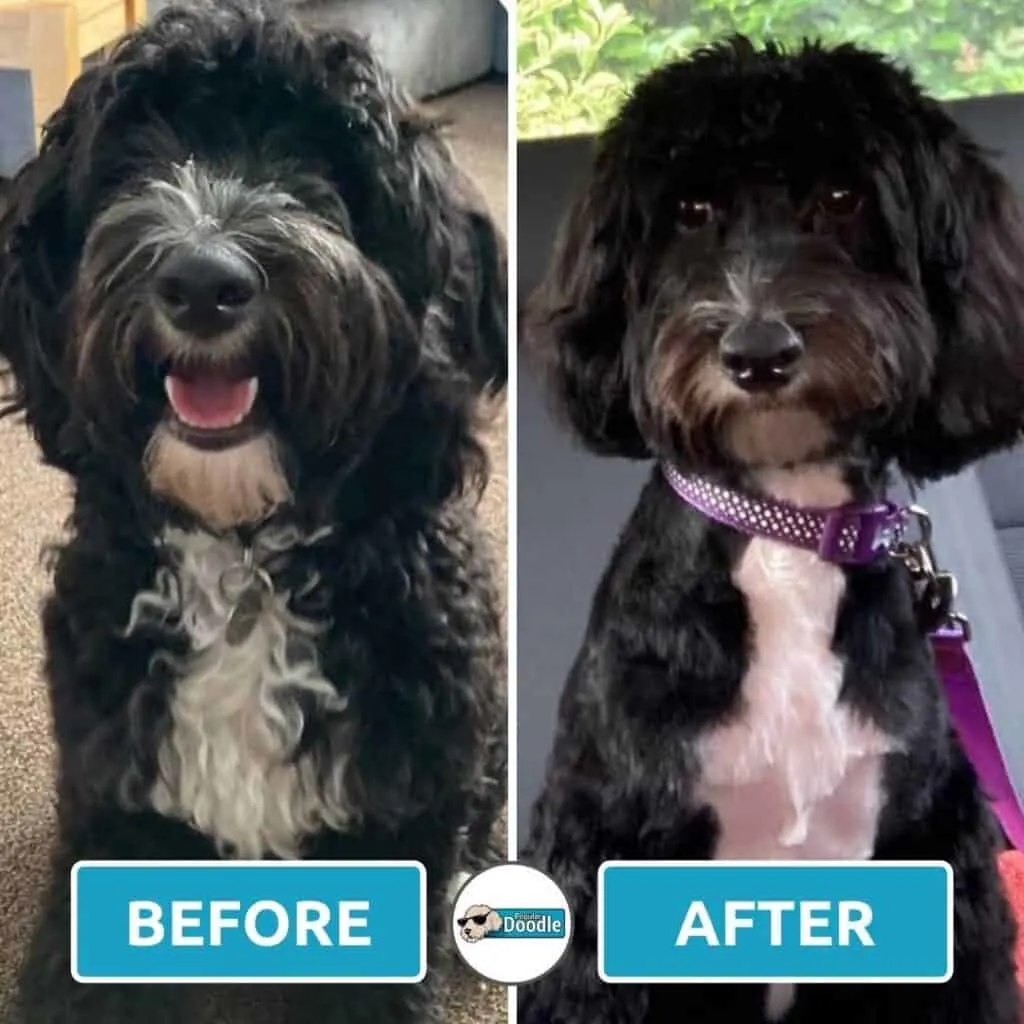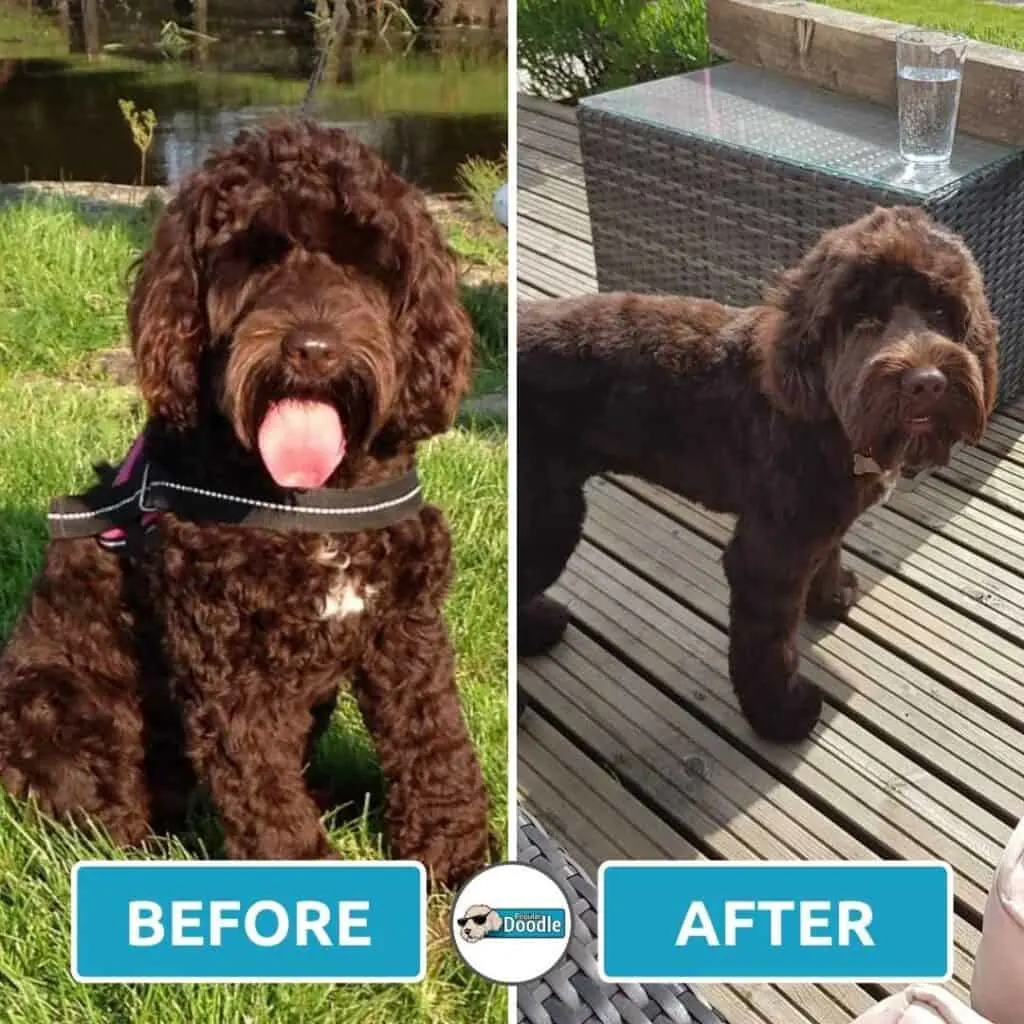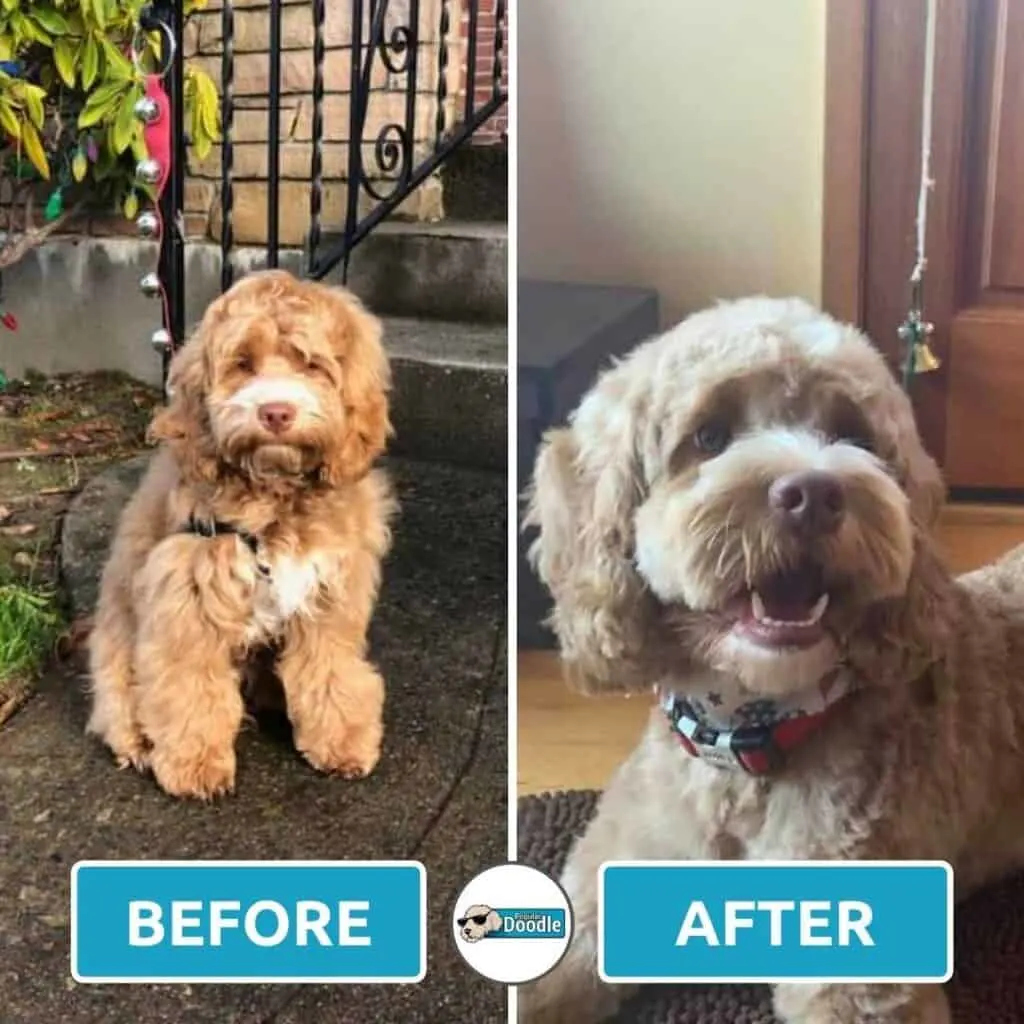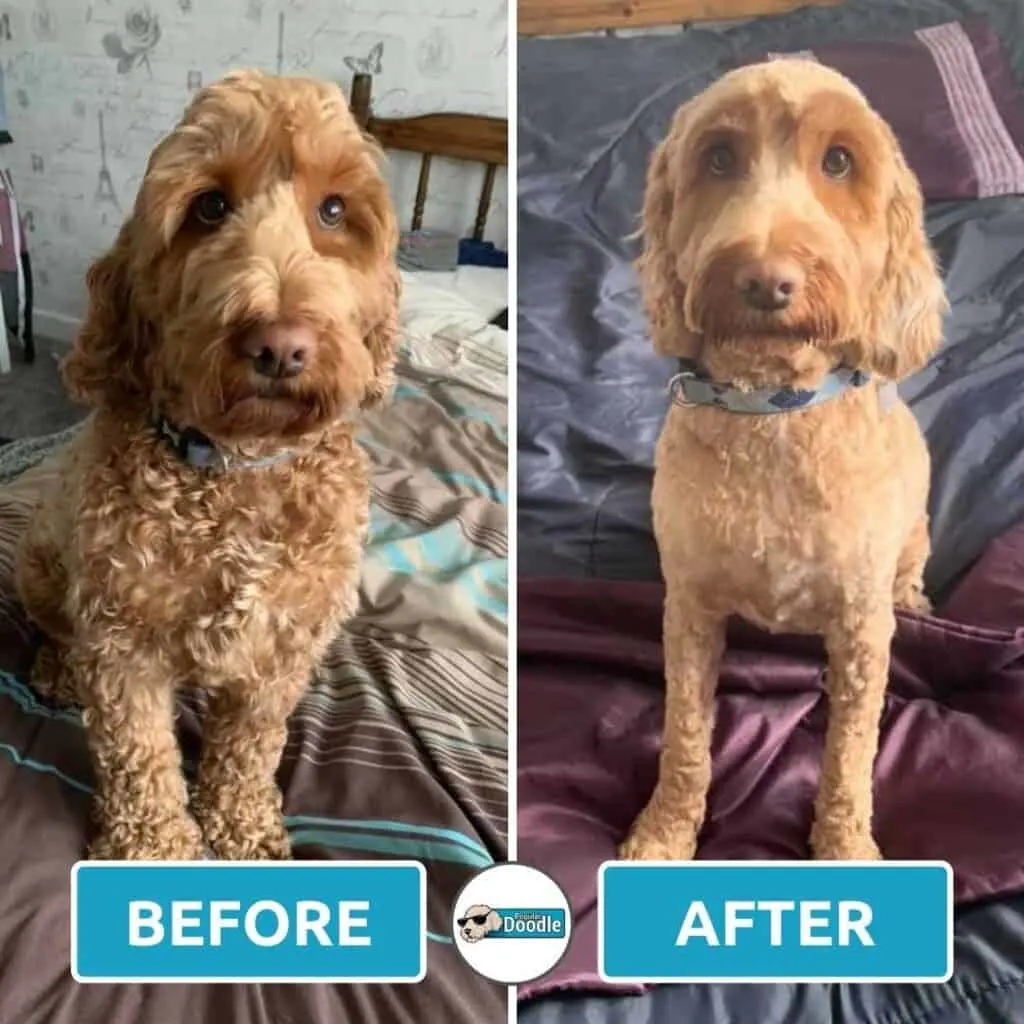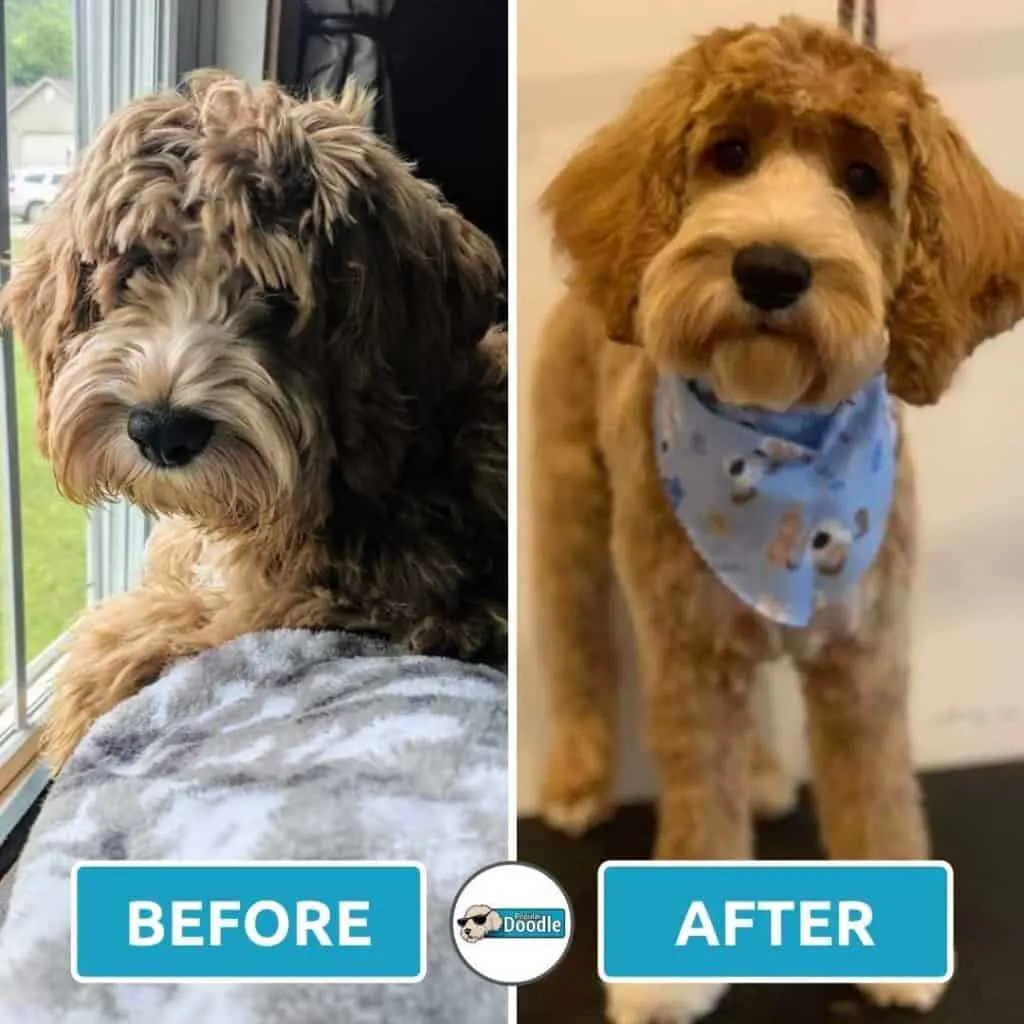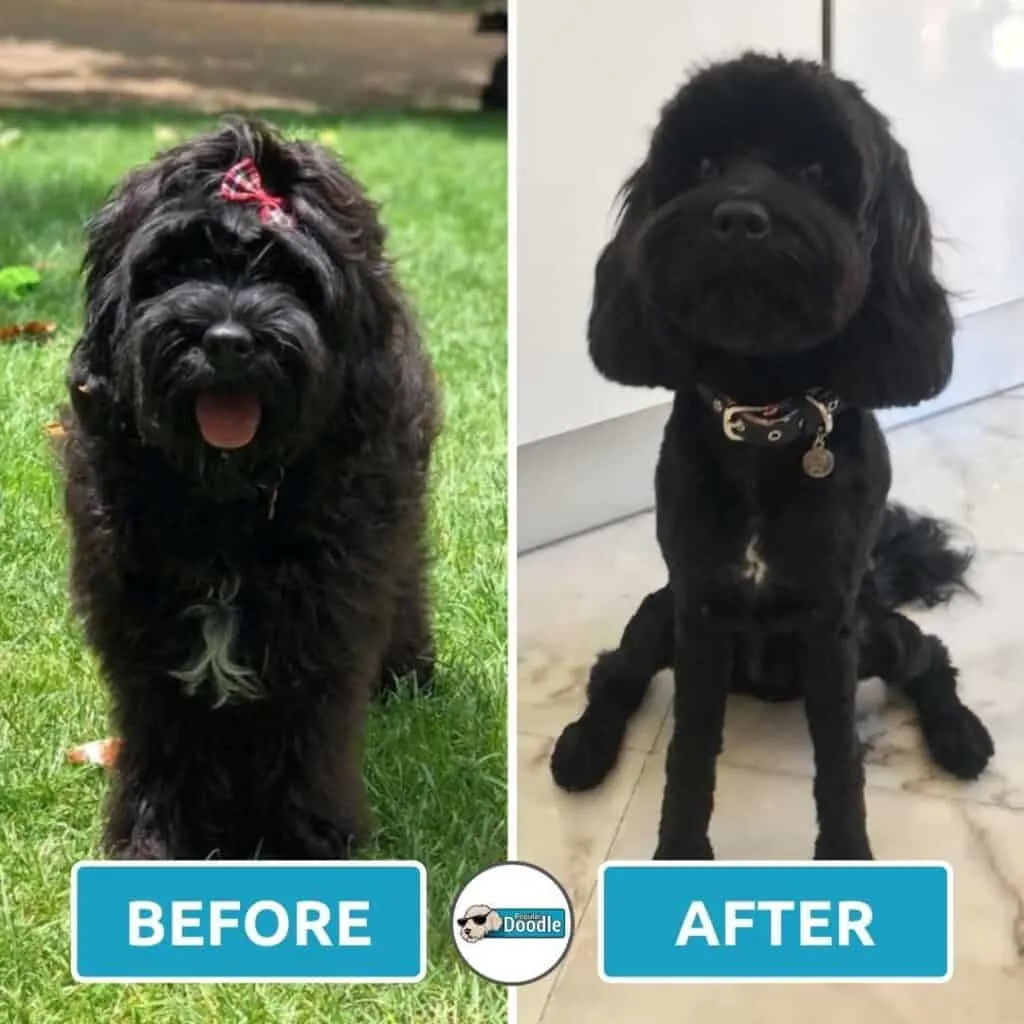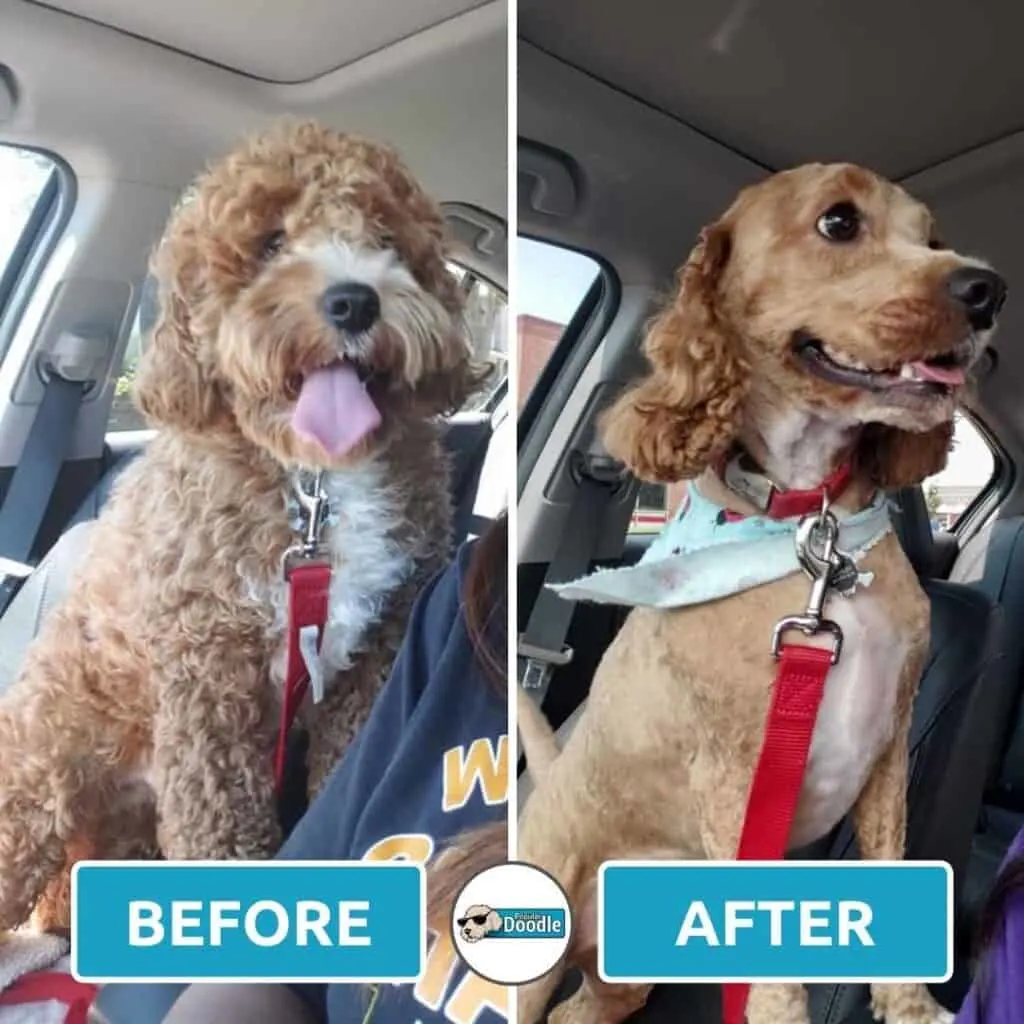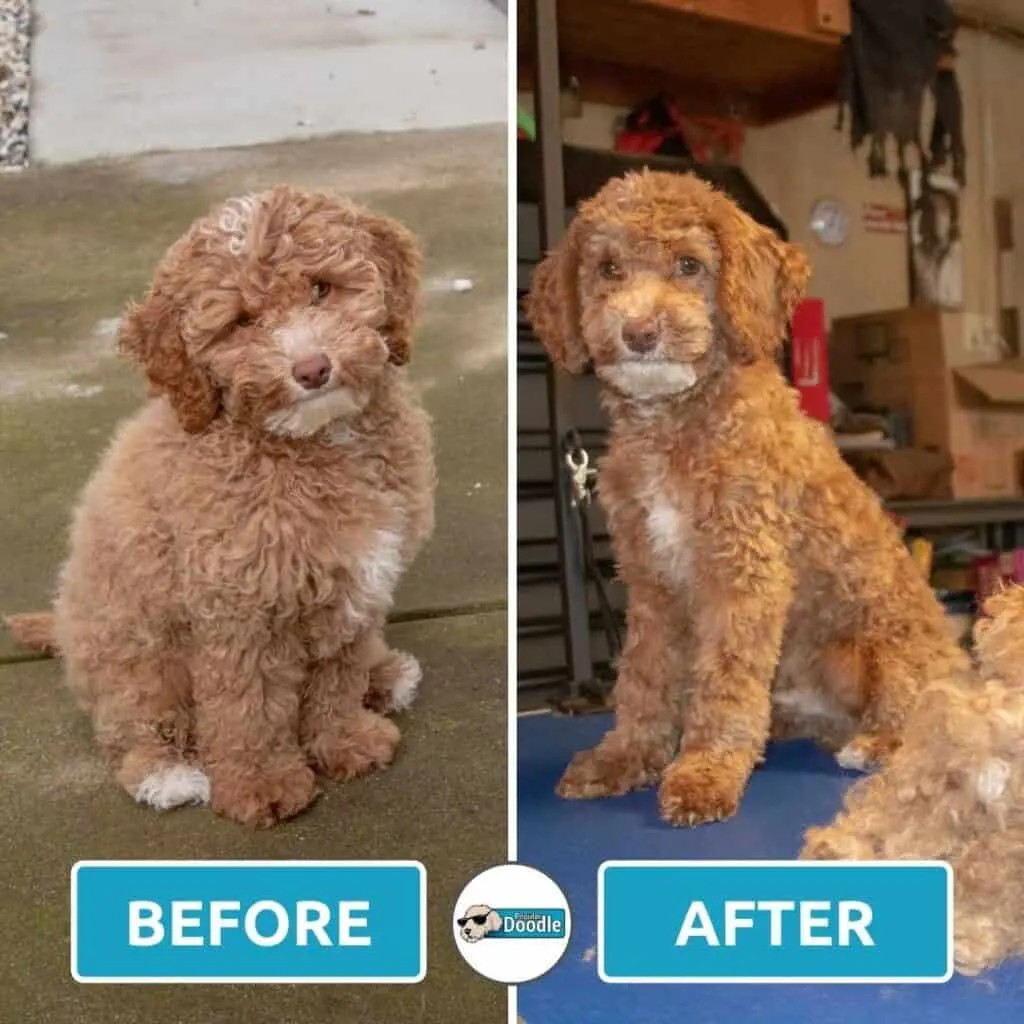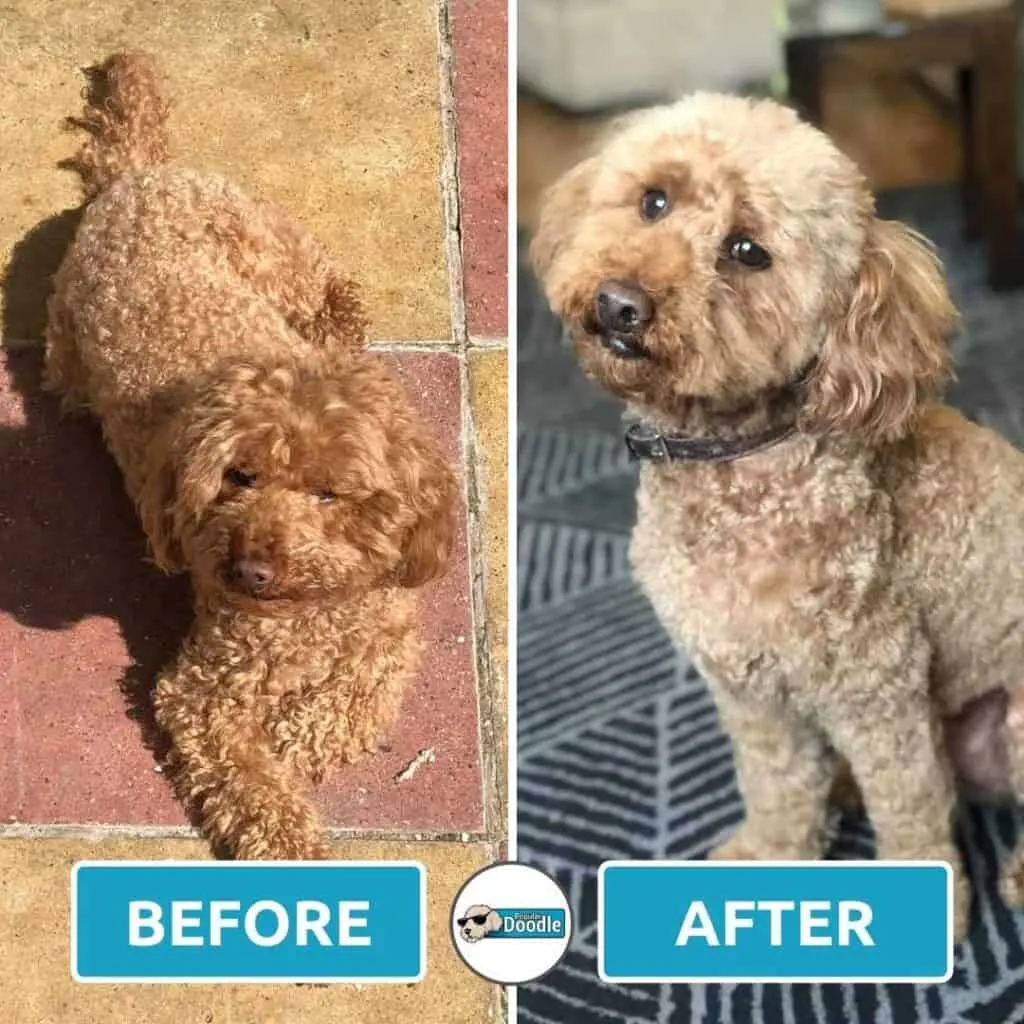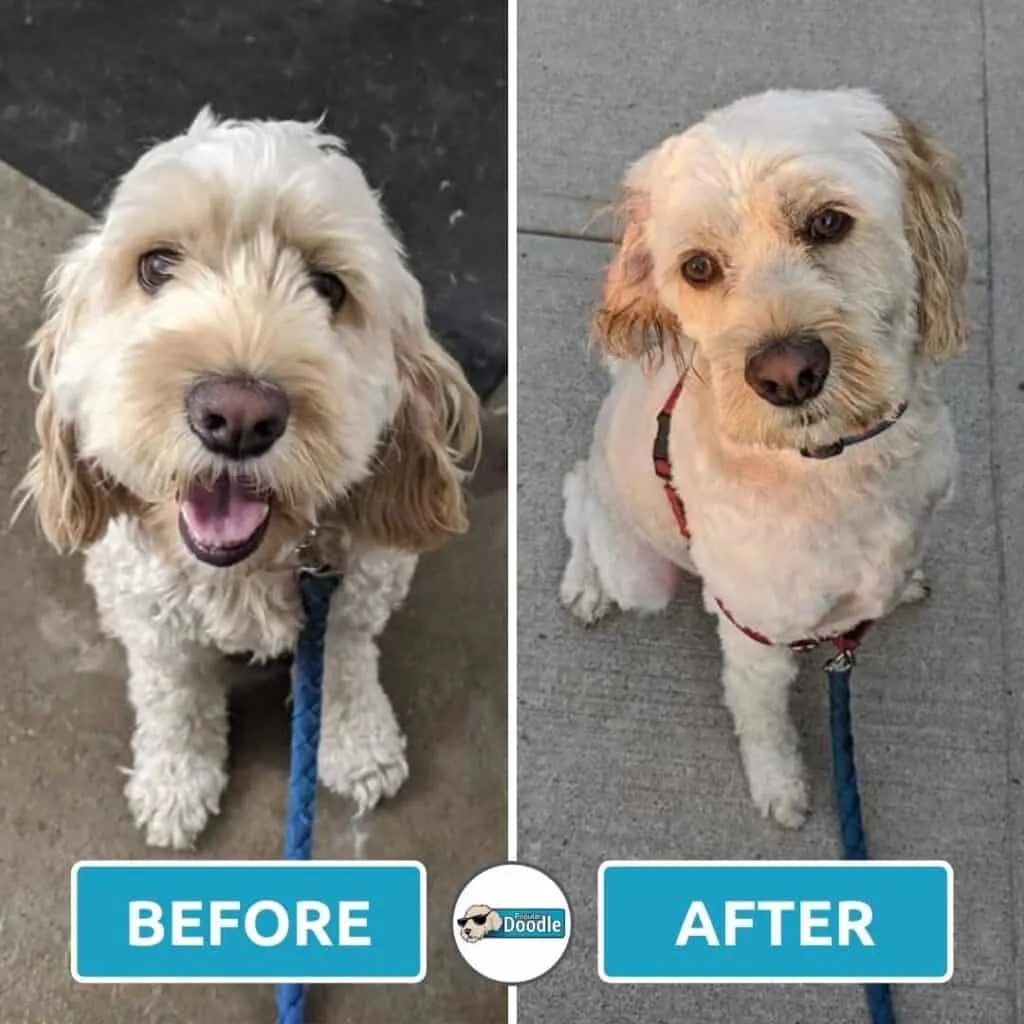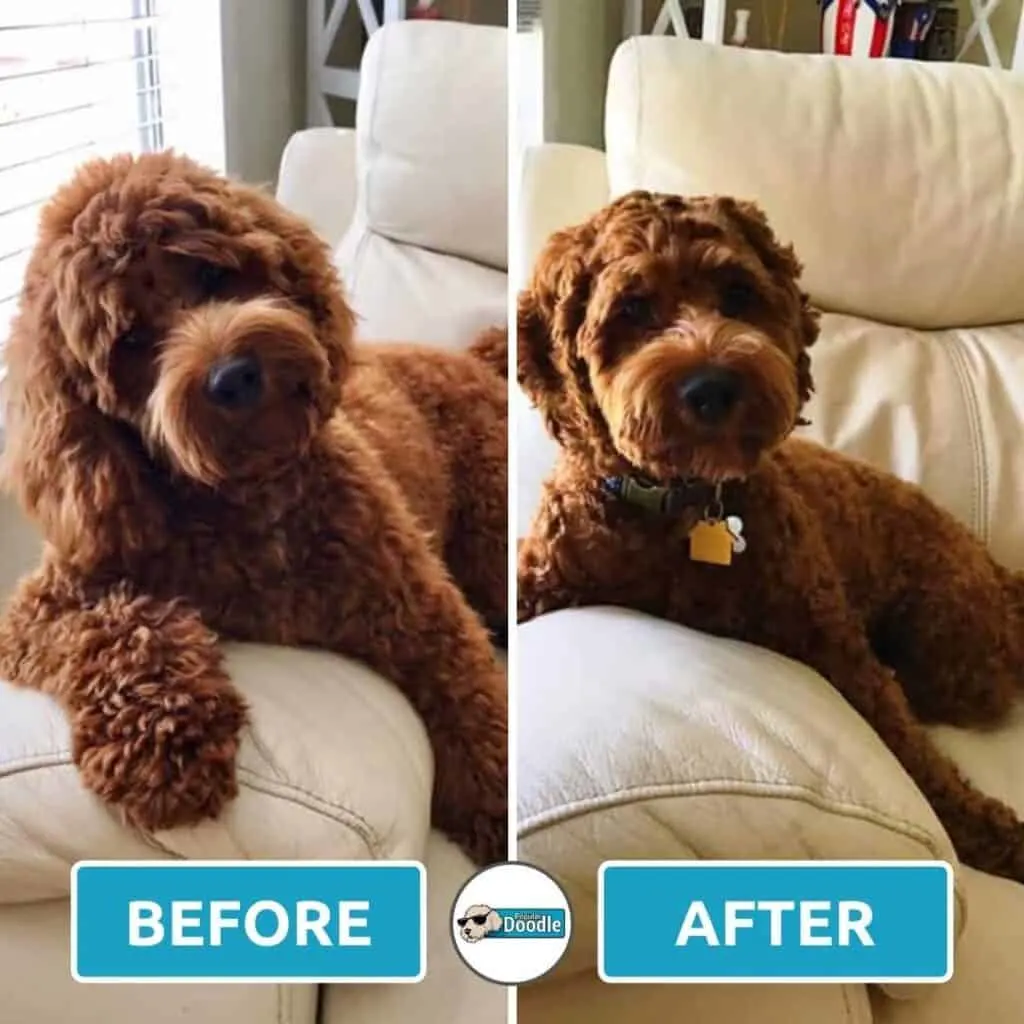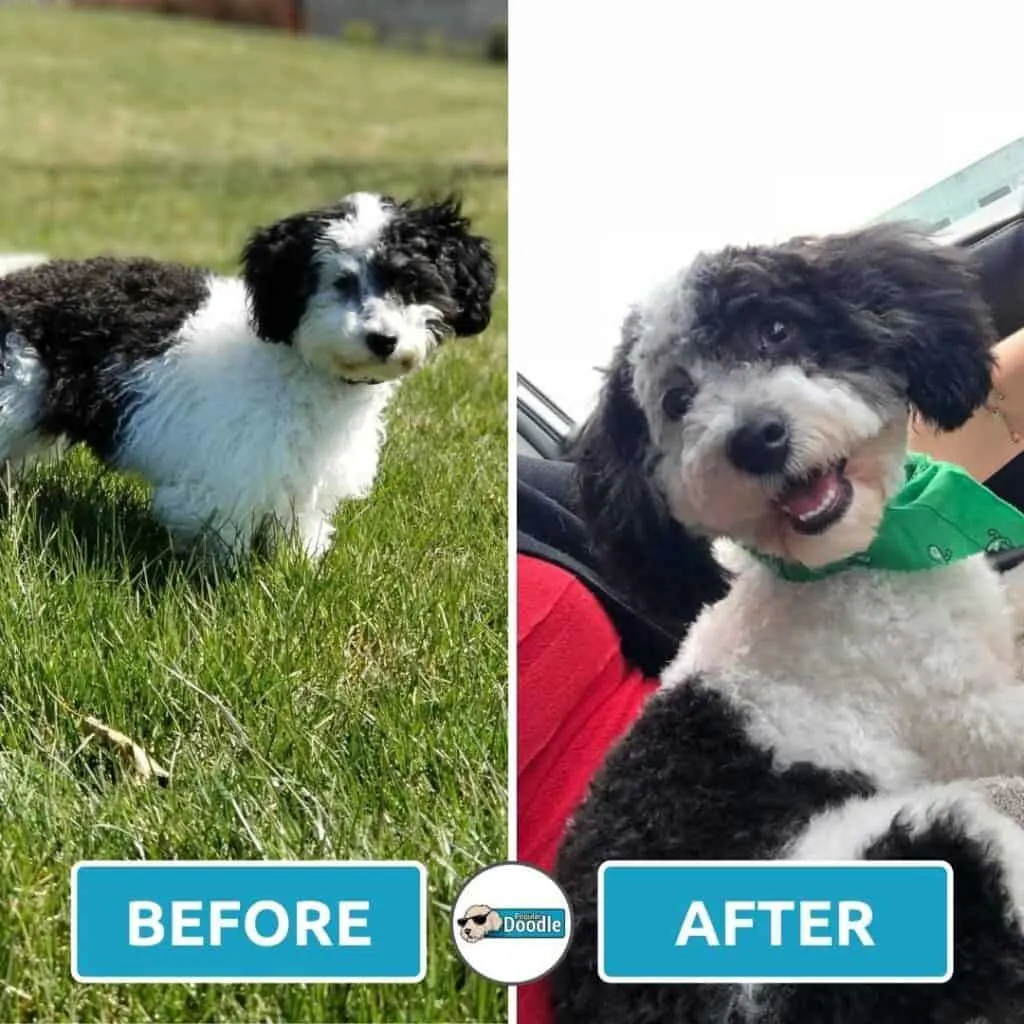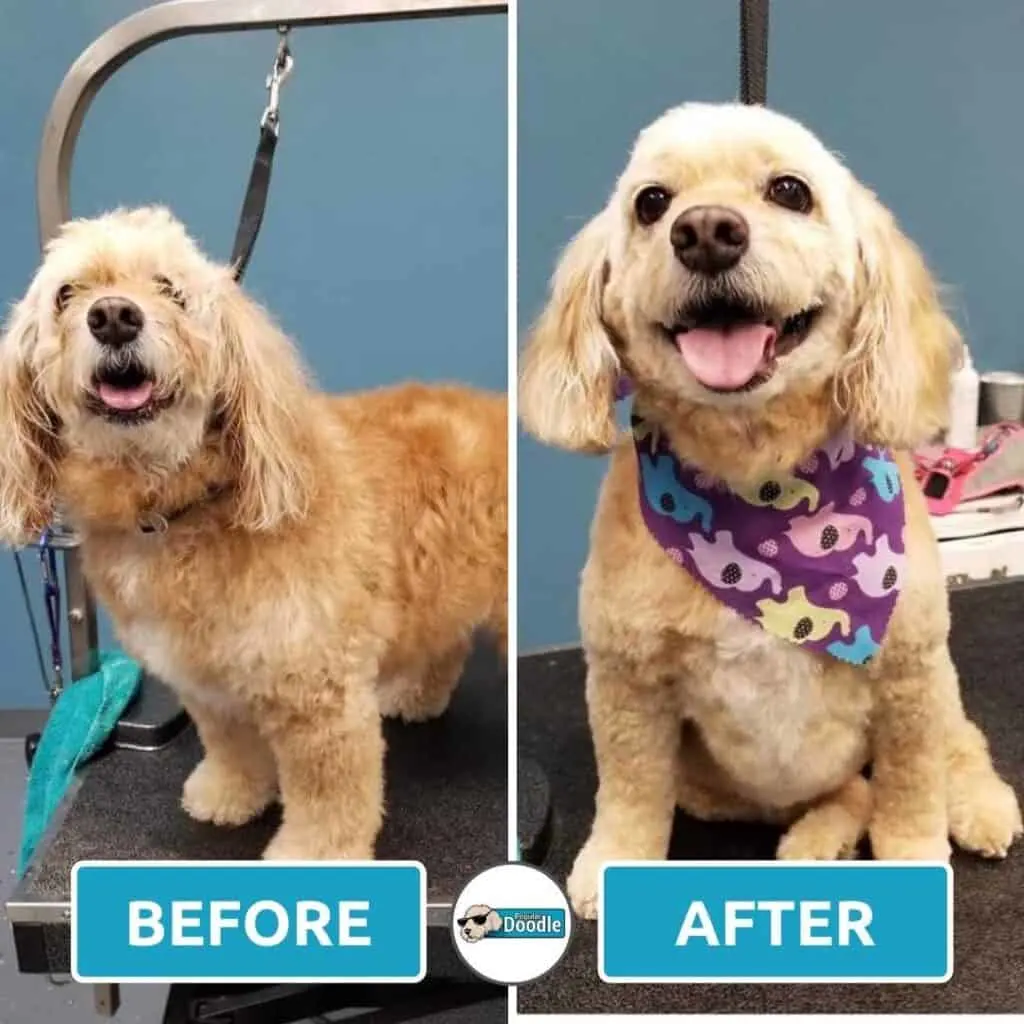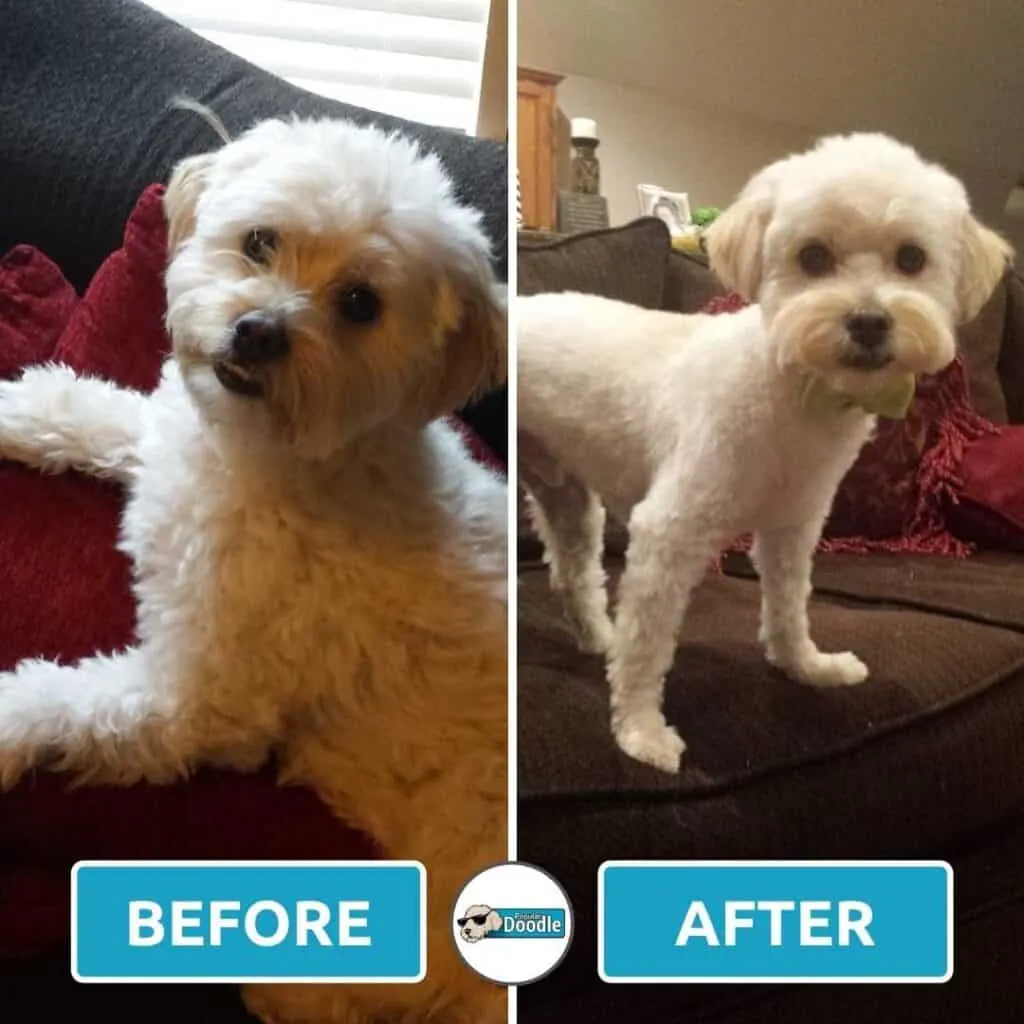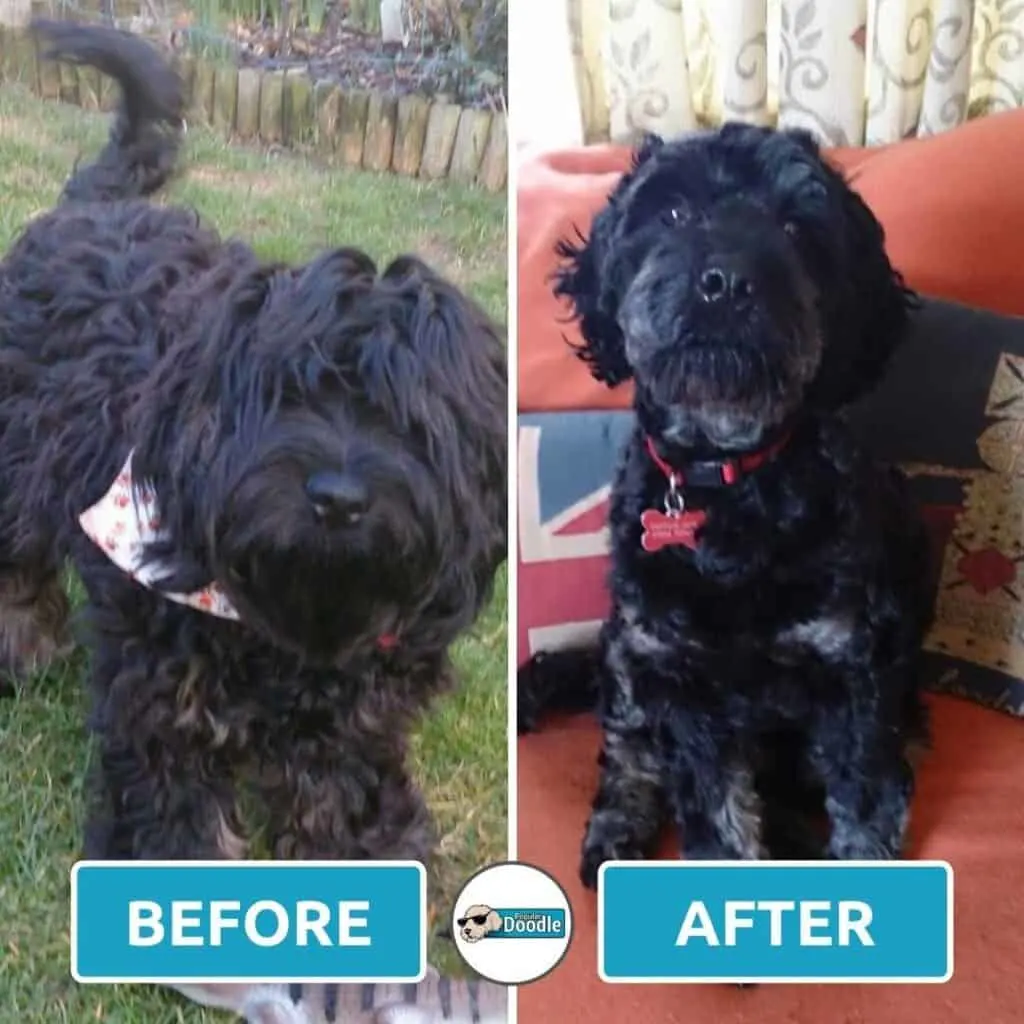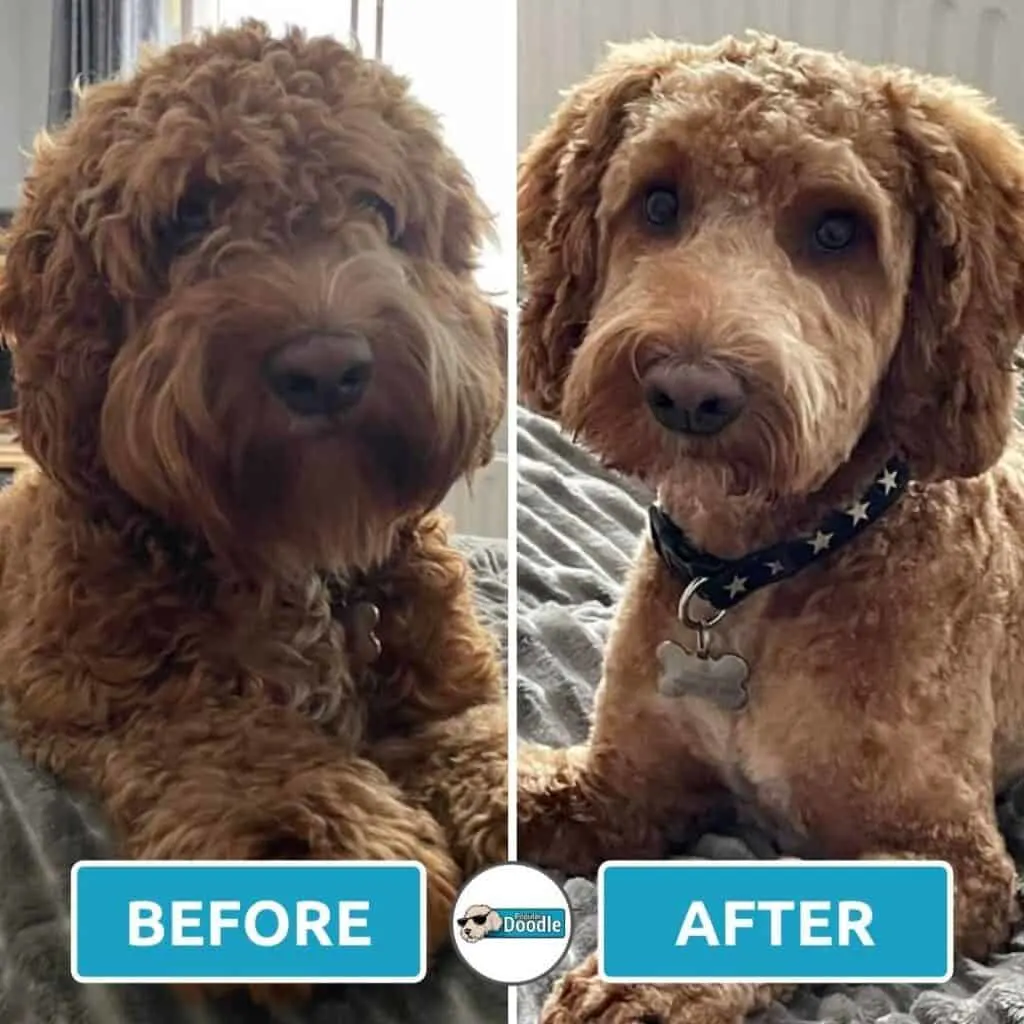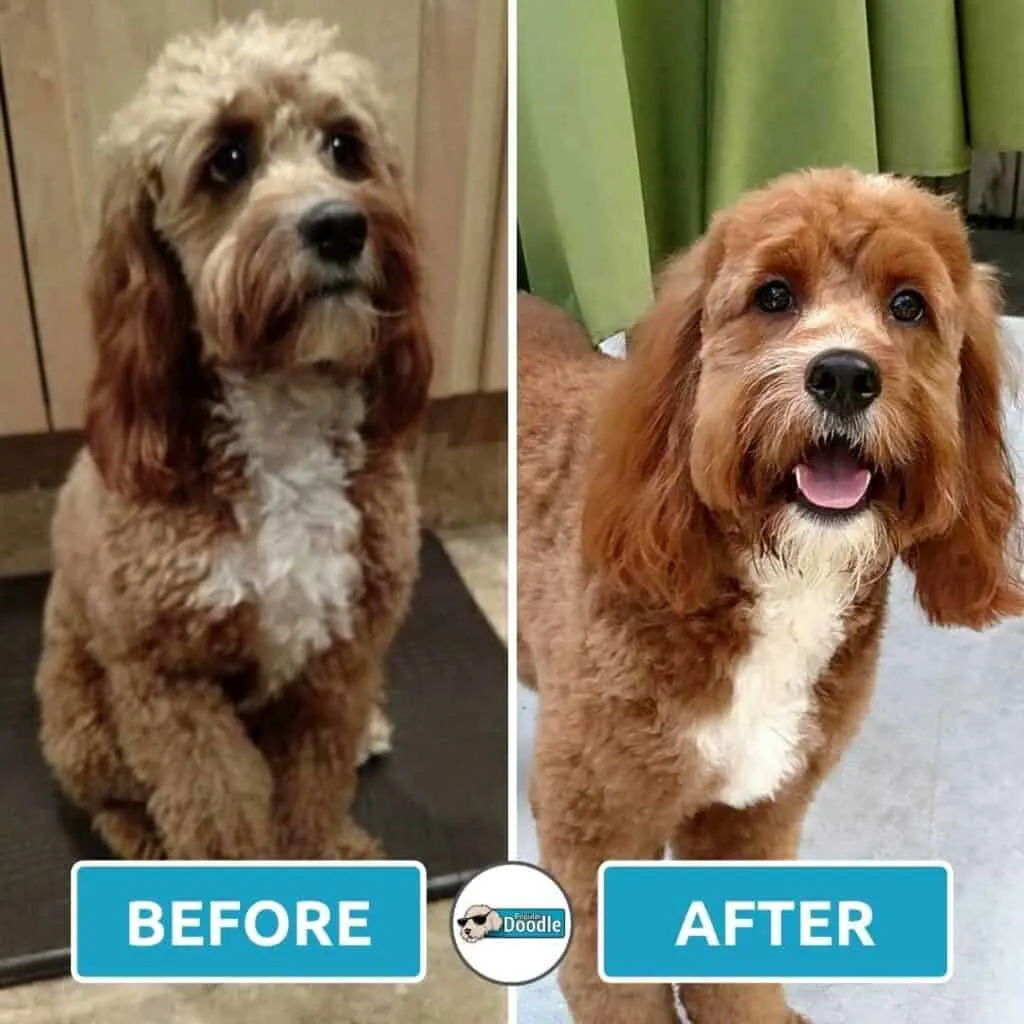 More About Cockapoos…