Sponsored by Paws2Go. Want to win a Paws2Go for FREE? Keep reading to learn how!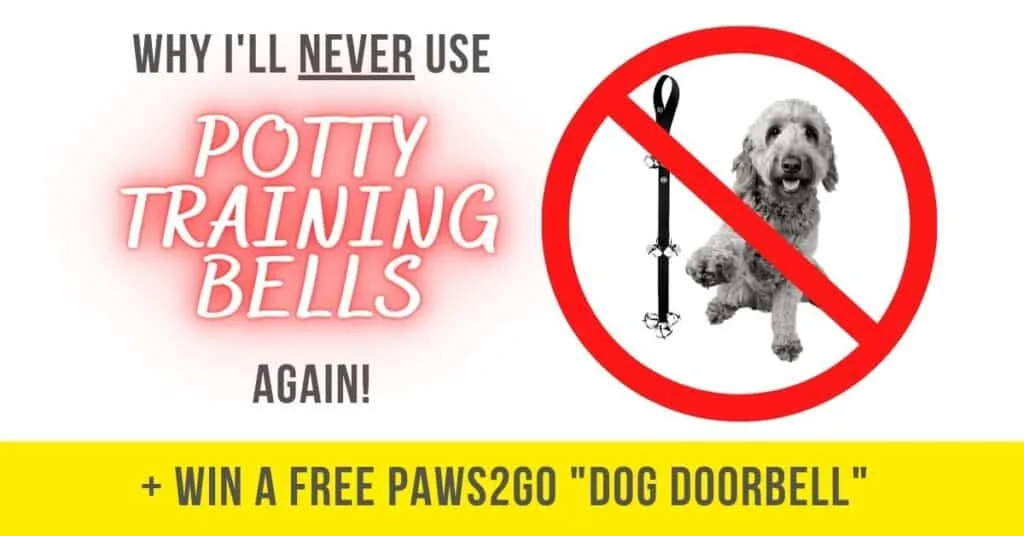 Some dogs are quick to learn how to politely and effectively signal they need to relieve themselves. Others struggle with this and need a little extra help. Thanks to their simplicity and inexpensive price tag, potty training bells have quickly become a very common tool for new puppy owners to teach their dog appropriate bathroom etiquette.
While they sound good in theory, many pet parents like myself quickly discover that potty training bells aren't as great of a concept in reality. My frustration boils down to six main issues. I'm guessing that if you've tried using potty training bells before, you'll be all too familiar with these…
They're Easily Mistaken for a Toy
Not shockingly, puppies have a tendency to turn everyday items into toys. A training device that looks suspiciously like a chew toy with fun noise makers attached seems like it's not the most genius idea.
Not only will this be detrimental to effectively training your dog, but keep reading to learn why it could also be dangerous for them!
They're Annoying
Even if your dog is a complete angel who only uses the bells when absolutely necessary—is this obnoxious jingling the sound you want to hear for the next 10-15 years of your life? I'd go crazy. Either save the jingle bells for Christmas time or risk yourself becoming a year-round Grinch!
They're Often Too Long or Too Short
Measure carefully or risk having to do multiple returns! Many brands which claim to be adjustable can only be made longer or shorter by a couple inches.
They Leave Marks
Depending on how vigorously your dog rings them, these metal bells can easily scratch up your walls or door.
You Have to Be Within Earshot
Trust me, these bells don't need to be louder! However, if you're listening to music with headphones on or watching TV in an upstairs bedroom, you run the risk of being oblivious to your dog's jingling bathroom request. Sound like a recipe for a puddle on your floor…or worse! 💩
They Can Be Dangerous
Many popular brands of potty training bells are cheaply made overseas. While I tend to prefer inexpensive products vs. high-end items, sometimes the age-old saying of "you get what you pay for" is true.
You don't need to take my word for it either. A quick look at some of the negative customer reviews for potty training bells reveal some dangerous potential outcomes should the product be defective or misused.
Your dog could snag a nail on a bell resulting in a traumatizing and painful experience. Even worse, they could swallow or choke on one of the bells if they come detached. Even if this common defect only happens in a small percentage of the units sold, do you really want to play those odds with your dog's well-being?
What's the Alternative? Paws2Go.
Think of the Paws2Go as a sophisticated, blood-pressure-reducing alternative to potty training bells. This 6×6 inch "dog doorbell" can be mounted or placed on the ground by your door. Instead of that god-awful jingling, this device plays a custom recorded message and sends a push notification to your smartphone when it's touch-activated by your dog.
That's right. Your dog now has the ability to text you when they need to go potty!
Check out the Paws2Go in action…
Yes, that is Jedi Master Yoda encouraging my pup to do his business! At the start, it's probably best to make your recording say something like "good boy/girl, time to go potty!" After your dog has a better grasp.of potty training, you can make it more fun and match your personality!
Training your dog to use Paws2Go is simple and almost exactly the same process you'd use with potty training bells. The key to success with this training method is making sure your dog associates their "door bell" with going to the bathroom and NOT going outside simply for enjoyment. During the training process, when they touch the device, make sure they are put on a leash and only have the option to go to the bathroom and are not permitted to explore or play. For more training tips, Paws2Go has a helpful PDF guide.
You may think this is a "cute" or "gimmicky" product, but once you've transitioned from potty training bells to Paws2Go you can appreciate the stark differences and how practical this device really is…
It's not annoying. Set the custom recording to whatever your heart desires. You can even record complete silence and rely on the phone notifications alone if your dog is a potty training pro!
No measurements required.
Less wear and tear on your home.
Thanks to the phone notifications, you'll always know when your dog needs to go regardless of where you are in the house and what other noises may be around you.
Paws2Go is a quality, durable product that you won't have to worry about breaking or paying to replace. On their website they even demonstrated running a full-size vehicle over it!
While nothing can make potty training fun, if you want to speed up the process and you value your sanity, Paws2Go could be well worth the investment.
Ready to upgrade your potty training? Visit the Paws2Go website to learn more and get your device!
Giveaway Time! Win a Paws2Go for FREE!
We're giving away a Paws2Go device for FREE to one lucky Popular Doodle reader! Giveaway has ended. Congrats to our winner, Angie S. from North Carolina! Thanks to everyone who entered—keep an eye out for our future giveaways to win other great prizes.
Giveaway Ends:
.