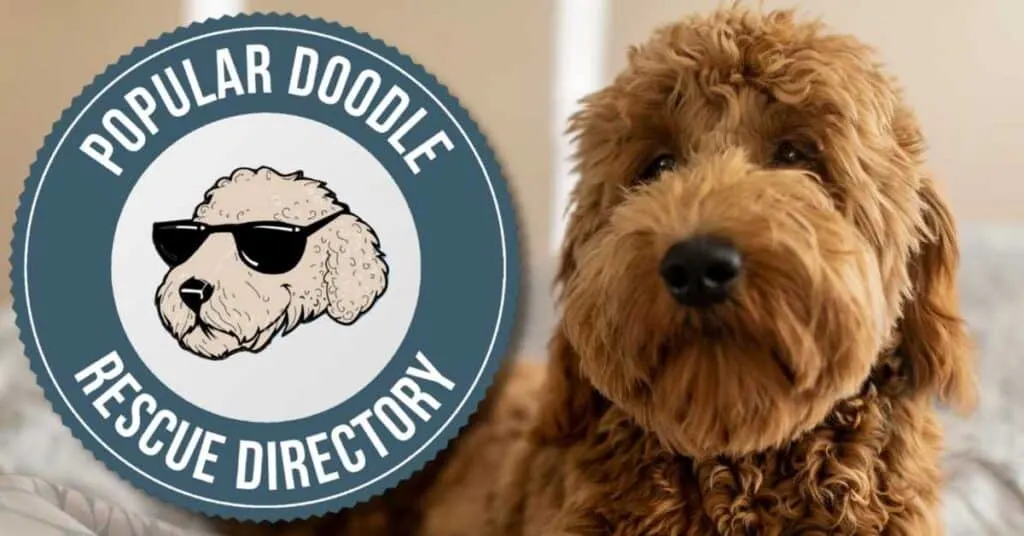 Thanks to their adorable appearance and tendency to be allergy-friendly, Goldendoodles are one of the most popular mixed breeds. This popularity, however, means that anyone looking to adopt a Goldendoodle could be in for a long search.
Like any rescue owner will tell you though, saving a dog's life in the process is worth it.
To help connect you with your future best friend, we've put together a list of our top 10 Goldendoodle rescues to start your search.
In addition, we'll walk you step-by-step through the Goldendoodle adoption process works, show you how to avoid possible scams, and help you decide whether adopting or buying a puppy is right for you.
Goldendoodle Rescue Directory
Delaware Valley Golden Retriever Rescue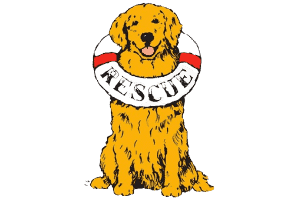 Location: Pennsylvania & Surrounding Area (New Jersey, Maryland, Delaware, Virginia, New York, Connecticut, etc.)
Website: dvgrr.org
Email: [email protected]
Delaware Valley Golden Retriever Rescue is a group devoted to the saving and re-homing of Golden Retrievers and Labrador Retrievers. Luckily for us, this includes Goldendoodles and Labradoodles as well! Since being founded in 1993, they've helped thousands of dogs and have recently starting a program for puppy mill survivors.
They are a 501(c)(3) non profit operating in Eastern Pennsylvania, Delaware, Maryland, New Jersey, and some other nearby areas. They are one of the best possible places to look for a Goldendoodle rescue in the United States, so if you live in any of these states, check them out!
IDOG Rescue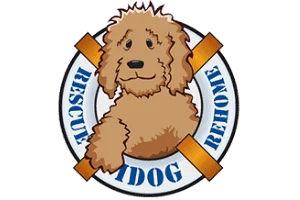 Location: United States (Nationwide)
Website: idogrescue.com
Email: [email protected]
If you live anywhere else in the USA and are looking to adopt a Goldendoodle, IDOG Rescue is also a perfect place to start. Since 2006, this Labradoodle and Goldendoodle rescue has spread their web of foster homes all across the United States and helped provide homes for thousands of dogs.
IDOG Rescue is a 501(c)(3) non-profit, and completely foster-based. This means in order to adopt a Goldendoodle from them you'd need to check whether or not their foster home is near you.
Doodle Aid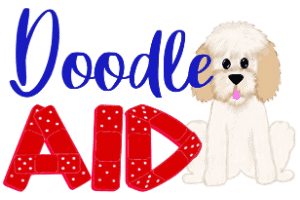 Location: United Kingdom (UK)
Website: doodleaid.com
Email: [email protected]
Not all the organizations on the list are based in the United States! Doodle Aid is a charity supporting the rehoming of all doodle dogs in the United Kingdom. Goldendoodles are fairly common among them so they are a great choice for starting out your search if you live in the UK.
To begin the adoption process, Doodle Aid requires you to first reach out to one of their staff via Facebook or Email to then be able to fill out and send a formal application with your information.
Doodle Dandy Rescue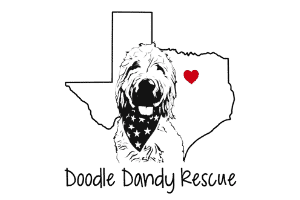 Location: Texas (5 Hour Radius of DFW Area)
Website: doodledandyrescue.org
Email: [email protected]
Doodle Dandy is a 100% volunteer-run rescue in Dallas, Texas. Throughout the years they've formed relationships with other shelters to expand further across Texas including Houston, San Antonio, and Austin.
They are a group that focuses on Goldendoodles and any other Doodle breeds that are at risk or surrendered by their owners.
Michigan Doodle Rescue Connect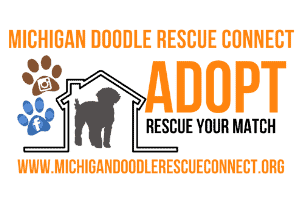 Location: Michigan & Surrounding Area (Illinois, Ohio, Indiana, Wisconsin, etc.)
Website: michigandoodlerescueconnect.org
Email: [email protected]
Unlike most other groups on this list, Michigan Doodle Rescue Connect is a Poodle and Goldendoodle rescue that houses all their dogs in one central location. Their ranch, located in Michigan, provides dogs with proper healthcare, training, and grooming until they find their forever family.
While they do operate mostly in Michigan, they are willing to adopt to and take in dogs from anywhere, as long as you are willing to travel to their location. MDRC is a 501(c)(3) rescue and mainly works as a voluntary surrender program.
Somerset Cottage Poodle Rescue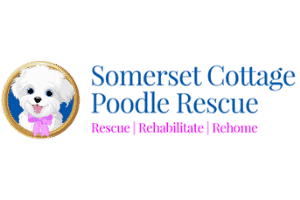 Location: Virginia & Surrounding Area (Delaware, Maryland, Pennsylvania, New Jersey, West Virginia, etc.)
Website: somersetcottagepoodlerescue.org
Email: [email protected]
Founded in 2013, Somerset Cottage is a charity group run completely on the backs of volunteers and donations. They have a large system of foster homes throughout Northern Virginia.
This rescue specializes in the care, rehabilitation, and rehoming of Poodles, Poodle mixes, and other hypoallergenic dog breeds.
VIP Rescue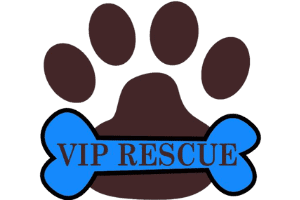 Location: Florida
Website: viprescue.org
Email: [email protected]
A non-profit 501(c)(3), VIP Rescue is dedicated to caring for and re-homing all sizes of Goldendoodles and Poodles, in addition to other Poodle mix and hypoallergenic dogs.
They operate through volunteer foster homes all throughout central Florida, rescuing unwanted, at-risk, or abused dogs and providing all the necessary care for their rehabilitation and eventual re-homing.
NorCal Poodle Rescue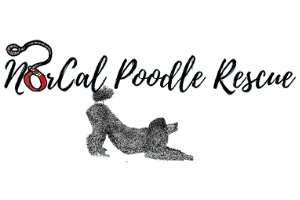 Location: Northern California (Fresno to Oregon Border)
Website: norcalpoodlerescueadoption.com
Email: [email protected]
Founded by and run completely by a group of volunteers, NorCal Poodle Rescue proudly saves over 140 dogs each year. Since their founding in 1985 they've saved over 2,000 Poodles and Poodle mixes of all types.
All their dogs are given full veterinary care, including microchips, spaying/neutering, and vaccinations before adoption. In addition, they provide grooming and training to dogs that need it.
Georgia Poodle Rescue
Location: Georgia
Website: georgiapoodlerescue.com
Email: [email protected]
Georgia Poodle Rescue is a registered non-profit devoted to the rescue of Poodles, Poodles mixes, and other dogs in the state of Georgia.
While every rescue on this list is takes great care to properly match dogs and families, Georgia Poodle Rescues is a step above the rest. They are especially diligent in their process to ensure all their dogs get the perfect home, and don't need to go through the stressful adoption process again.
To apply for adoption, you are required to send a $20 application fee with your form to be reviewed. Your application will then be looked over and considered for any dogs available.
Poodle Rescue of Vermont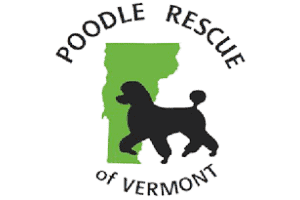 Location: Vermont & Surrounding Area (New Hampshire, Maine, New York, Connecticut, Massachusetts, Rhode Island, etc.)
Website: poodlerescuevt.org
Email: [email protected]
Another completely foster-based group, Poodle Rescue of Vermont operates all through the New England area. They take in all sizes of Poodle, as well as Poodle mixes such as the Goldendoodle.
Having said this, their chain of foster homes extends a bit outside the East Coast, so if you live in a nearby state you may have one of their fosters close by.
Goldendoodle Adoption FAQs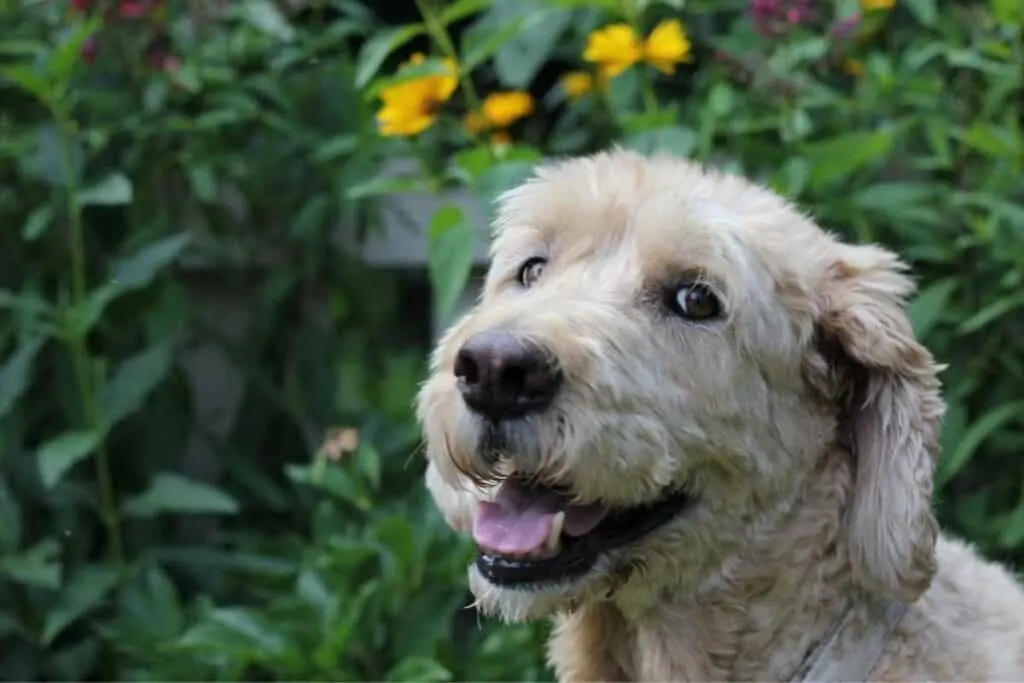 How to Find Goldendoodle Rescues
Finding a specific breed, especially a "designer" breed like the Goldendoodle, in shelters isn't always simple. It's likely you'll have to look search at least a few rescues and potentially wait months before finding one available.
With that being said, there are many things you can do to improve your chances of being able to find and adopt a Goldendoodle. Here are the steps we recommend all prospective rescue owners take to make the process as easy as possible.
1. Check all the shelters we listed in this article. We set this up to be the easiest possible way to get started on your search. If any of these shelters operate near you, go to their website and look through their available dogs. We recommend following them on social media or frequently checking their website if you don't immediately see a dog you are interested in.
2. If none of the rescues listed are near you or don't have Goldendoodles available, try looking through our full Doodle Rescue Directory! We couldn't include every single shelter in this article, so it's possible one of the other ones in our database could have the Goldendoodle you're looking for.
3. Search using Petfinder. If you don't know of any specific shelters near you, Petfinder is an amazing tool for looking through pets to adopt. They are the largest adoption website in North America and are associated with tens of thousands of shelters across the continent. You can easily filter for breed, age, size, and more!
4. Ask around or visit a local shelter. The old fashioned way is still a great option when it comes to adopting dogs—especially in smaller cities or towns. You just might get lucky by visiting a small local shelter! Even if they don't have a Goldendoodle, there may be another just-as-deserving pup that you fall in love with!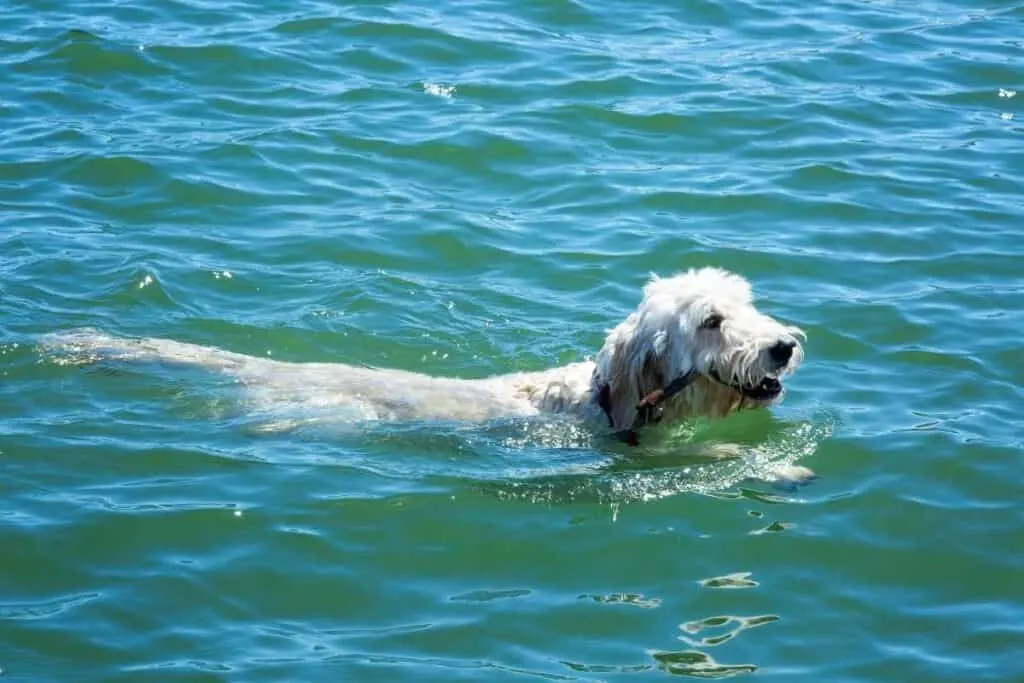 Look Out For Goldendoodle Adoption Scams
Any time money exchanges hands there's the potential to get scammed. Unfortunately, adopting a dog is no exception.
Due to the emotional pull of helping an animal in need, sometimes people let their guard down too easily during this process. Here's what to look out for to make sure it doesn't happen to you!
Always make sure any rescue organization you're looking to adopt a Goldendoodle from is legitimate. Visit them in person and look at reviews online before any money exchanges hands. Use common sense—if something doesn't seem right take a moment to step back and reevaluate.
In addition to outright scammers posing as rescues, some unethical breeders will also attempt to pull on your heartstrings to make a quick buck. These shady breeders make it seem like you're "rescuing" or "saving" a puppy rather than simply supporting their unethical businesses practices.
Rescuing a Goldendoodle Process
The process of Goldendoodle adoption varies from organization to organization. However, they tend to follow one of two general procedures…
Some request you fill out a form with varying amounts of information, often fairly detailed. These shelters then save your file and follow up with you if they get a Goldendoodle that they determine you would be a good fit for.
Other shelters have a system where you apply individually for each dog, usually listed on either their website social media accounts.
What these two methods have in common however, is the entire process will be very in-depth. It may take weeks even after a Goldendoodle is matched to you to go through the entire vetting process.
Although it may seem irritation at the time, it's meant to make sure no dog goes through the system twice.
The exact steps involved vary, but the most common are:
Calls to references, usually veterinarians
A home visit
One or more interviews
A background check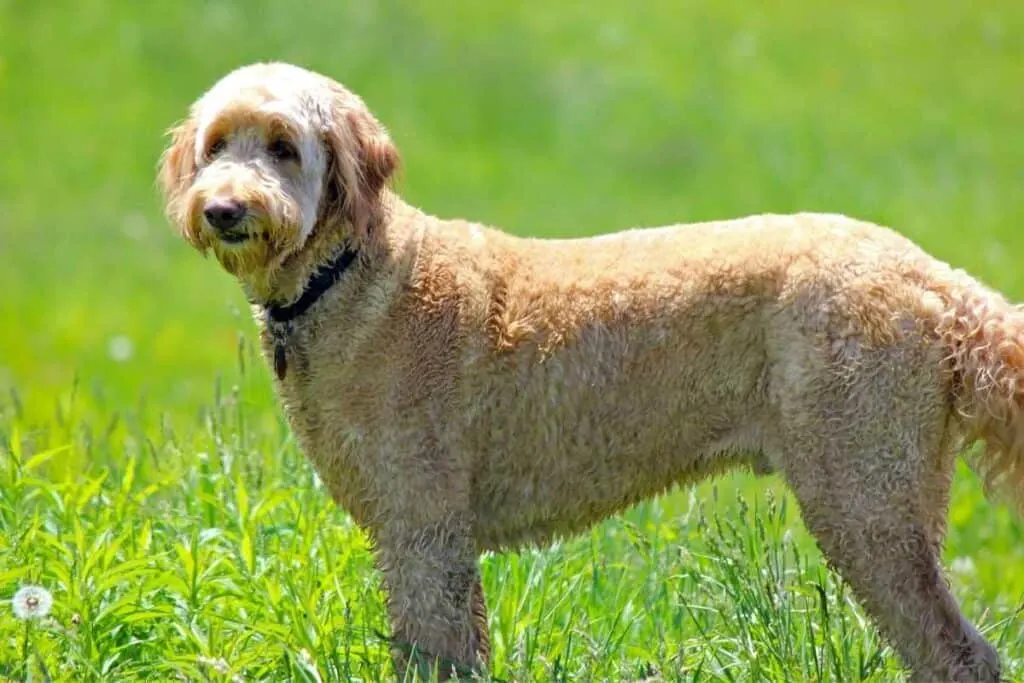 Should You Adopt a Goldendoodle?
Of course, it needs to be said that adopting isn't for everyone. Maybe you don't meet all the requirements or you'd rather go through the simpler process of selecting a puppy from a (reputable) breeder.
When made responsibly, there is no shame in either decision. To make the best choice possible for your family, here are the main benefits and drawbacks of adopting:
Pros
You save a dog's life! It's an incredibly rewarding to be able to give a dog the fun, comfortable life they deserve but haven't gotten to experience until now. They'll be forever grateful.
Your dog will already be fully vaccinated and spayed/neutered. Most shelters will vaccinate and fix their dogs for you, meaning you save some additional money and time going to the vet yourself.
There's no need to worry about a puppy growing too big. A Goldendoodle's full-grown size can often differ from a breeder's prediction when they're a puppy. A dog growing too big may cause some problems, especially if where you live has a strict size limit for pets. Since nearly all rescues are adults, this usually isn't an issue.
Cons
As you might know by now, the process is long and stressful.
Goldendoodle rescues may have certain limitations or specific requirements depending on the individual. For example. some may be scared of other dogs or aggressive towards cats and therefore would do best in homes without other pets.
The most common requirement, often stated directly by rescue organizations, is no small children. Rescue dogs often don't do well with kids under the age of 10, and so many places do not allow families with young kids to adopt.
You'll need to be adaptable. Unlike getting a puppy from a breeder, you won't have data about the dog's parents, breed and generation. Rescues do their best to learn a dog's personality before re-homing them, but you never know exactly what you're signing up for. Luckily, there are methods like the Embark dog DNA test to help to gather some information about their history and health. It may even help you locate your dog's long-lost littermates!
At the end of the day, this is an important choice it's worth taking your time to get it right. We hope you'll at least consider rescuing and that the information provided here will be useful in getting you pointed in the right direction!
Read More About Goldendoodles…