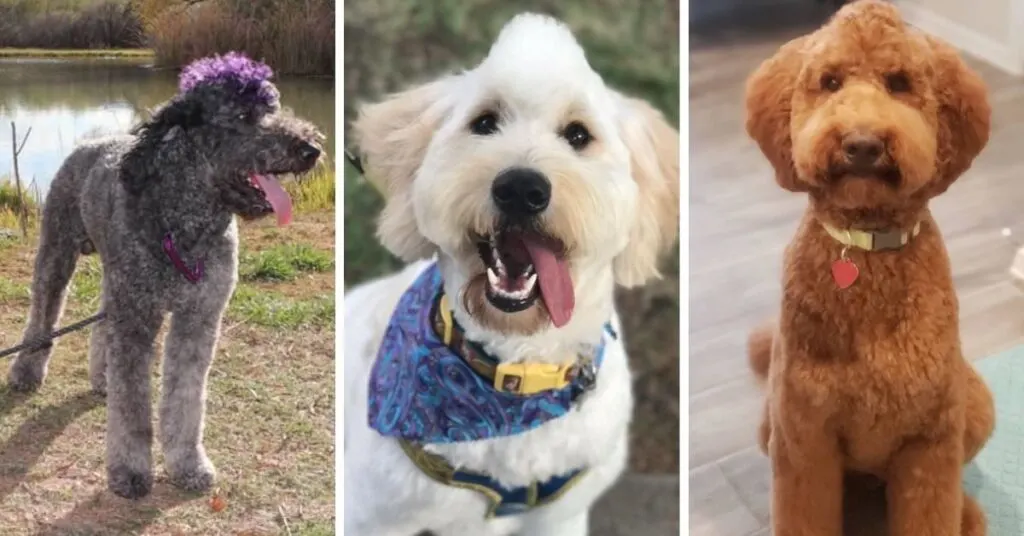 If your Goldendoodle has a bold, outgoing personality and you're looking for a doggy hairstyle to match—look no further than the Goldendoodle mohawk!
In this article, we'll share photos of awesome Goldendoodles with this unique hairstyle. We'll also answer some frequently asked questions dog owners typically have before giving their pet a mohawk!
How Do You Give a Goldendoodle a Mohawk?
Most dog groomers will be able to accommodate this request without issue. Since it's a pretty easy hairstyle, it shouldn't cost too much more than a basic haircut unless you choose to add coloring as well.
This look can be more or less prominent depending on the length of the mohawk compared to the length of the rest of their coat.
Just like for any other hairstyle, I always recommend you show your groomer an example photo of what you'd like your dog to look like. This helps make sure you're both on the same page and there's no room for confusion!
Alternatively, if you're looking to save money by grooming your Goldendoodle at home, this is a great style to try! If it doesn't turn out the way you were planning, you can always cut it down and turn it into a shorter, even-length haircut instead.
Related: Short Goldendoodle Haircut Ideas: 30 Before and After Photos!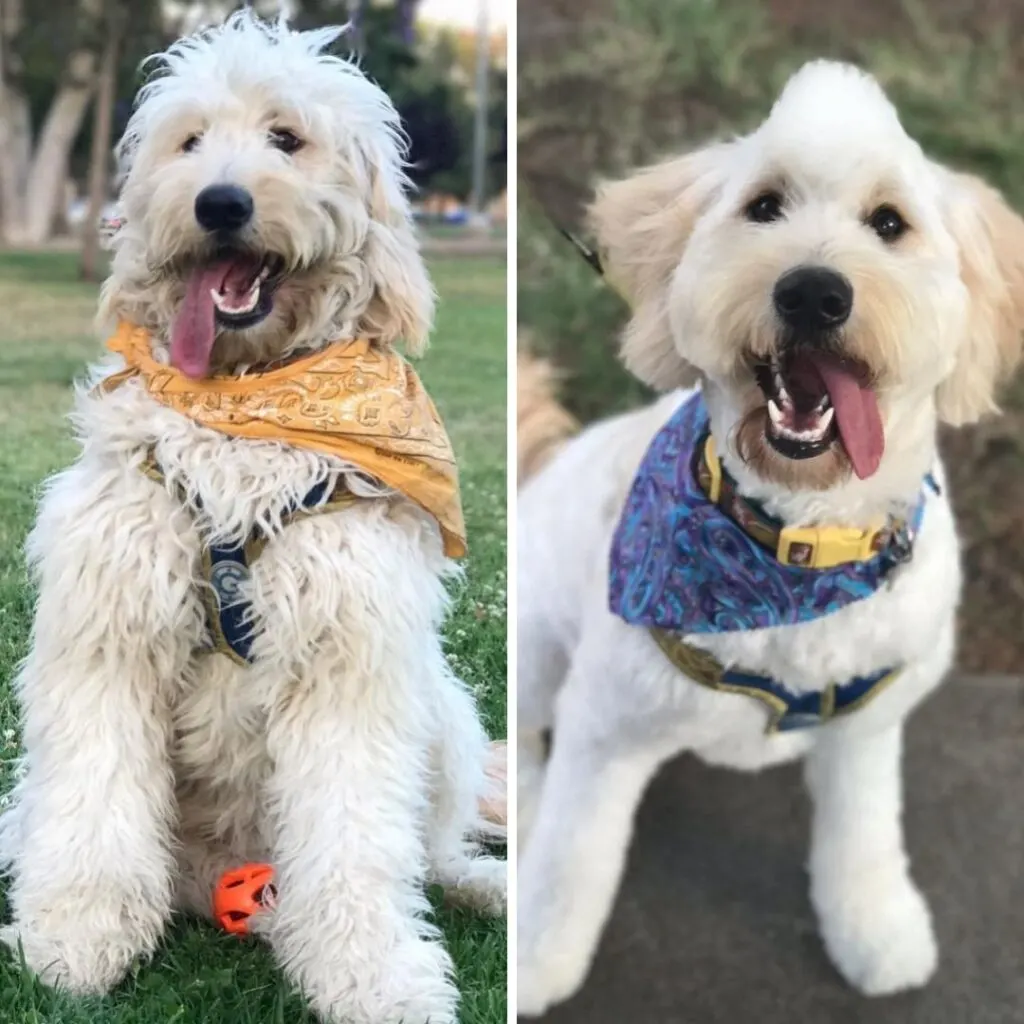 Adding Dye for Extra Style!
If a Goldendoodle mohawk isn't a bold enough style as it is, you can take the extra step and have it colored! I've seen Goldendoodles rocking blue, red, pink, purple, and even green mohawks!
The additional cost of coloring a Goldendoodle mohawk at the groomer will typically range from $20 to $40. You can also buy dog-safe hair dye from Amazon and do it yourself! Either way, make sure you know how long the color will last as some will wash off quickly while other brands can last 20 baths or more!
Some DIYers even use Kool Aid for dyeing their dog's hair!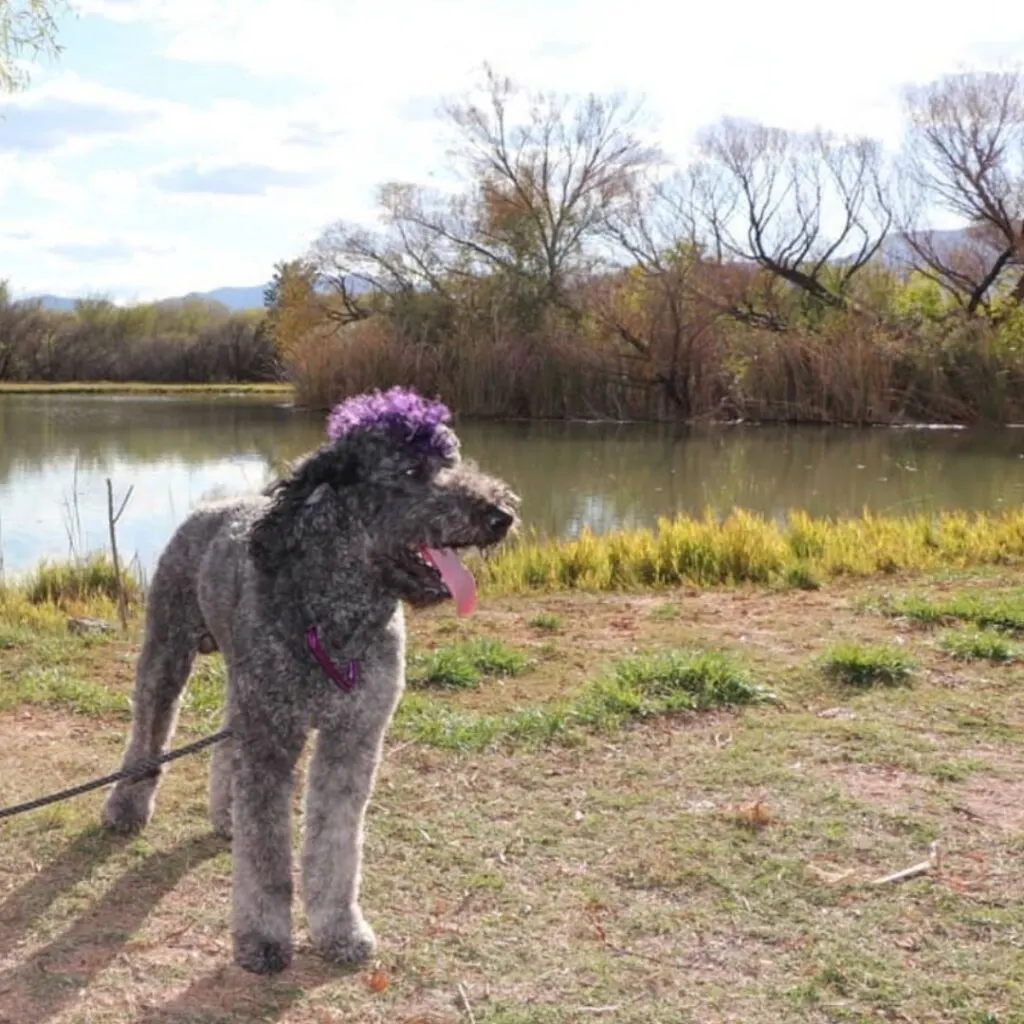 Short vs Medium vs Full-Length Goldendoodle Mohawks
Dog mohawks come in three types—short, medium, and full-length.
These types describe how far you want your dog's hairstyle to extend down their body. It shouldn't be confused with how long you want the hair on their head or body to be!
A short mohawk will just be on your Goldendoodle's head and is similar to what you'd expect this hairstyle to look like on a human.
A medium mohawk will extend further down your Goldendoodle's neck to their shoulders. It'll look like a cross between a lion's mane and a mullet!
Related: Goldendoodle Lion Cut: 16 Examples of This Unique Haircut for Dogs!
A full-length mohawk extends from your Goldendoodle's head all the way down their back to their tail. You can see an example of this in the photo below.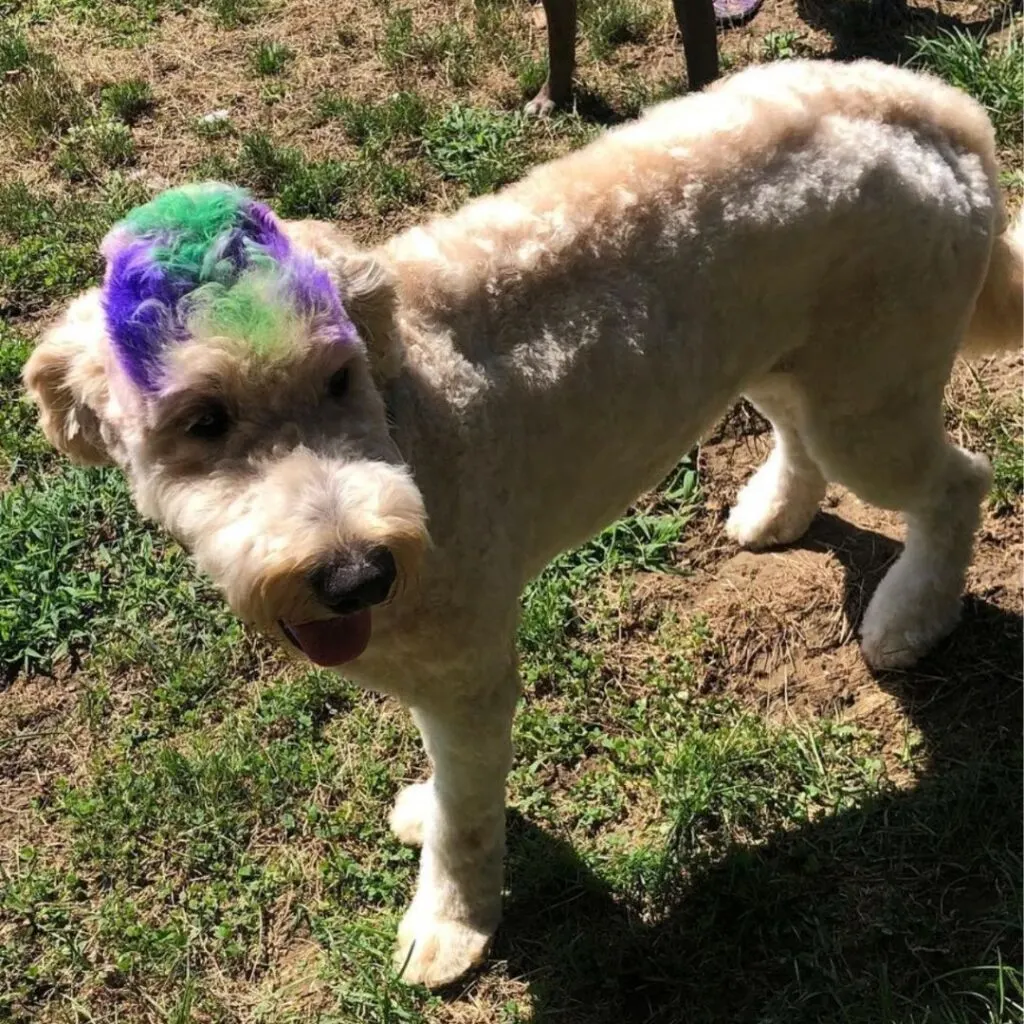 Caring for Your Goldendoodle's Mohawk
This Is actually a fairly low-maintenance hairstyle since most of your Goldendoodle's body will be left on the shorter side. That being said, you should still brush your dog at least weekly. If your dog has curlier hair (typical of F1B Goldendoodles or other generations with more Poodle DNA) you'll likely need to be brushing even more frequently than that.
I recommend investing in a good-quality slicker brush like the Chris Christensen Big G to make this task easier.
Other than brushing, if you want your Goldendoodle's mohawk to stay prominent, you'll need to visit the groomer regularly for trims and re-coloring!
Other Goldendoodle Mohawk Examples
If you're really ready to turn some heads, try getting a matching dyed mohawk with your Goldendoodle like Derby and his human Kentucky! These two influencers have popularized this hairstyle amongst doodle owners since their appearance on Amazon's "The Pack."
You can watch my interview with Kentucky & Derby about their experience on the show here!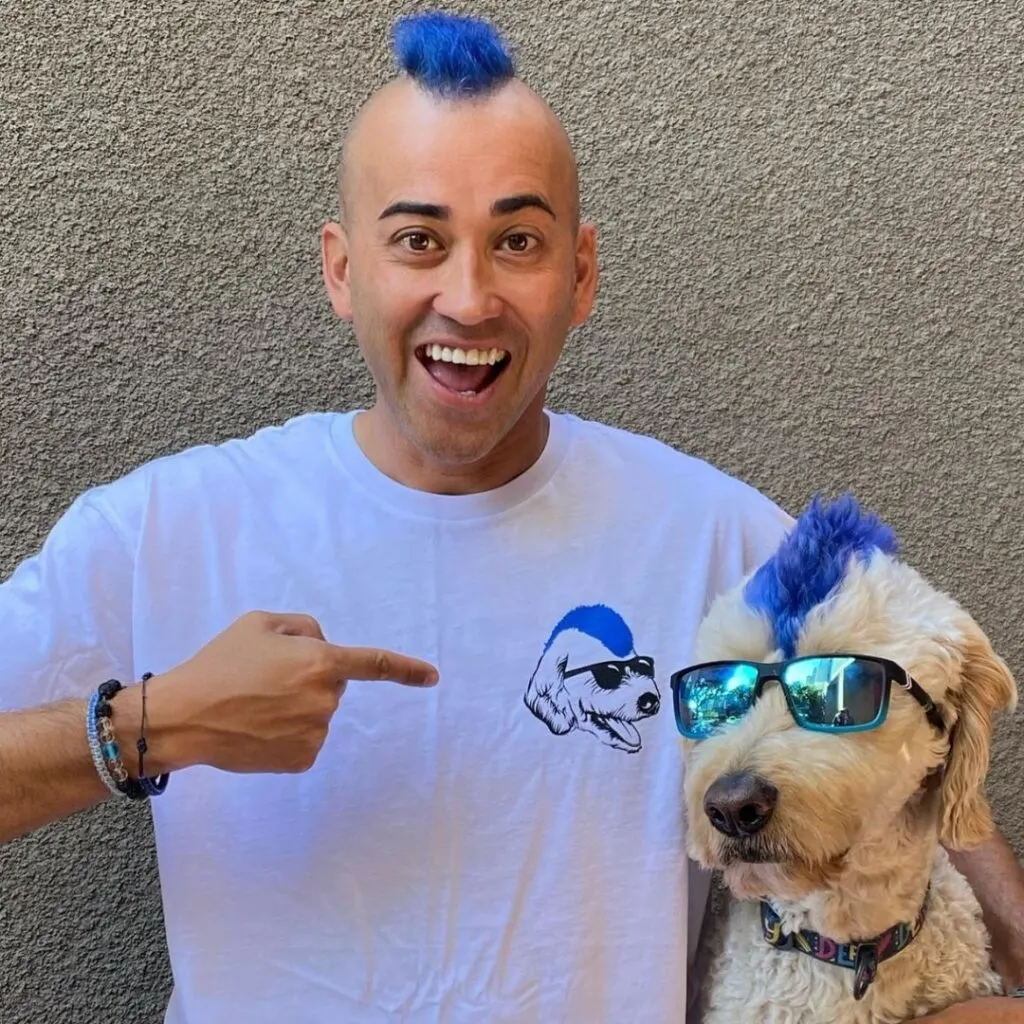 Mohawks look cool on any color of Goldendoodle!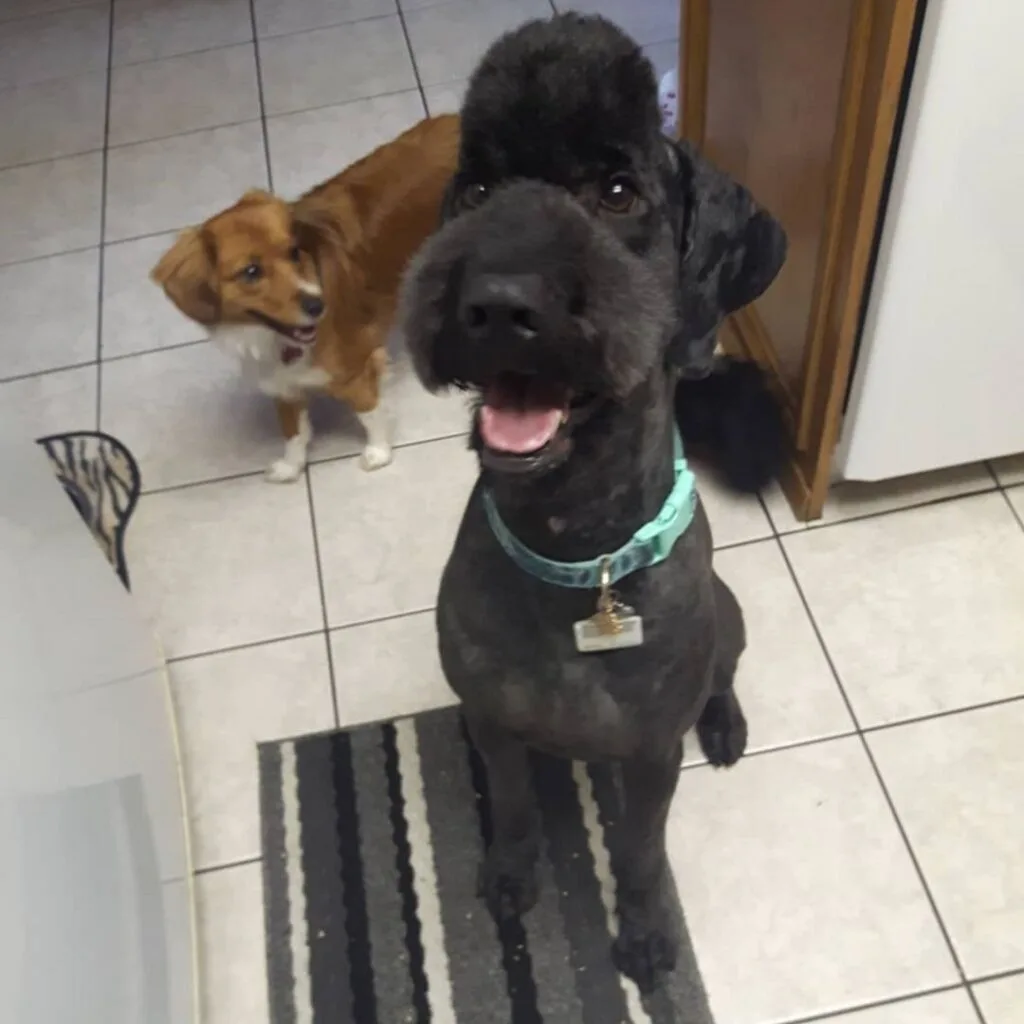 If you're not ready to go all-out, here's an example of a more subtle, but just as adorable Goldendoodle mohawk.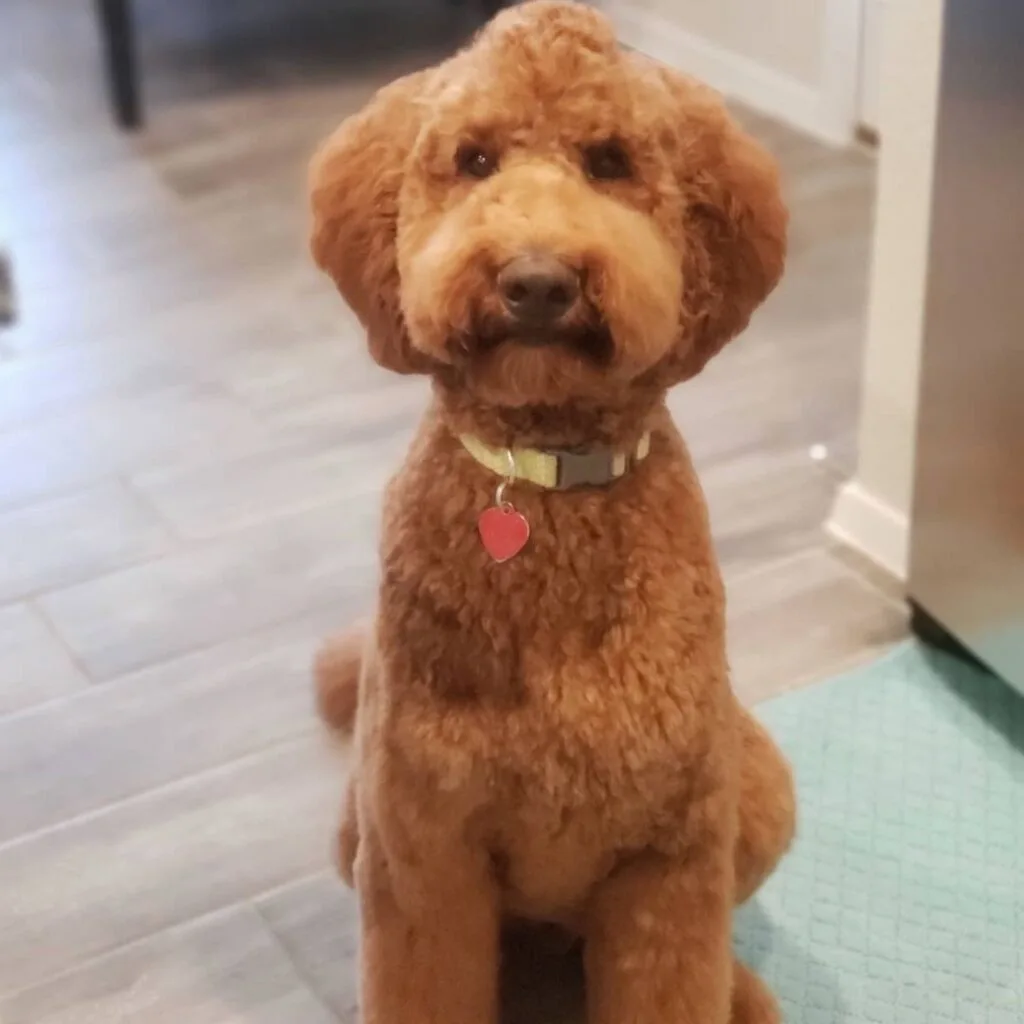 Here's Barkley before and after having his mohawk dyed red, white, and blue for the 4th of July!