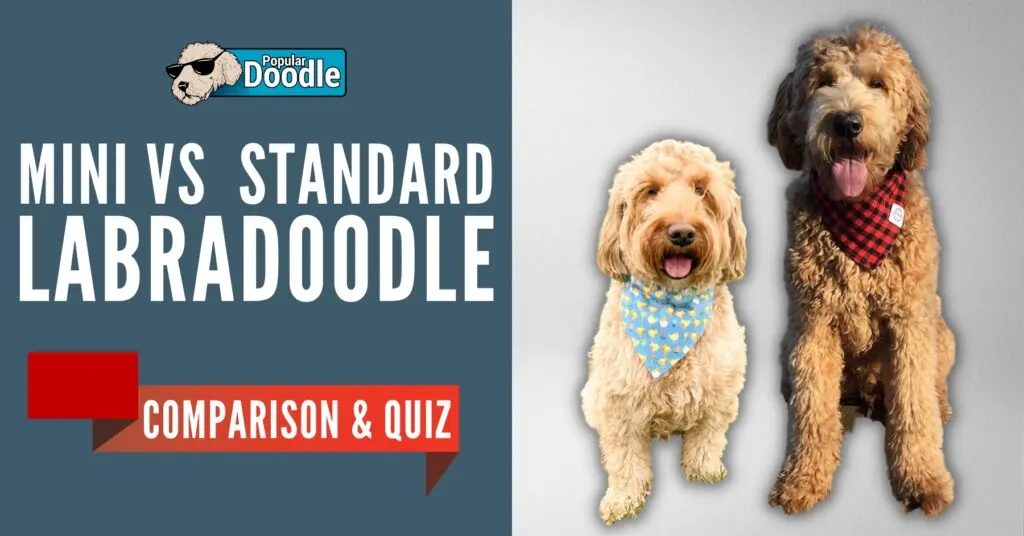 Deciding between the mini Labradoodle vs standard Labradoodle isn't just an aesthetic choice. The size of your future Labradoodle can make a world of difference when it comes to their compatibility with your family.
Make the wrong decision, and you may find dog ownership far more of a burden than a joy. Unfortunately, many Labradoodle owners opt to re-home their dog due to their expectations not being aligned with the reality of the breed or size they chose.
Now that you understand the importance of this decision let's talk about the difference in stature between the two most common sizes of Labradoodle.
Miniature Labradoodles typically weigh between 20-40 pounds while standing 16-20 inches tall. Standard Labradoodles are significantly larger, weighing in between 45-70 pounds and standing 22-24 inches tall on average.
Read More: Labradoodle Size Full Grown: How Big Do Labradoodles Get? (Teacup, Toy, Mini, Medium, Standard)
| Average Measurements | Mini Pyredoodle | Standard Pyredoodle |
| --- | --- | --- |
| Average Weight | 35-55 pounds | 85-100 pounds |
| Average Height (Shoulders) | 12-24 inches | 22-32 inches |
Take the Quiz: Should You Get a Mini Labradoodle or Labradoodle?
Note: While this quiz can provide valuable insight, it shouldn't be blindly relied on. Please read the entire article to fully understand all the factors that go into making an informed decision.
Pros and Cons of the Standard Labradoodle vs Mini Labradoodle
Purchase Price & Availability
Before you even bring home your new puppy, you'll likely experience the first difference between these two Labradoodle sizes—how much you'll pay!
On average, expect to pay $500 to $1,000 more for a mini Labradoodle than a standard Labradoodle.
Read More: How Much Does a Labradoodle Cost? We Surveyed 500+ Owners to See!
If you decide to opt for rescuing a Labradoodle instead of purchasing a puppy from a breeder, you'll quickly discover that finding a mini Labradoodle is no easy challenge. The vast majority of Labradoodles up for adoption are standard-sized.
Average Lifespan & Health Concerns
Bigger dogs experience an increased strain on their physiological processes, which means they age faster than smaller dogs. This faster aging sadly results in a shorter lifespan.
The average lifespan of a standard Labradoodle is around 2 years shorter than that of a miniature Labradoodle. A typical mini Labradoodle lives to be 12-15 years old, while a typical standard Labradoodle only lives around 10-13 years.
Besides their faster aging, standard Labradoodles tend to live shorter lives than mini Labradoodles due to the health issues they experience. Health concerns like hip dysplasia, osteoarthritis, and bloat are all far more common in larger Labradoodles.
Related: Labradoodle Health Issues: 8 Common Labradoodle Health Problems to Look Out For!
These issues not only can shorten the lifespan of standard Labradoodles but can cost many thousands of dollars to treat. Therefore, while we recommend that ALL Labradoodle owners invest in a quality pet insurance plan, standard Labradoodle owners should especially consider this advice.
Yearly Cost of Ownership (Grooming, Food, Supplies)
While standard Labradoodles puppies may cost less money to purchase, they may actually end up costing more over their lifetime than a mini Labradoodle would.
How can this be? Pet supplies and services for larger dogs tend to be more expensive. Here are a few examples…
Standard Labradoodles can cost 20-40% more than mini Labradoodles for haircuts and grooming appointments.
Standard Labradoodles eat about 50% more food compared to mini Labradoodles. While it may seem negligible on a day-to-day basis, the cost difference of these portions can end up being $1,000 or more over the lifespan of your dog!
Basic pet supplies like crates, toys, brushes, bowls, etc., all tend to cost more in larger sizes due to the extra materials needed to make them.

To illustrate this point, let's look at the MidWest Homes iCrate I bought for my doodle. If you look at the price difference between the sizes necessary for a mini Labradoodle vs Labradoodle, you'll see there's a 35% increase!
Ease of Travel
Traveling with your dog can be challenging yet extremely rewarding for both you and them. It's an opportunity for your Labradoodle to get outside the four walls of your home and experience the world with you.
Related: Best Dog Friendly Hotel Chains: 50 Well-Known Brands Ranked
Neither the mini nor standard Labradoodle is small enough to be carried into an airplane cabin with you. Therefore, traveling with your dog via air will be more challenging as they'll have to travel in the belly of the plane as checked luggage. At best, this requires a significant amount of prep work and additional cost. At worst, there have been horror stories of dogs overheating and dying on the tarmac when airline employees become distracted and forget about them.
Car travel is usually more convenient for both of these Labradoodle sizes. Of course, mini Labradoodles take up less room in the car, so you'll have to keep that in mind depending on how many people will accompany you and how spacious your vehicle is.
To make long car rides safer and more comfortable for my doodle, I bought a dog hammock as well as a dog seat belt that connects to his harness.
Other Family Members, Friends, Visitors, etc.
The characteristics of your family may influence whether the mini Labradoodle vs standard Labradoodle would be a better fit. Remember to consider not only your immediate family but extended family and close friends who visit you often.
If children under 10 years old are in your life, a standard Labradoodle may be a better choice. This is because curious and rambunctious children could accidentally injure mini Labradoodles. If you don't have young children now, will you over the course of your Labradoodle's 10-16 year lifespan?
Owning a standard Labradoodle can be risky if anyone in your family is a senior. Even with diligent training, all it takes is one jump from a 70-pound Labradoodle, and Grandma or Grandpa could be in the hospital.
Finally, if you have other pets in your house, consider their size and whether they'd benefit from having a larger or smaller companion.
Related: 5 Reasons Why You Should Get a Second Dog…And 5 Reasons Why You Shouldn't!
Your Activity Level
If you're not an active family, a Labradoodle is probably not the dog for you. While they may look like teddy bears, this breed needs a ton of exercise. In fact, trainers report that many of the behavioral and training issues Labradoodle owners experience could be solved if they just got the appropriate amount of activity.
Standard Labradoodles need up to 2 hours of exercise per day! If you're not ready for a commitment like that, it might be best to consider another breed. The miniature Labradoodle is almost as high-energy, needing 45-90 minutes of exercise each day.
A standard Labradoodle might be the perfect exercise buddy for you if you live a very active lifestyle filled with running, hiking, swimming, and other outdoor activities. However, the mini Labradoodle might be more your speed if you are only moderately active.
The exercise recommendations for Labradoodles are intense but vary significantly by age. To ensure you're not getting your dog too little or too much exercise, check out our article on Labradoodle exercise needs!
Current & Future Living Arrangements
Think about whether your current living arrangements are suitable for the breed and size of dog you'd like.
The first thing to research is whether your apartment complex, homeowner's association, or landlord have weight restrictions on pets. When choosing between the mini Labradoodle vs Labradoodle, you want to ensure you are following the rules. Many people think they can be sneaky and avoid these rules, but few get away with it, and it's not worth having to move or re-home your pet over.
Secondly, consider whether your home is large enough for a high-energy dog to enjoy. Small apartments and condos aren't ideal for Labradoodles, particularly standard-sized ones. Having a decent-sized backyard is even more important—bonus points if it's fenced!
Not only do you need to think about your current home, but think about where you might move to in the next 15 years and how it may be a better or worse fit for these two sizes of Labradoodle.
Personal Preference
When choosing between the mini Labradoodle vs standard Labradoodle, you should choose the one that is a better fit for your family.
If you're an avid runner, own a house with a big backyard, and have a new baby on the way, a standard Labradoodle could be perfect for you! However, if you travel a lot and have older parents who visit often, the mini Labradoodle might make more sense.
You shouldn't pick a breed or size that is likely to be super incompatible with your lifestyle. While there are certainly dogs who are exceptions to every "rule" of how they're "supposed" to behave, it's not worth banking on that possibility.
However, that doesn't mean your own personal input should be discarded entirely. If you look through these various factors that differentiate the mini Labradoodle vs Labradoodle and find that you're still pretty split about which is better, by all means, let your heart decide!
More About Labradoodles…