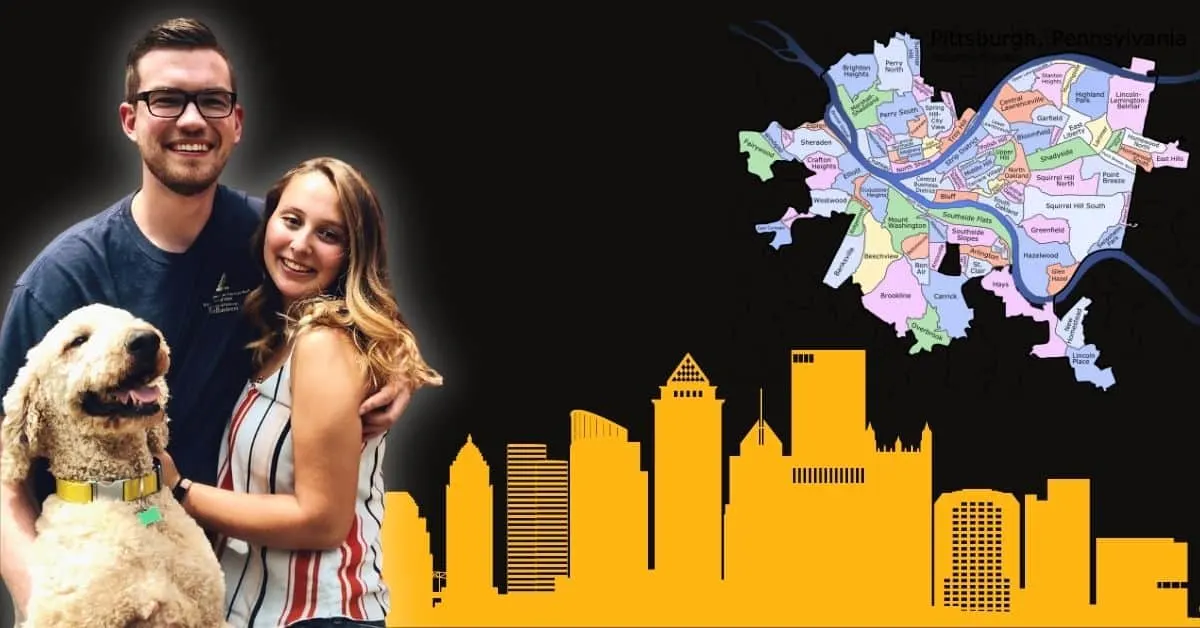 As dog owners, we quickly fall into a routine when it comes to daily walks. Same time, same route—day in and day out. At times, it even feels like a chore.
It's easy to forget that for our dogs, that walk is the absolute highlight of their day. Not only is it quality time they get to spend with you, but it's their one opportunity to go explore the world outside of the four walls they stay within the other 23 hours of the day.
Sure, your regular walks may be fun for your dog. But, you know what's even more fun? Going on adventures together!
That was the idea behind the challenge my girlfriend, Erica, and I decided to undertake at the beginning of this year. Our goal for 2021 was to take our Goldendoodle, Chewie, for a walk in all 90 of Pittsburgh's neighborhoods.
Related: 5 New Year's Resolutions Every Dog Owner Should Make This Year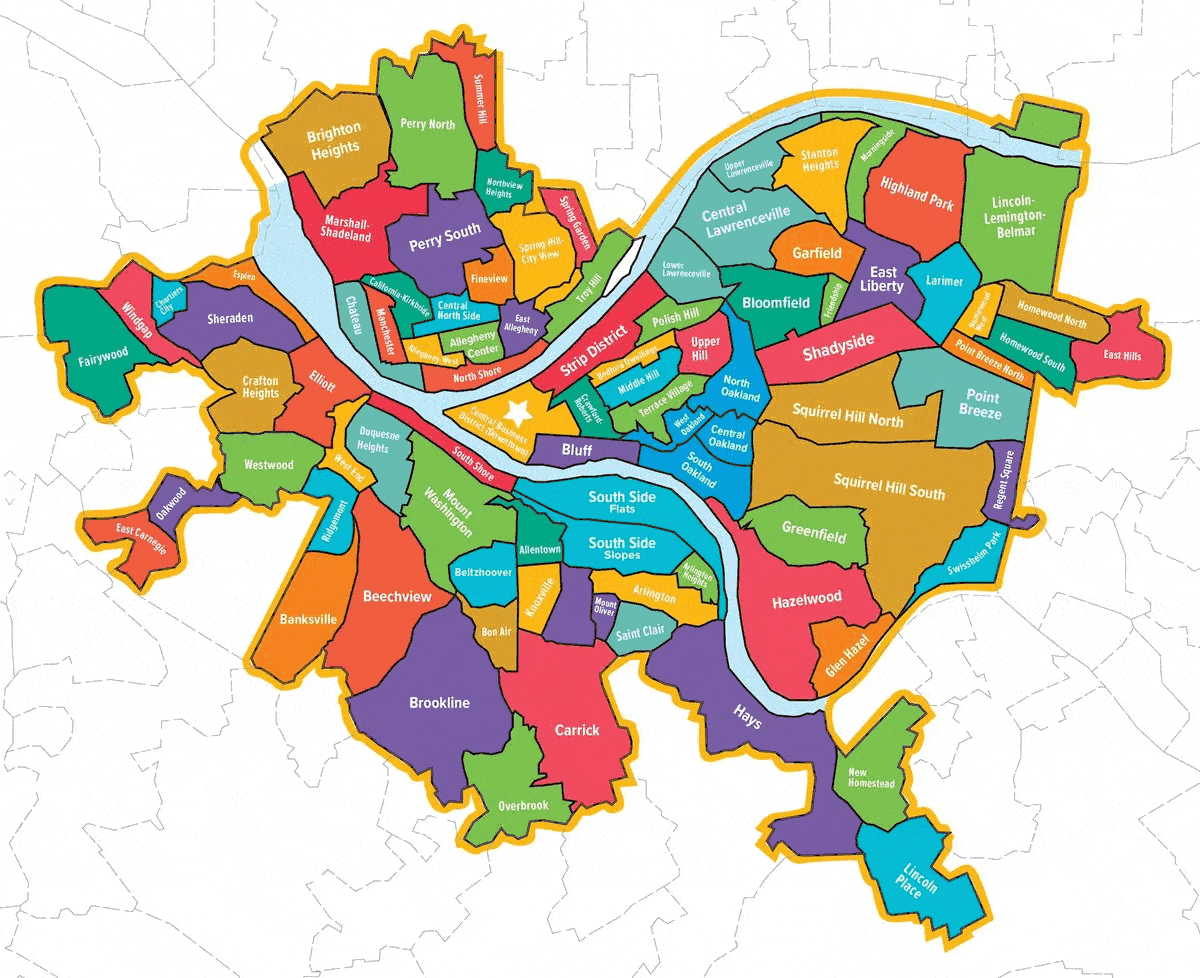 What's the Point?
Between the planning and the extra travel time to each of these neighborhoods, it took a lot more effort and time than your average walk. We had two main reasons why we felt this would be a worthwhile pursuit…
1. Mental Stimulation is Just as Important as Physical Activity
Dogs need more than just physical exercise—it's important to keep them mentally engaged as well throughout the day. Dogs that get adequate mental stimulation are happier, healthier, and far more obedient!
Creating and using your own snuffle ball, playing puzzle games, and doing training activities are all great ways to mentally tire your dog.
There's even a whole catalog of Brain Games for Dogs that provide wonderful opportunities for fun mental stimulation while helping to reinforce important training concepts!
Perhaps the simplest way to keep your dog "on their toes" mentally is by switching up your walking route. Even a small change in your daily walk means new smells to investigate, new friends to meet, and new sights to see.
2. Exploring More of What Pittsburgh Has to Offer
I've lived in Pittsburgh since starting college in 2014 and Erica's been here her entire life. We've been to a lot of the typical hotspots and attractions. But, a city is more than just the touristy highlight reel.
Pittsburgh is divided up into 90 distinct neighborhoods, each with its own unique "personality." By visiting each one, we hoped to get a better understanding of what makes this city we call home special.
Highlights from Each of Pittsburgh's 90 Neighborhoods…
As we completed our walks, we stopped to take a picture in each neighborhood to document one thing we found interesting, no matter how small. You'll find each of these photos included below.
Keep reading afterwards to see what we learned from our journey through Pittsburgh. I'll also share some ideas for creating your own adventures and making lifelong memories with your furry best friend!
Allegheny Center
For a small neighborhood, Allegheny Center seems to have a lot going on with various businesses, museums, and parks. Here's Chewie and Erica with some bird friends outside the National Aviary. 🦅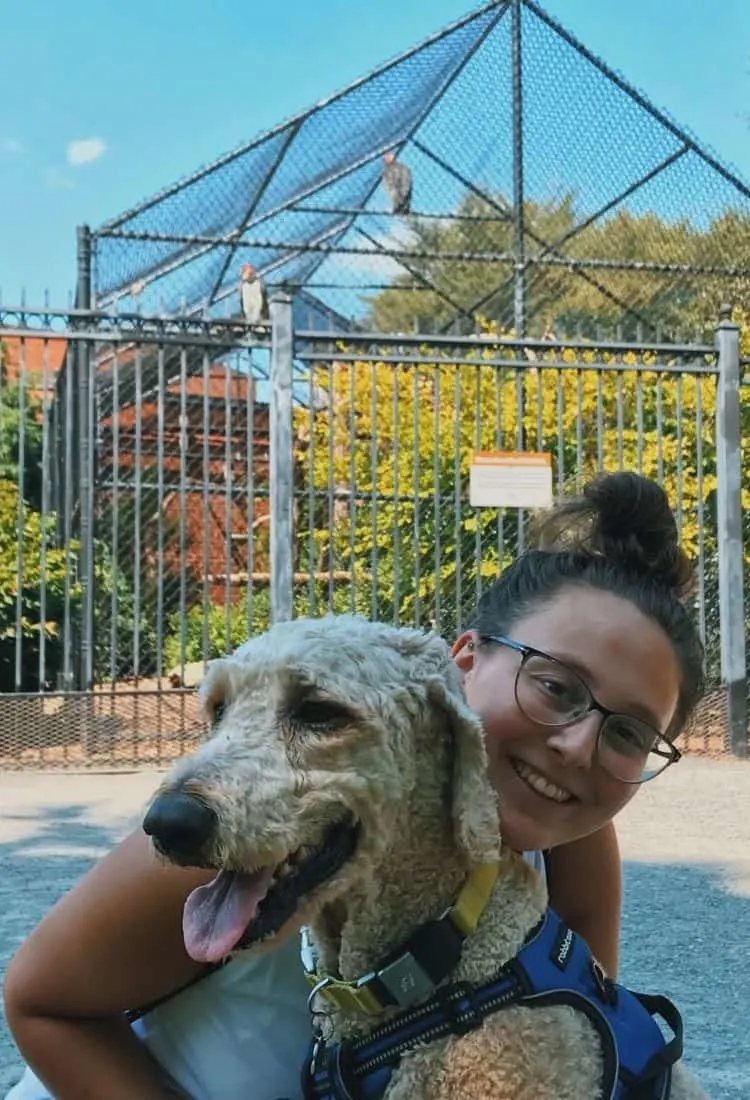 Allegheny West
Western Ave was a cute street to explore with brick sidewalks and lots of flowers along it.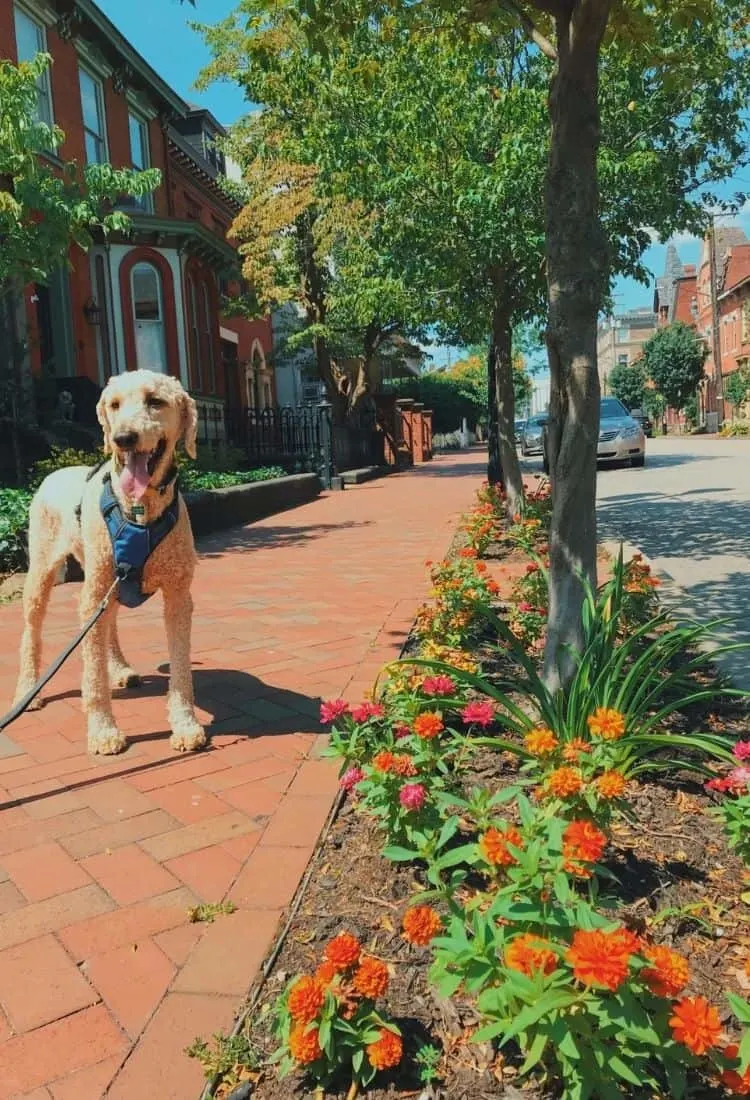 Allentown
We saw St. John Vianney Church from a distance and walked over to appreciate its beauty and character. From what I've read, it looks like the church has been closed for some time which is a shame.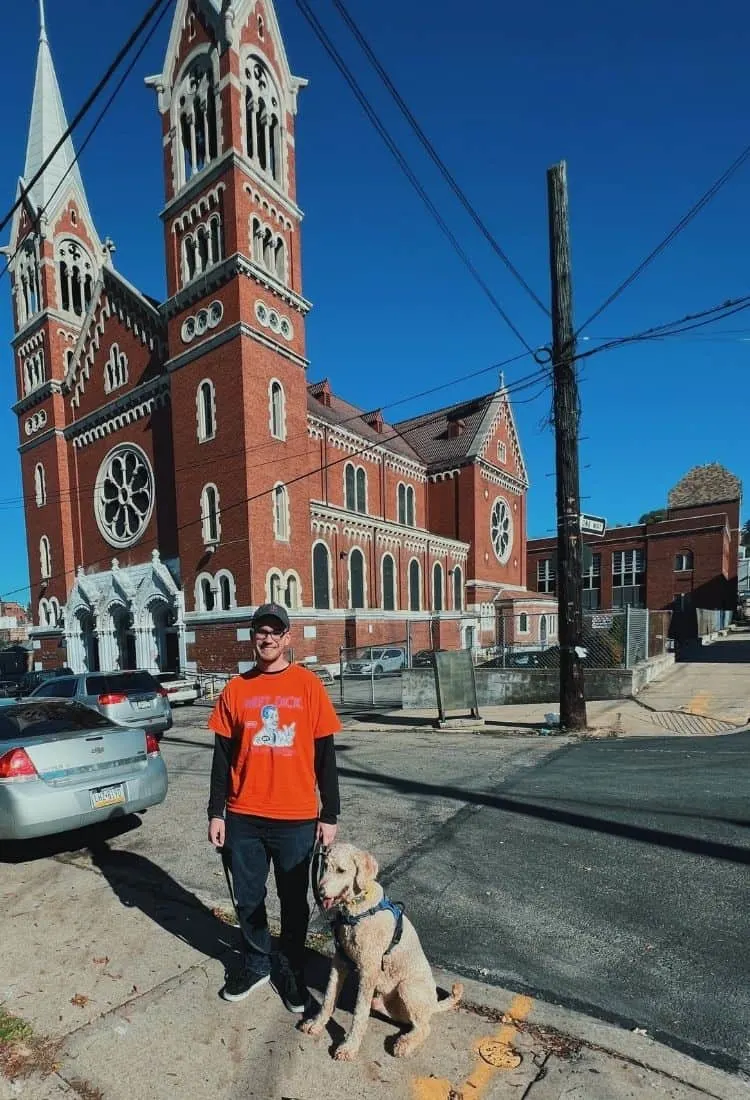 Arlington
Here's one of the sidewalk staircases we walked on in this hilly neighborhood.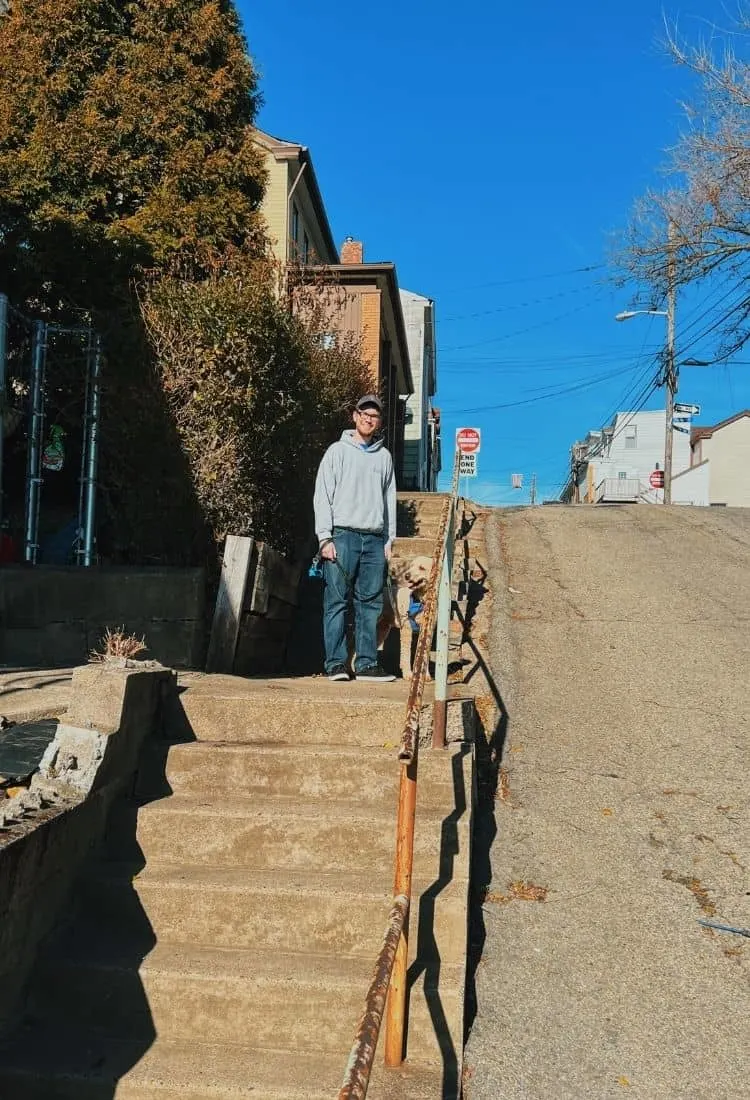 Arlington Heights
At the top of Arlington Ave there are large, fenced-off fields on both sides of the road. From my understanding, this is where some torn down public housing buildings used to be. At the moment, it almost looks like a scene out of a dystopian movie like the Hunger Games.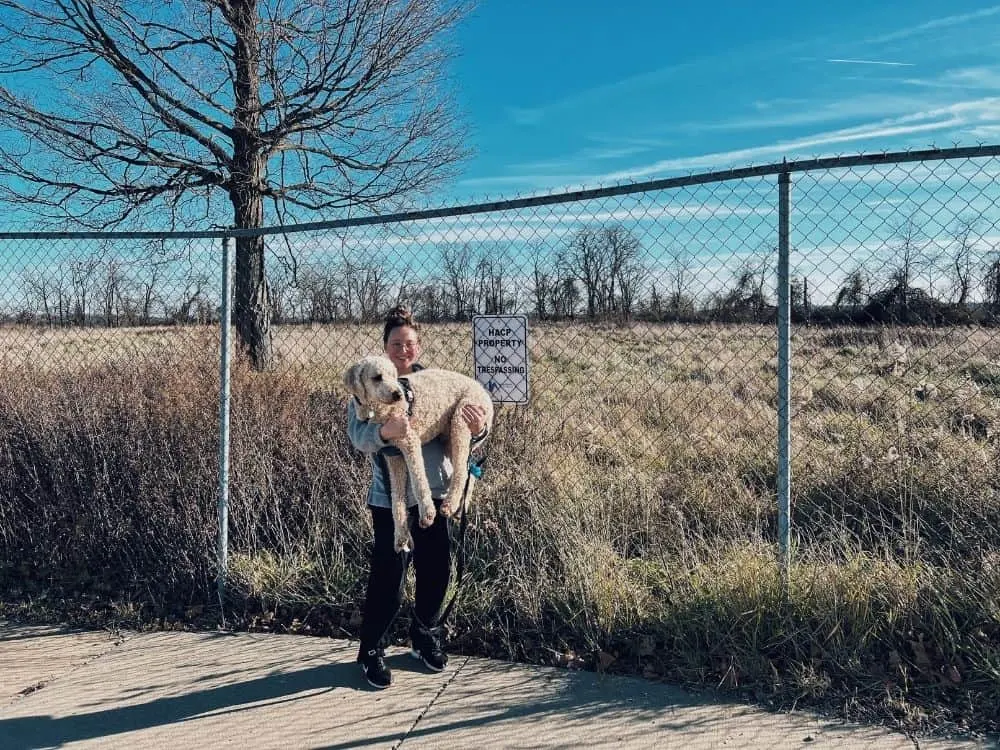 Banksville
This neighborhood had many cute, quiet residential streets like this one. It's one of the handful of neighborhoods we could envision ourselves moving to in the future.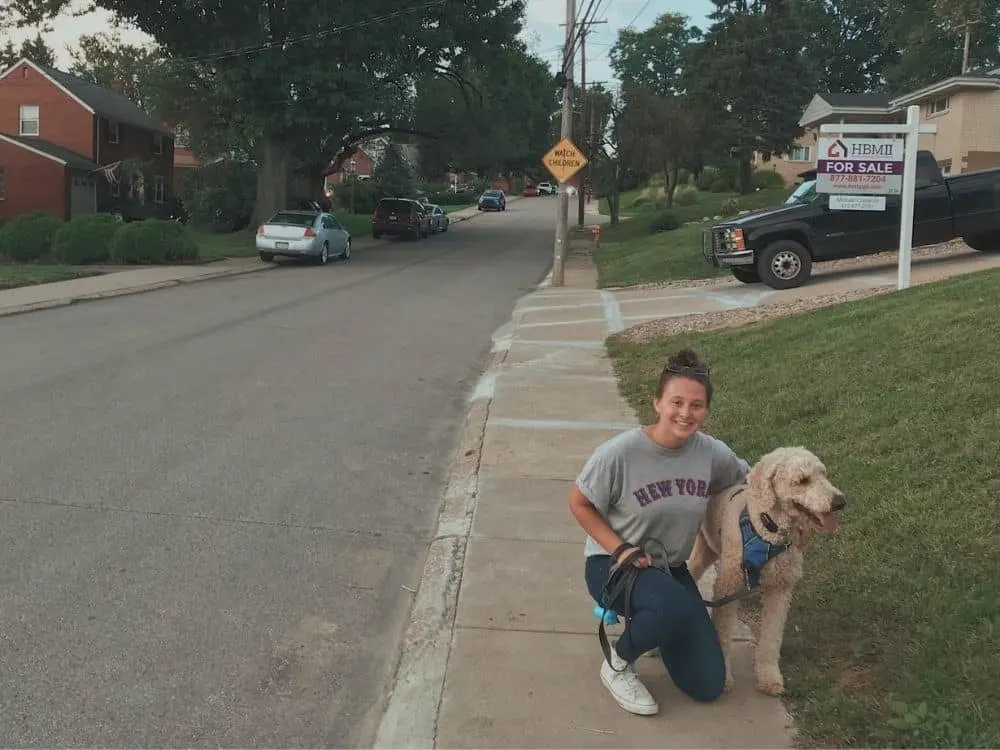 Bedford Dwellings
We were disappointed by this "Garden of Hope" which appears to just be overgrown shrubbery surrounded by a locked fence. 👎🏻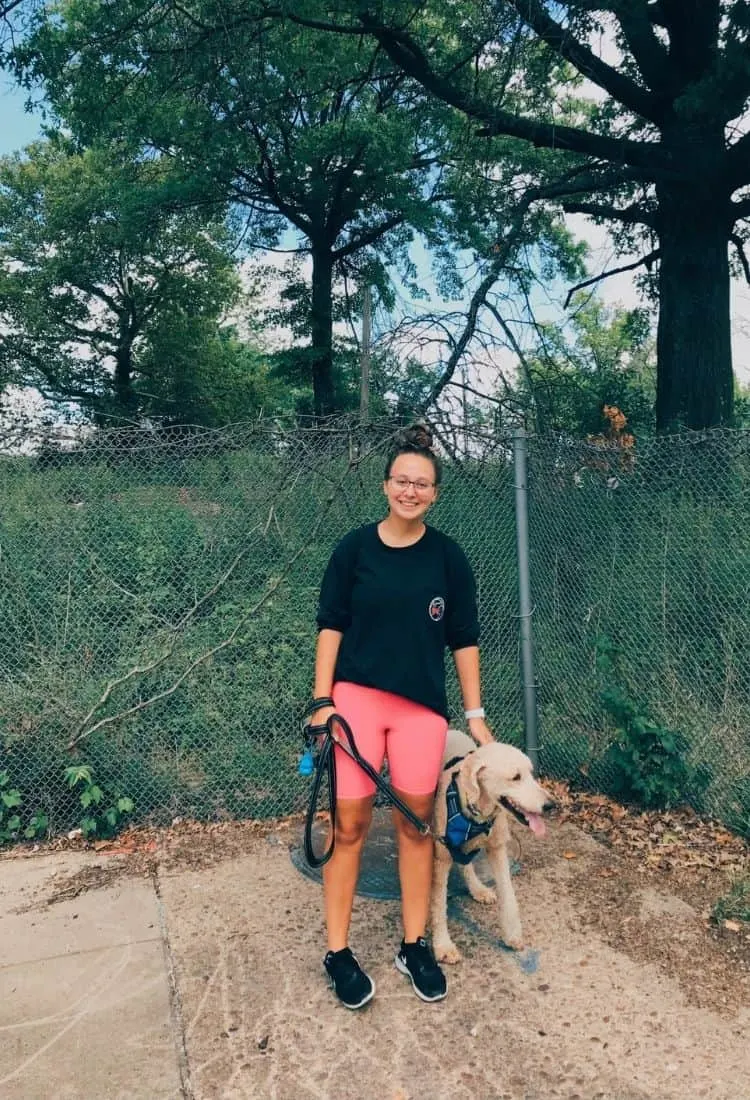 Beechview
This neighborhood is home to Canton Ave., which is claimed to be the steepest street in the United States. Though upon researching this fact, it appears to be second place now.
Unfortunately, we didn't get to see this record-setting street at all thanks to quite a few irresponsible dog owners who were letting their dogs wander unattended in the street. We didn't want to take the chance that they'd be unfriendly so we instead took a photo with a much less interesting abandoned house.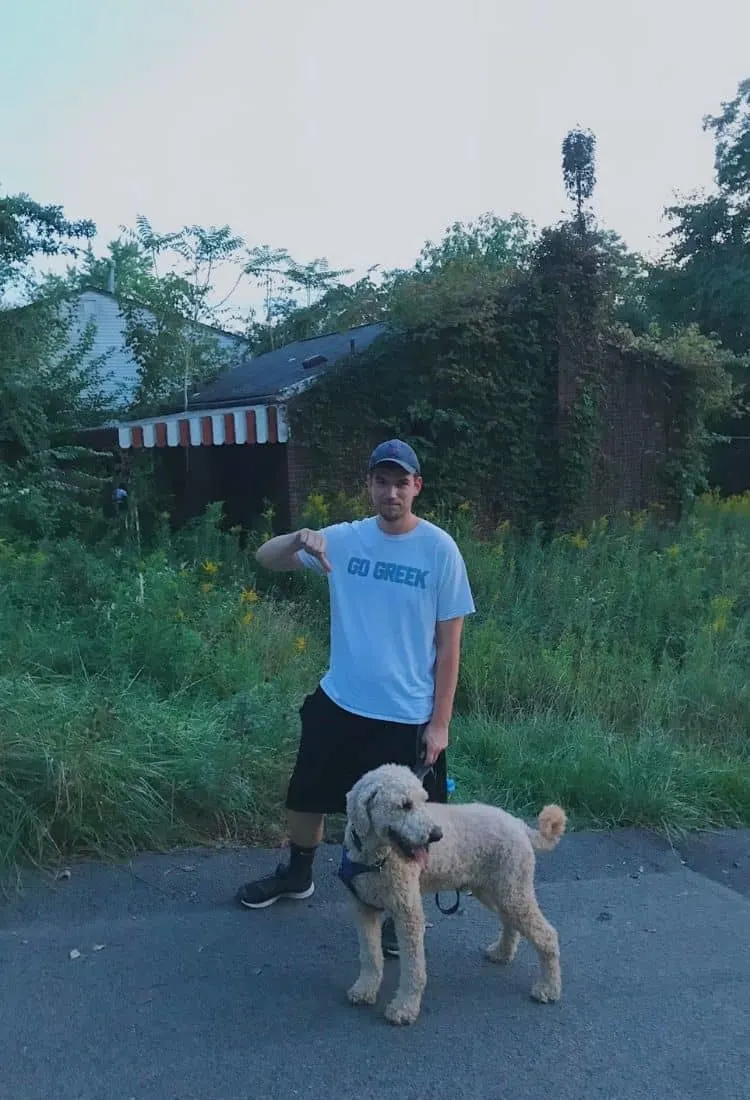 On the bright side, Erica found a little park with a wobbling Dinosaur she felt the need to ride. 😂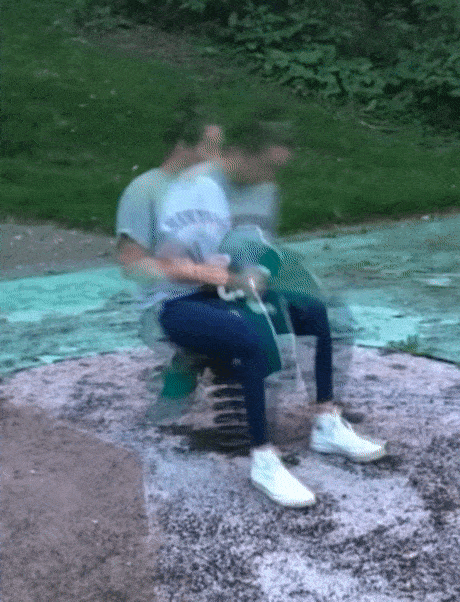 Beltzhoover
Yes, we found this street sign funny. Yes, we're immature children. 🙈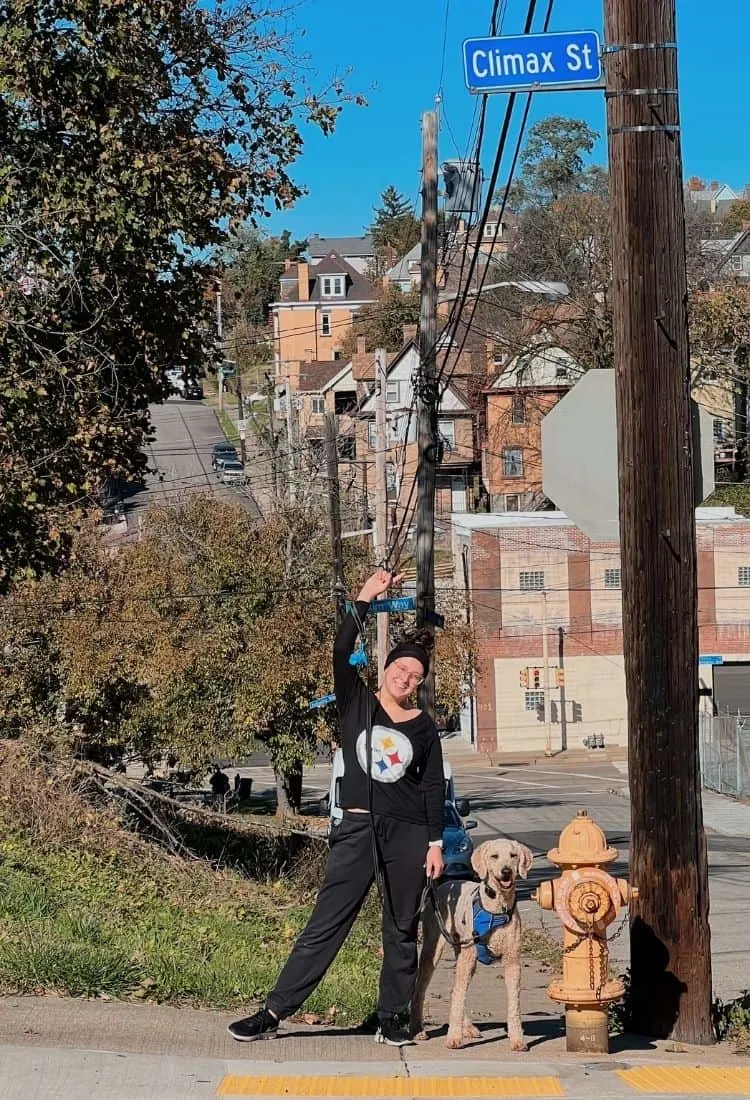 Bloomfield
We stumbled upon one tree in this neighborhood which has dozens of brightly colored bird houses hanging from it. We thought this was a great idea and that it added a really fun touch to the neighborhood.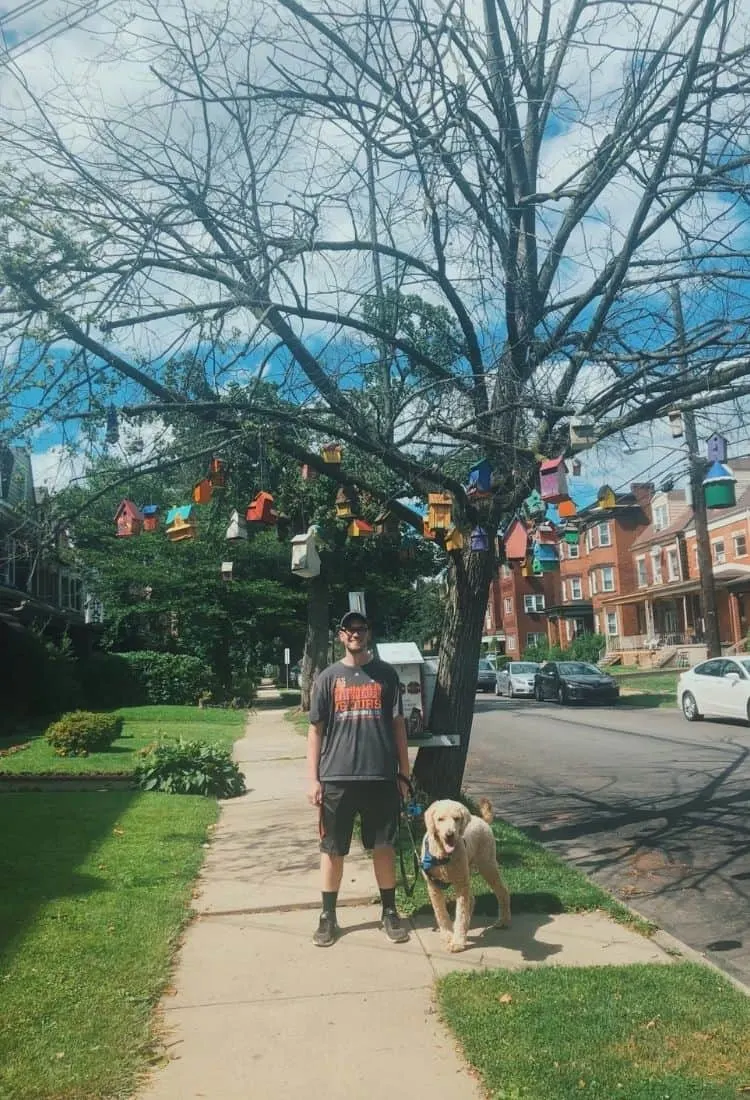 Elsewhere in Bloomfield, we saw a stark warning sign as to the dangers of tomatoes. Not sure what this is about, but it made for some fun conversation!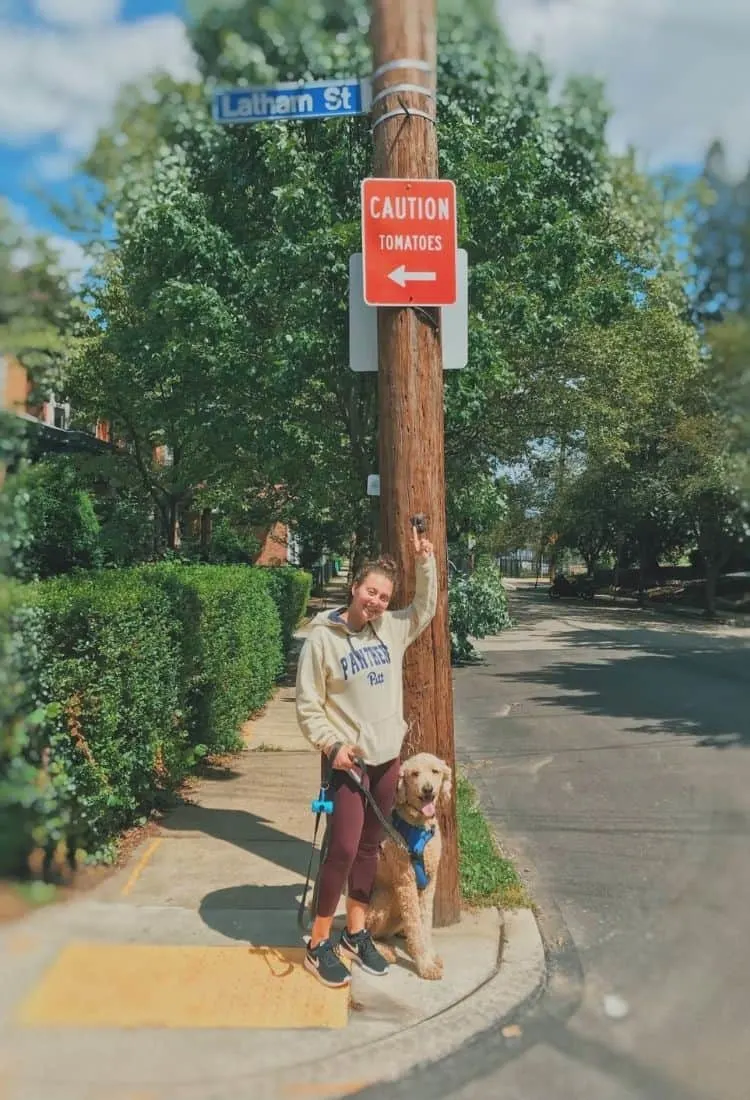 Bluff (Uptown)
We stopped at the campus of UPMC Mercy Hospital where Erica used to work.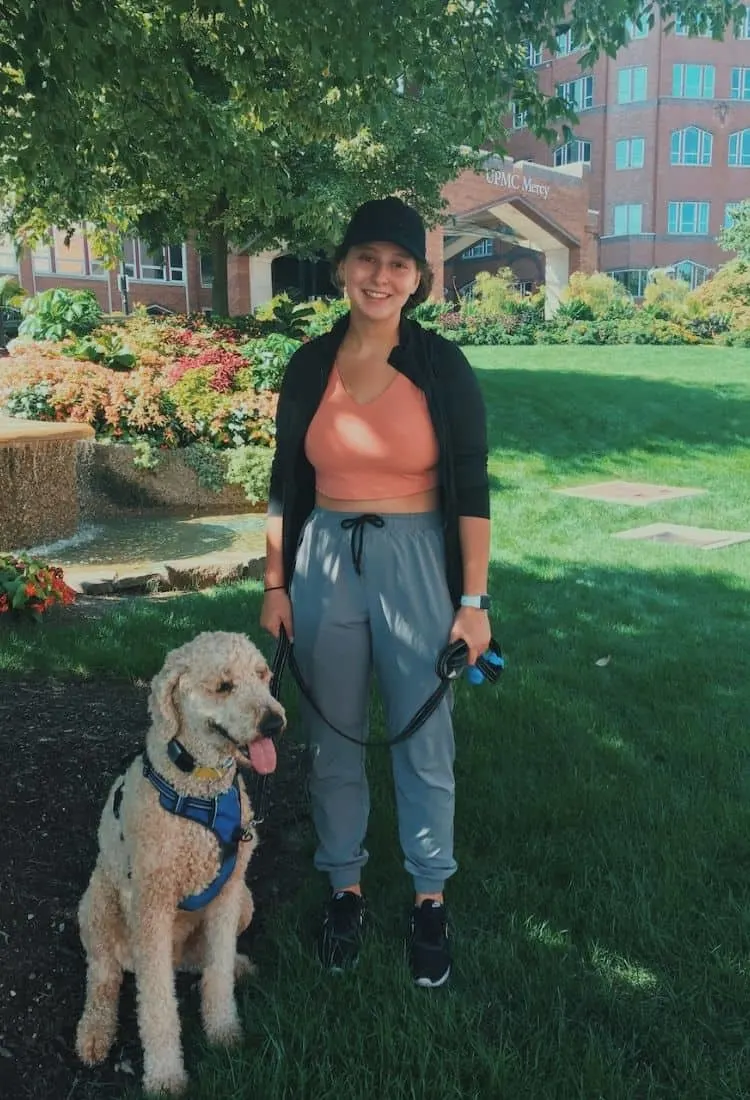 Bon Air
This neighborhood was interesting because it was small but it had a very different, more suburban feel than the neighborhoods surrounding it. There was a stark difference in the span of just a block.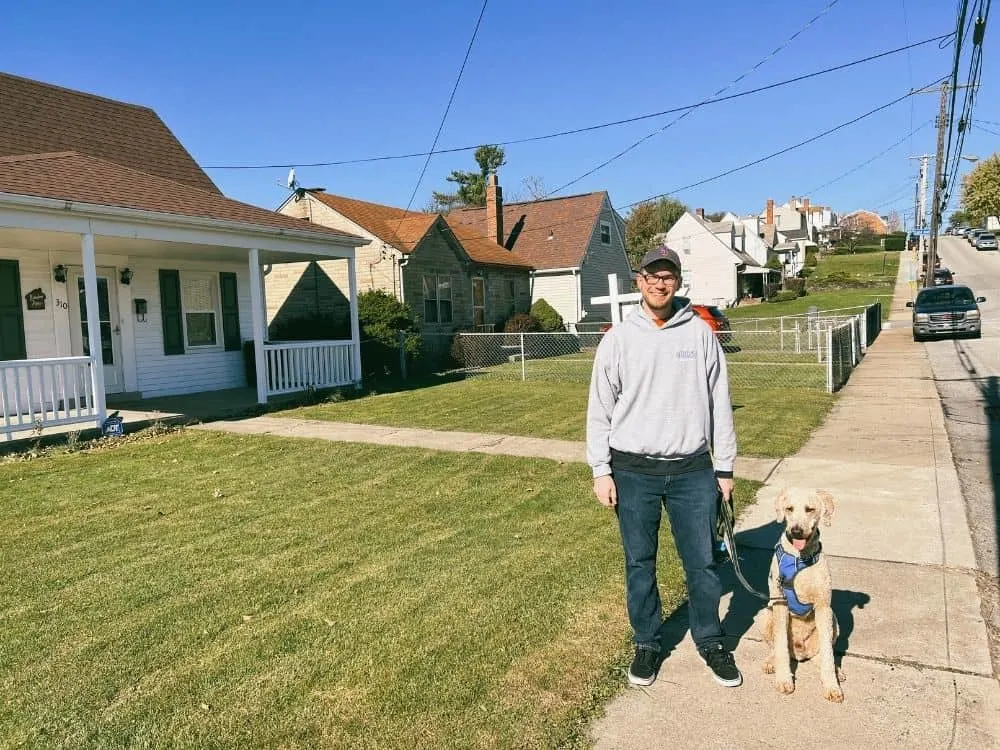 Brighton Heights
We loved this house's Halloween decorations, but we have no idea why a statue of a pig was included! 😂
Brookline
Perhaps our favorite spot in all of Pittsburgh…Fiori's Pizza. 🍕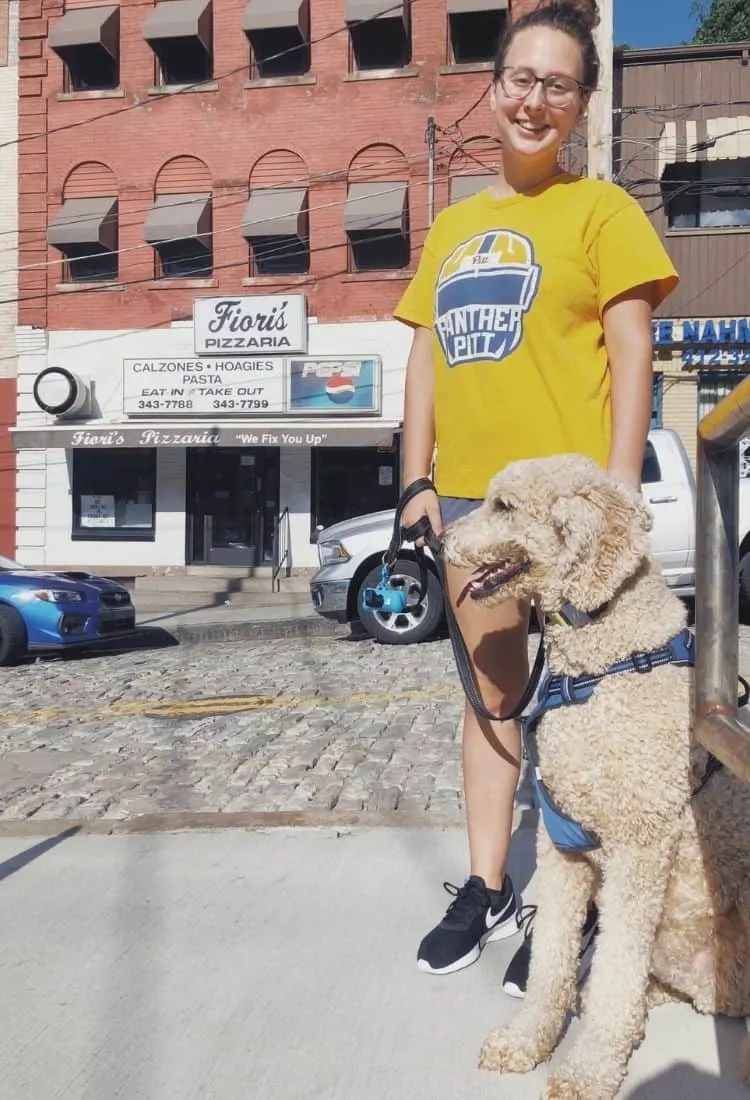 California Kirkbride
This was an interesting, well-done mural on the side of one of the buildings in California Kirkbride. While this one isn't included on the list, you can find some other murals scattered across the city on this map.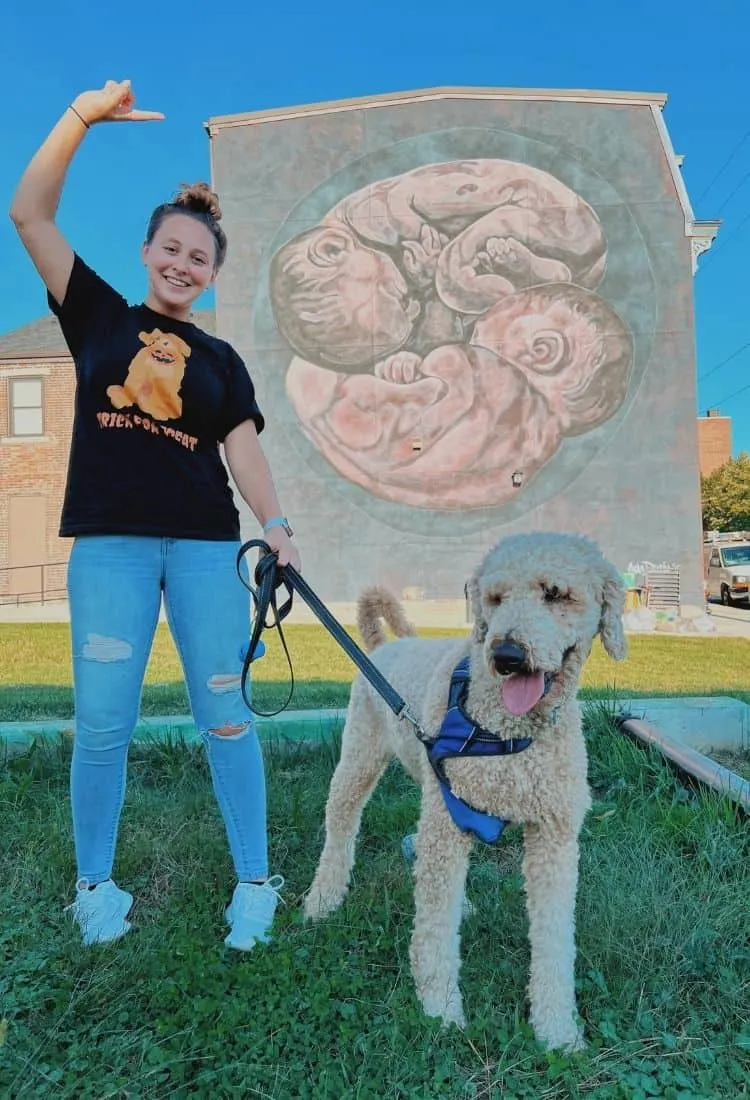 Carrick
With the hilly landscape of Pittsburgh, you get lots of great views from many parts of the city. We stopped at this intersection in Carrick to appreciate this one.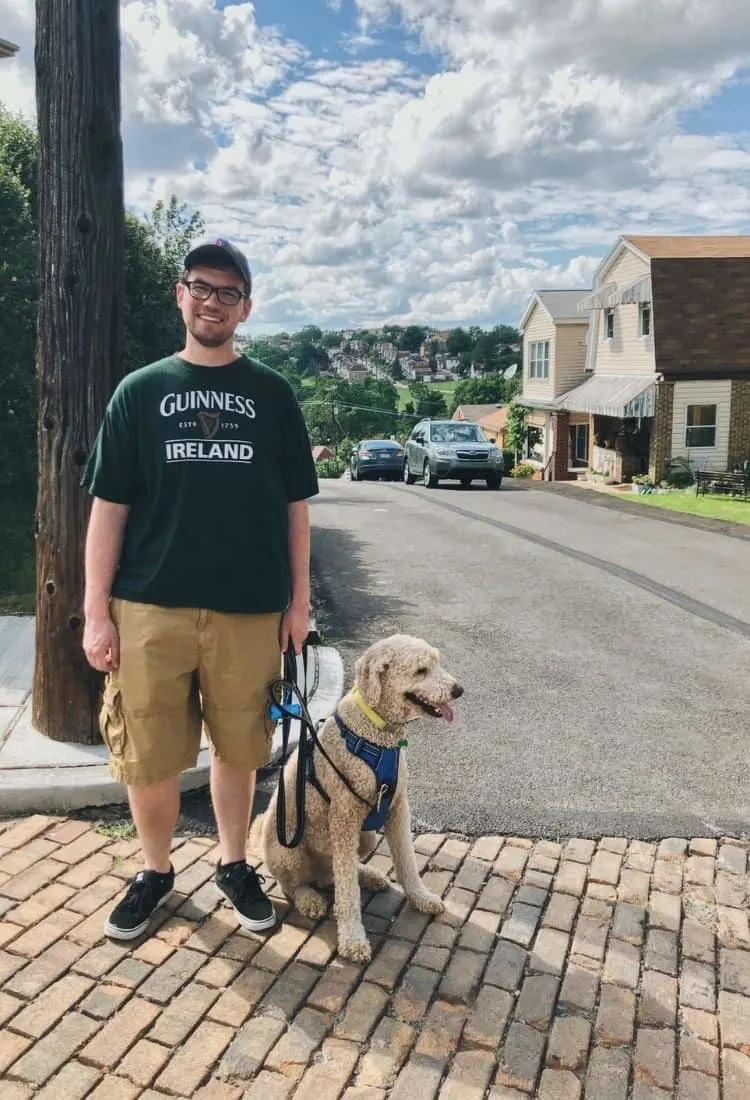 Central Lawrenceville
We stopped at Geppetto Cafe in Central Lawrenceville, one of our favorite brunch spots in the city. They have fantastic crepes and paninis!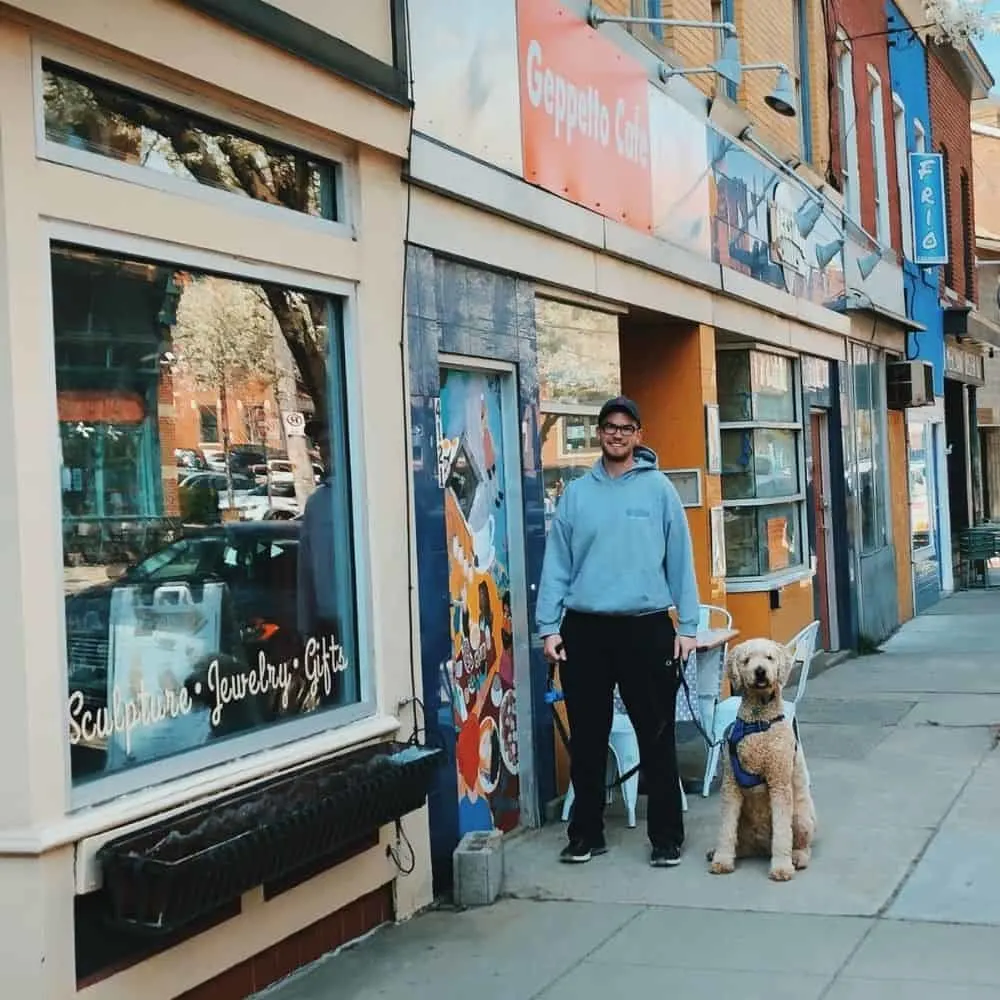 Central North Side
The iconic and colorful Randyland. 🌈 We even saw Randy himself walking down the street.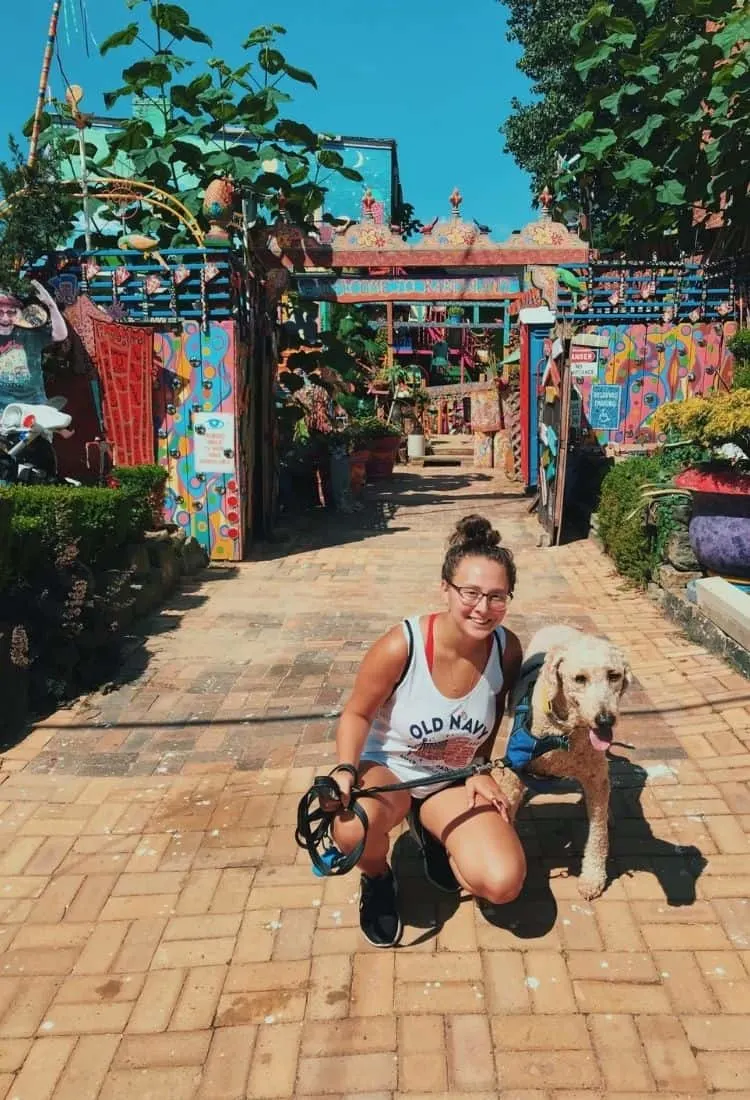 Central Oakland
The unique but not-so-visually-appealing Litchfield Towers at the University of Pittsburgh. Because who wouldn't want to live in a pie-shaped dorm room?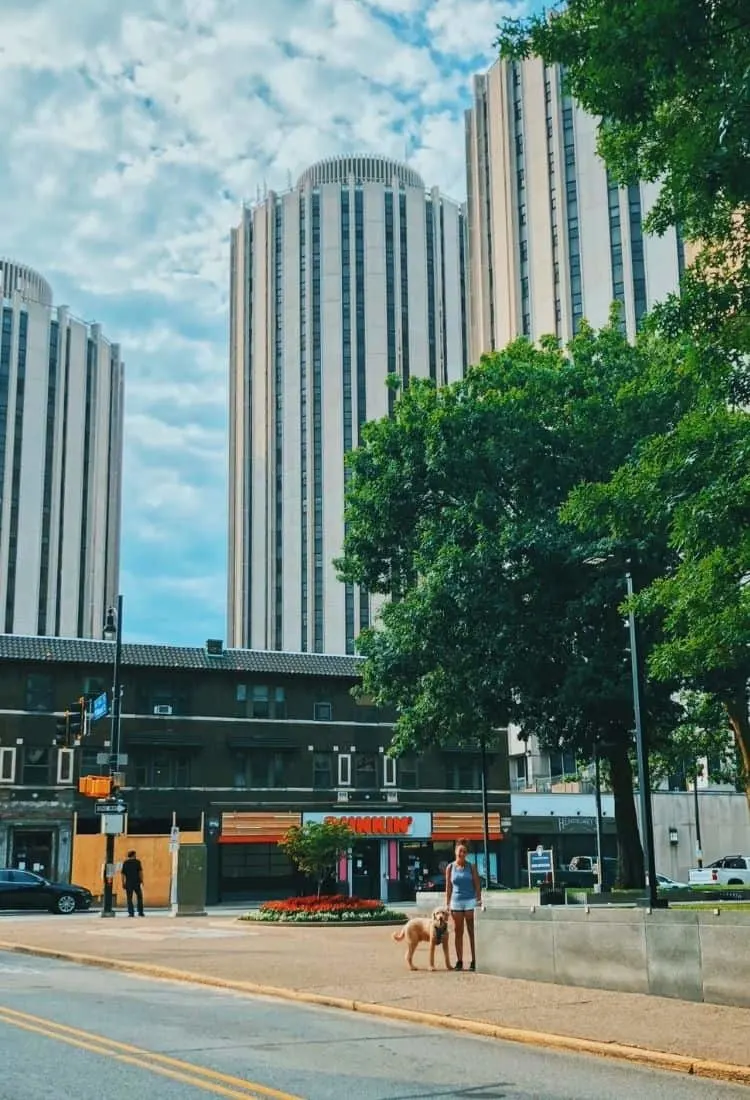 Chartiers City
Here's Chewie posing with a big anchor located outside White Lily Baptist Church. Apparently the pulpit inside the church looks like the bow of a ship which is pretty neat!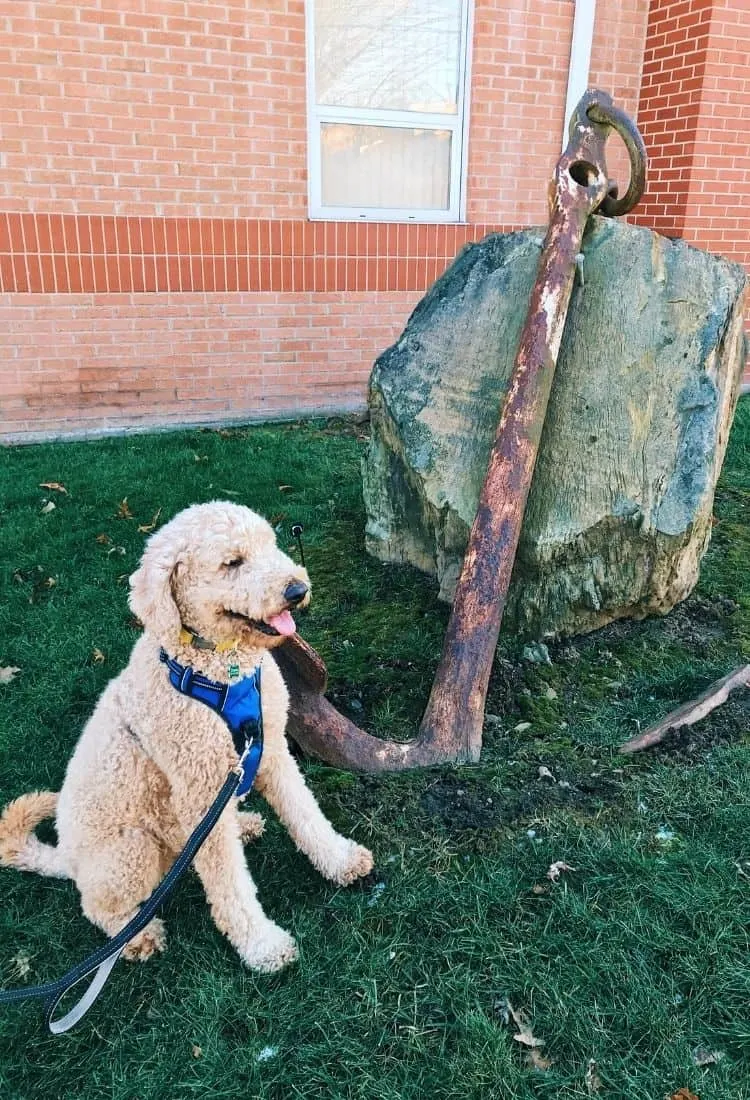 Chateau
The USS Requin Submarine parked in the Ohio River outside the Carnegie Science Center.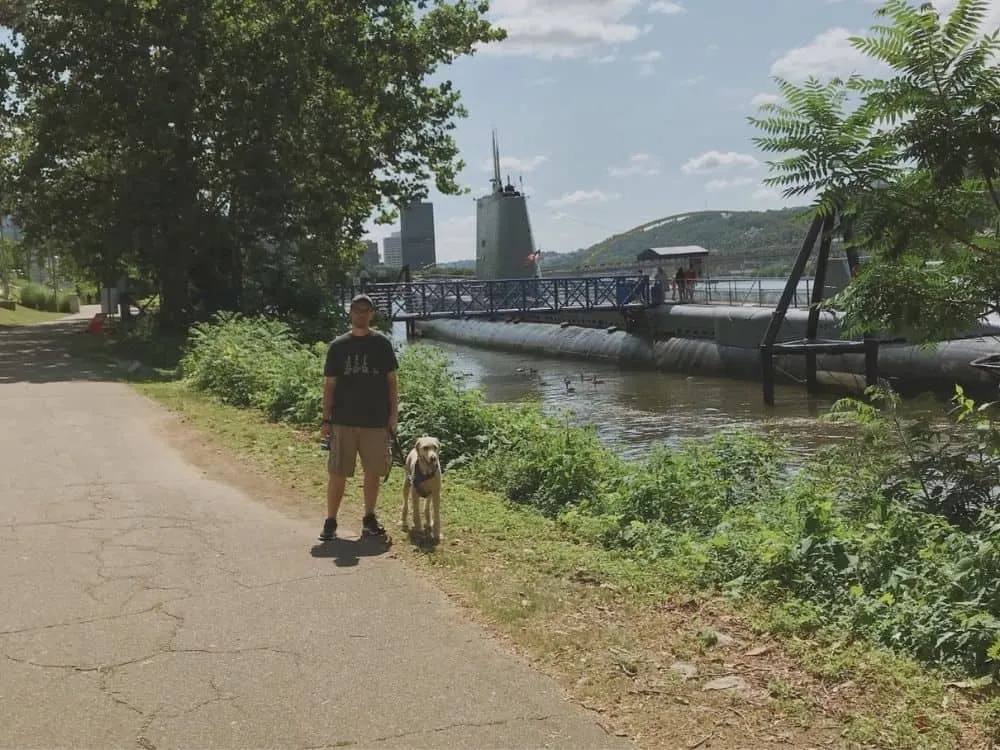 Crafton Heights
From our brief time here, Crafton Heights seems like an underrated, residential neighborhood that's pretty cute and quiet.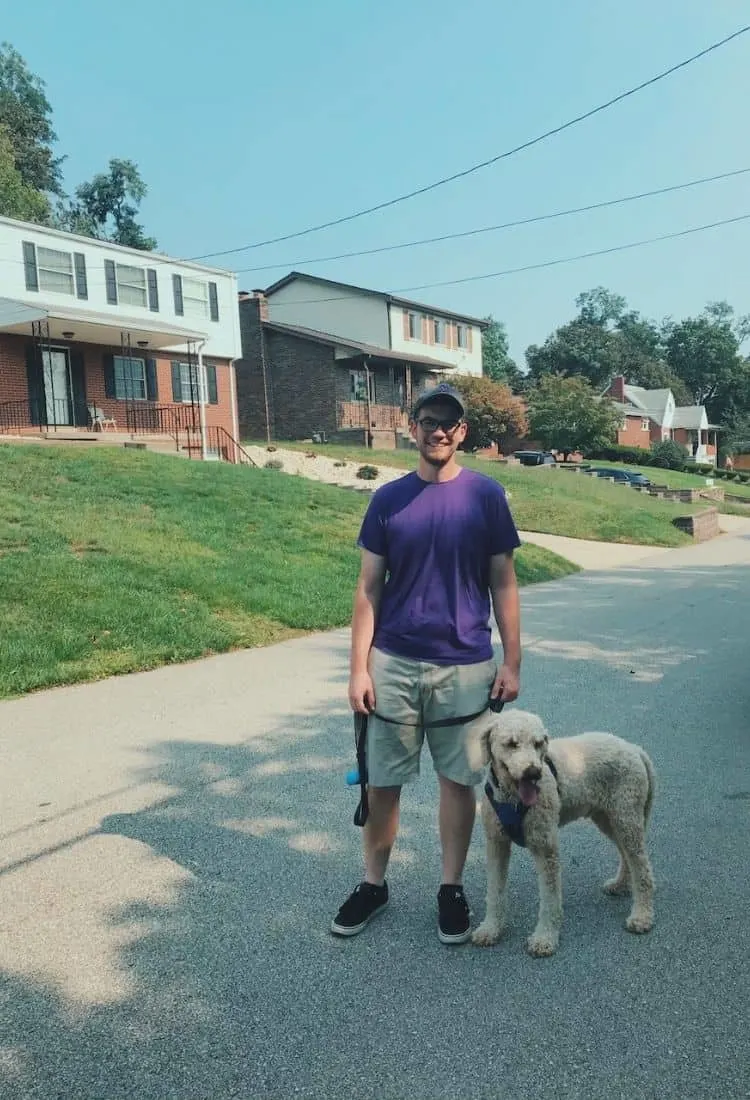 Crawford-Roberts
While a lot of the neighborhoods in this area get a bad rap, on some of the streets like this one in Crawford-Roberts you'd have no idea that you were between the Hill District and Uptown. It's well taken care of and very pleasant.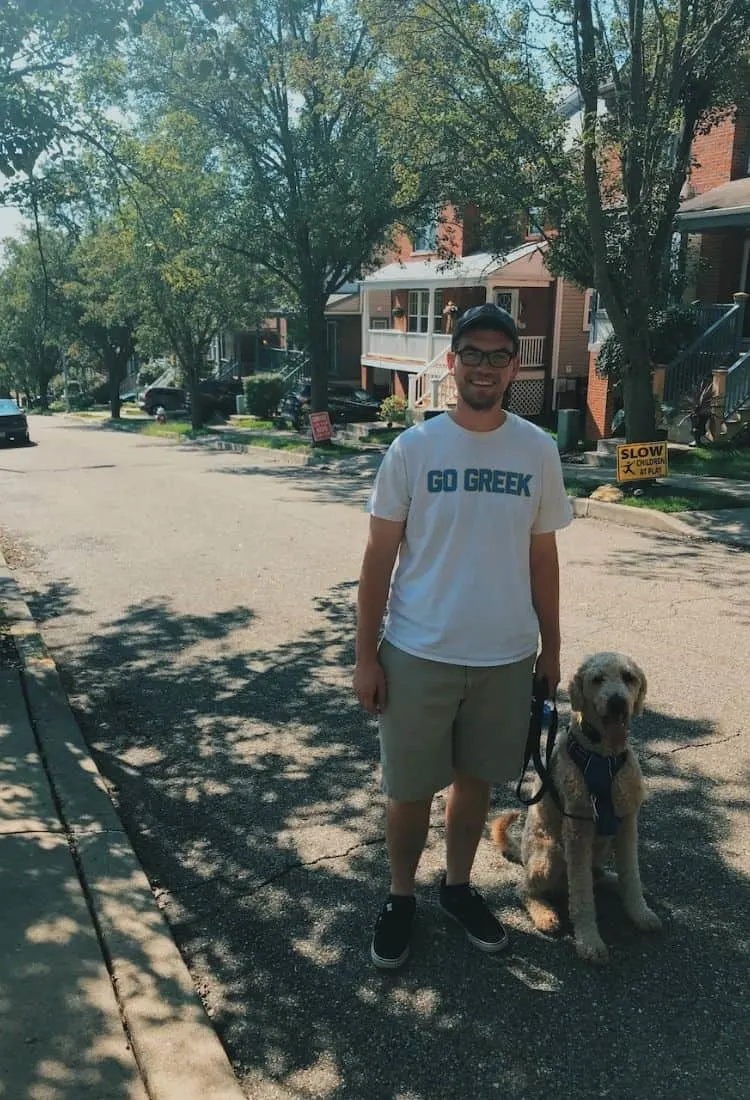 Downtown
PPG Paints Arena, home of the Pittsburgh Penguins hockey team. Since I've heard many people refer to this as part of Uptown, I was surprised to learn that it's within Downtown's boundaries.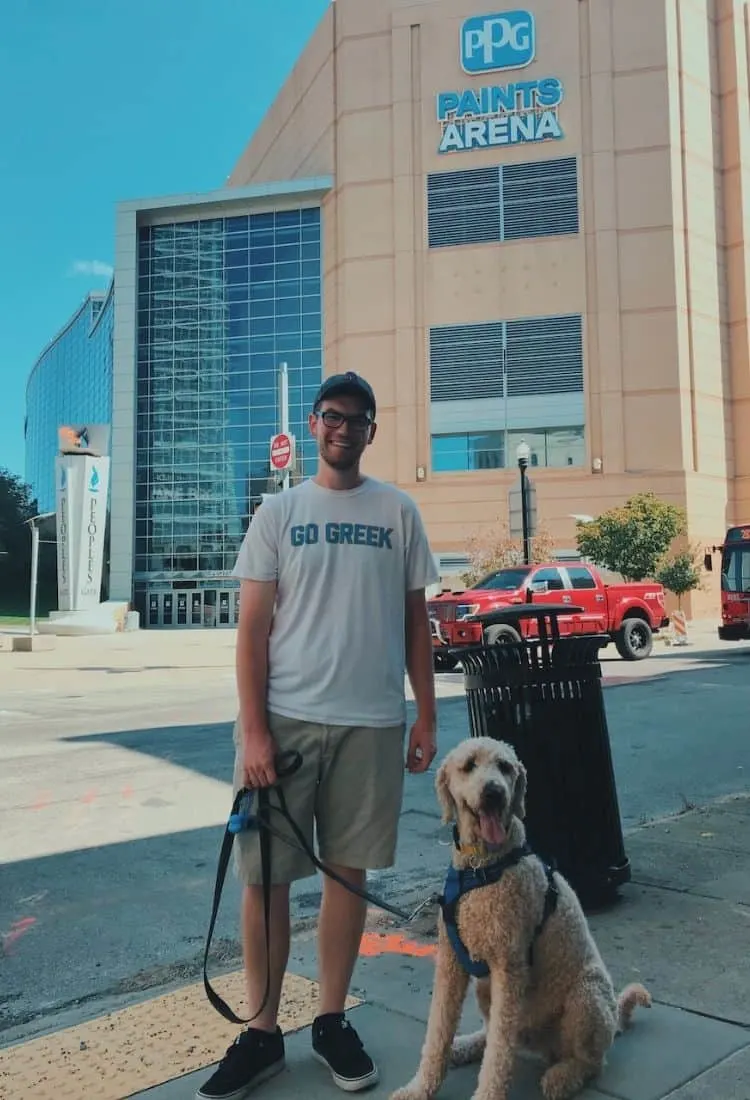 Duquesne Heights
The Duquesne Incline, one of Pittsburgh two iconic inclines.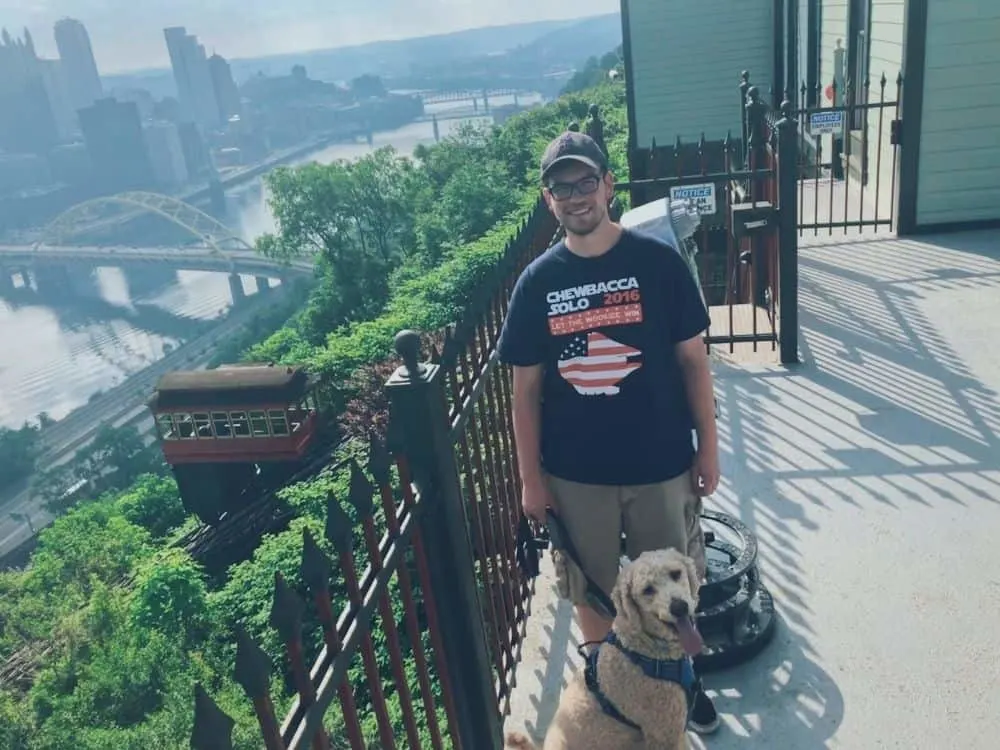 East Allegheny
The shops on E. Ohio St. are home to some quite interesting small businesses.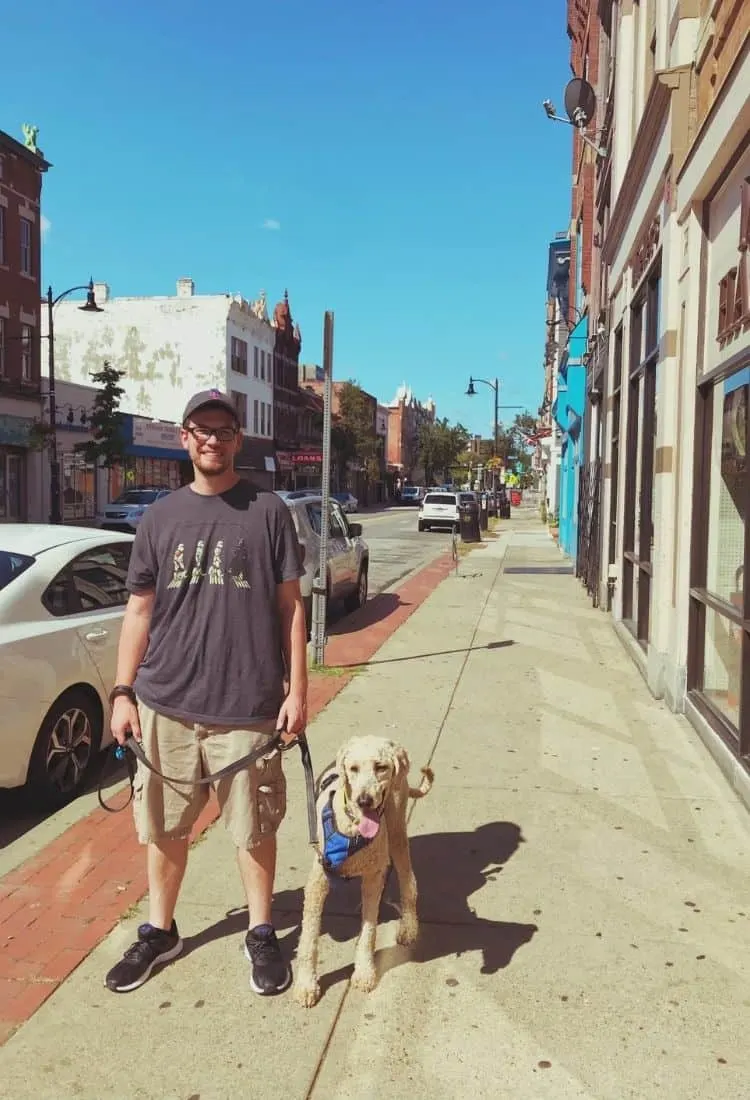 East Carnegie
Erica and Chewie in front of the Union Electric Steel plant.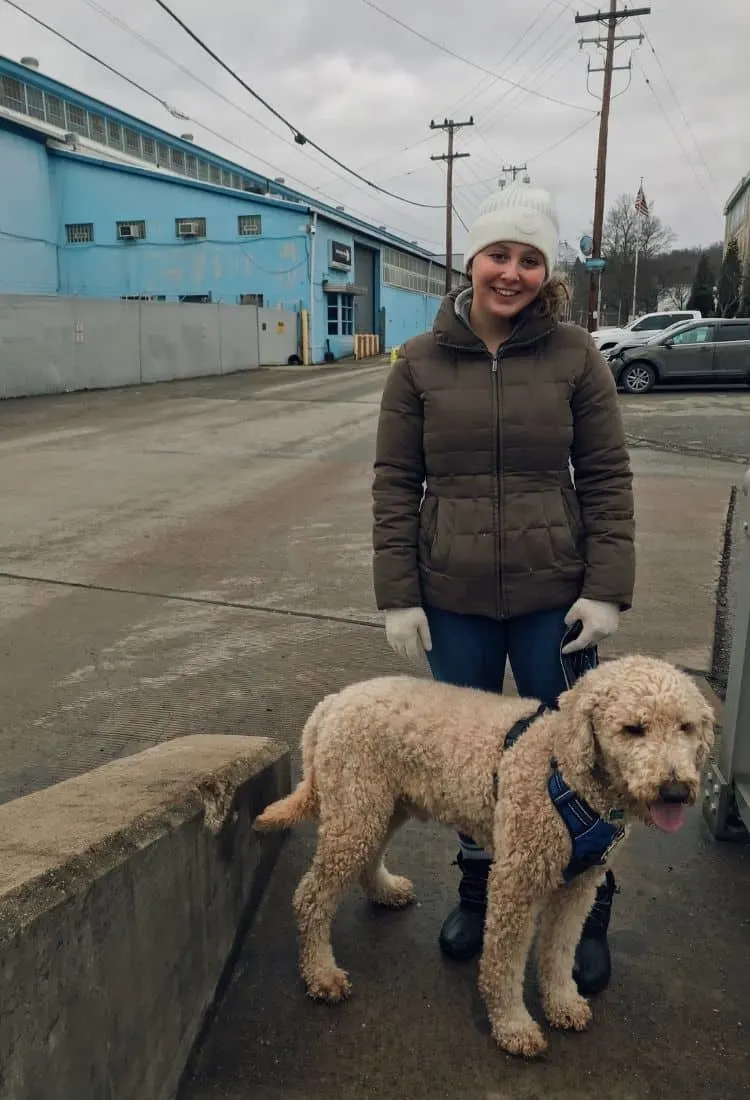 East Hills
Chewie and myself at the bottom of Dornbush St., the 8th steepest street in the United States.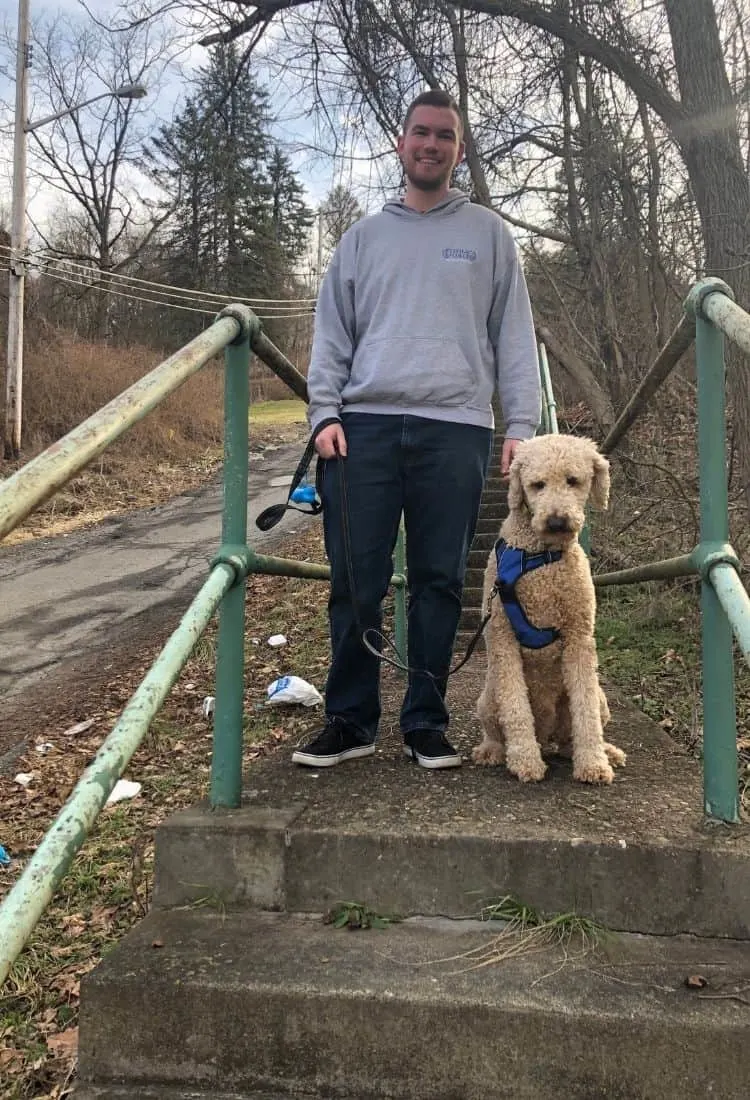 East Liberty
Dear Target, Chewie is waiting on a sponsorship deal!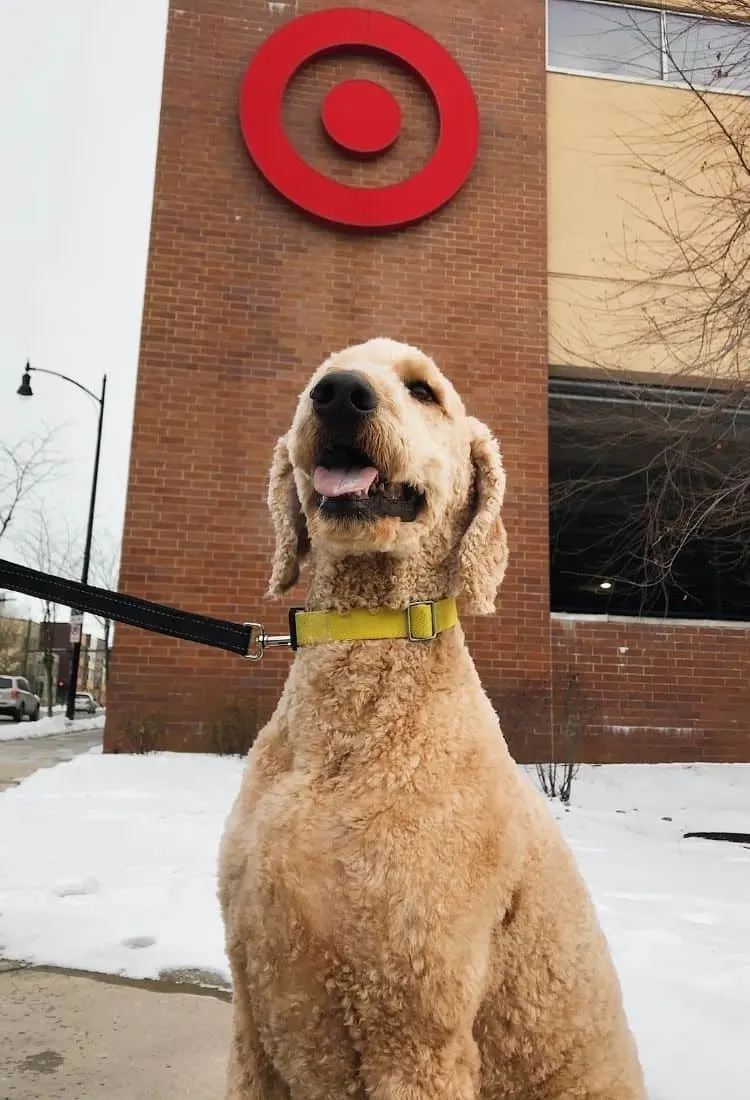 Elliott
Surprisingly, West End Overlook is not in West End, it's in Elliot! Regardless, we'd never been to this overlook before and were impressed. It's definitely an underrated view of the city skyline!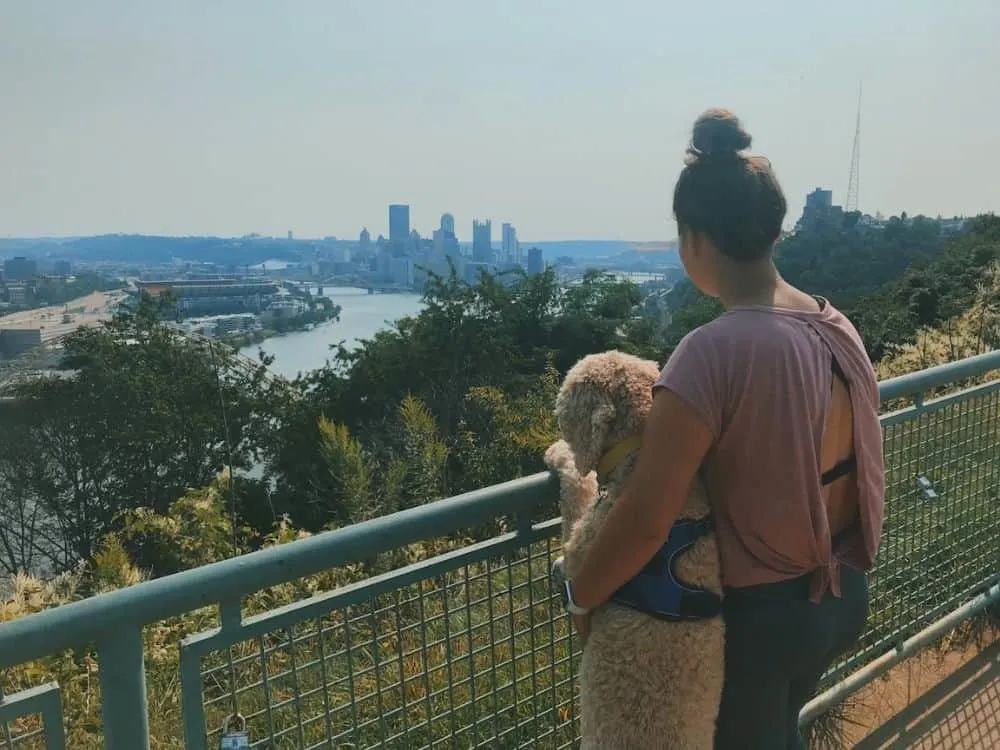 Esplen
While abandoned houses are often eyesores, this one was particularly interesting in the way it was starting to become "reclaimed" by nature.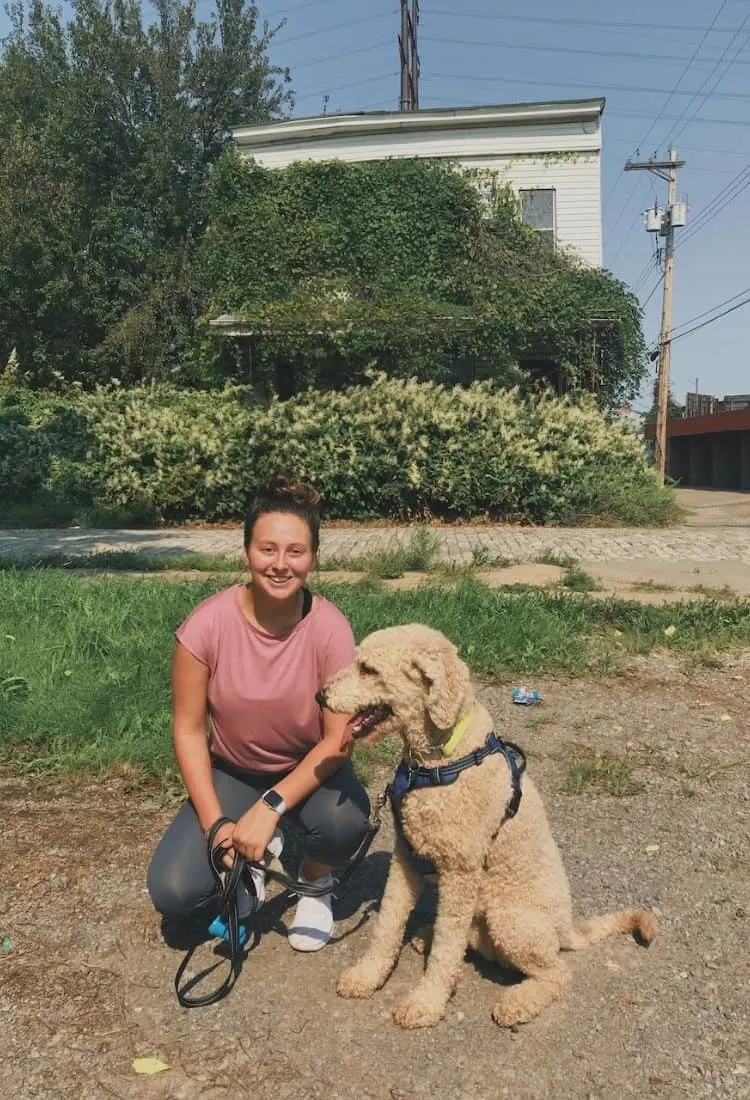 Fairywood
While unassuming, this was a cool "hidden" find in the Fairywood neighborhood! From my understanding, this is part of an abandoned "ghost highway" which was started in the 1960s and never completed.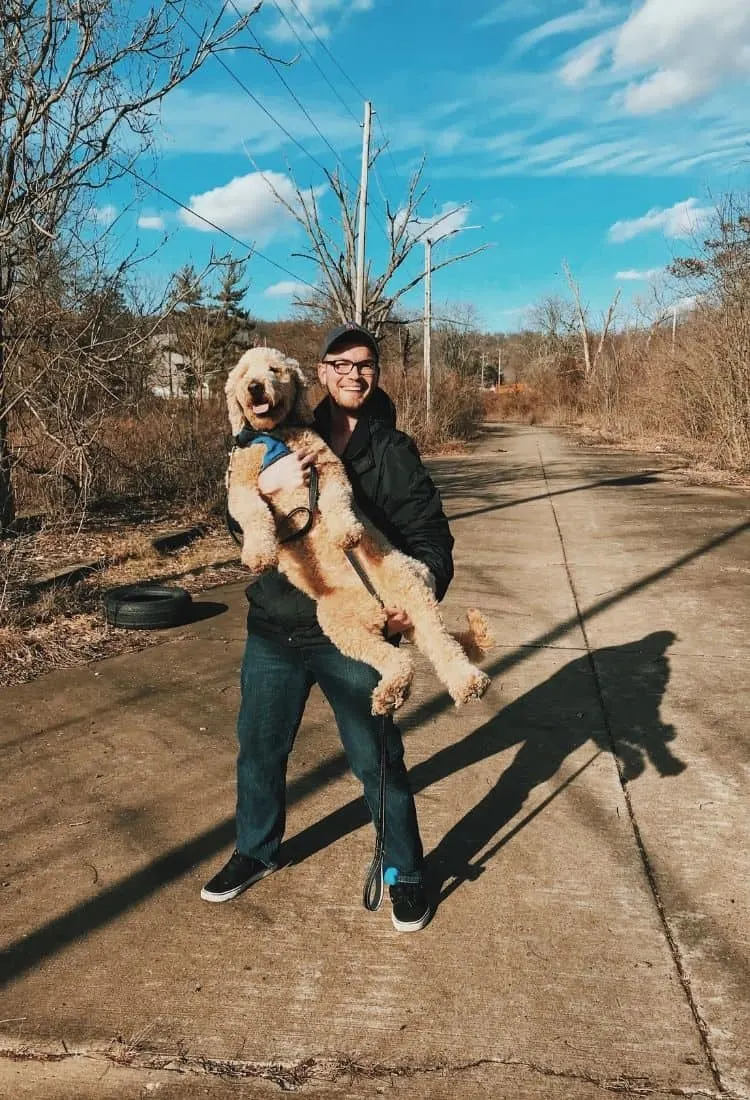 Fineview
As the name would suggest, this neighborhood provides great views of the Downtown skyline!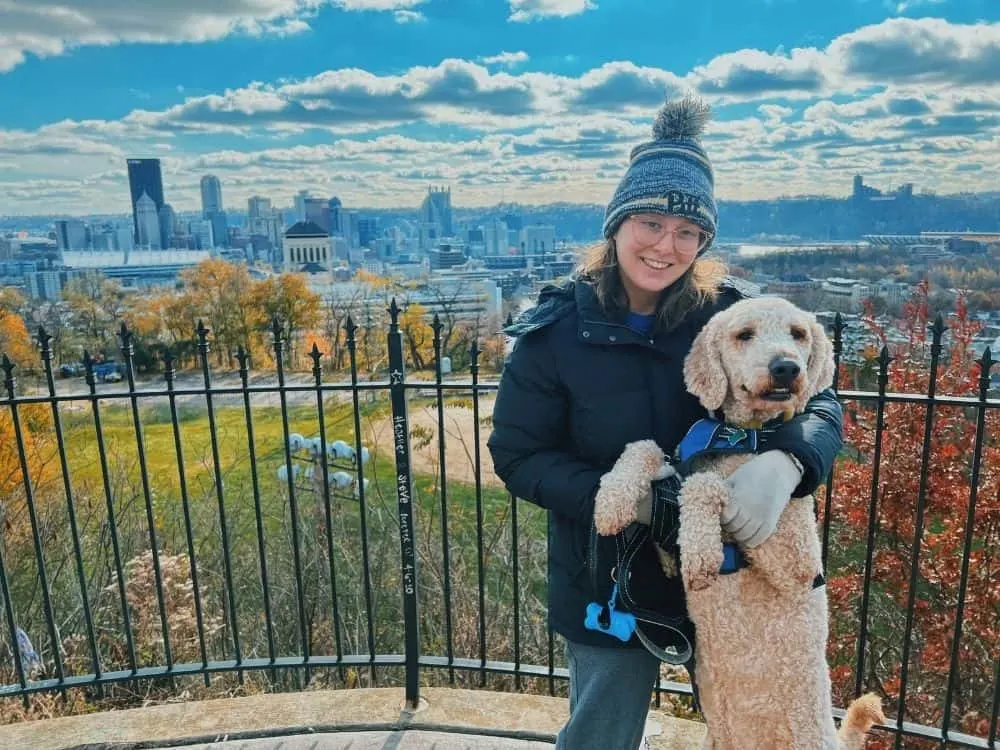 There was also a really great park in this neighborhood which had fitness equipment, sports courts, and lots of playground equipment, including this fun basket swing!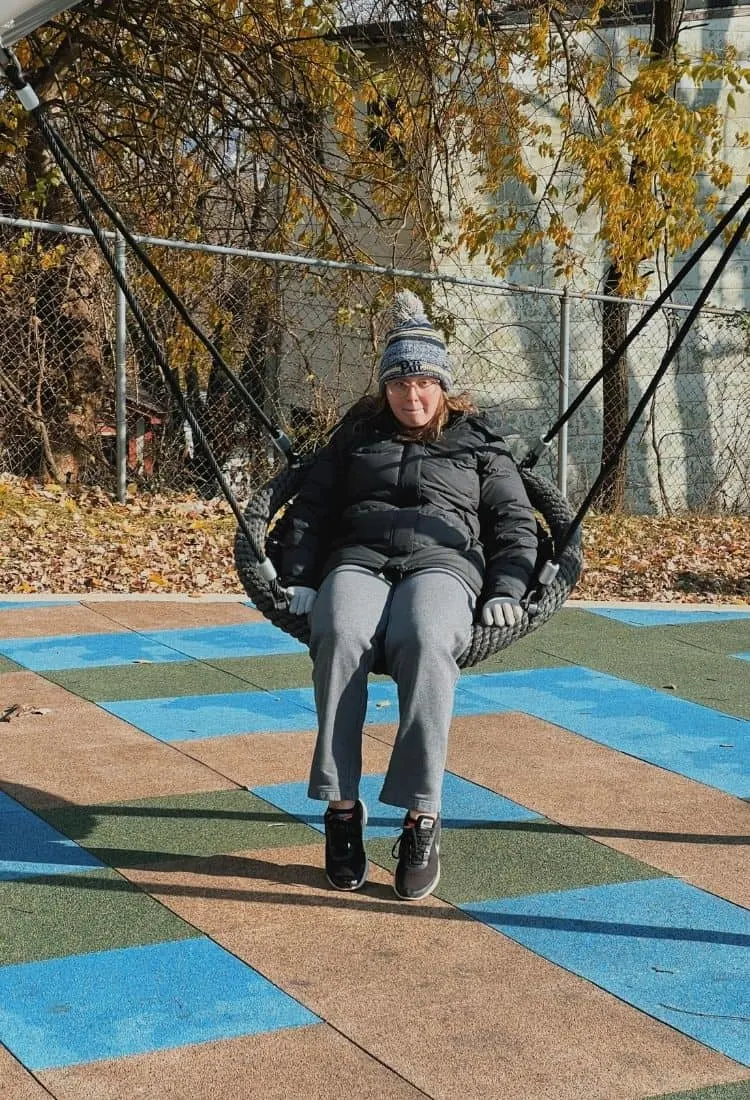 Friendship
Friendship had a ton of mini traffic circles which I haven't seen many of in Pittsburgh outside of this neighborhood.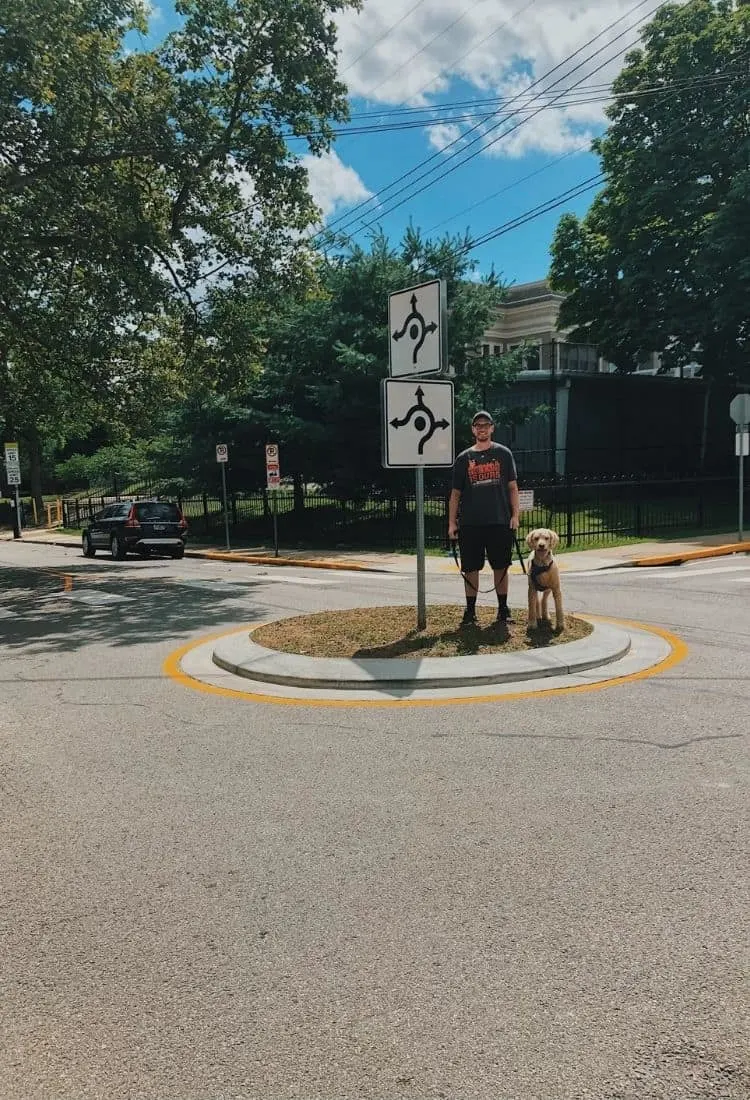 Garfield
After climbing this hill, we got a good view of the Cathedral of Learning off in the distance!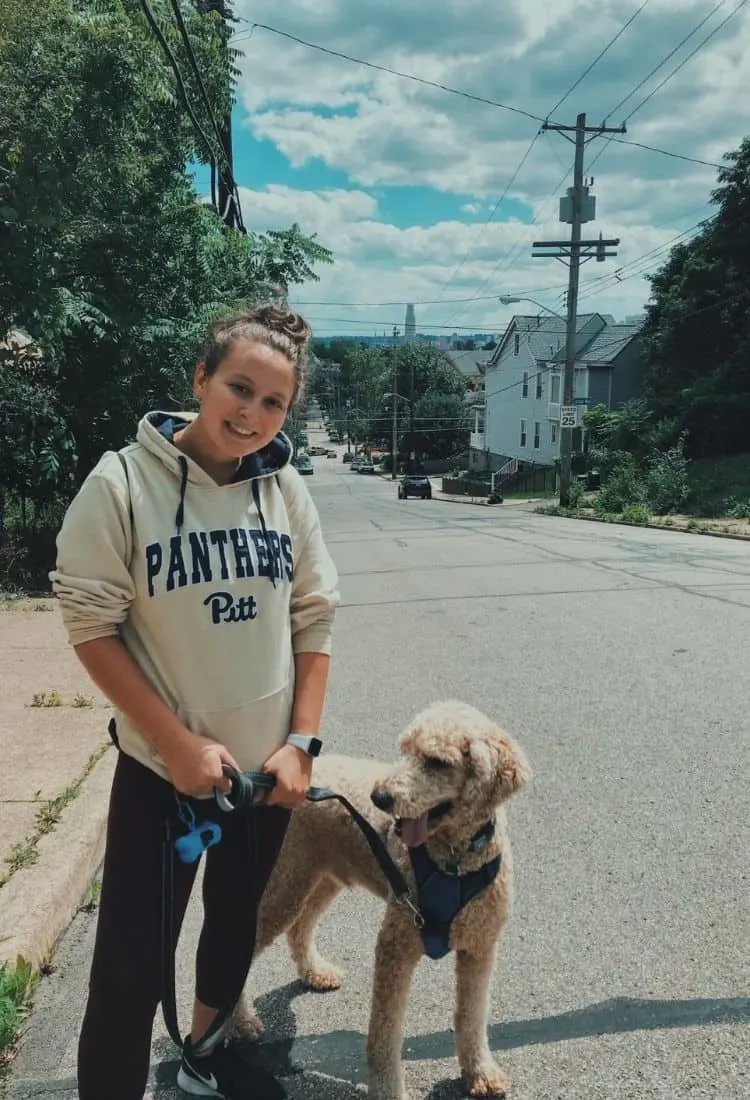 Glen Hazel
Erica and Chewie stopped for a break in the gazebo outside this apartment complex.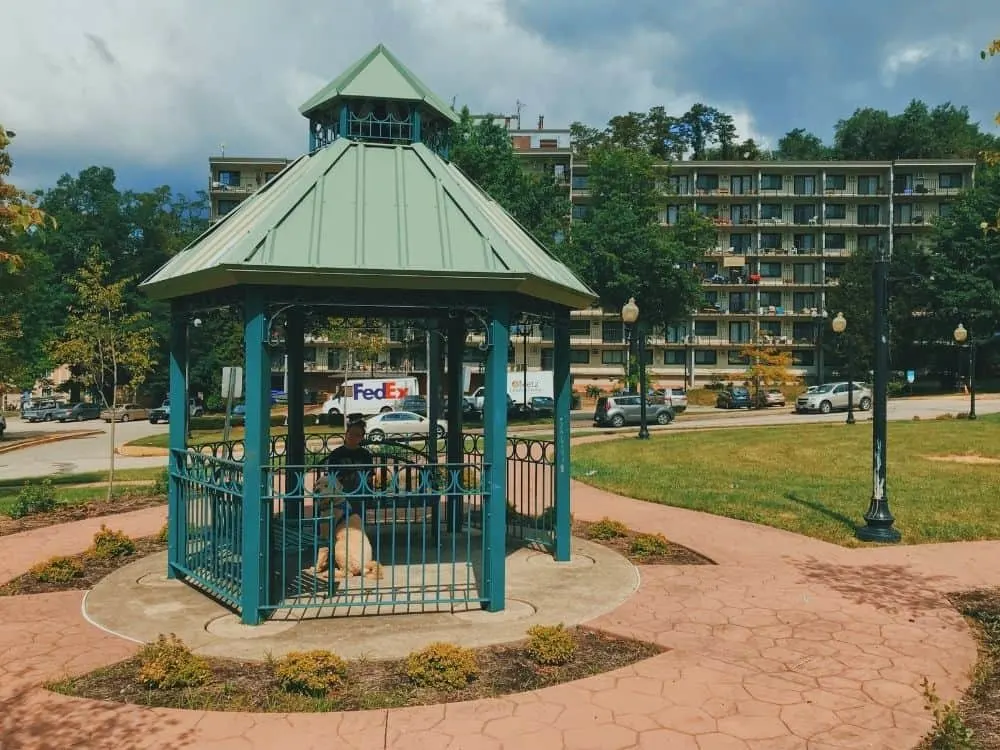 Greenfield
Chewie paid a visit to his veterinarian in Greenfield. He must've been pleasantly surprised when he didn't even have to go inside! 😂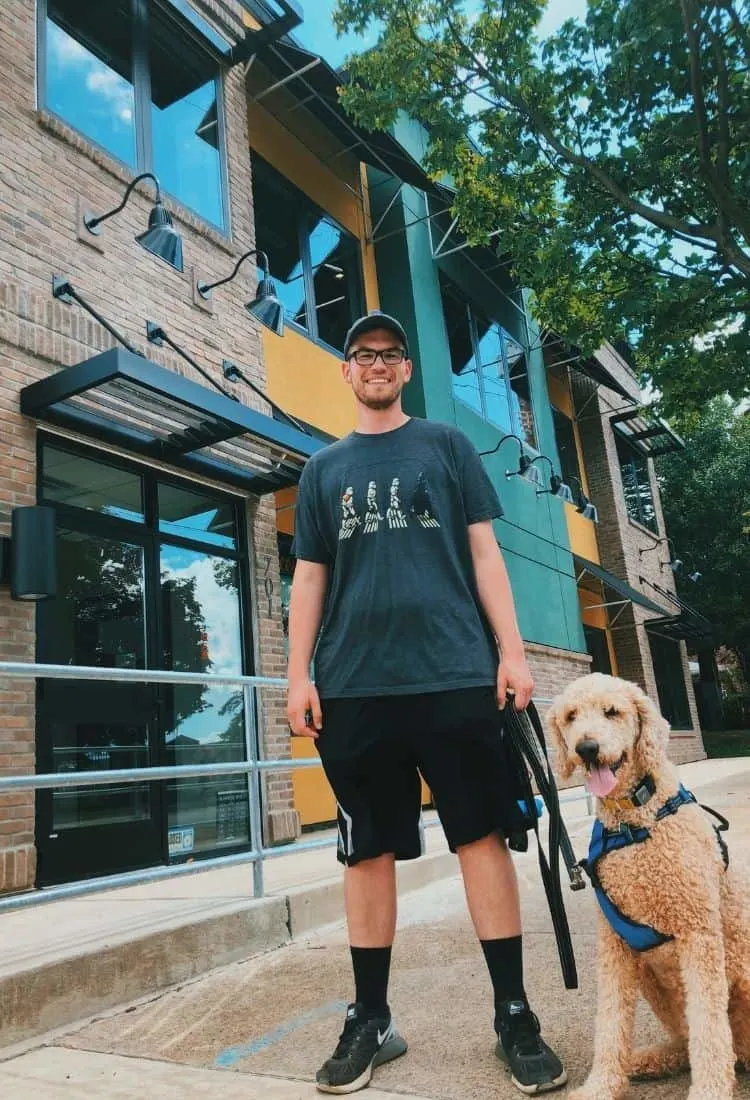 Hays
While there are a few residential streets, this neighborhood is mostly woods so we went for a little hike on one of the trails.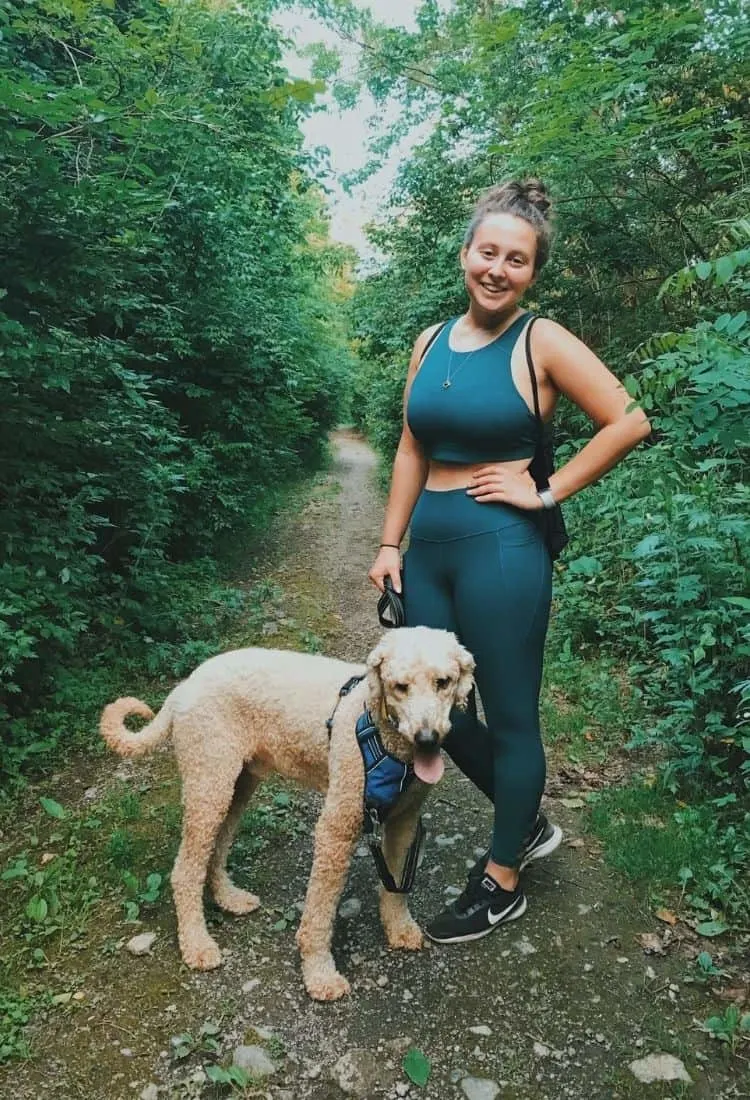 Hazelwood
I'm no real estate expert, but this is a neighborhood I could see really gaining some popularity in the future, with Second Ave being home to an assortment of little restaurants and shops.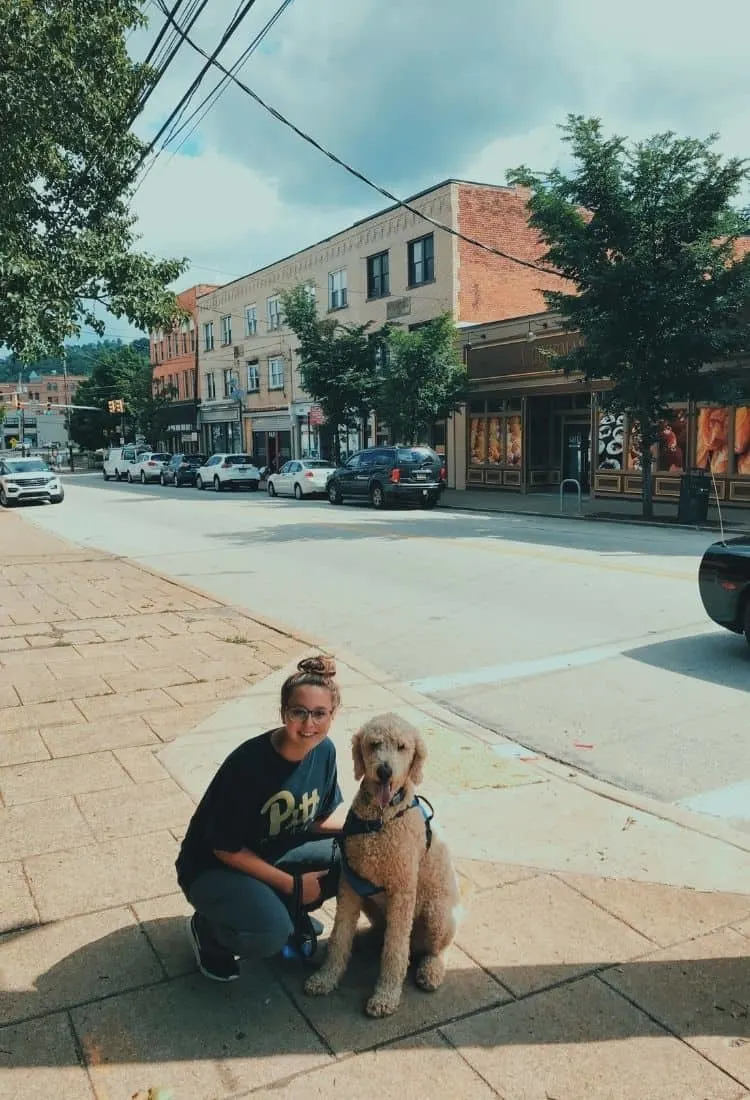 Highland Park
We explored the actual park of Highland Park, walking around the reservoir and on a few of the trails.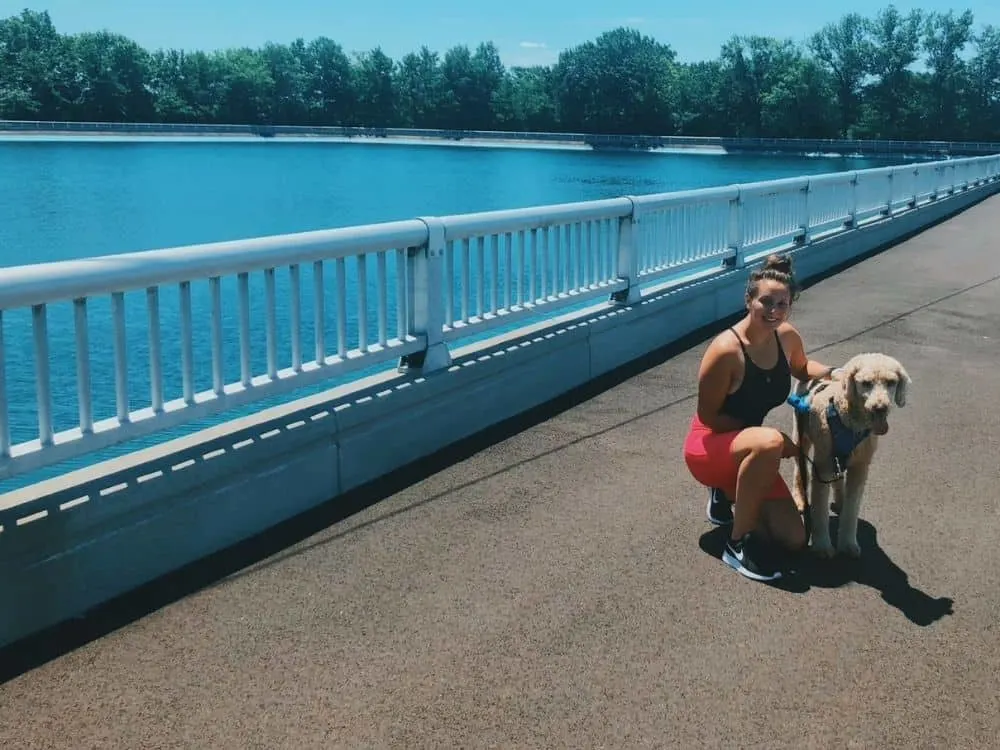 Here's a photo from Babbling Brook Trail which made for a quick, serene hike.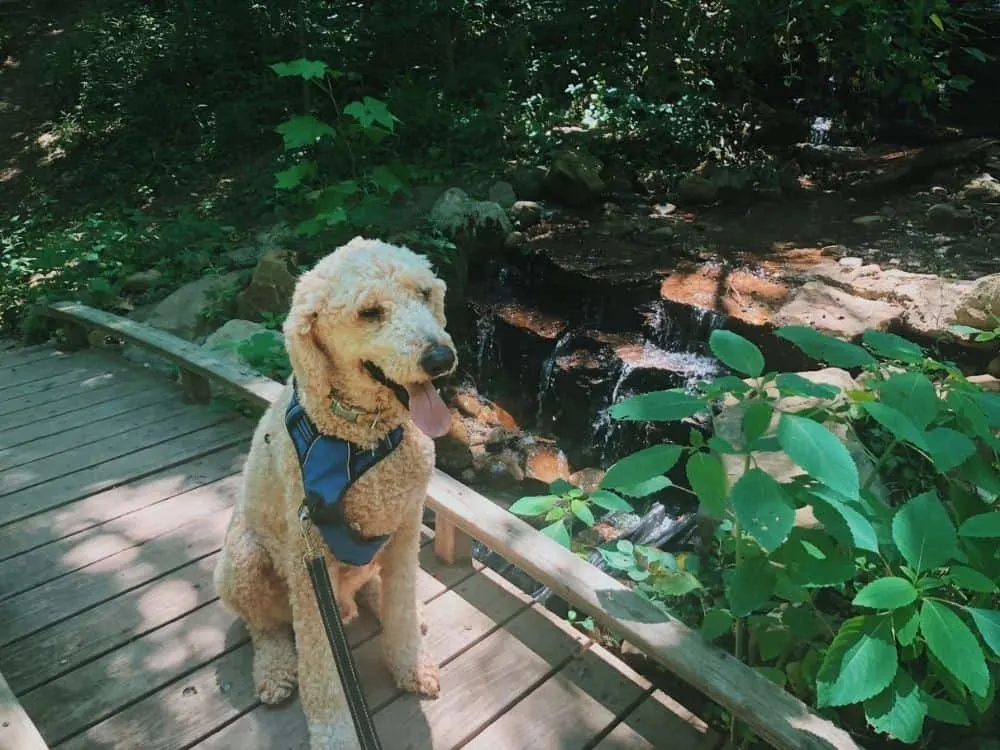 Homewood North
Erica and Chewie on Frankstown Ave. which marks the boundary between Homewood North and Homewood South.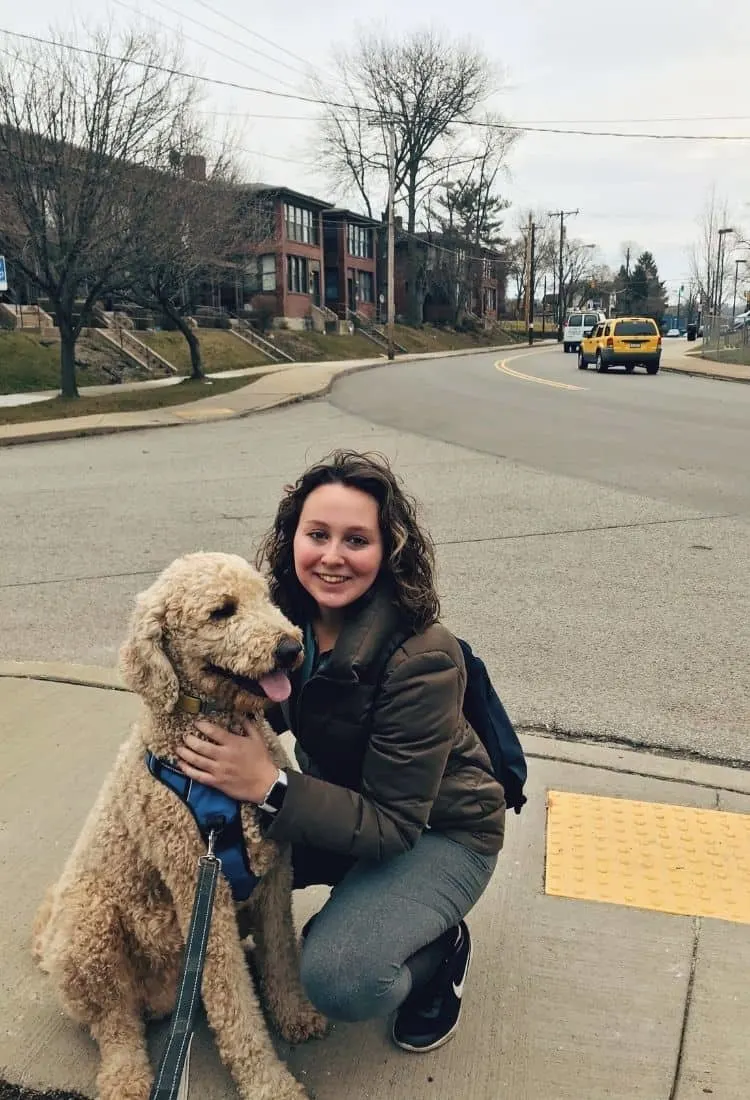 Homewood South
St. Charles Lwanga church was impressive with beautiful, intricate architecture.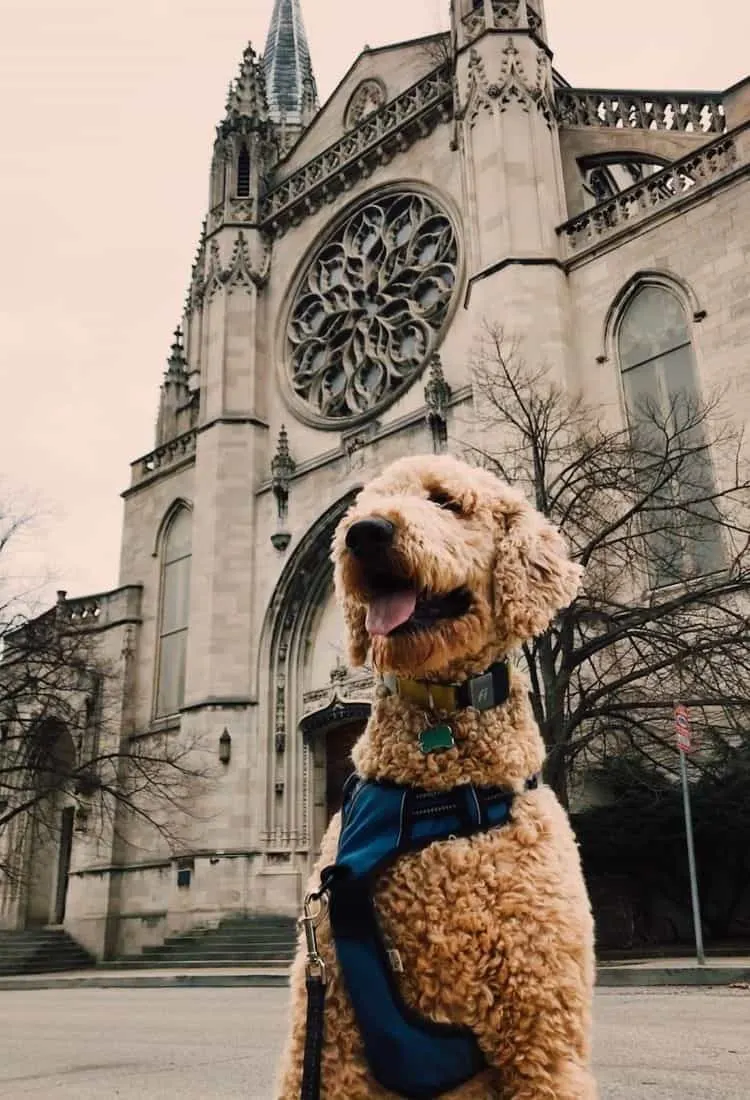 Homewood West
Another one of the eye-catching murals in Pittsburgh we enjoyed. This one is outside of "The Shop" which is a unique collection of creative businesses like a barber shop, a makeup studio, and a resident artist.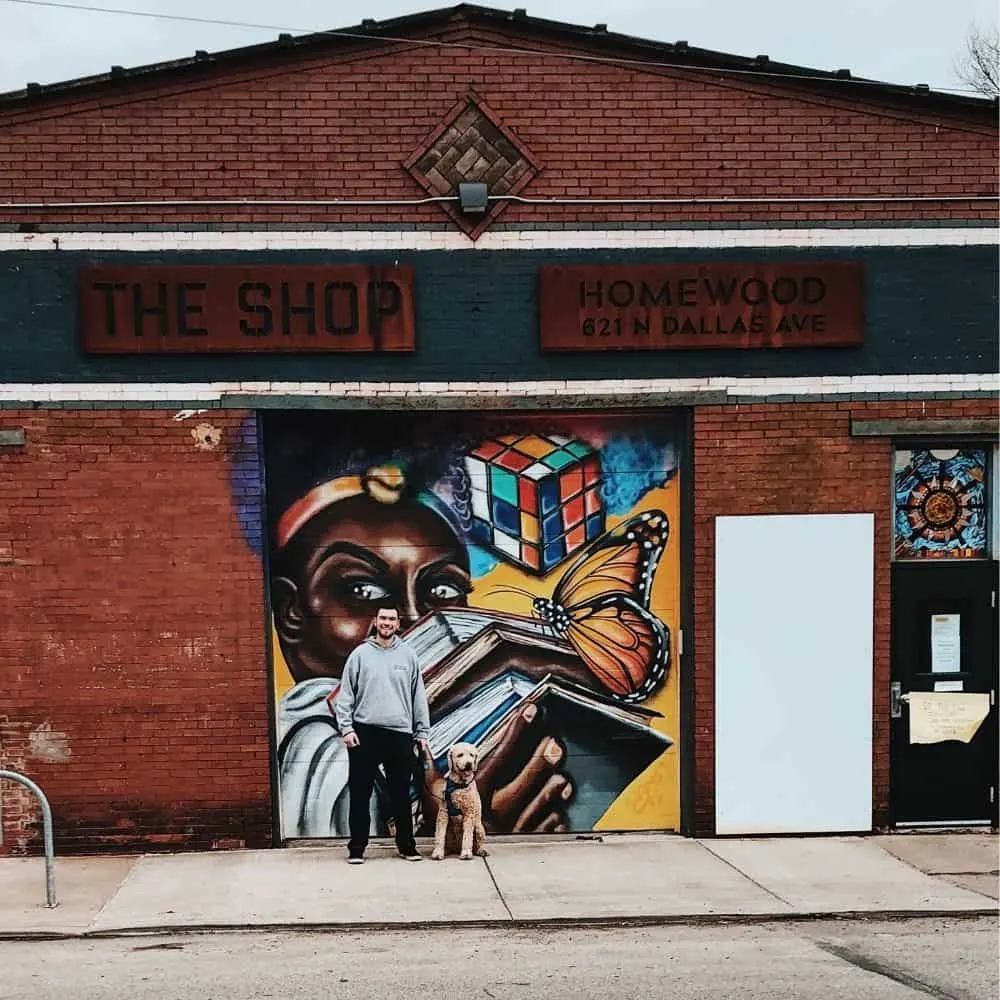 Knoxville
This photo is technically cheating, because it wasn't taken in Knoxville, but it shows a nice aerial view of this neighborhood from right where it borders Bon Air.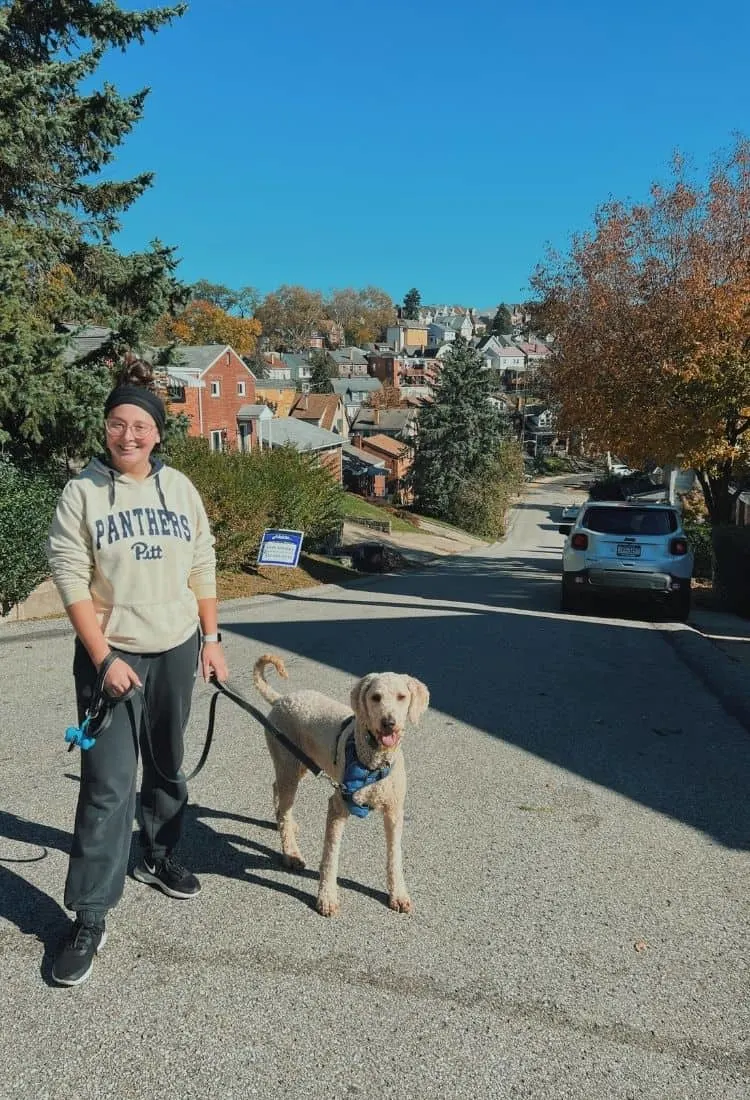 Larimer
Erica and Chewie outside the African Healing Garden on Meadow St. While it was too cold to see it "in action," it looks to be one of the more nicely cared for community gardens we've come across around the city.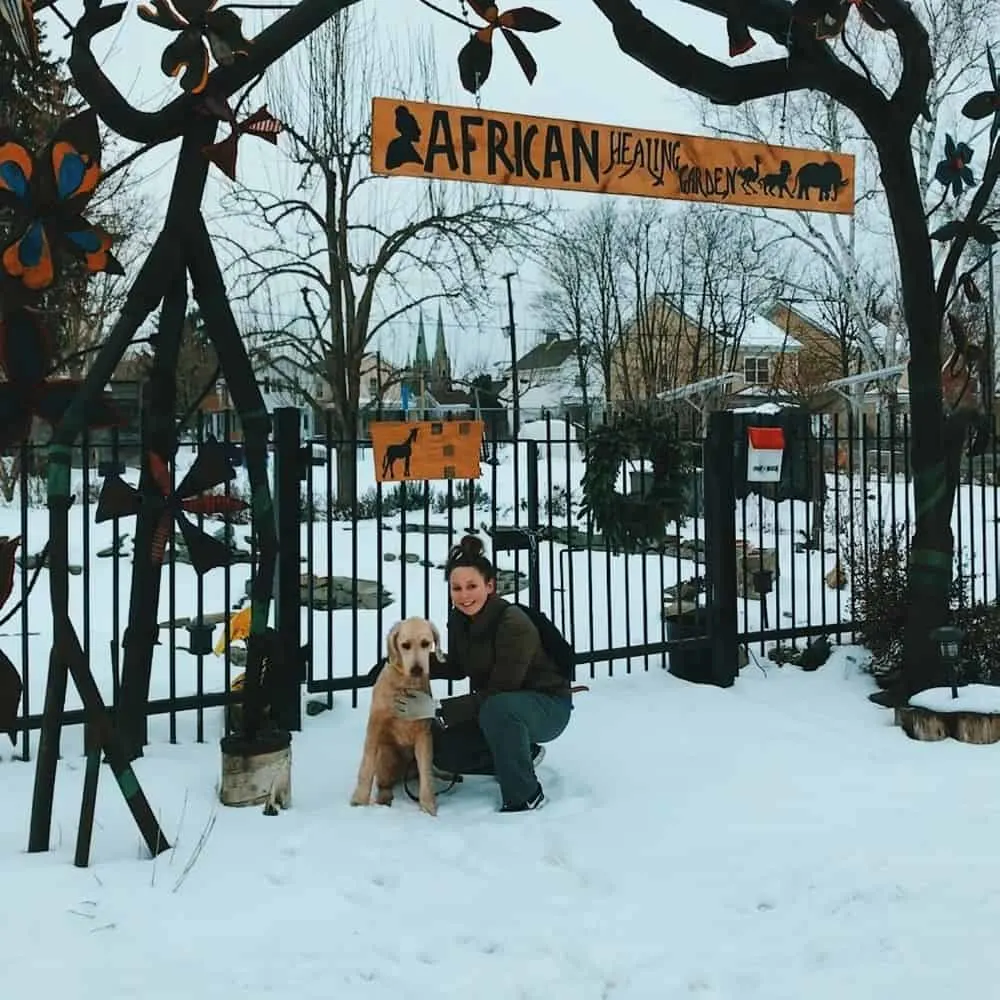 Lincoln-Lemington-Belmar
This sign couldn't be referring to fluffy Goldendoodles, could it? 😂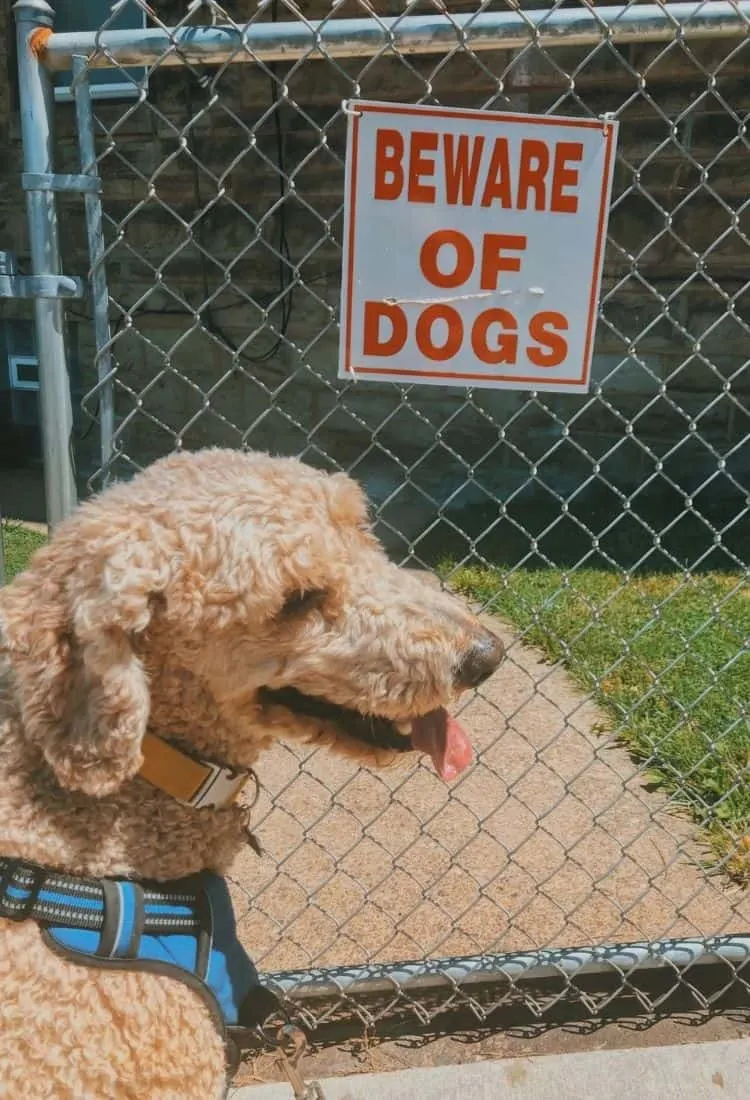 Lincoln Place
One of the more unique features of this neighborhood was the parking areas in front of many of the houses. Not quite a driveway and not quite street parking, these "coves" allow some off-street parallel parking for residents. The drawback is that they make walking your dog harder since you have to walk more in the street than on the side of the road.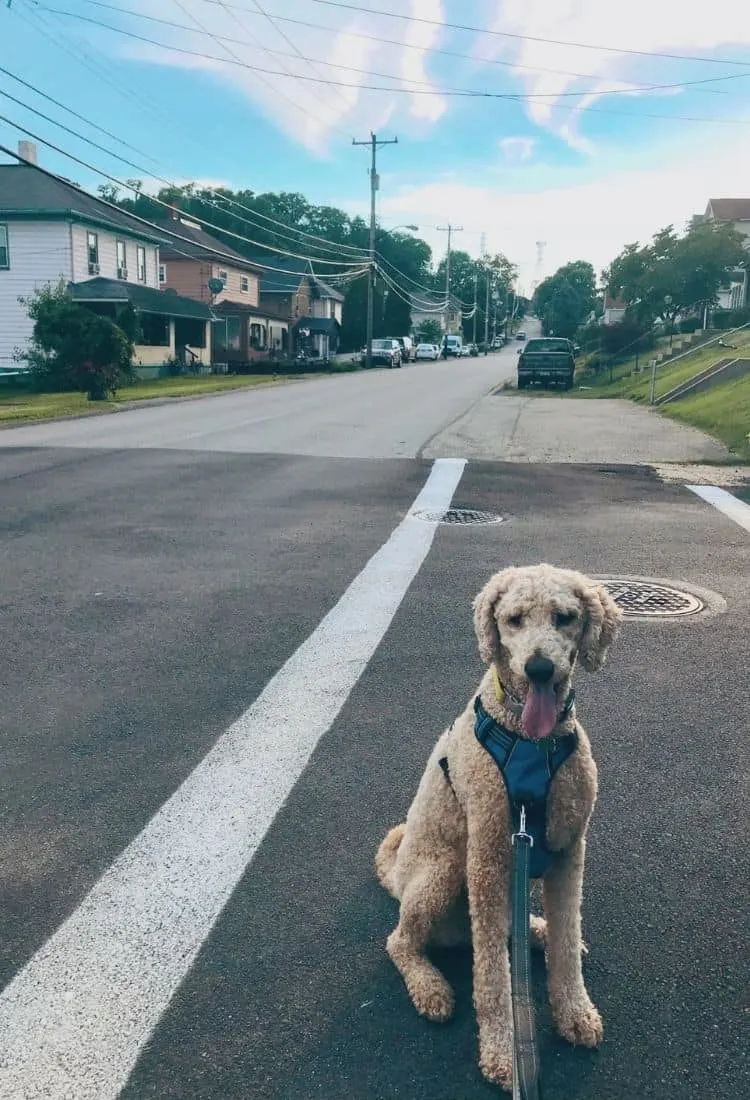 Lower Lawrenceville
Erica and I typically associate "Lawrenceville" with Central Lawrenceville, so we hadn't explored this neighborhood before. There were just as many cute shops and restaurants here as Central Lawrenceville, but with seemingly less crowds. We found a nice little garden to take a rest in with some animal murals.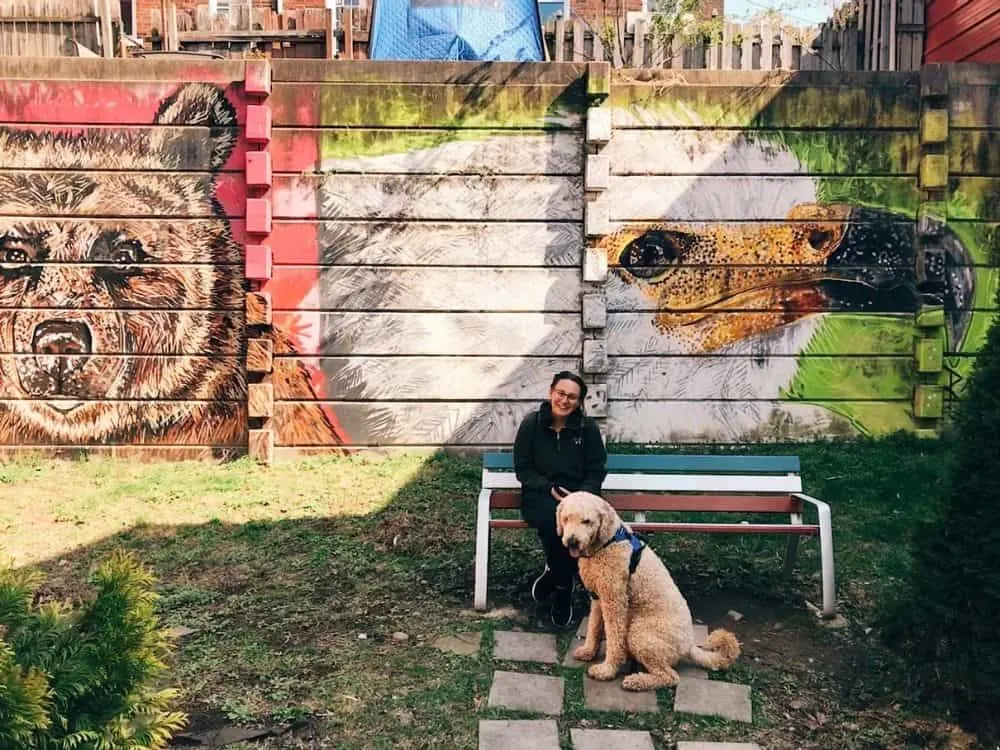 Manchester
Manchester was interesting because it had quite a few England themed road names. Here is Erica and Chewie with the Manchester sign on Columbus Ave.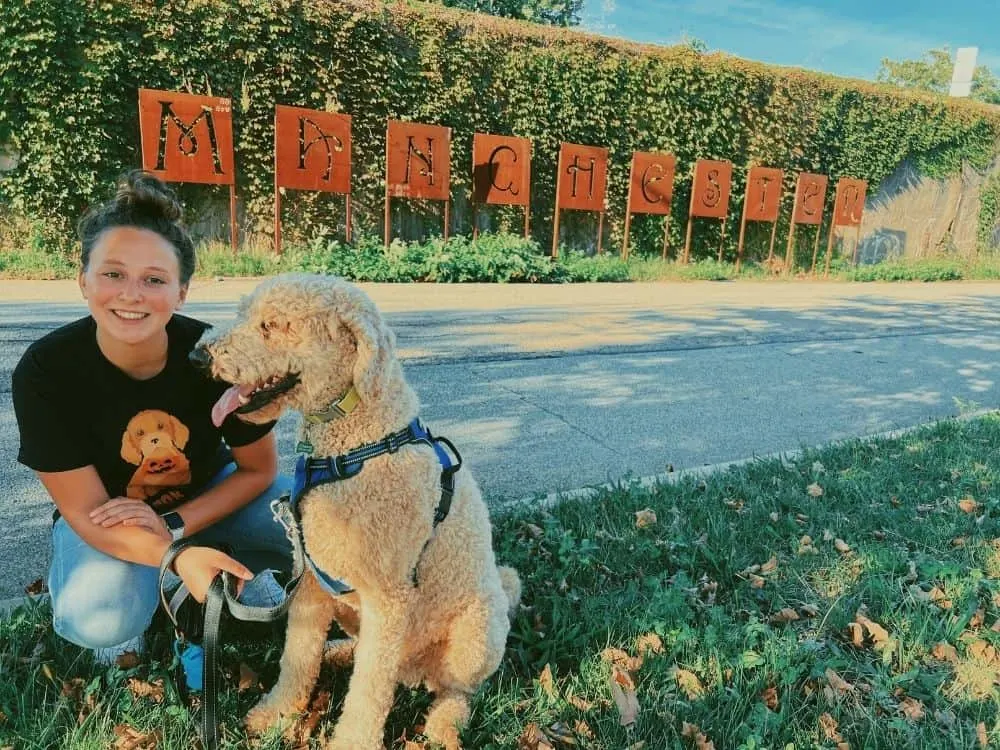 Marshall-Shadeland
Chewie and I in front of Pittsburgh Paramedic Station 10 on Shadeland Ave.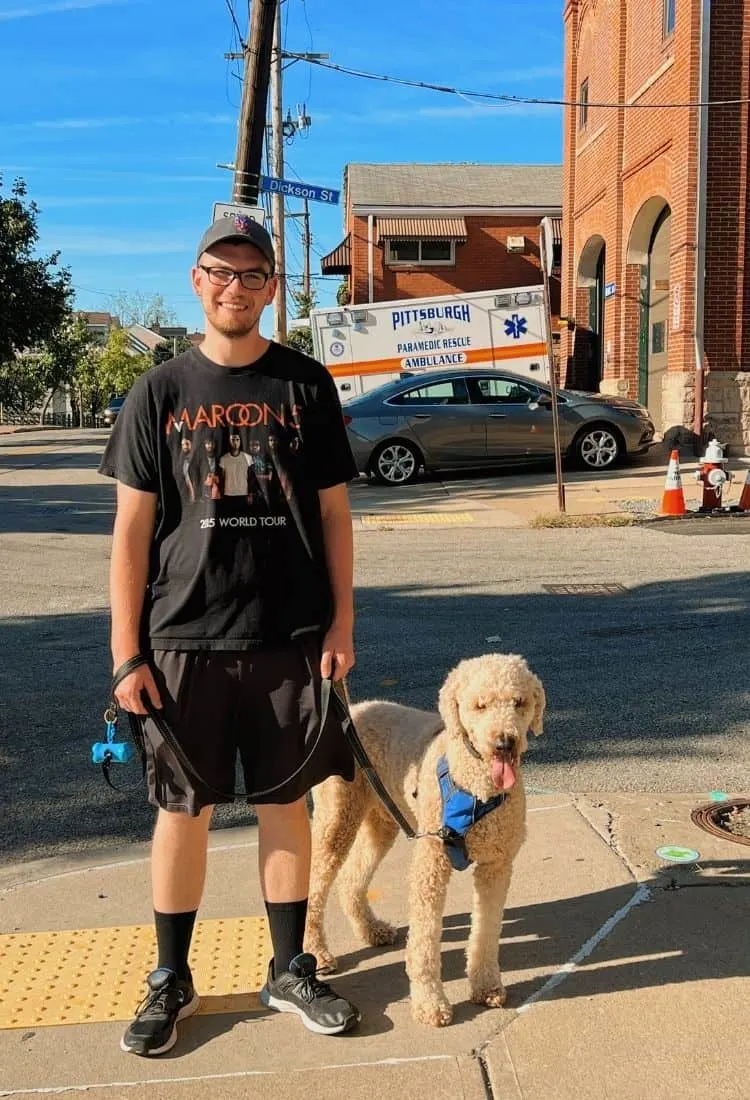 Middle Hill
The Hill District definitely lived up to its name. I swear we walked uphill both ways!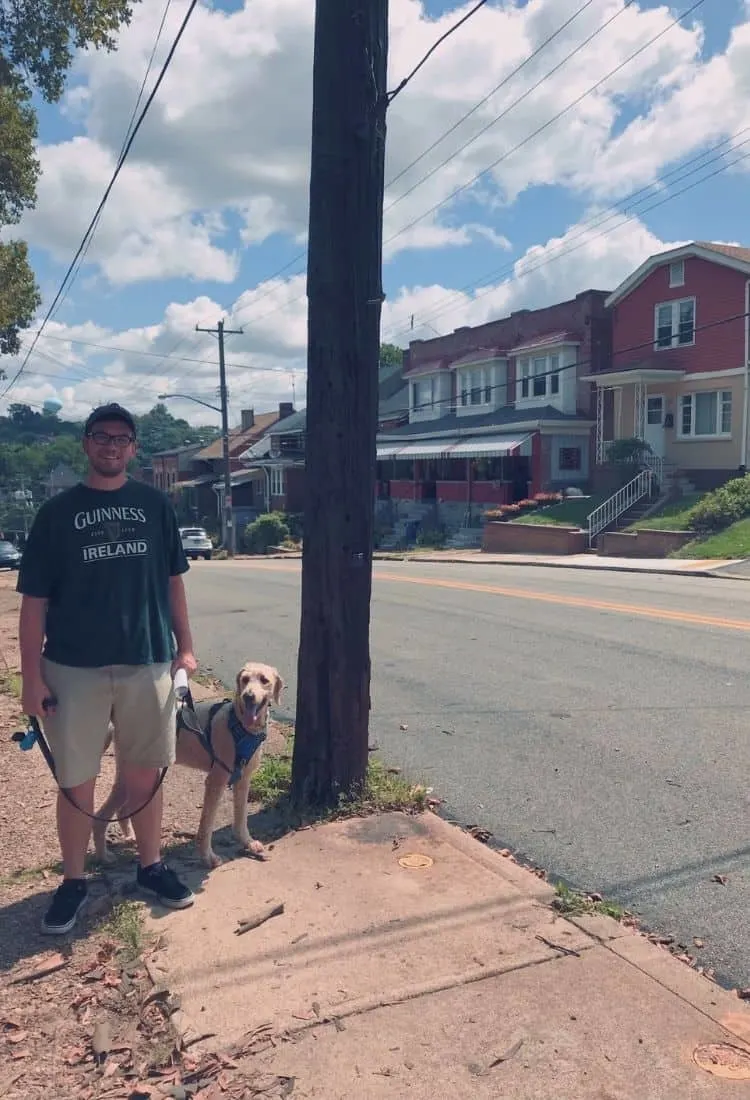 Morningside
A nice view from the corner of Morningside Ave. and Baker St. This neighborhood had a lot of dog walkers out and about—and that's always a good thing!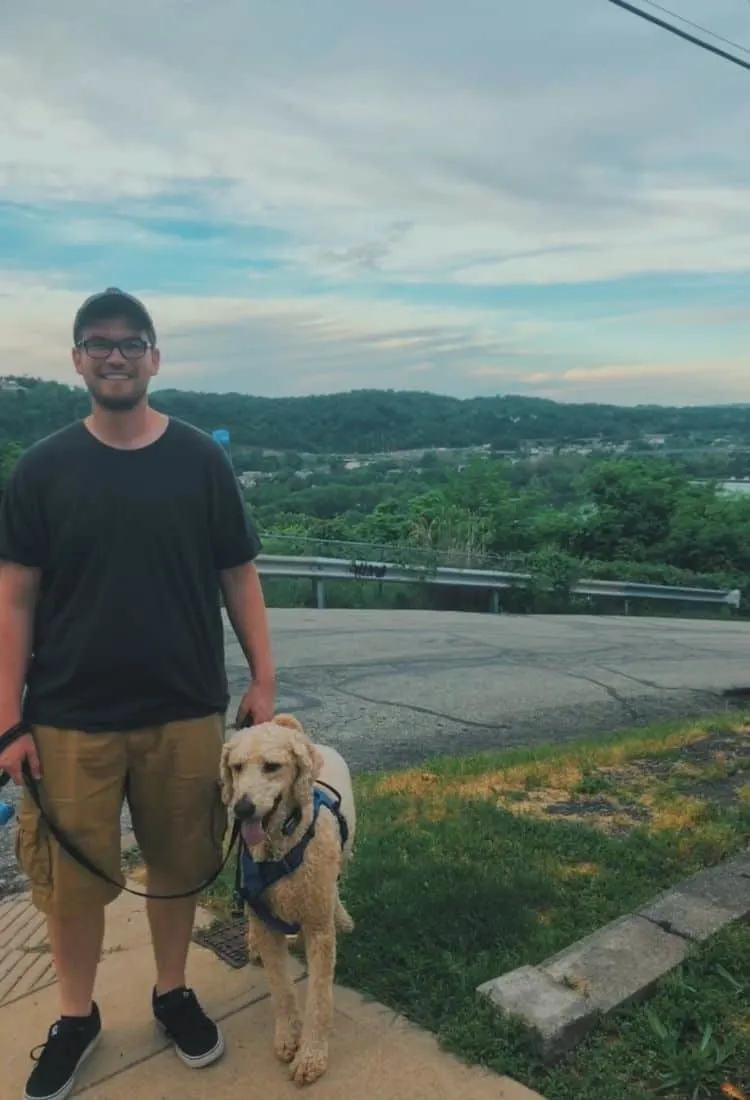 Mount Oliver
Chewie and I casually posing with some scattered, large tires. I'm hoping some football team uses these to workout, otherwise I'm stumped why they're outside an elementary school. 😂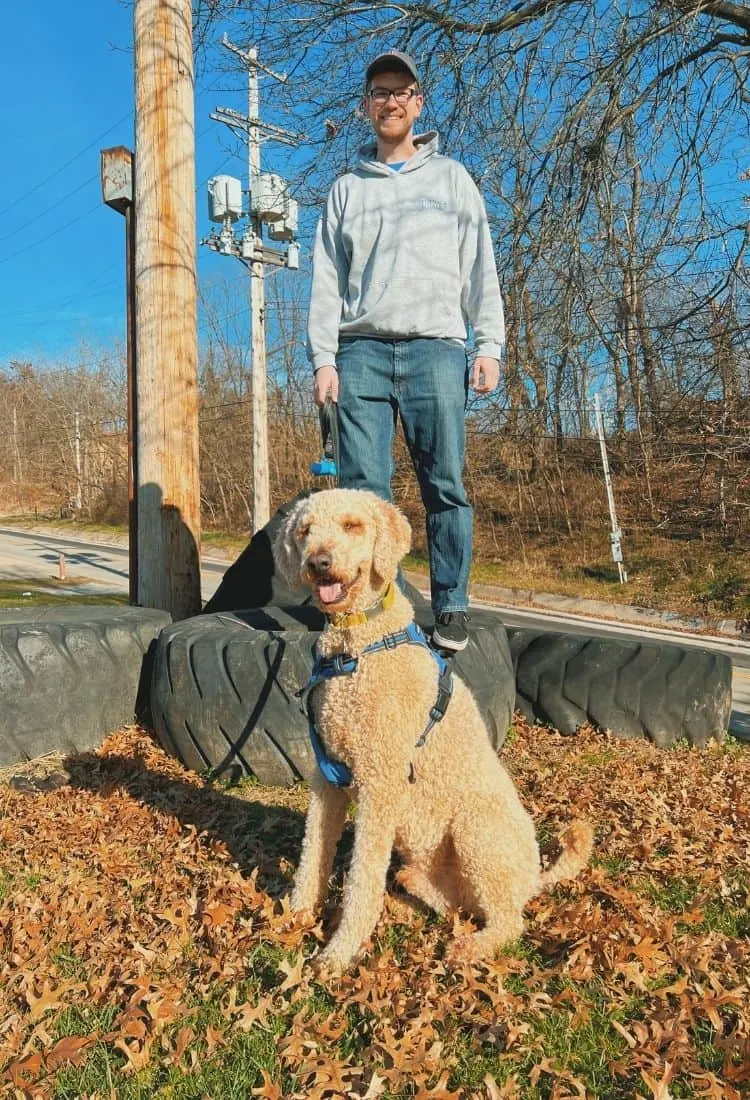 Mount Washington
This neighborhood is home to the most famous view of the downtown skyline from the Grandview Overlook. Just as importantly, it's home to Grandview Bakery which is a must-visit for us whenever we're here!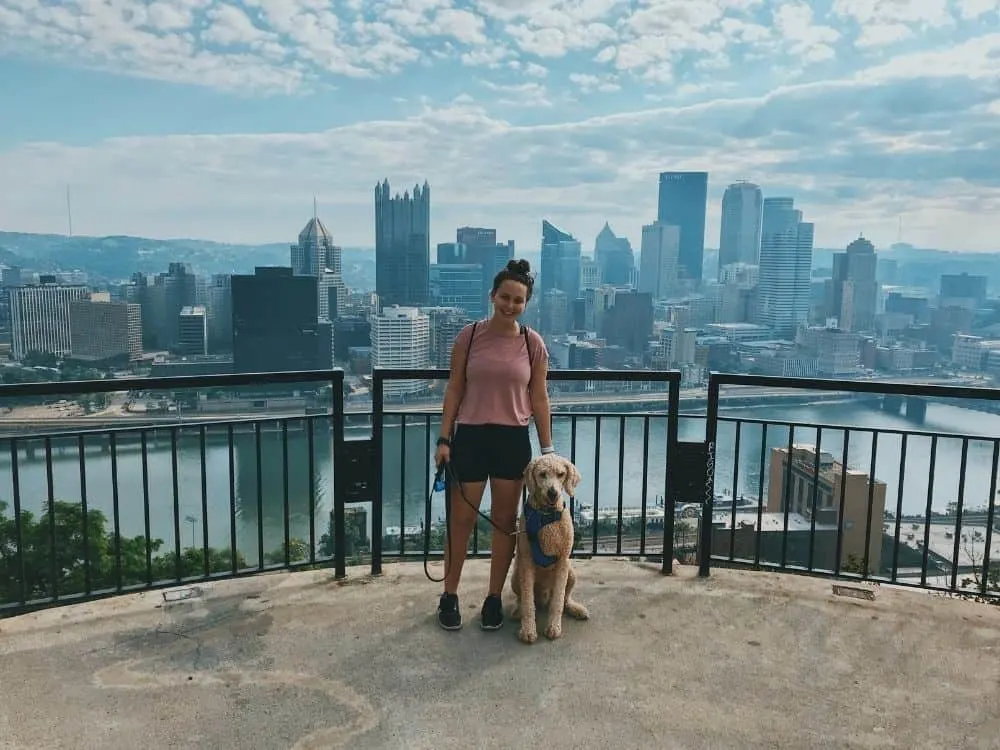 New Homestead
There were some HUGE houses in this neighborhood. Sorry for being creepy if this is your home…but also…invite us over for dinner sometime!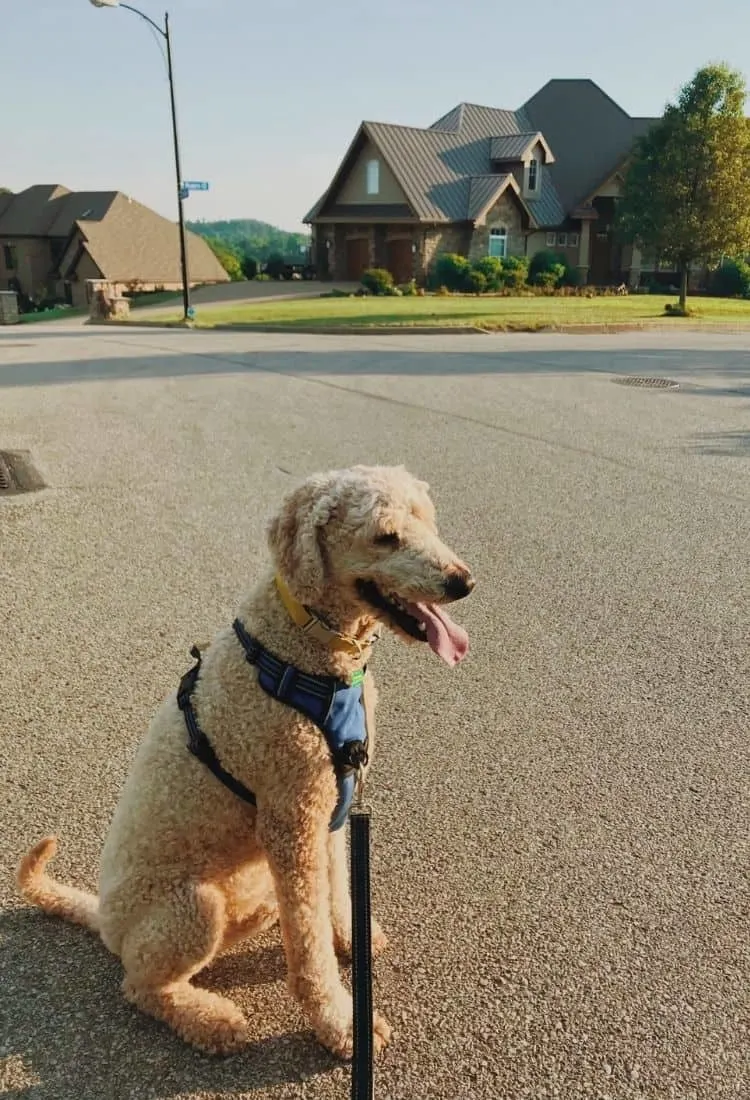 North Oakland
Everybody's favorite building…the University of Pittsburgh's Cathedral of Learning. 🙌🏻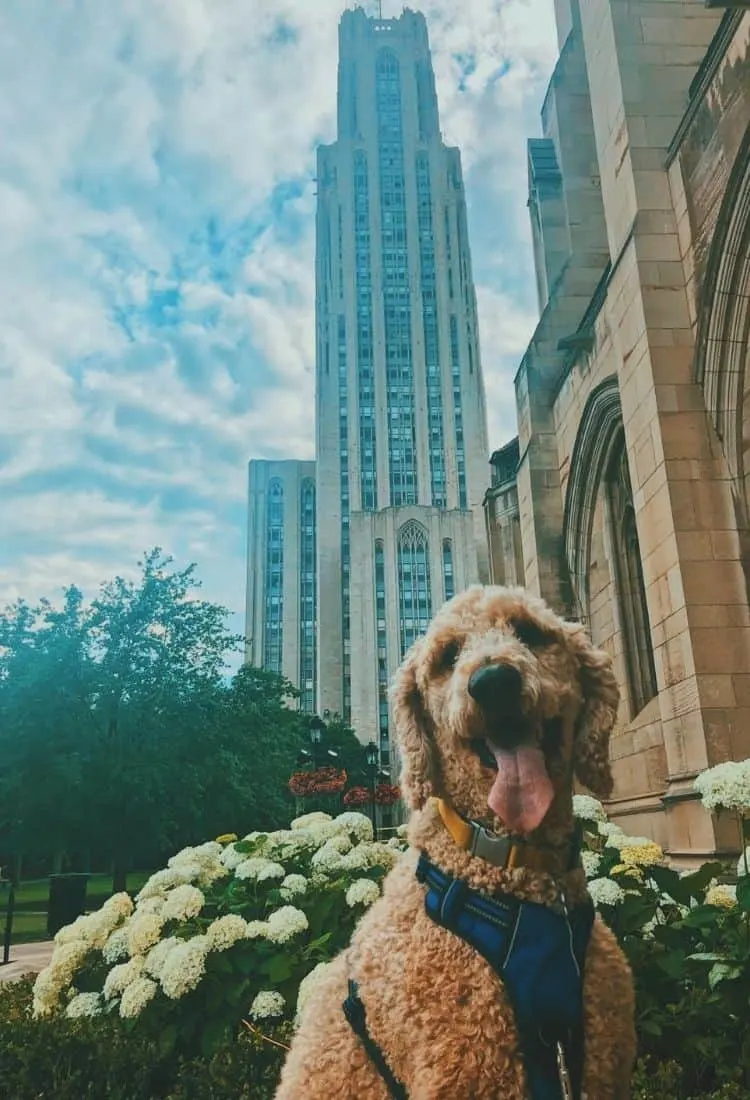 North Shore
Thomas and Chewie in front of PNC Park, home of the Pittsburgh Pirates baseball team.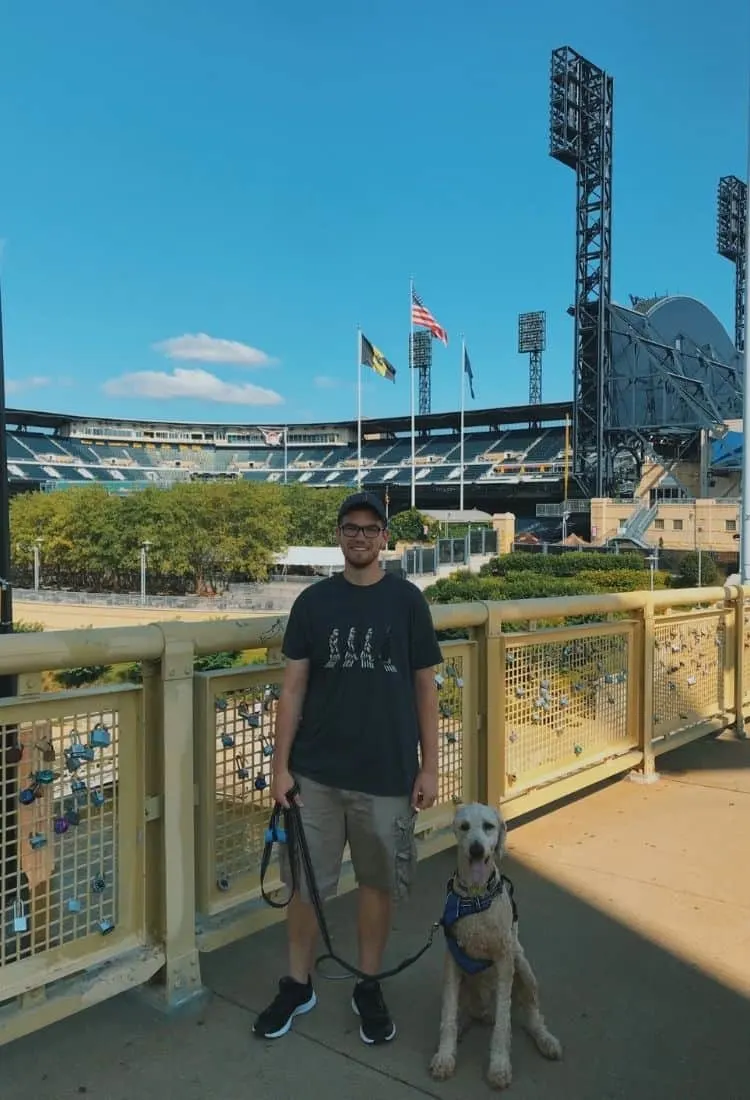 Northview Heights
This neighborhood was mostly comprised of one big housing complex. Here is Chewie and Erica surprised with a photo in front of the Northview Heights Estates community.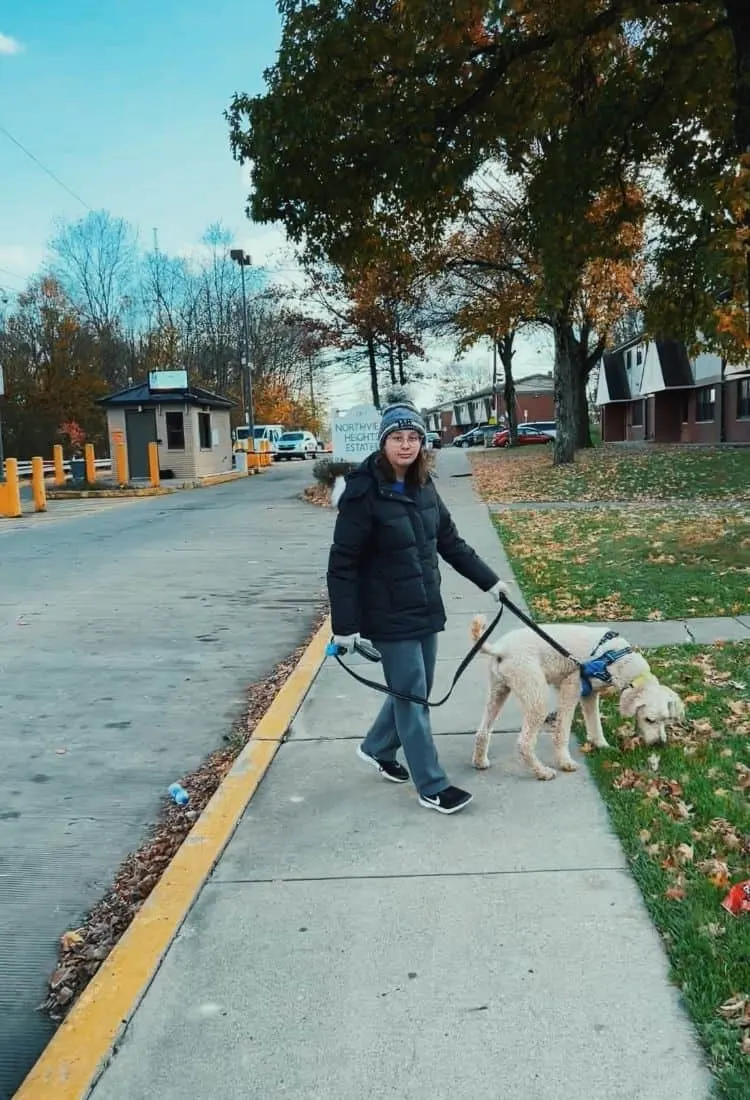 Oakwood
Chewie and Erica at Oakwood Park where they converted an old stone reservoir into tennis courts. Shortly after this photo, Chewie found spilled chili under the snow and his entire mouth was stained red…ew. 🤮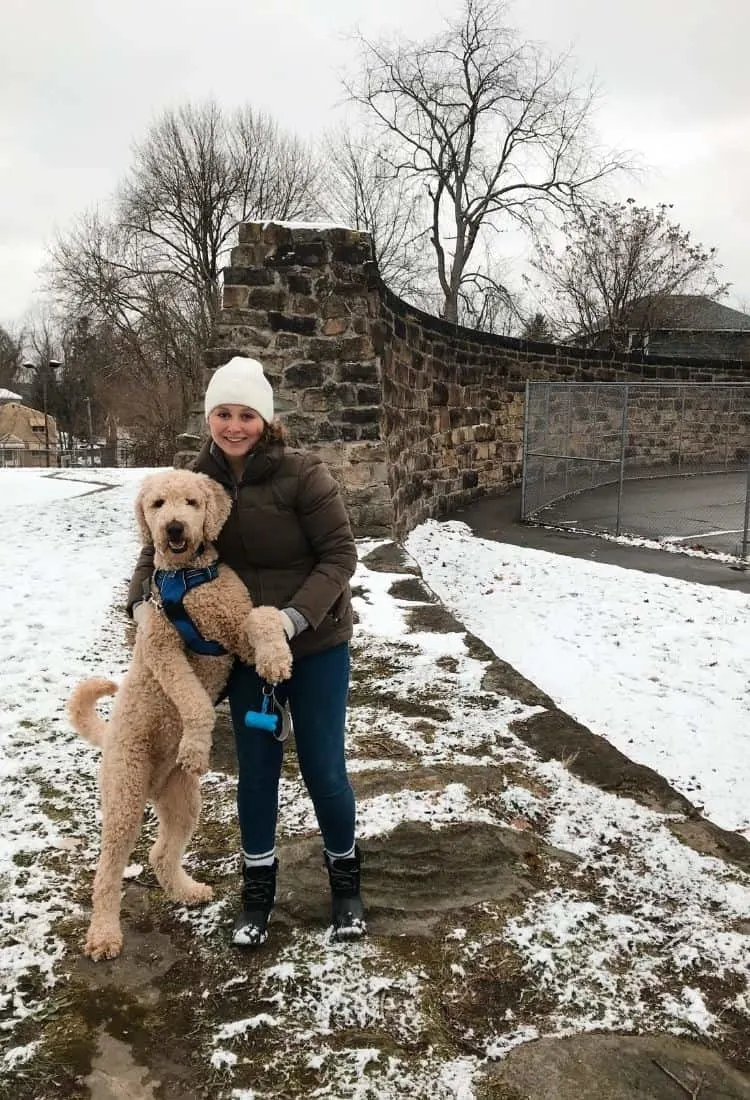 Overbrook
This is another one of the more residential neighborhoods we really felt at home in. Between the friendly people and the cozy houses, what more could you ask for?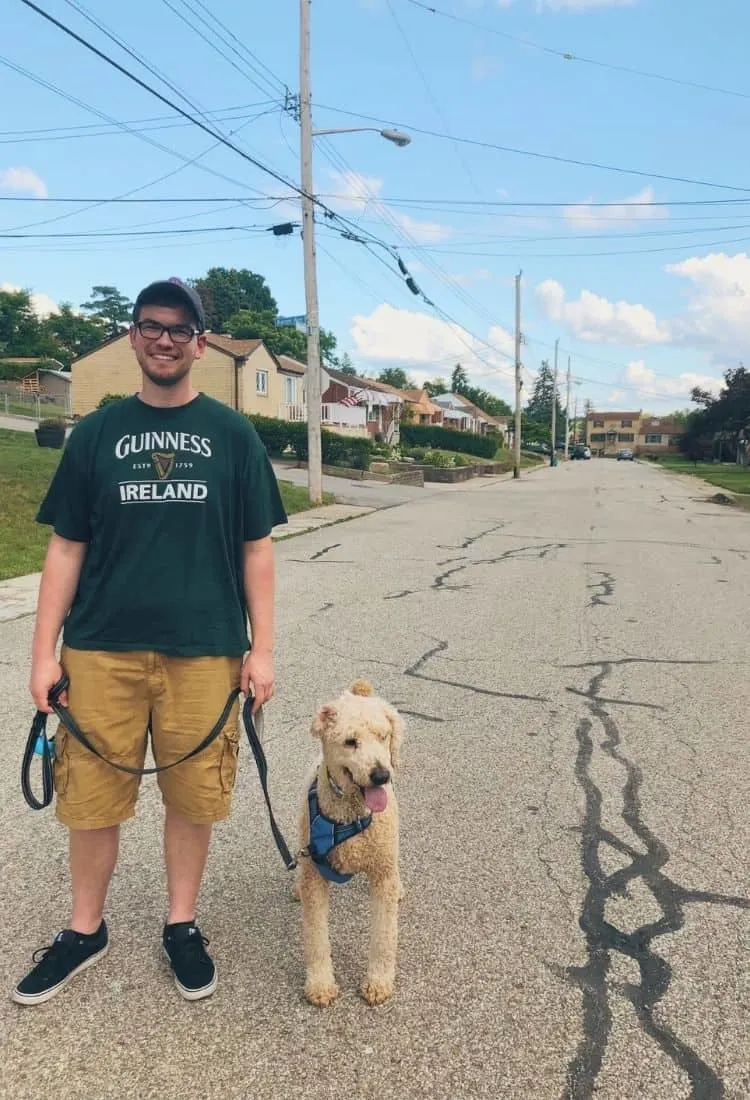 Perry North
Chewie and I in front of Allegheny Observatory in Riverview Park.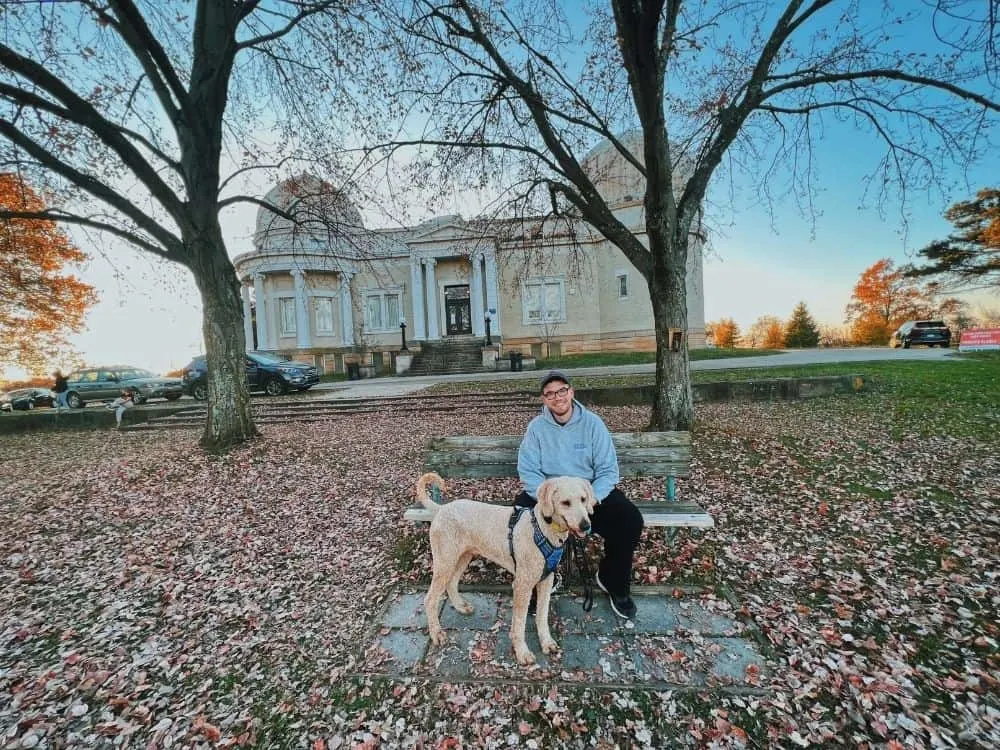 Perry South
In this neighborhood we stumbled upon some giant signs that looked like baseball cards. This ended up being an educational exhibit about the Negro Leagues. What a cool idea and something that many other people would probably be interested in visiting if the knew about it!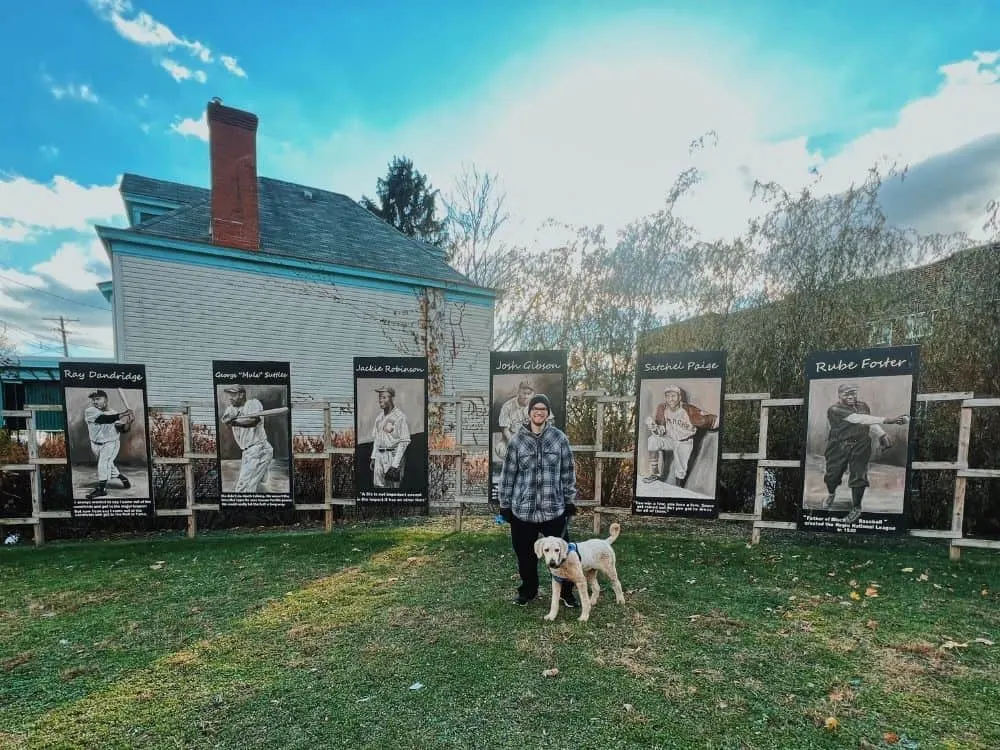 Point Breeze
This is Penham Pl, one of the nice, tree-lined streets we liked in this neighborhood.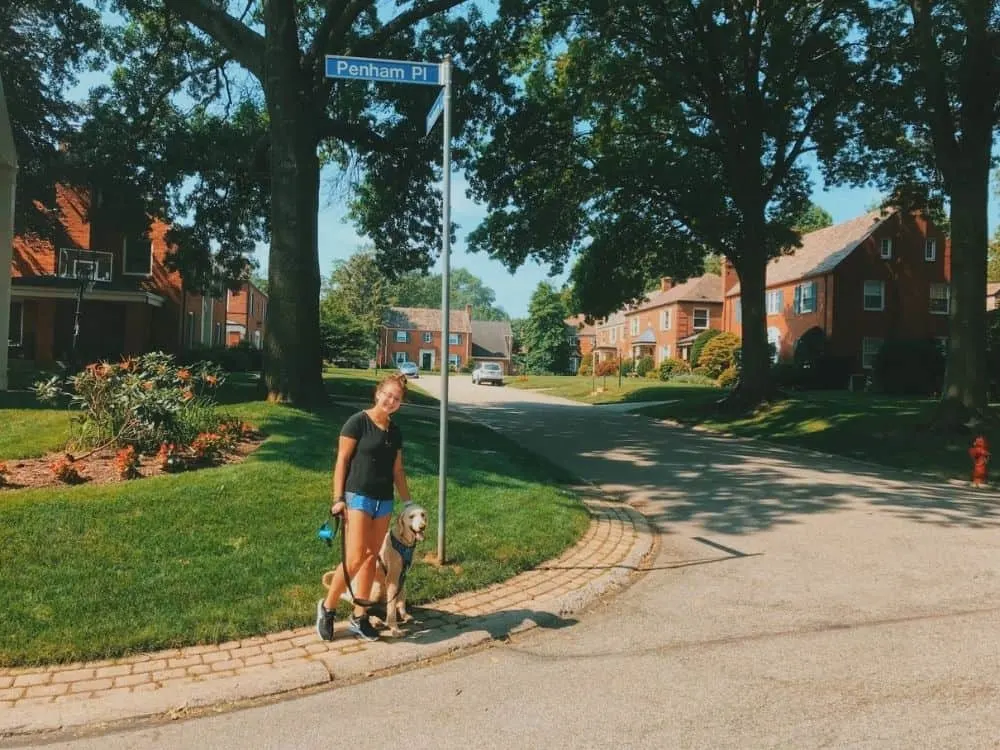 Point Breeze North
Here's Chewie walking around Westinghouse Park in this neighborhood.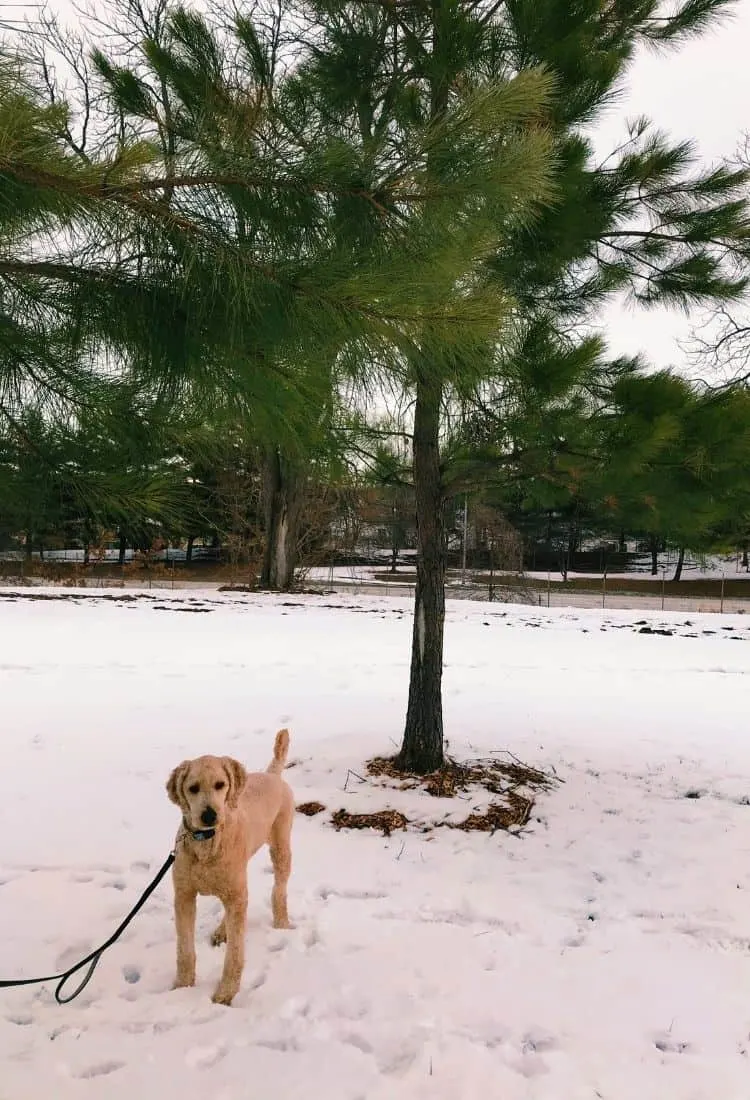 Polish Hill
Thomas and Chewie at the Immaculate Heart of Mary Church. This intricate, old building matches the older, more historic feel of this neighborhood.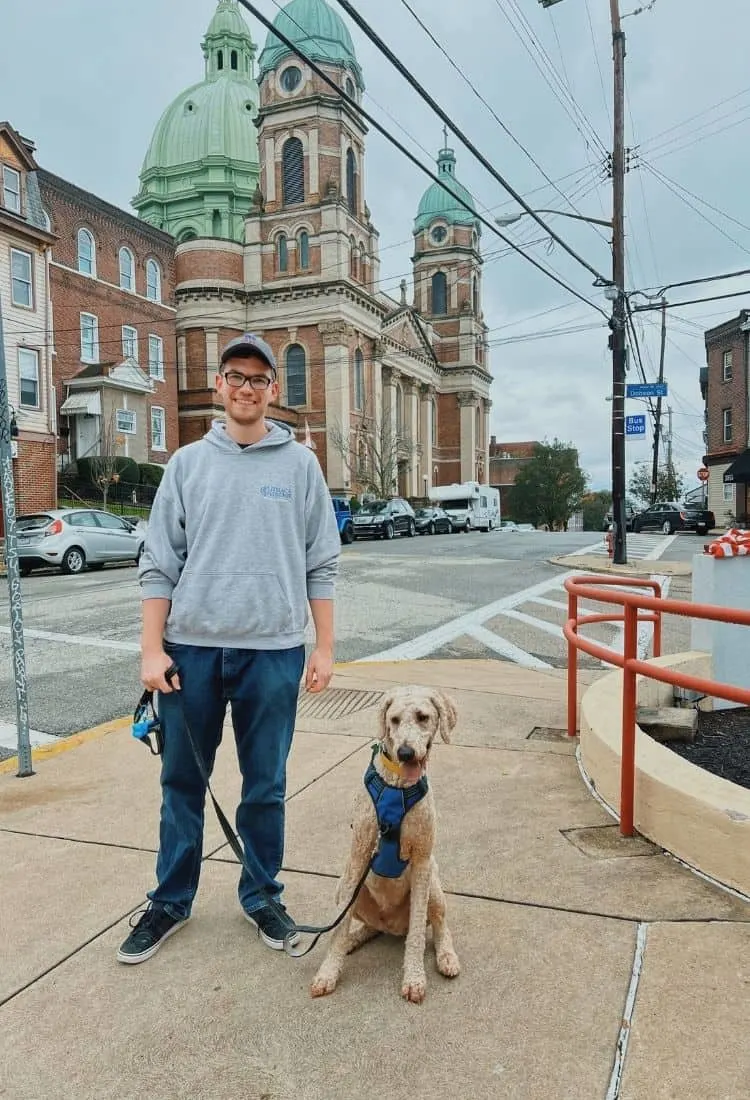 Regent Square
Chewie and I posing with an interesting, concrete turtle statue next to the Environmental Charter School. I'm not sure why it's there…maybe it's the school mascot? 🐢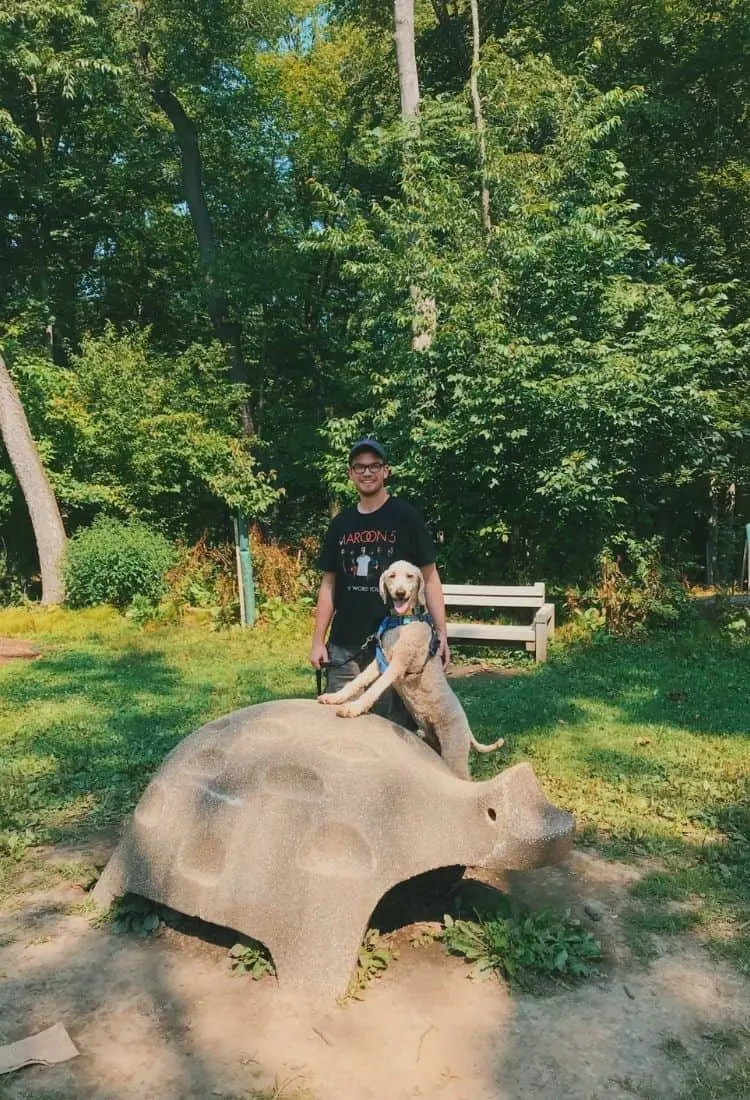 Ridgemont
This was a memorable walk for all the wrong reasons. Chewie pooped three separate times and accidentally stepped in it once. Not a particularly fond memory. 🙈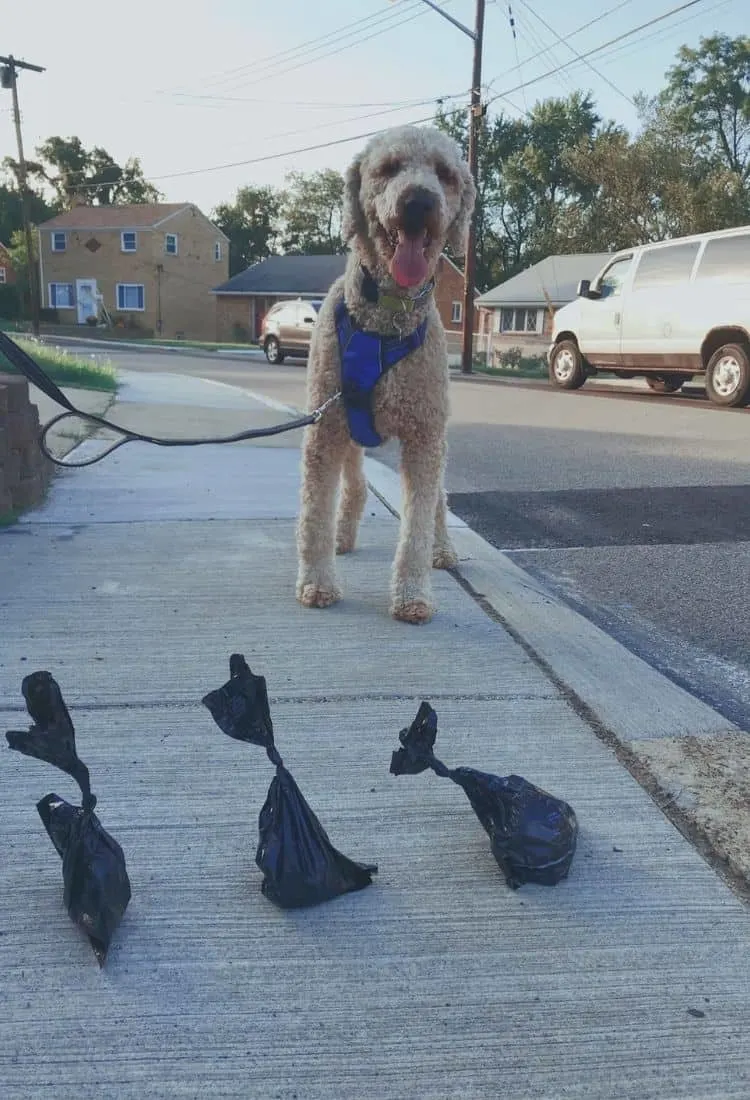 Shadyside
One of our favorite neighborhoods to visit—mostly when we need our grilled cheese fix at The Yard!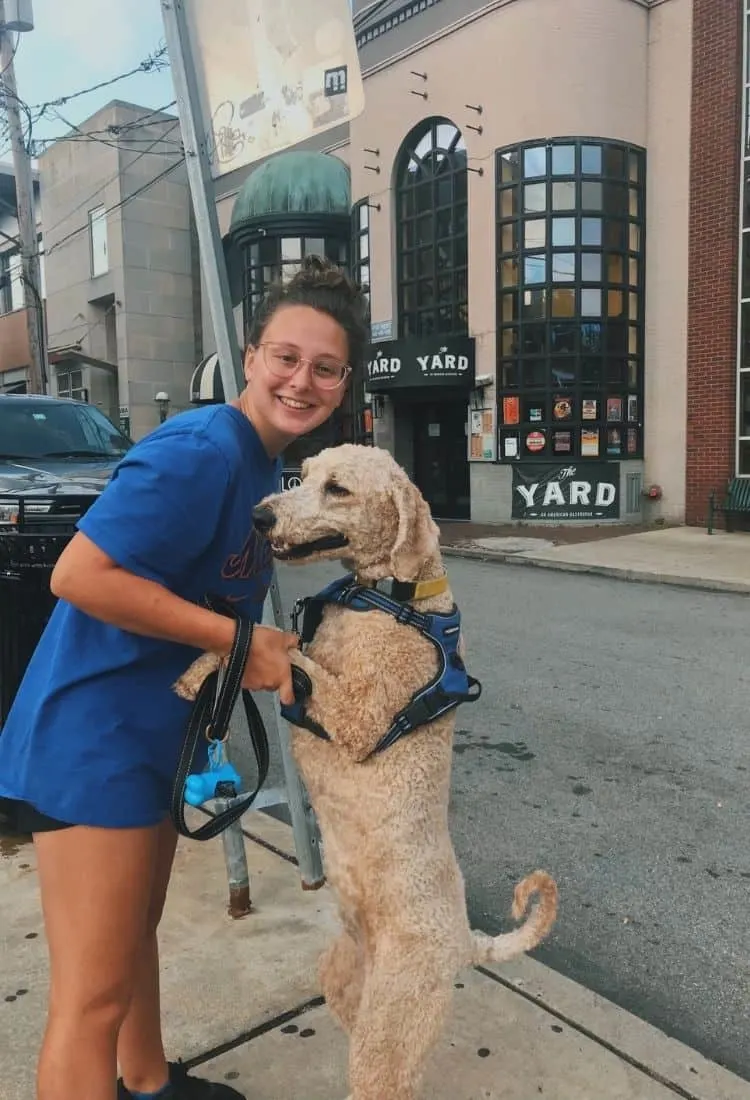 Sheraden
Whoever's wall that is should probably get that looked at. 😳
South Oakland
Erica and Chewie outside of UPMC Magee Women's Hospital. This was one of the locations Erica had her clinical experiences at during her time at Pitt.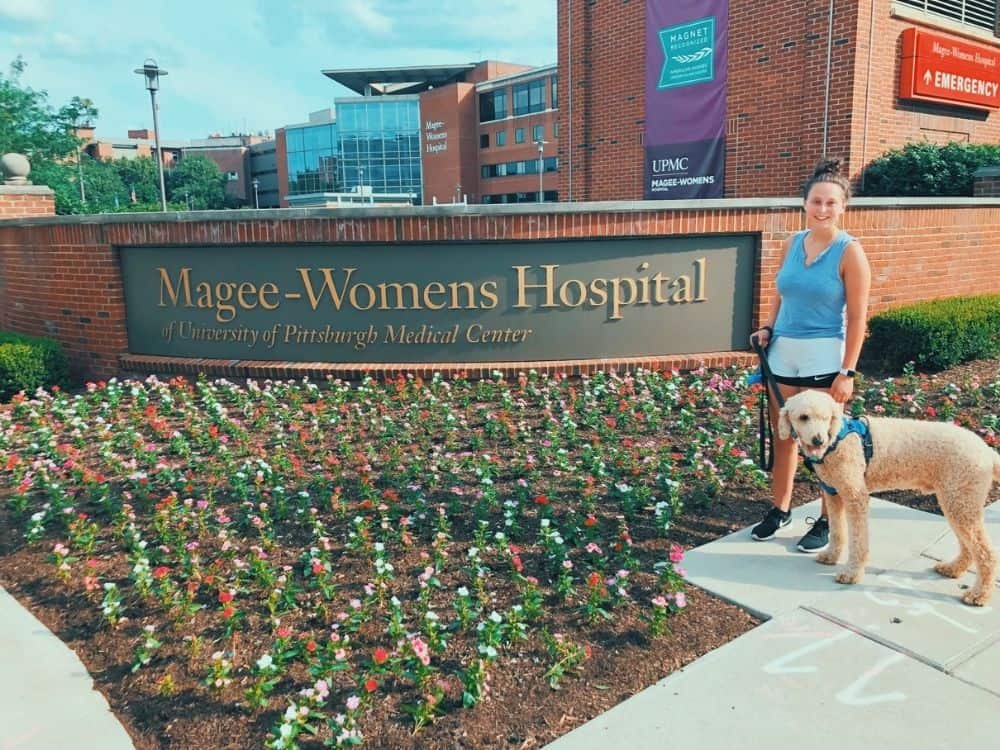 South Shore
Admiring the downtown city skyline view from Station Square.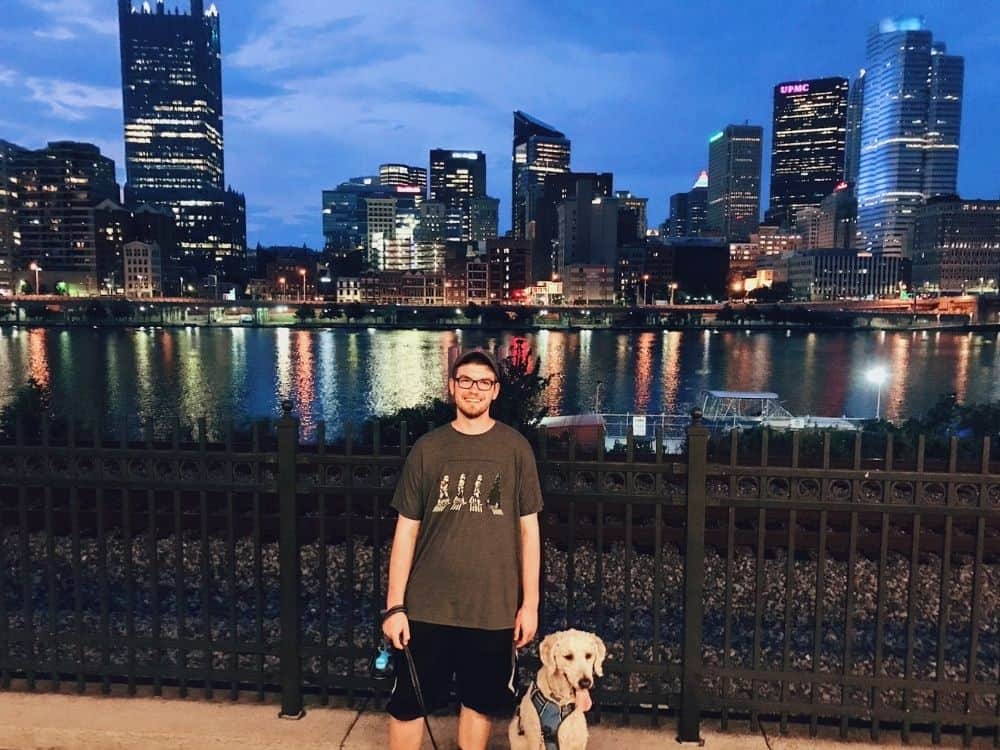 South Side Flats
The Color Park in South Side was something we didn't realize existed until recently. It's kind of like a "controlled chaos" of graffiti which is an interesting idea!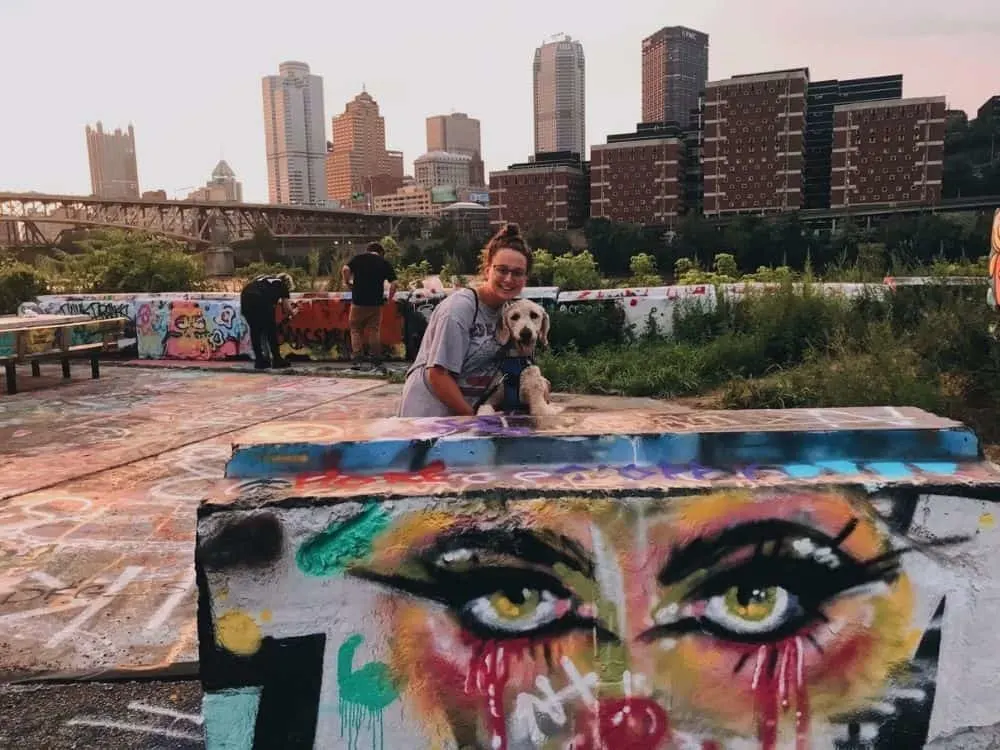 South Side Slopes
Erica and Chewie at the Arlington Spray Park. Since we were here during the winter, we had no idea it was a water park and spent an embarrassingly long amount of time figuring out how children use the "playground equipment." 🤦🏼‍♀️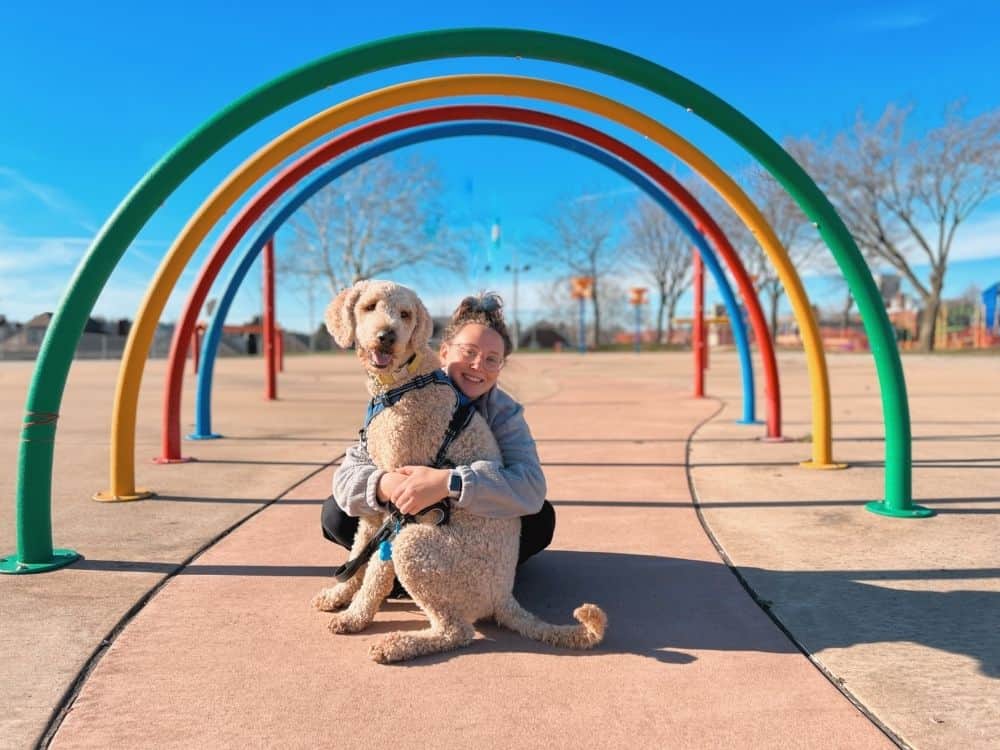 Spring Garden
World War I and II Memorial at Catalano Parklet.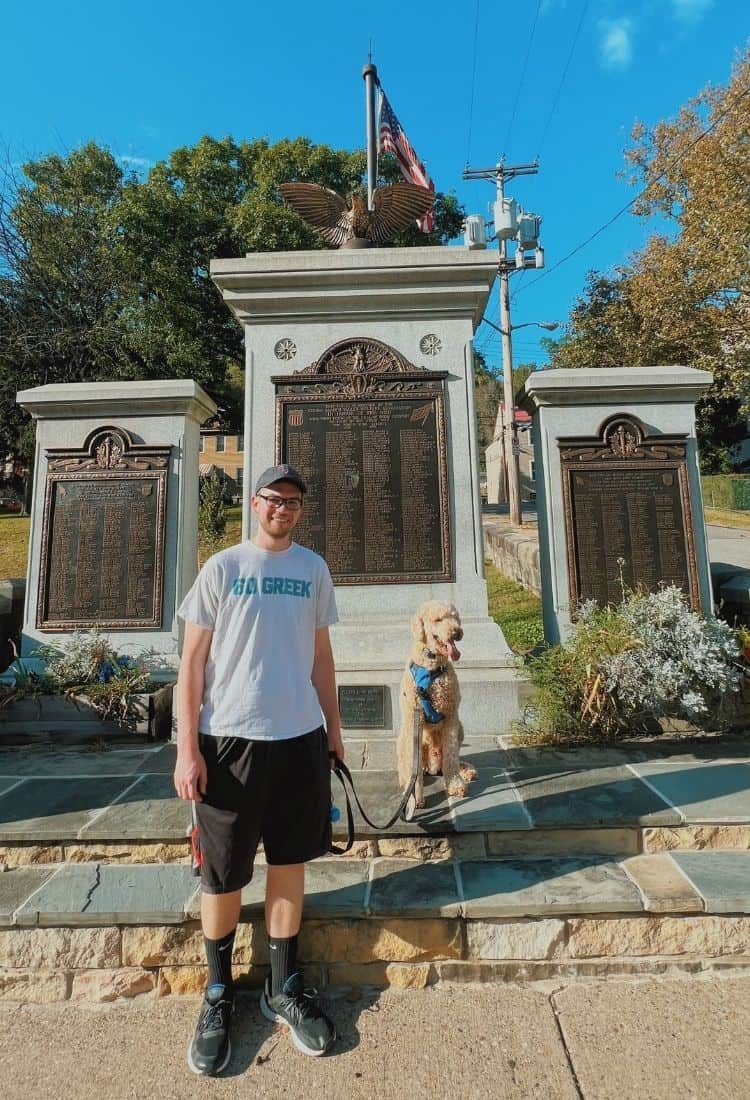 Spring Hill-City View
We walked around the area close to Spring Hill Elementary. They must have had some problem with unruly dog owners in the past, because there is an excessive amount of "No Dogs" signs here.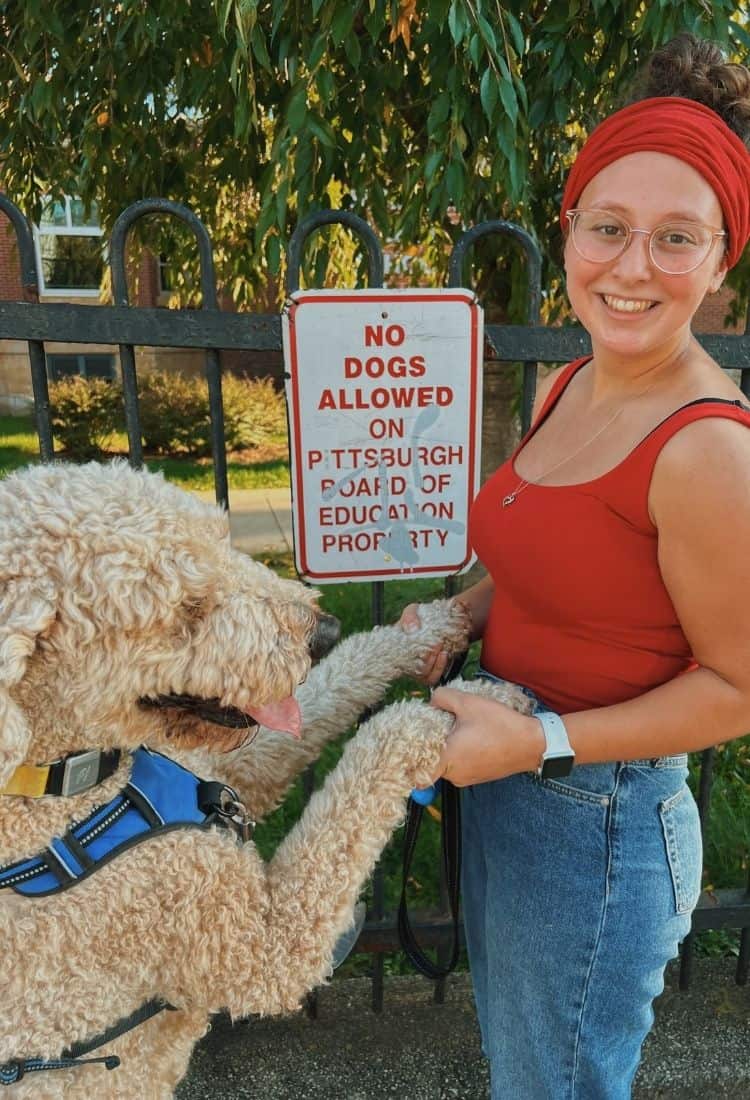 Squirrel Hill North
The "Walking to The Sky" sculpture at the Carnegie Mellon University campus. Who's real and who's a statue? 🤔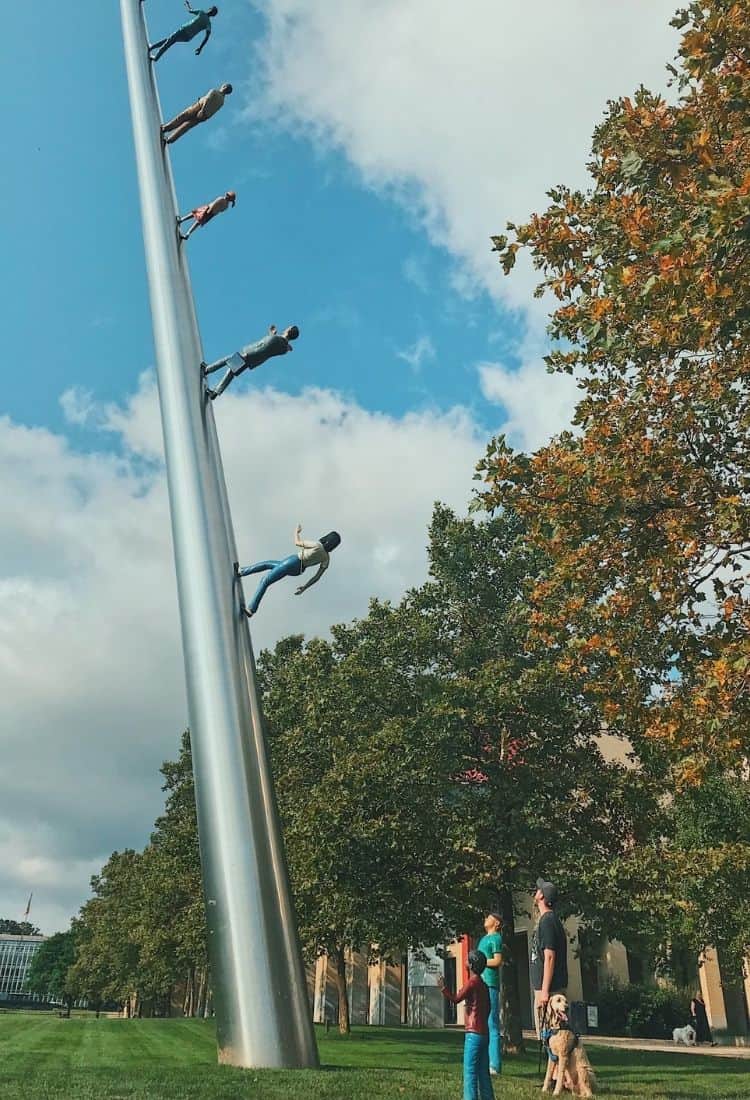 Squirrel Hill South
Myself and Chewie in front of all the shops and restaurants on Murray Ave.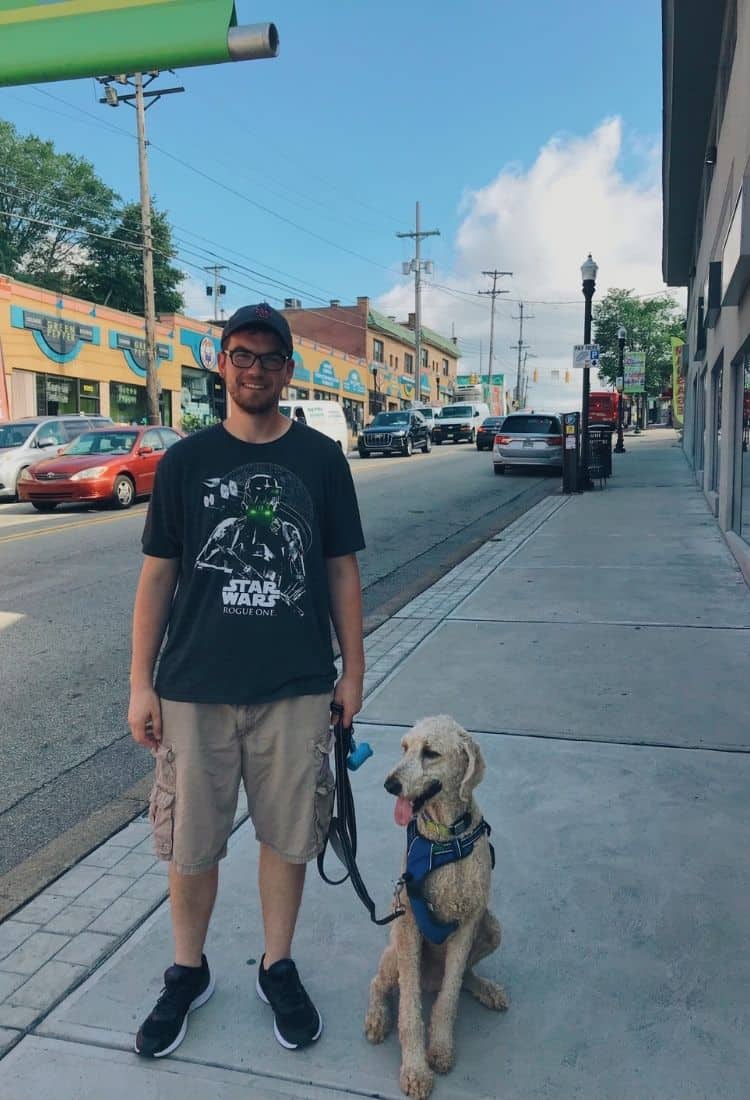 St. Clair
This was a church we found which had a distinctly different feel from all the older, elaborate ones we saw. Can you tell by the smiles on our faces that this was the final neighborhood we completed on this year-long adventure? 😀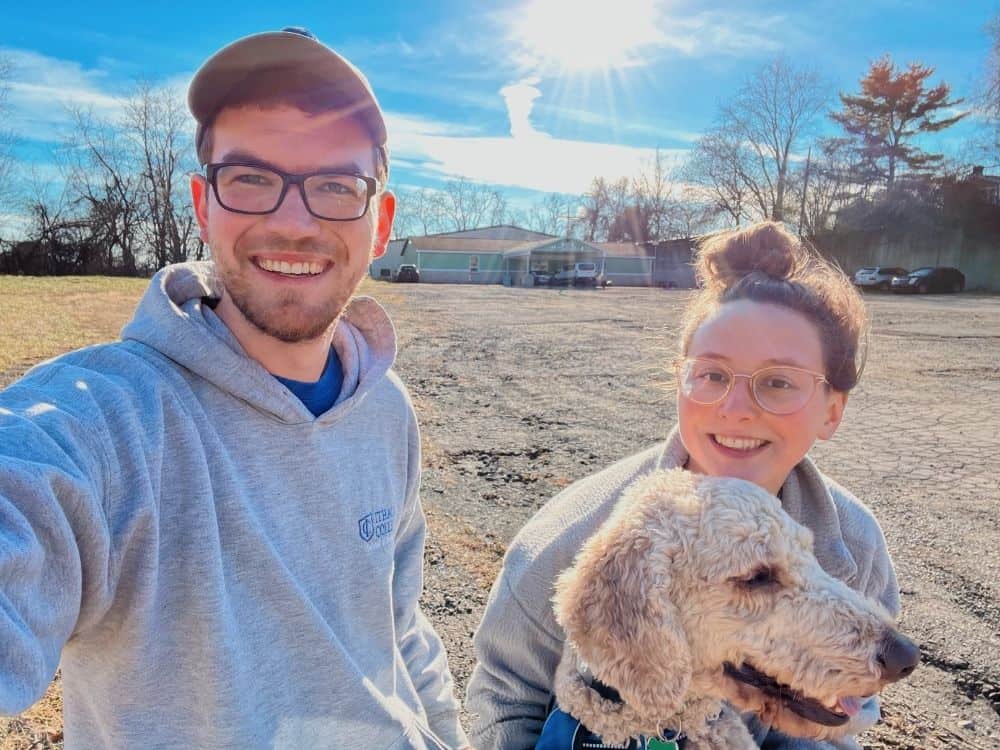 Stanton Heights
A nice view from the top of the big staircase that leads up to Stanton Heights from Morningside.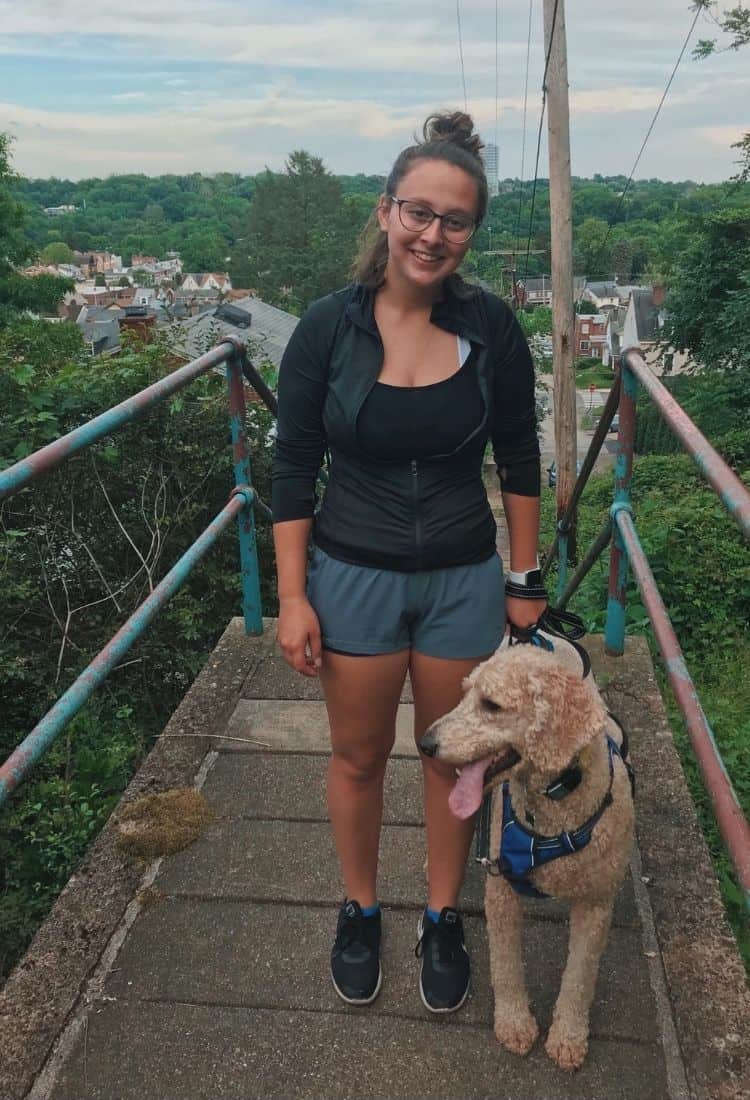 Strip District
There was a setup for photo ops in the touristy Strip District, so we took advantage of it! While we were here we stumbled across a Peace Love & Mini Donuts location and got both human and doggy doughnuts!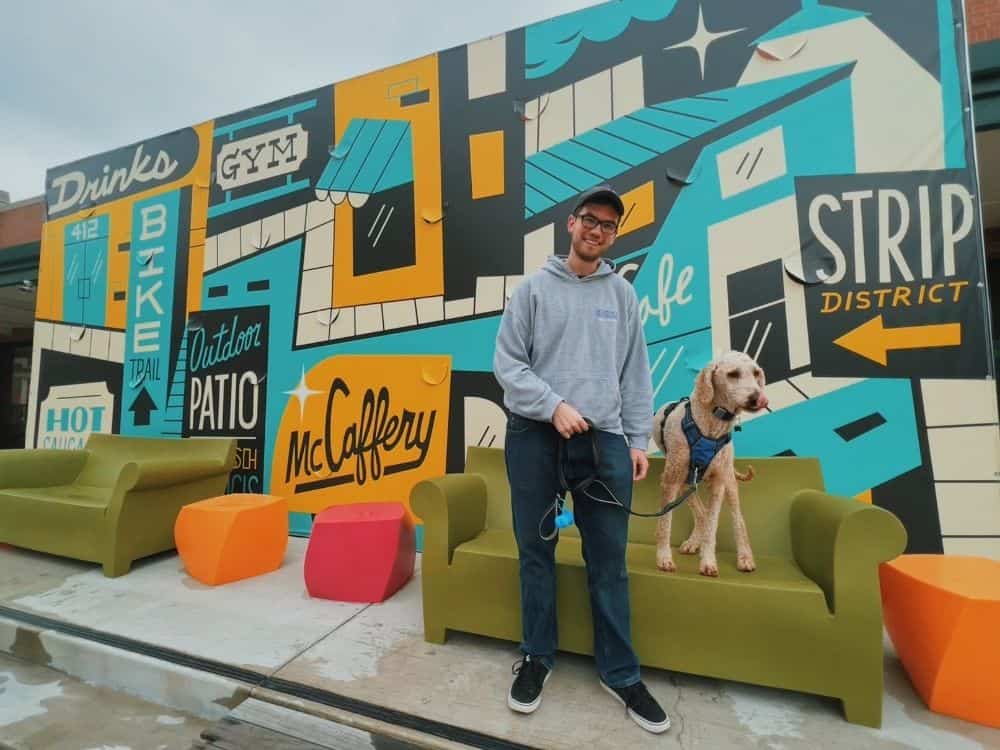 Summer Hill
The Harry Potter nerds in us appreciated the intersection of Sirius St. and Regulus St.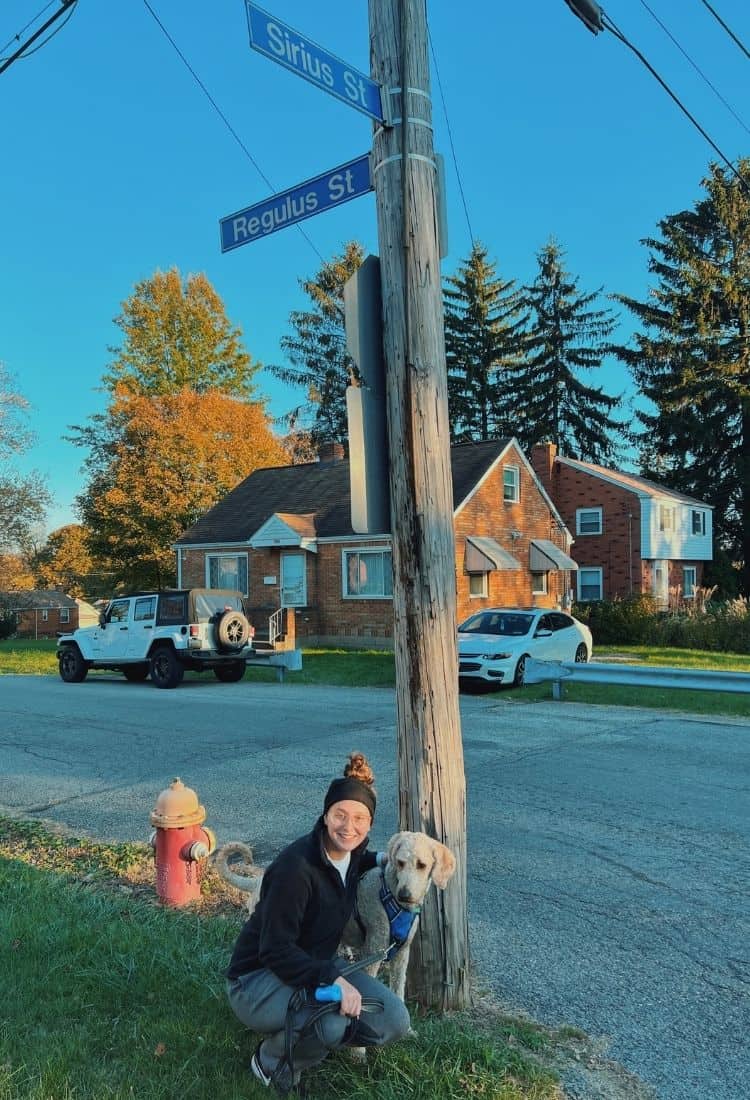 Swisshelm Park
Who wouldn't want to live on Love St?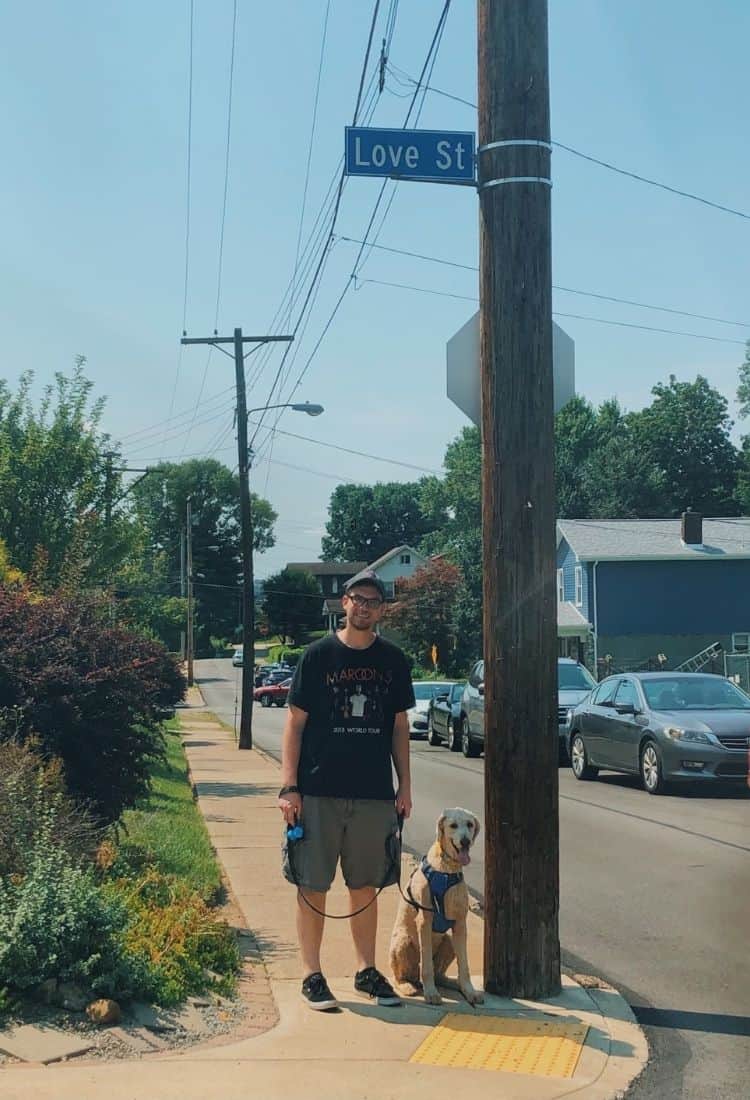 Terrace Village
We walked right on the border of this neighborhood where it goes through the University of Pittsburgh's campus. Here's Erica and Chewie in front of the Petersen Events Center, home of the Pitt Panthers basketball team.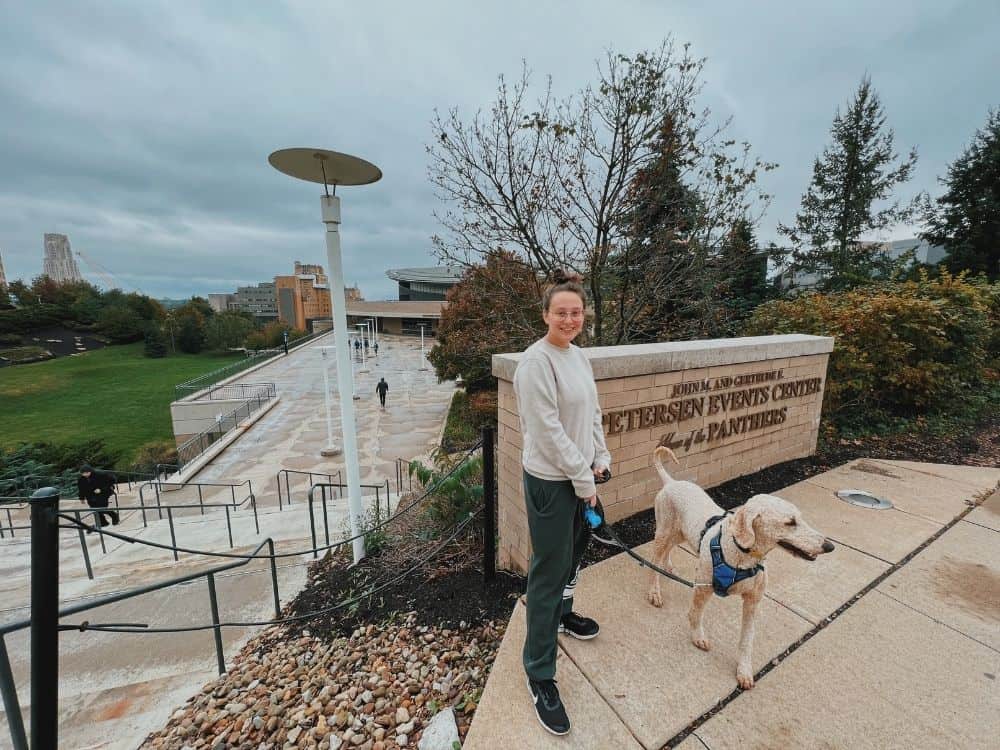 Troy Hill
Heinz Lofts, which is the present-day usage of the historic H. J. Heinz Company industrial complex.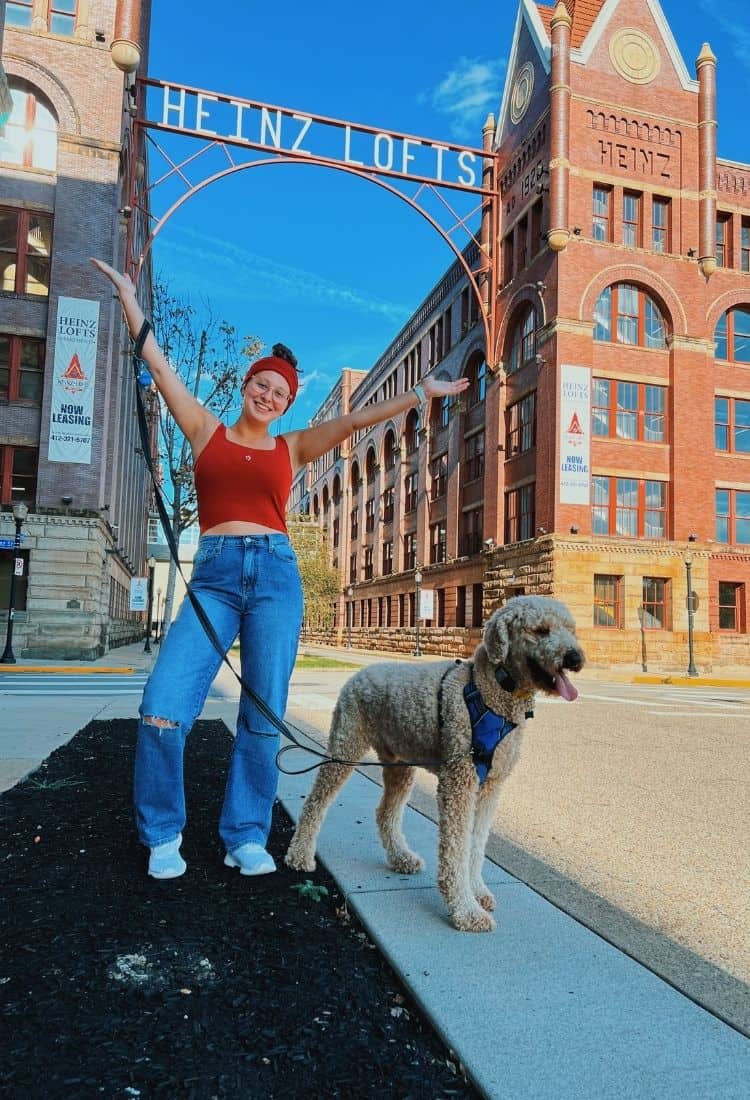 Upper Hill
The Robert E. Williams Memorial Park featured a completely empty reservoir. At least it had a bit of a view from the top of the hill.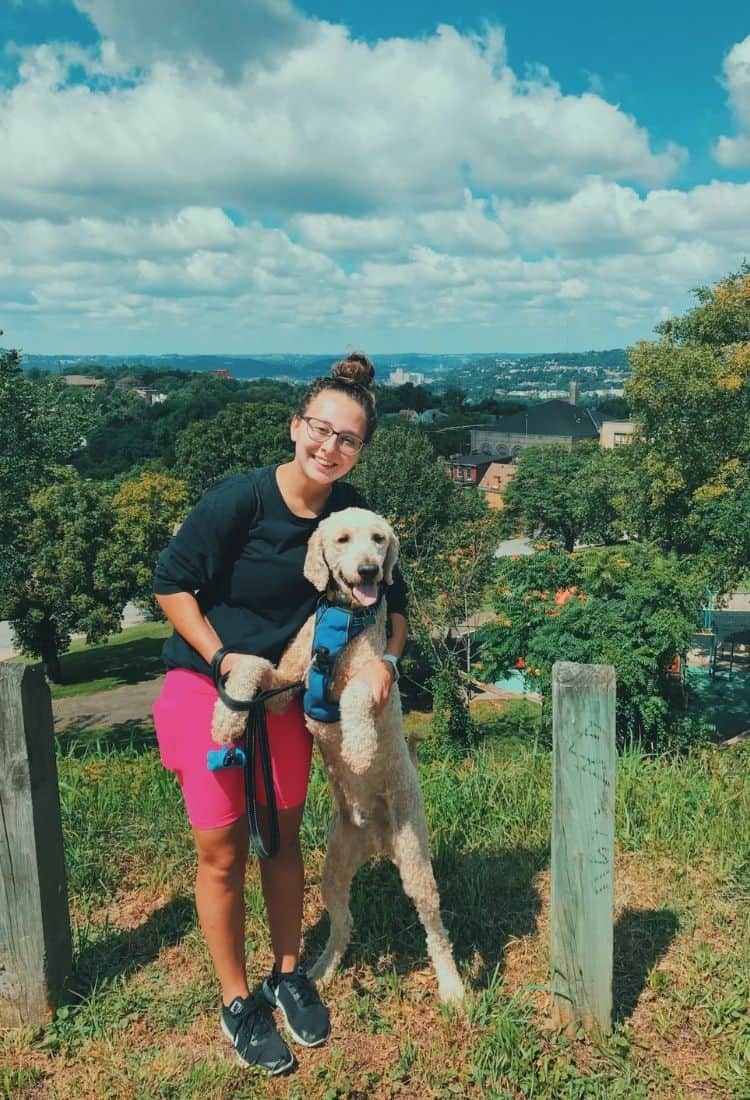 Upper Lawrenceville
This part of Lawrenceville seems more residential with slightly less restaurants and businesses. One house along our walk had nice fence decorations that we appreciated.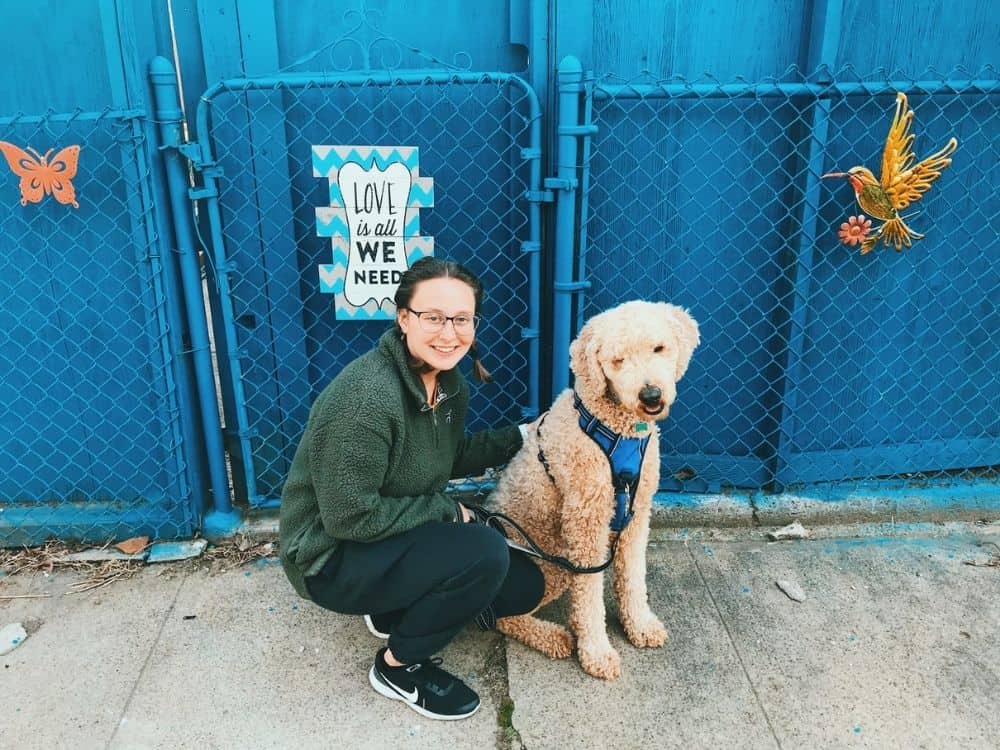 West End
Chewie is ready to audition for the Pittsburgh Musical Theater!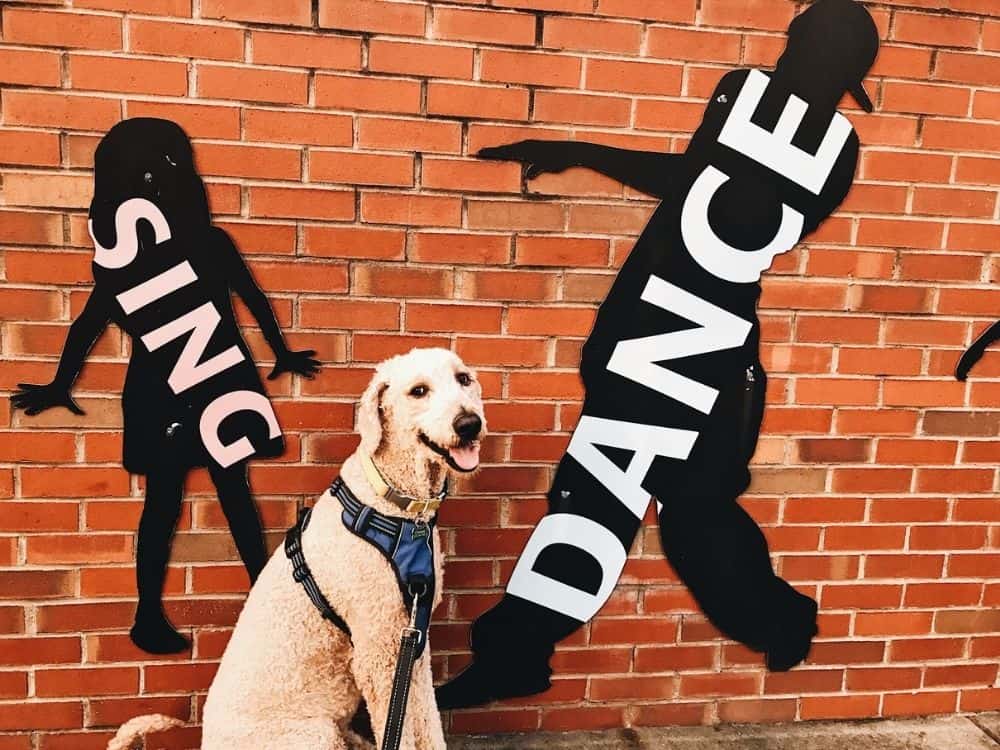 West Oakland
Chewie with me at Lothrop Hall, the dorm I lived in during my freshman year at the University of Pittsburgh.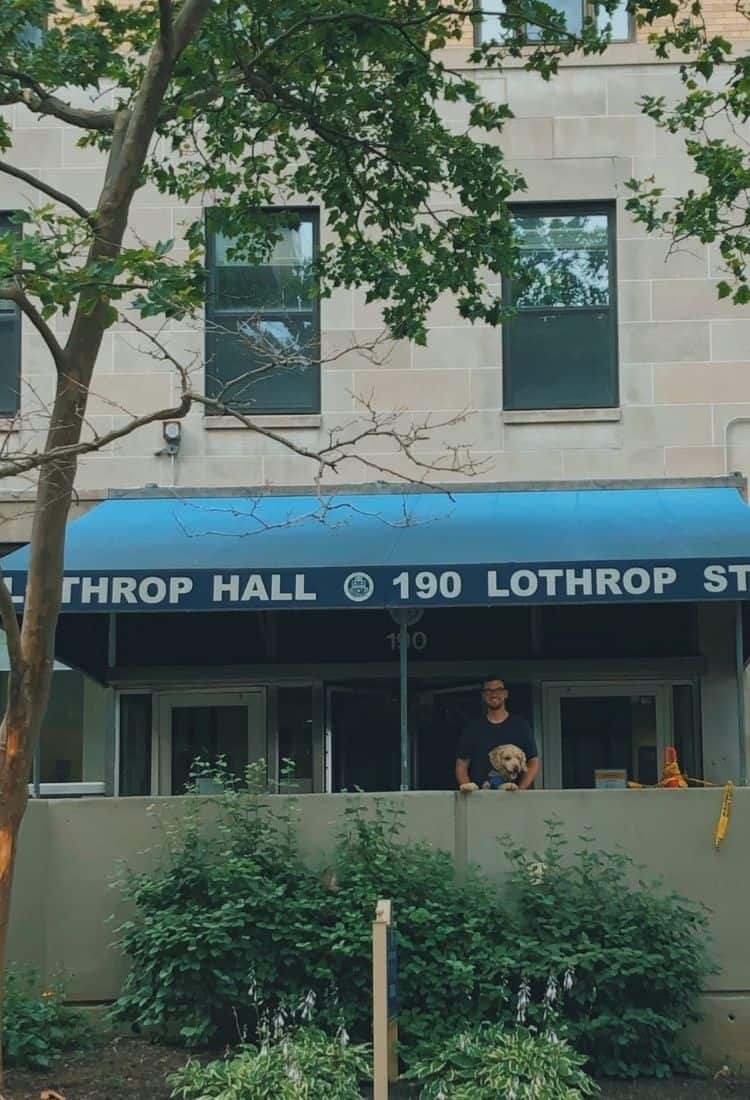 Westwood
Westwood featured suburban-style houses in an urban setting which made for a lovely residential neighborhood.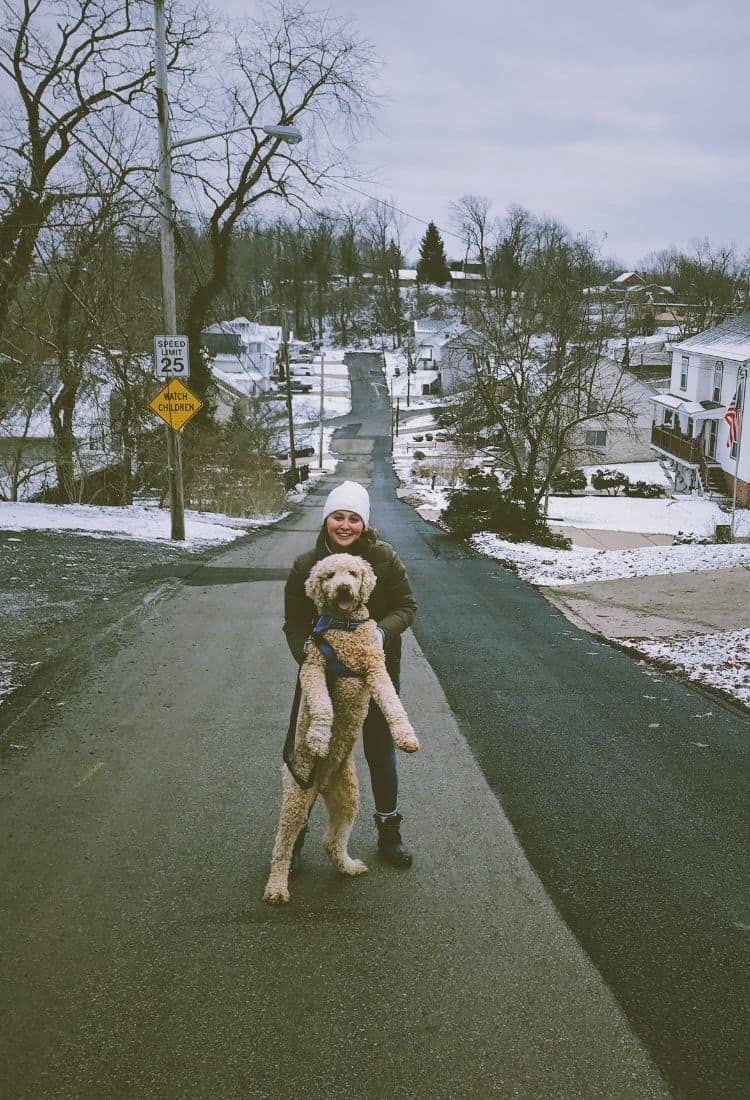 Windgap
Out of all the houses we saw throughout our journey, this quirky, colorful property on Windgap Ave might be the most unique!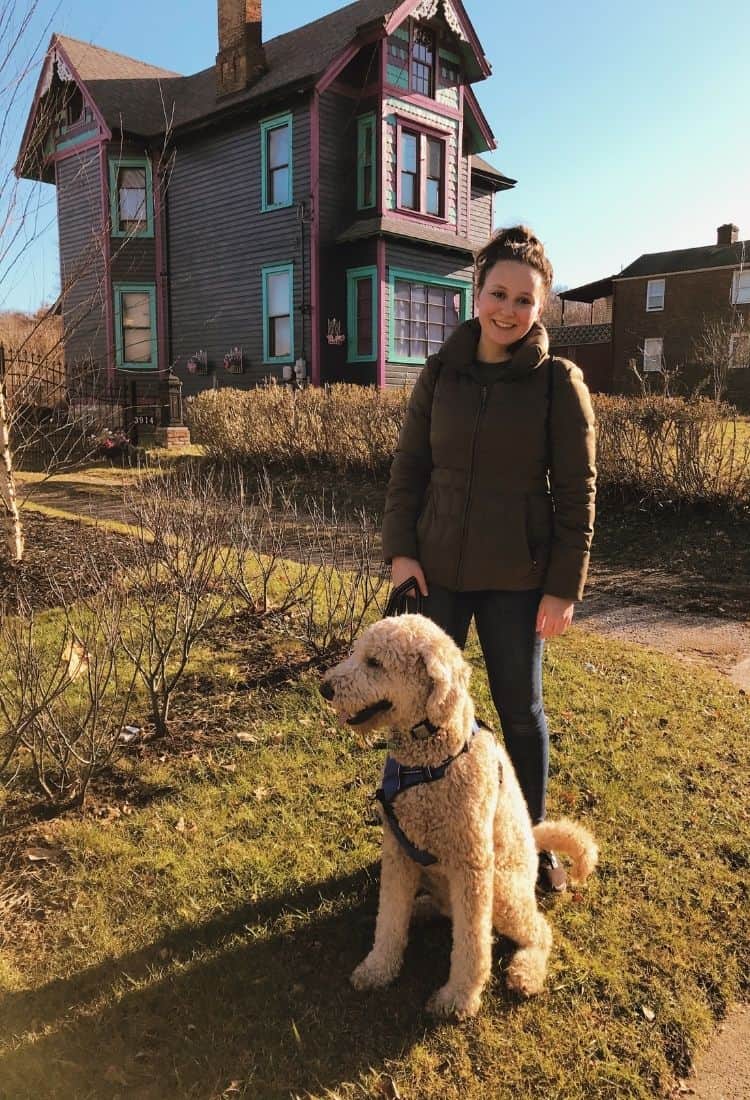 Lessons Learned from 90 Neighborhoods…
1. Turn Everyday Parts of Life Into Adventures
Adventures don't always have to be elaborate, expensive endeavors. Anything that allows you and your dog to spend quality time together in new, fun ways is a definite win!
Lori Gullickson Bartoszewski's wrote this advice in her article here on Popular Doodle, 10 Heartbreaking Life Lessons From a Grieving Doodle Mom.
"Take them with you everywhere you possibly can. Let them experience life and joy with you. Those are the memories you will cling to most and find peace that you allowed them to experience life with you outside of your home."
2. Big Goals Require Big Plans
Hitting all 90 neighborhoods would've taken much longer and been a lot more work had it not been for the planning involved. At the beginning of each month I'd map out a rough outline of the walks we intended on completing over the following weeks.
By planning our walks out in advance, we were able to choose the optimal routes to enjoy multiple neighborhoods on each walk. It also helped us plan what might be exciting to see in each neighborhood rather than leaving it completely to chance.
For those interested in possibly taking this journey through Pittsburgh yourself, here is the Google Maps overlay that helped immensely in planning.
3. Enjoy the Small Things
It's easy to quickly "judge a book by its cover" and overlook areas of your city in favor of the popular hotspots. However, there's often hidden beauty in a lot of things we take for granted every day.
So many of these neighborhoods had something worth enjoying when we were forced to slow down and take a look around. Whether it was beautiful murals, intricate architecture, or the friendly people who stopped to say "hello" to us—well, mostly to Chewie!
What's YOUR Next Adventure?
Like with anyone we love, it's easy to take our dogs for granted. My hope is that someone uses our neighborhood adventure as inspiration to find new ways to bond with their furry best friend.
Here are a few ideas to get you started…
Take your pup with you when you can. What may be boring errands for you is an adventure for them! Always ask permission first, but there are so many dog friendly stores out there who'd love to meet your pet!
Make new friends together! There are often local Facebook or Meetup groups for dog owners in you area. I know in Pittsburgh there is even a doodle-specific group!
Search for exciting things to do that are specific to your city or local area. I visit Discover the Burgh, Pittsburgh Beautiful and other local websites to find things in Pittsburgh that sound fun!
Create your own! Don't forget to take lots of photos to save your memories together forever!